Studio Visit: An Interview with Yonni aka Infinity
This brief interview was conducted by the team at Project 1612 and artist Hannah Offutt as part of their Central Illinois Studio Visits and Artist Interview series, and shared as part of Sixty Regional.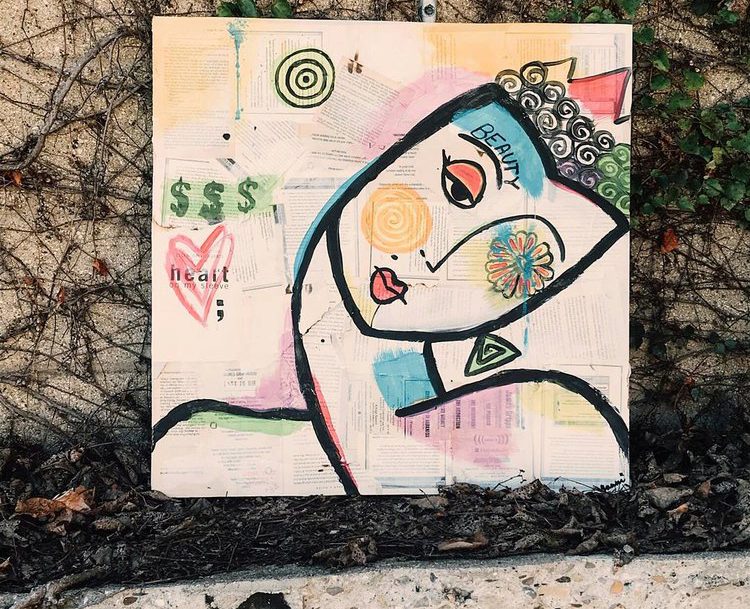 This interview is part of our Sixty Regional project which partners with artists,  writers, and artist-run spaces to highlight art happening throughout the Midwest and  Illinois. This interview was conducted by the team at Project 1612 and artist Hannah Offutt as part of their Central Illinois Studio Visits and Artist Interview series.
Project 1612/Hannah Offutt: How would you describe the art you make?
Infinity: I would say it's feminine and edgy, Abstract and Surreal.
Project 1612/HO: What is your medium?
Infinity: I paint on drywall, and I use acrylic paint and tempera paint. I use a lot of mixed media to make my abstract pieces.
Project 1612/HO: What drives your practice?
Infinity: My emotions and how I'm feeling at that time. Music is a key factor, but my family and goals also drive me. When I have creative blocks my daughter and I will create some pieces together.
Project 1612/HO: Do you have a favorite artist? Why are they your favorite?
Infinity: An artist I admire is my friend Tiff also known as Teedeecreations. She has given me great advice since day one. Our visions are kind of similar. She's also a great artist. Very feminine and sexy. She lives in Texas and she has her own black-owned shop called Art Body and Soul. Check it out.
Project 1612/HO: What are your artistic goals?
Infinity: I want to be a well-known artist. I want people to see a piece of my art and say "Yea, that's a Yonni piece." Or "I know her work." I also want to give back to the youth. I have goals to someday have a business that reaches out to high schools through the arts. But, that's all still in the works.
Project 1612/HO: What advice do you have for aspiring artists?
Infinity: Don't stop. There will be days when your creative juices aren't flowing like they were the day before and that's okay. Take breaks and go in at it again the next day. Don't forget it's about doing what you love and this isn't a race. It's about accomplishing your goals and doing what you love no matter how long it takes to get there. Ride your own wave. Constantly, trying to keep up with the next can be stressful and divert you from your actual goal: winning and being you.
Project 1612/HO: Do you have any thoughts on the art community in Central IL?
Infinity: While I was here I wanted to help Illinois grow in the art world and I did by being with a group of wonderful artist in a group exhibition called February Flowers. The diversity is starting to grow in the art community and I am overall excited about that. Being able to be part of that is amazing.
Featured Image: Mixed Thoughts, Tempera and Acrylic on Drywall, 2017.



---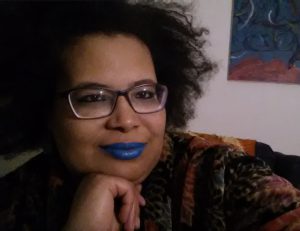 Born and raised in Peoria, IL, Hannah Offutt started out in the Peoria music scene as a singer songwriter solo guitarist, but branched out later into visual art. She was homeschooled up until the age of 18, during which art, reading, and writing were greatly encouraged. As an adult, visual art took more of back seat when she started performing music around the city. Her love for painting was sparked once again when Hannah moved to Eugene, Oregon in 2013 and took drawing classes at Lane Community College under Satoko Satoji. When she moved back to Peoria, IL a year later, she learned basic painting techniques from friend and local artist, Sarah Nesbit. Her work is process-driven and allows her to explore different techniques and styles distinctly her own. Since then, she has had several exhibitions of her work in Peoria. Find her work on Facebook @offuttart and Insta @the_magical_realist.