Pitch to Sixty
Everything you need to know about pitching to Sixty.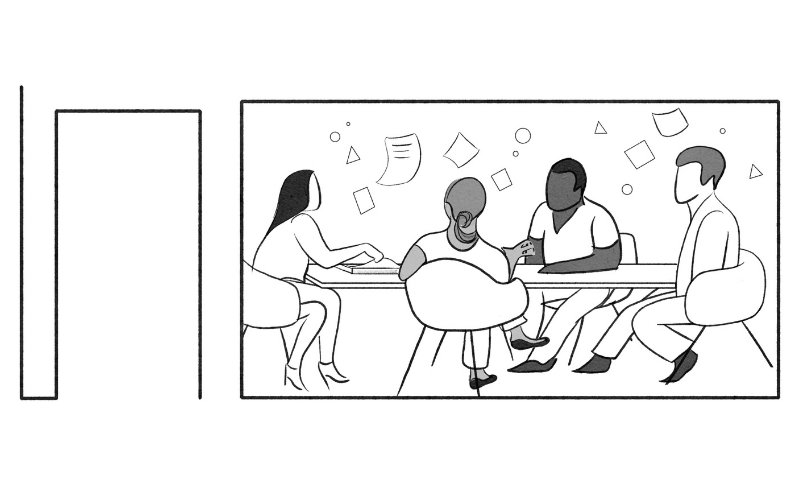 Sixty welcomes writers and artists of all experience levels and backgrounds to pitch ideas for traditional and experimental arts writing as well as creative writing around topics and practices that are relevant to the cultural landscapes of the Midwest.
Priority will be given to writing by, about, and for BIPOC and LGBTQIA+ artists, artists with disabilities, and the long list of writing, art-making, and cultural practices that have been neglected in mainstream conversations and canons. We publish writing, photography, art, archive materials, video, and conversations that are thoughtful, generative, experimental, and relatable to our variety of readers.
We publish articles in Spanish and English in the following forms:
Archive and collection highlights, curated selection of digitized archive materials, archivists writing about cultural archives
Topic-driven columns + series
Interviews (transcribed, email exchange, audio, or video)
Essays and reviews of exhibitions, performances, talks, screenings, conferences, public art, current ideas, artist books, or catalogs
Photo essays that 1) showcase a selection of your photography, 2) documents a specific segment of Midwest arts communities, or 3) document an event
Sound + video including interviews, profiles, performance or talk documentation, mixes and playlists, and short films
Creative writing such as poetry, non-fiction, short stories, drama.
We also publish hybrids and experimental writing in any of the fields above. To submit your pitch, please complete the form at the bottom of this page.
---
Notes on Pitching:
We accept pitches on an ongoing basis and pay all writers. (more under Payment.)
Our editorial team meets twice a month to go through pitches. Please note that if your pitch isn't accepted initially, we'll often ask for clarification or revision rather than discarding the pitch altogether.
Pitches are accepted based on the following criteria:
Relevance to Sixty's communities — is this article heightening or exploring the narratives, art, and histories of disabled, Black, Indigenous, immigrant, or LGBTQIA+ people, as well as any other historically marginalized people? Is it based in the Midwest?
Thoughtfulness of a pitch — what is the scope and angle for this pitch? How does the author intend to cover their given topic? What is the culture being perpetuated by this subject and coverage of it? Try to give us as many details as you can up front.
Redundancy — we do not accept pitches for an event already being covered.
When pitching ANY Creative Writing (fiction, poetry, personal narrative, script), please send the complete text or a ~500 wordsample. If you send us a pitch instead of the writing or a sample, we'll reject the pitch and ask for the text.
Examples of pitches we've accepted in the past:
The piece I am proposing is a conversation and critical reflection on Chicago-based artist Liza Jo Eiler's current solo exhibition THE CARE AND KEEPING OF YOU currently on view at SULK CHICAGO. In this exhibition, Eilers continues her ongoing investigation of the hybridity of the 'bimbo' in pop culture through a series of airbrushed portraits of Pamela Anderson in Barb Wire (1996) and Jennifer Coolidge in Best in Show (2000). Predominantly depicted with electric green flesh reminiscent of the Wizard Of Oz's Wicked Witch of the West, the iconic female characters gracing the walls of Eiler's exhibition are pulled to the center of the space by a polished boat motor adorned with the airbrushed words "Run Her Up." THE CARE AND KEEPING OF YOU reflects a multilayered interpretation of womanhood uniquely cemented in childhood memories of the late 1990s and early 2000s. The approximately 1200 word article I am proposing would feature the artist and I reflecting upon a multitude of themes that run throughout the exhibition including toxic nostalgia, the evolution of objectification, material memory, and the multiple binaries present in her practice. Alongside my lateral goal of amplifying the programming of small artist-run spaces in the Midwest, the intimate conversational nature of this piece would make it an ideal fit for Sixty Inches From Center. Liza and I are close friends and having only ever worked with strangers in the past, I'm interested in using our familiarity as a tool to guide our discussion. [This pitch clearly defined topic, intended discussion points, length, and genre.]
I am reaching out to pitch a new essay tentatively titled "The Poetics of Penetration." The essay will draw inspiration from McKenzie Wark's experimental autobiography "Reverse Cowgirl" and personal memory to analyze the sexual act of penetration and its relationship to masculinity and femininity. I want to argue for new, transsexual perspectives of sexuality that resist penetration's gendered history. My goal is for this essay to range between 1000-1500 words. It will likely take me between 2-3 weeks to complete a first draft. [The writer pitched with a clear, concise scope of a nonfiction essay.]
---
Editorial Process:
Once a pitch is accepted, writers have free access to our editors, transcribers, translators, photographers, and illustrators to support the creation, development, and completion of the final piece. The work of photographers or illustrators outside of Sixty is allowed upon approval from Sixty's Visuals Editor. All written submissions must be open to some editorial feedback.
Upon acceptance, an editor will be assigned to work with a writer, who will then send their piece to the editor as a Google Doc. The editor will go through and make suggestions for house-style, clarity, and style. Once this is completed, the writer will go through and accept suggestions as they see fit. Please note that publication-readiness will be at an editor's discretion.
Each editor has slightly different processes, but please note that many of us are highly collaborative.
---
Payment:
Sixty Inches From Center pays a standard rate of $50 per article on a writer's first four articles. Any articles past that will be paid at a rate of $75. For interview transcriptions, we pay $1 per minute transcribed. Payments are made on the 8th and 22nd of each month. The writer will send an invoice and receive payment upon publication
The following are exceptions to this standard:
Poetry: A poet will be paid $25 per poem published via Sixty, regardless of how many are published.
Partnerships: If Sixty is partnering with an organization for coverage, the pay rate may be increased. Check with your editor if you aren't sure.
To submit your pitch please complete the form below. If you have any additional questions, you can email us at WriteForSixty@sixtyinchesfromcenter.org.

And if you need ideas, check out the Sixty Leads List of current and upcoming topics we'd like to get coverage for.

Please allow 7-10 days for a response to your pitch.
_
Image: A black, white, and grey illustration by Kiki Lechuga-Dupont. The drawing is a view through a window into a room where several people are gathered around a table, seemingly in discussion. There are papers and shapes hovering in the air above the table.