Begin, Been, + From Within: A look inside Claire Ashley's Sculptures
This article is part of the Sixty Regional project which partners with artists,  writers, and artist-run spaces to highlight art happening throughout the Midwest and Illinois. Written by Allison Walsh, an artist…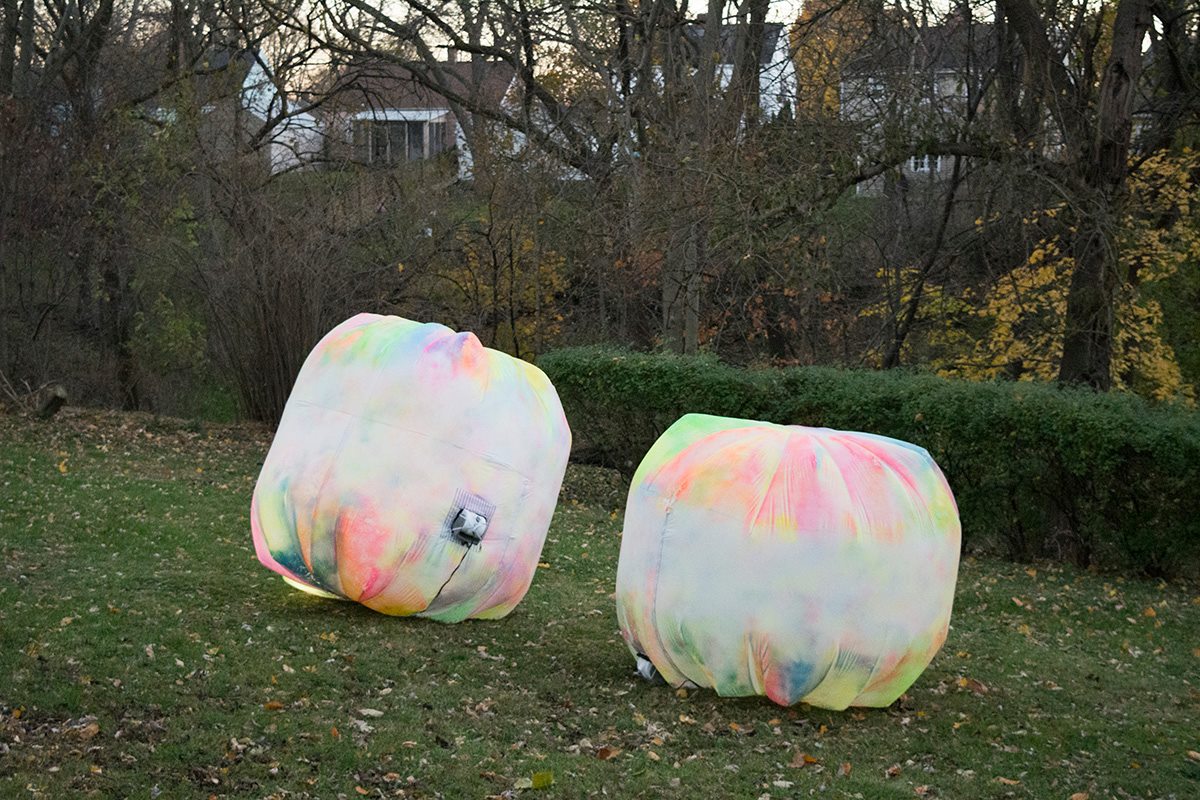 This article is part of the Sixty Regional project which partners with artists,  writers, and artist-run spaces to highlight art happening throughout the Midwest and Illinois. Written by Allison Walsh, an artist from Peoria, IL and in affiliation with Project 1612, this article is a first-hand account of what it is like to be in one of Claire Ashley's inflatable performances.
Sitting on the floor, cross-legged with a battery pack strapped across my chest, I looked up at the painted canvas floating around me. My mysterious surroundings brought me strange feelings—the safety of being inside of a womb, the playfulness of hide and seek, and the potential that I was discovering a new planet.
I sat and waited inside the sculpture, seeing nothing of the outside world, but the occasional nebulous figure across the inflatable form. I slowly heard more and more people gather in the space. I could sense them look at me, but they couldn't see past the opaque skin of the inflatable organism. None of the spectators knew I was sitting there, cross-legged in silence.
More minutes passed and the volume escalated with chatter, I could feel the moment coming. The safety of my hiding spot would soon be revealed, but no one would know it was me. My identity was the organism around me. Together, we would move, shake, roll and wobble, with the occasional foot pop out of the zipper to wiggle around.
I looked at my clock, only a few more minutes left. I zipped up my blue suit all the way over my face and peak out the eye holes. I took a breath, and heard,"Maarrccooooo!" It was time to wake up. I responded with a sea of other organisms around me, together like a choir, "Poloooooo!"
I first performed in Claire Ashley's sculptures in her Cawt, Taut, Hot…Not exhibition at Illinois State University Gallery. I had attended a workshop with over 25 kids on a Saturday morning and was invited to stay for the performance practice later in the afternoon. Claire gave off an impressive sense of strength, leadership, and openness when she worked with the kids. And I was lured into knowing more about her sculptures when I read her artist statement which described her pieces using the words motherhood and eroticism in the same sentence. There was no question I would stay and see what this performance was about.
It wasn't until I actually crawled into one of Claire Ashley's sculptures that everything came together for me.
When I crawled inside the sculpture, zipped myself in, and let the sculpture slowly inflate, I lost all sight of the outside world. I could only see the canvas organism that surrounded me. It was a space I would dream about as a kid, and yet it had an ephemerality that would only last as long as the moment I pulled the zipper. The only image outside the sculpture was the occasional shadow of my trusted guide, calling to me when I was rolling the wrong way out of the room, or a brief glimpse of another sculpture bumping into me.
In this particular performance, Joshua Patterson created a soundscape that we were supposed to respond to with our movement. With Claire's guidance, we learned to move inside the sculptures—to mold, bend, and move them as if they were an extension of ourselves. We listened to the sounds and practiced being patient with subtle movements. Then we practiced the crescendo of the performance. The music was intense and full of energy, and we shook around, bumped into other sculptures, and even let the air turn on and off in our shape to change the form.
A week later at the final performance, we rolled to the roundabout outside of the ISU gallery. While performing, I was focused and in the present. I was one with the sounds around me, my shape, and the chemistry between me and the other sculptures was my only reality.
By performing in this work, I realized I was not putting on a show—I was the piece. By being the shape, I became a kinesthetic experience of Claire Ashley's work. I was creating the piece and experiencing it at the same time.
Before I knew it, it was time to come out of the shape, and it was raining out! Still, there was a huge crowd of people standing outside through the rain, which made me think they felt it, too.
Since that first performance, I have performed in Claire Ashley's sculptures on two more occasions—each time feeling surprised and challenged in new ways.
Each performer that gets into one of Claire Ashley's sculptures gets her own intimate experience of the work. It becomes a kinesthetic form of art and an active collaboration.
So rarely does an art piece ask you to move and give it life. If you are ever asked to crawl into one of these sculptures, I hope you say yes! Trust me when I say the view is better from the inside.
__
Featured Image: Two large, circular and colorful neon inflatable works by Claire Ashley sit next to one another in an outdoor green space on grass and among a line of trees and bushes. You can see a hint of a house between the trees. Photo by Allison Walsh.

Allison Walsh
is a painter and documentary filmmaker in Peoria, IL. Walsh combines her art disciplines to bring new life to the documentary stories she encounters. Walsh has a BFA in Painting and studied Spanish and Philosophy at Bradley University. Follow her IG at @allisonwalshartist and Project 1612 at @Project1612.