El Nido Suroeste: An Interview with Rolando Santoyo
Brighton Park, Back of the Yards, and McKinley Park are neighborhoods on the Southwest Side of Chicago that are bundled together so often that they are given a similar reputation…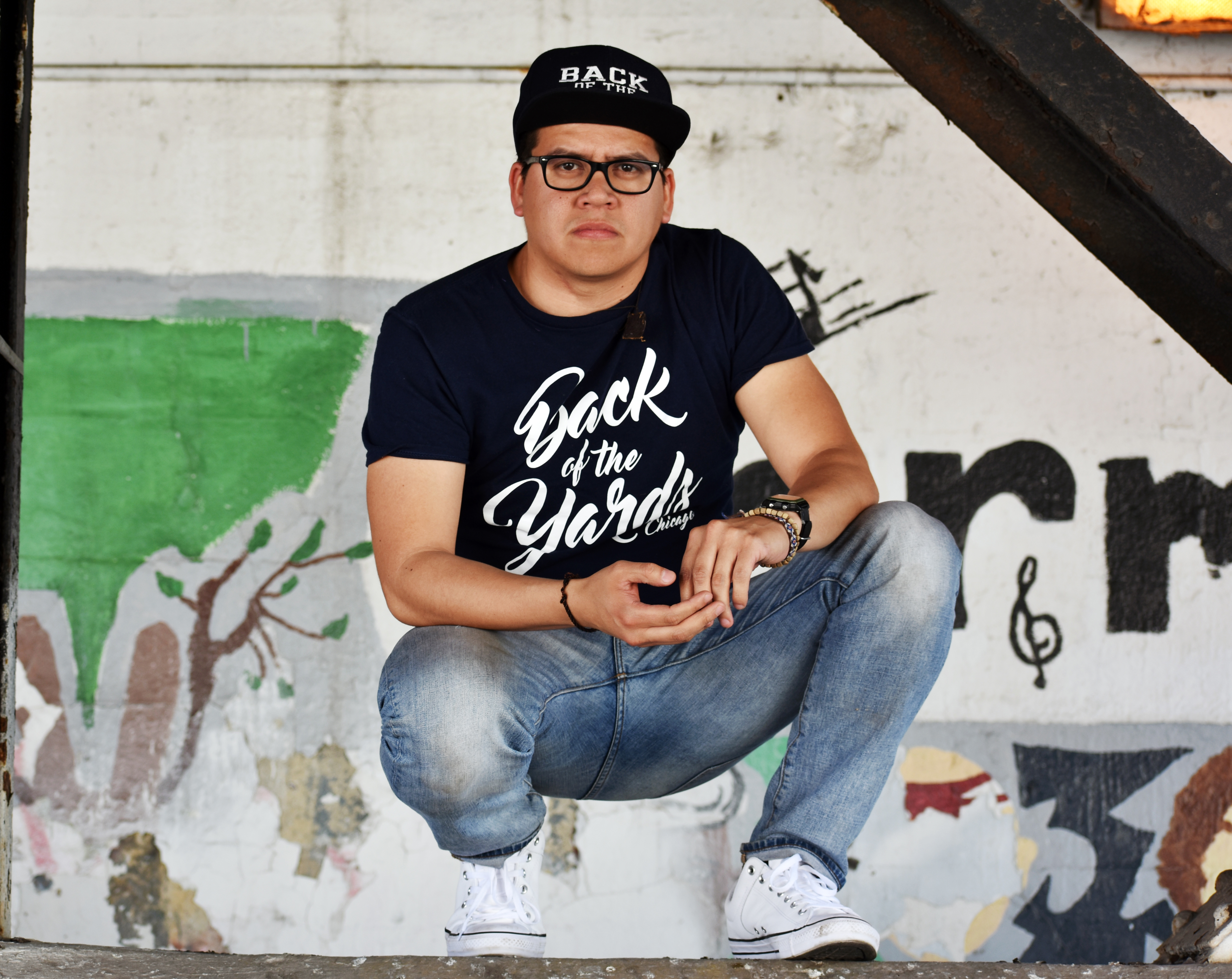 Brighton Park, Back of the Yards, and McKinley Park are neighborhoods on the Southwest Side of Chicago that are bundled together so often that they are given a similar reputation and narrative by the media. It isn't always a good one. Today these neighborhoods still face violence, poverty, and more recently, gentrification. I would like to challenge the idea that violence is the only thing these neighborhoods have to offer by shining a light on the creative minds that enrich them. In this series, "The Southwest Nest," I hope to celebrate and recognize these artists and share with you their perspectives of the neighborhoods they either work in or call home.
Back of the Yards is one neighborhood on the Southwest Side of Chicago that is often mentioned by the media in connection to violence. Many people forget that this same neighborhood inspired the muckraker Upton Sinclair to write his stomach-turning 1906 novel, "The Jungle." Now, in 2019, a brilliant artist by the name of Rolando Santoyo has made his own tribute to the book and the neighborhood that inspired it through the name of his business, La Selva Shop. Truly, there isn't a more perfect person to start this series with. This interview has been edited for clarity and length.
Brighton Park, Back of the Yards (o el Barrio de las Empacadoras), y McKinley Park son vecindarios en el lado Suroeste de Chicago que están agrupados con tanta frecuencia que la prensa les ha dado una reputación y narrativa similar. No siempre es buena. Hoy estos vecindarios todavía enfrentan la violencia, la pobreza, y más recientemente, la gentrificación. Con llamar la atención a las mentes creativas que enriquecen a estas comunidades, me gustaría desafiar la idea que la violencia es la única cosa que tienen que ofrecer. En esta serie, "El Nido Suroeste," espero celebrar y reconocer a estos artistas y compartir con ustedes sus perspectivos sobre los barrios donde trabajan o viven.
El Barrio de las Empacadoras es un vecindario en el lado suroeste de Chicago que es mencionado con frecuencia en la prensa en conexión a la violencia. Se les olvida a varias personas que este mismo vecindario es el que inspiró al periodista, Upton Sinclair, a escribir su novela nauseabunda, "The Jungle" (La Jungla) en 1906. Ahora, en 2019, un artista brillante llamado Rolando Santoyo ha rendido su propio homenaje al libro y a la vecindad a través del nombre de su negocio, La Selva Shop. Verdaderamente, no hay mejor persona con quien empezar esta serie. Esta entrevista ha sido editada para mayor claridad y duración.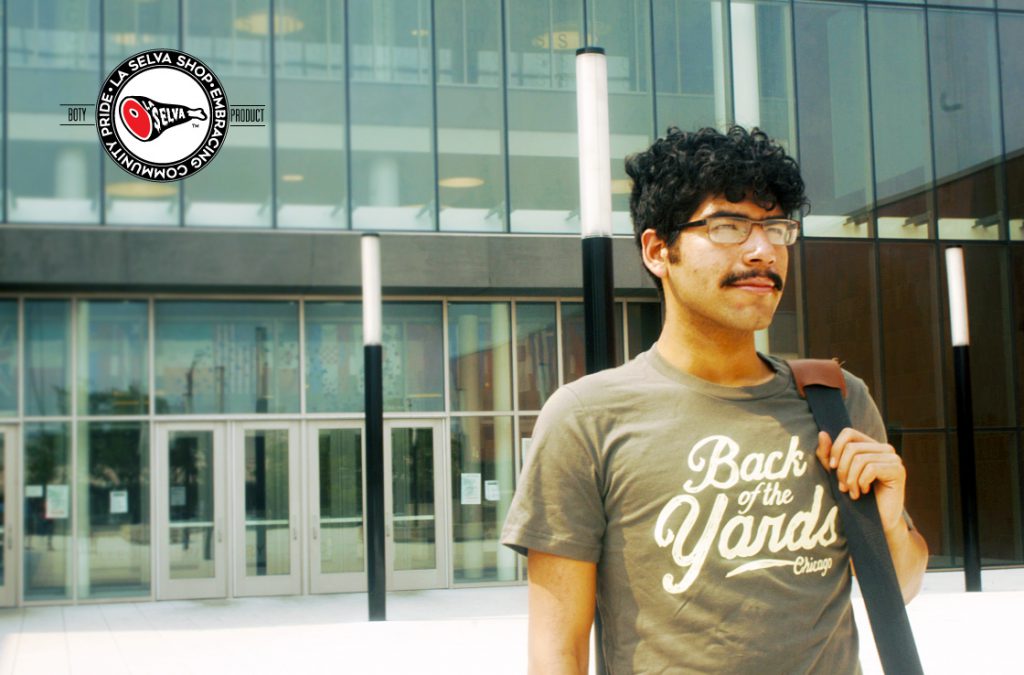 Angelica Flores: Hi Rolando! Thank you so much for actually being the first person to reach out about your work when I first posted a call-for-artists on Facebook! When I wrote to you further details about the project, I remember discussing how the name of your shop, "La Selva" is the Spanish translation of the title of Upton Sinclair's book, "The Jungle" which takes place in the Chicago Stockyards, now known as Back of the Yards. So that brings me to ask, did you start the online shop so people can proudly wear these products to show which neighborhood they're from, or what was your main motive? After all, Back of the Yards has a very rich history of hardworking people.
Rolando Santoyo: I started the line not only to be proud of being from Back of the Yards but to also change the narrative about the neighborhood. We constantly hear negative perspectives about the community through the media and as a fine artist, graphic designer and socially active member of the community I wanted to change that narrative. I want my community to feel proud of its history, its struggles, and embrace it with my product line.
AF: And if I remember correctly, have you lived in the Back of the Yards your whole life? If so, do you think the neighborhood has changed since then, and if so, in a good way?
RS: I am first-generation born and raised in the Back of the Yards. My parents migrated to the Back of the Yards neighborhood in the mid 1970's. Growing up in the neighborhood starting in the 80's, 90's and the 2000's, I can honestly say that the neighborhood is changing for the better. Organizations and leaders like myself are developing new businesses, programs and services for the community, creating a better neighborhood. I believe that there is always going to be violence in a community [where people are] struggling without the necessary resources and are living in poverty.
Angelica Flores: Hola Rolando! Muchas gracias, de verdad, por ser la primera persona en comunicarse conmigo cuando publique por primera vez la convocatoria de artistas en Facebook! Cuando te mande mas detalles sobre el proyecto, me recuerdo que hablamos sobre el nombre de tu tienda, "La Selva" que es una traducción del título de la novela de Upton Sinclair, "The Jungle," que se lleva a cabo en la área de los Chicago Stockyards, que ahora se conoce como el Barrio de las Empacadoras. Entonces, eso me motiva a preguntar, ¿iniciaste la tienda en línea para que la gente pueda usar estos productos con orgullo para representar a su barrio, o cuál fue tu motivo principal? Después de todo, el Barrio de las Empacadoras tiene una historia muy rica de personas trabajadoras.
Rolando Santoyo: Empecé esta línea no solo para tener orgullo de ser del Barrio de las Empacadoras pero para cambiar la narrativa de este vecindario. Nosotros siempre estamos escuchando perspectivas negativas sobre la comunidad en los medios de difusión, y como un artista visual, diseñador gráfico, y miembro socialmente activo de la comunidad yo quiero cambiar esa narrativa. Yo quiero que mi comunidad sienta orgullo de su historia, de sus luchas, y que lo abarque con mi línea de productos.
AF: Y si recuerdo bien, has vivido toda tu vida en el Barrio de las Empacadoras ¿verdad? Si es así, ¿piensas que este vecindario ha cambiado desde entonces? ¿Crees que ha cambiado de una buena manera?
RS: Yo soy de primera generación, nacido y criado en el Barrio de las Empacadoras. Mis padres inmigraron al Barrio de las Empacadoras en los mediados de los 1970s. Crecí en ese vecindario en los 80s, 90s, y los 2000s, y honestamente puedo decir que el vecindario está mejorando. Las organizaciones y líderes como yo estamos desarrollando nuevos negocios, programas, y servicios para la comunidad, creando un mejor vecindario. Yo creo que siempre va haber violencia en una comunidad (donde hay gente) que está luchando sin los recursos necesarios y donde viven en la pobreza.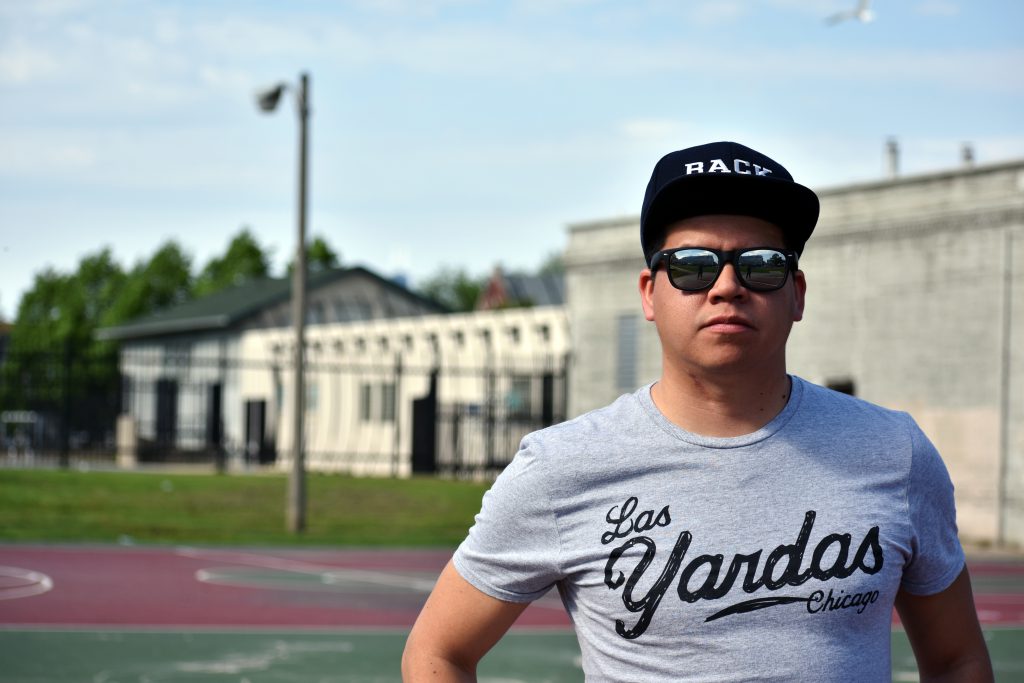 AF: Going back to your art, how did you get interested in art and design?
RS: Growing up, I used to be the local artist. I enjoyed drawing and of course my favorite class was art … [I began to] paint murals on local church property … [and later I painted] murals in the gymnasium at my local grammar school Seward Academy. After graduating high school, I had to rethink what I wanted to do for my future. That's when I was introduced to graphic design. I still wanted to continue doing fine arts but needed to think about what the future holds and that's where technology came in for me. I graduated with a Bachelors in Fine Arts, Multimedia Production and Design from the International Academy of Technology and Design.
AF: What advice do you have for youth who have the same artistic pursuits?
RS: To the youth who pursue artistic talents my advice is to be a person of service in your community. A lot of my beginnings started in the community from painting my first murals to contracted work at the age of 15. Community leadership constantly creates new relationships that will help you throughout your artist career. Be a leader!
AF: Regresando a tu arte, ¿cómo es que te interesó el arte y diseño?
RS: Creciendo, yo era el artista local. Me gustaba dibujar y por supuesto, mi clase favorita era mi clase de arte … [Empecé a] pintar murales en propiedades locales de la iglesia … [y luego] en el gimnasio de mi escuela primaria local, Seward Academy. Después de graduarme de la secundaria, yo tenía que reconsiderar lo que quería para mi futuro. Eso es cuando me enteré del diseño gráfico. Yo quería continuar haciendo artes plásticas pero necesitaba que pensar en … mi futuro y eso es donde viene la tecnología para mi. Yo me gradué con un Bachillerato de Arte, Multimedia, Producción y Diseño de la Academia Internacional de Tecnología y Diseño.
AF: ¿Qué consejo tienes para los jóvenes que tienen las mismas aspiraciones artísticas?
RS: Para los jóvenes que quieren desarrollar sus talentos artísticos, mi consejo es que busquen oportunidades para servir a su comunidad. Yo empecé en la comunidad, contratado a pintar mis primeros murales cuando tenía solo 15 años. El liderazgo comunitario constantemente te dará oportunidad de establecer conexiones que te podrán ayudar a través de tu carrera artística. ¡Sean líderes!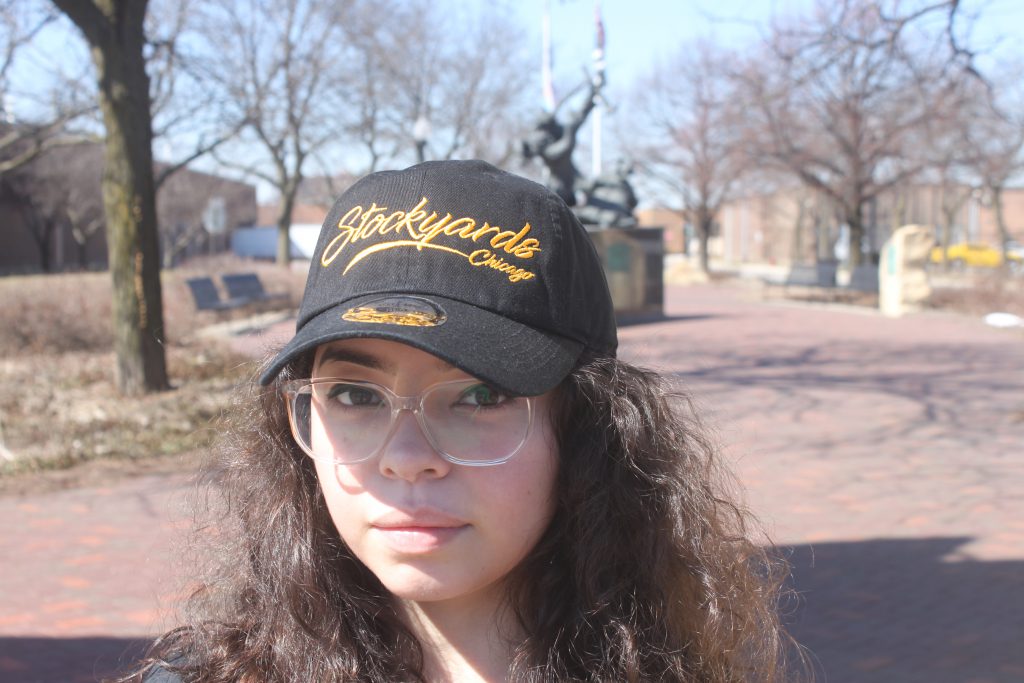 AF: What has been your favorite product that you've made so far? It's so fascinating that you created No Manches clothing! Like, no manches! How did you go about that process?
RS: Wow, it's hard to decide which product is my favorite so far because they are all unique in their own way. When I started the clothing brand No Manches, Inc., … I started designing funny logos and incorporating them in T-shirts and it just took off from there. I created designs that are a hit to this day. Some designs made it to newspapers and magazines and even a cease and desist letter! Yikess! Ha! Having the background of starting No Manches Inc. gave me the experience to start my new product line La Selva Shop, which is not only a clothing line but a products line where I introduce accessories and unique ideas with my designs.
AF: ¿Cuál ha sido tu favorito producto que has diseñado hasta ahora? ¡Que fascinante que tu creaste la línea de ropa, No Manches! Digo, ¡no manches! ¿Cuál fue tu proceso?
RS: Wow, es bien difícil decidir cual producto es mi favorito hasta ahora porque todos son únicos en su propia manera. Cuando empecé la línea de ropa, No Manches, Inc., … comencé con diseñar logos chistosos que ponía en playeras y simplemente despegó de allí. Yo hice diseños que hoy siguen teniendo éxito. Unos diseños han logrado salir en periódicos y revistas y hasta una carta de de cesar y desistir. ¡Yikes! ¡Ha! Haber fundado No Manches Inc, me dio la experiencia para empezar mi nueva línea, La Selva Shop, que no es solo una línea de ropa sino también una línea de productos donde estrenó accesorios e ideas únicas con mis diseños.
AF: Where do you and your business hope to be in 20 years?
RS: Well sooner than 20 years, I'd like to finally open up a storefront in the community and be able to create a space for local artists to express themselves. Most importantly, I would like to see the community of Back of the Yards thrive, to be better and safer!

I would like to add that I will be opening a pop-up shop in the community soon! Follow La Selva Shop on social media @laselvachicago on Facebook and Instagram and on the website: www.laselvashop.com.
Featured Image: Rolando Santoyo is crouched down wearing his products, a black snapback that says "Back of the Yards" and a black shirt with the Back of the Yards logo. Photo Courtesy of Rolando Santoyo.

AF: ¿En 20 años, dónde quieres estar en tu vida y en tu negocio?
RS: Bueno, antes de que pasen 20 años, yo quiero finalmente abrir una tienda física en la comunidad para poder crear un espacio donde artistas locales puedan expresarse. Más importante, yo quisiera ver que la comunidad de Back of the Yards prospere, ¡que sea mejor y más segura!

¡También quiero agregar que pronto voy a abrir una tienda pop-up en la comunidad! Sigue La Selva Shop en redes sociales @laselvachicago en Facebook e Instagram y en el sitio web: www.laselvashop.com
Foto Principal: Rolando Santoyo aparece agachado y vestido de sus productos, una gorra snapback que dice, "Back of the Yards" y una playera negra con el logo de Back of the Yards. Foto cortesía de Rolando Santoyo.
---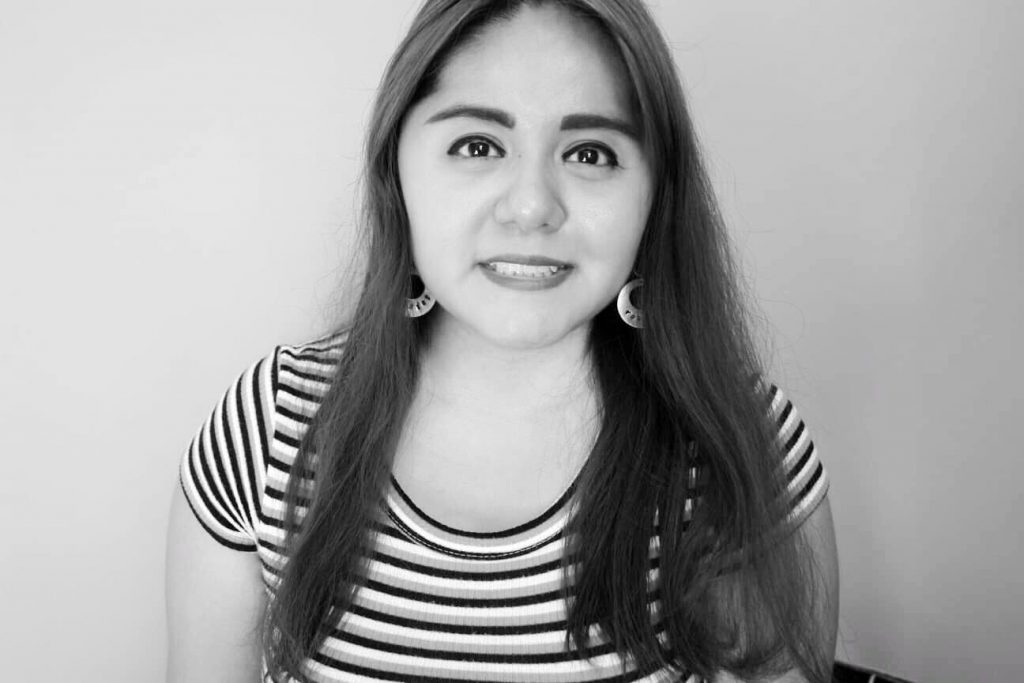 Angelica Flores is a Mexican-American writer and Dominican University graduate. She enjoys working on English-Spanish translations and writes for The Gate Newspaper where she has reviewed books, films, and theater performances. She works for the Poetry Foundation and is the owner of the blog, The Macaron Raccoon. / Angelica Flores es una escritora mexicoamericana y graduada de Dominican University. Le gusta trabajar en traducciones inglés-español y escribe para The Gate Newspaper, donde ha reseñado libros, películas y representaciones teatrales. Ella trabaja en la Poetry Foundation y maneja el blog, The Macaron Raccoon.