Review: Windows to Our World
Walking up residential Kenmore Avenue, you might do a double-take when you pass 6018North and notice that the fence, yard, porch, and windows are adorned with banners, sculptures, and other…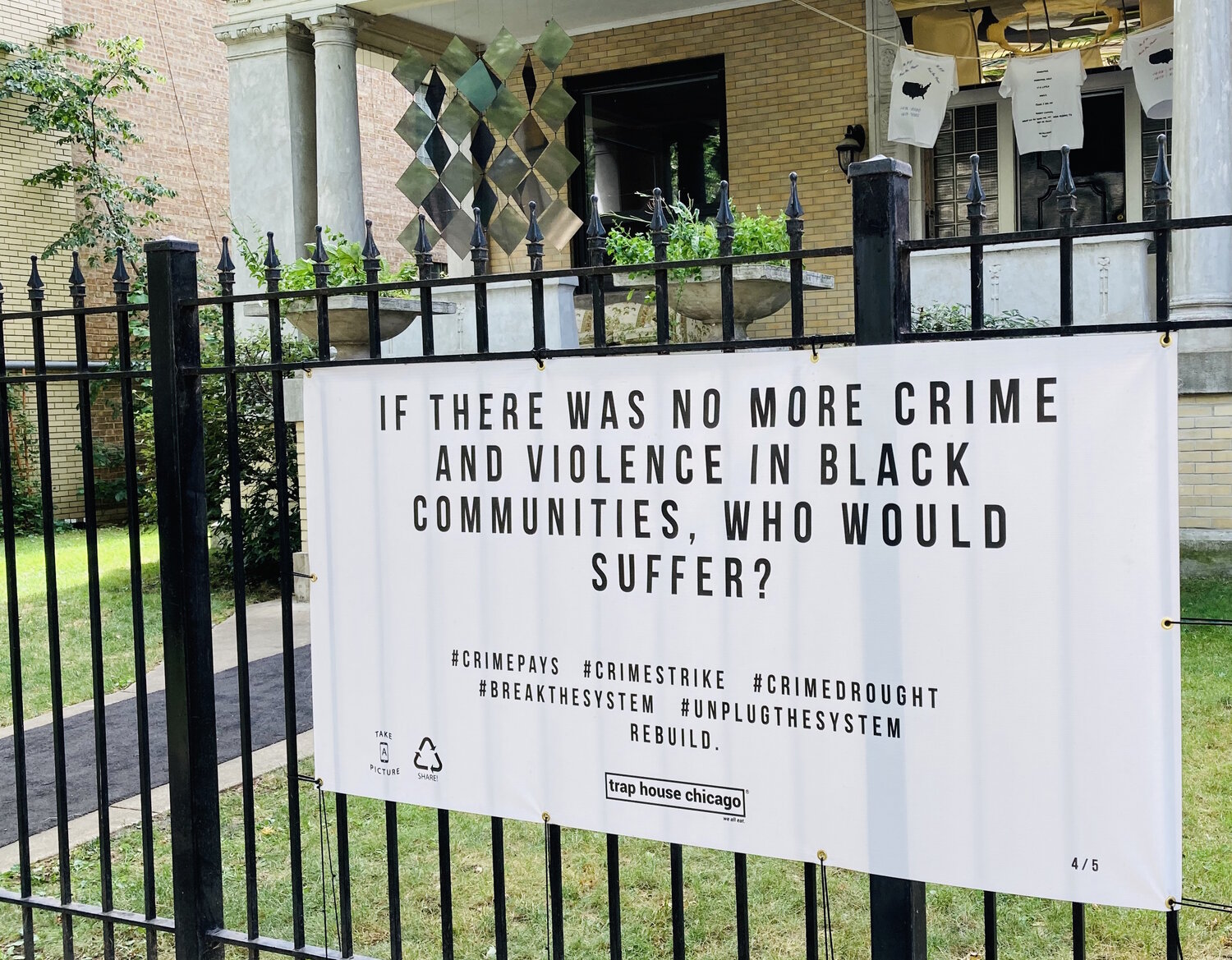 Walking up residential Kenmore Avenue, you might do a double-take when you pass 6018North and notice that the fence, yard, porch, and windows are adorned with banners, sculptures, and other objects. While the décor may seem unusual for a dilapidated mansion, it is on par for the artist-centered organization named after its address. Under normal circumstances, the house's interior would be filled with art, but the stay-at-home order and city-wide protests prompted 6018North to create Windows to the World, an outdoor exhibition that promotes the organization's social justice mission.
Considering our current crises and noting that "the pandemic of America is racism," the team of ALAANA (African, Latinx, Arab, Asian, Native-American) curators asked artists to consider: How do we want to see the world when we get out? Who do we want to be individually and collectively? The works they selected address COVID-19, systemic injustice—or both—and raise questions with complex answers.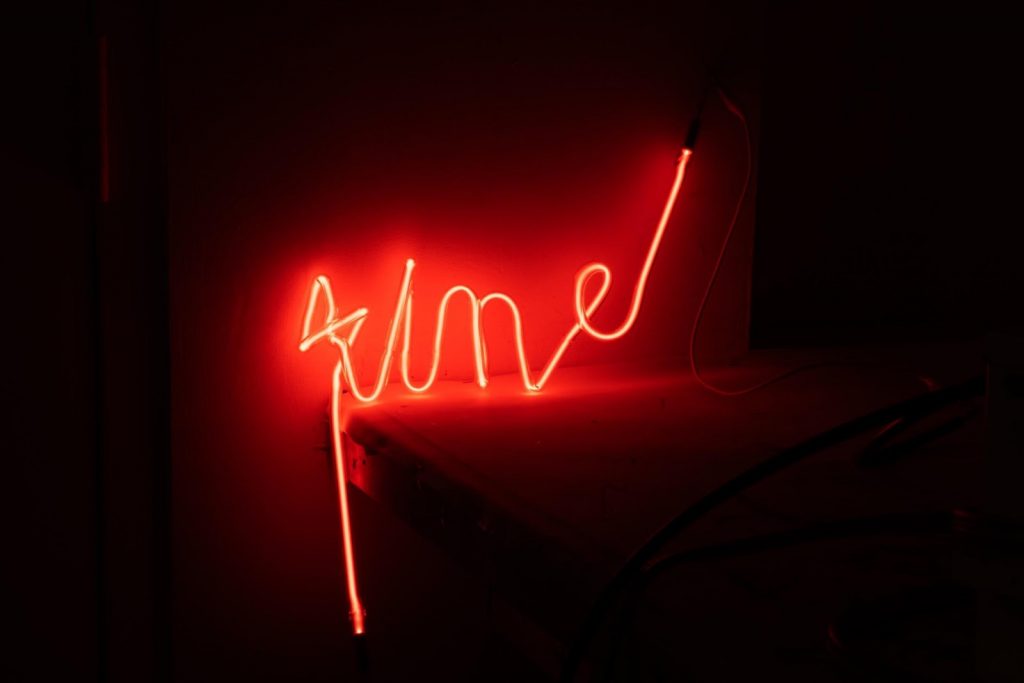 Artworks in the exhibition are made from everyday materials and often adopt commercial formats, such as neon signage and banners. Efrat Hakimi's Time, depicting the word in red neon suggests we need time to find solutions but the fire-like glow implies urgency. Audra Jacot uses neon in another window to present a similar contradiction. Her piece, Selfless, presents the words "self" "less" flashing on and off, making us wonder if we should focus on the self, or on being selfless.
Mashaun Hendricks asks questions about systemic racism directly by utilizing vinyl banners that mimic commercial signage: "If there was no more crime and violence in black communities, who would suffer?" A more subtle take on the same idea is AJ McClenon's T-shirts draped across the front door commemorating Black people killed by police.
If you visit 6018North during the day you'll see what looks like giant wind chimes which are actually one-way pieces of glass used in interrogation rooms. Jiwon Ham's Not for All references police brutality, systemic inequalities, and immigration policies. At night, text from the 14th amendment, guaranteeing equal protection of the law to all citizens, is projected onto the piece.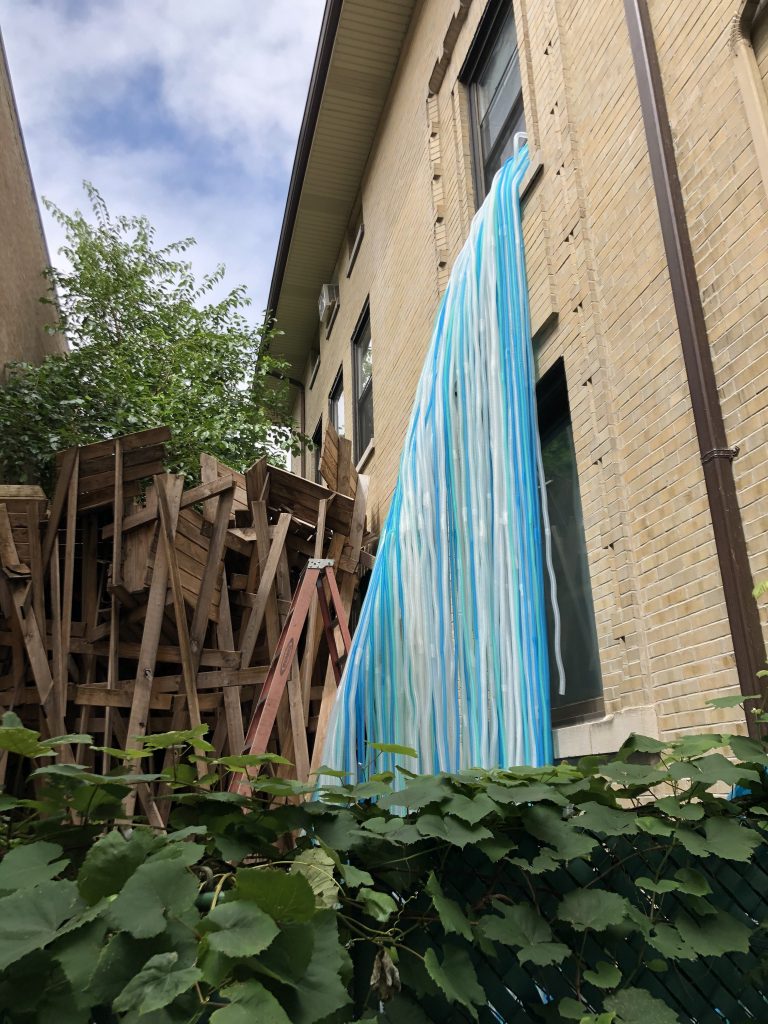 Summarizing and reflecting the themes of the exhibition is Jane Georges's Feeler. Comprised of blue and green braided, twisted, plastic respirator tubes draped from the second-floor window, Georges imagines them "flowing like a river or tears." The title refers to feeler roots, which seek out nutrients. "I thought that was the most beautiful thing ever," says Georges. "There's one main root that looks out for everybody." The notion that each of us are "feelers" compliments the more obvious associations of respiratory tubes with COVID-19 ventilators and "I can't breathe."
The exhibition successfully uses art to poetically depict our current moment of social distancing and protest. But glimmers of hope are present in response to the curatorial questions of how we want to see ourselves and the world–as equitable, inclusive, and selfless.
Windows to the World is on view now and through Fall 2020 outside 6018North.
Featured Image: A white banner on a rod iron fence reads, "IF THERE WAS NO MORE CRIME AND VIOLENCE IN BLACK COMMUNITIES, WHO WOULD SUFFER?" in black text. Hashtags "#CRIMEPAYS, #CRIMESTRIKE, #CRIMEDROUGHT, #BREAKTHESYSTEM, #UNPLUGTHESYSTEM, REBUILD" are printed below the opening text. In the background, viewers can see other pieces hanging on the front porch. Image by 6018North.
---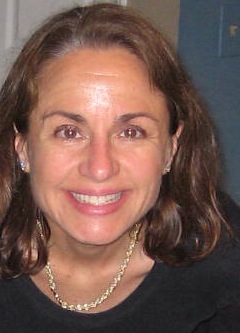 Susan J. Musich spent twenty years as an educator at the Museum of Contemporary Art Chicago communicating fresh perspectives to non-specialist audiences. This experience infuses her approach to writing about art. In addition to freelance writing, Musich serves as a consultant to local foundations and manages the tour program at EXPO CHICAGO.