A Retelling of Contemporary Art History at The Block Museum
Featured Image: Dawoud Bey, Untitled (Chicago), 1993. Polaroid color prints. Gift of Sari and James A. Klein in honor of Lisa Corrin and Peter Erickson, 2014.4.5a-b. © Dawoud Bey. Two…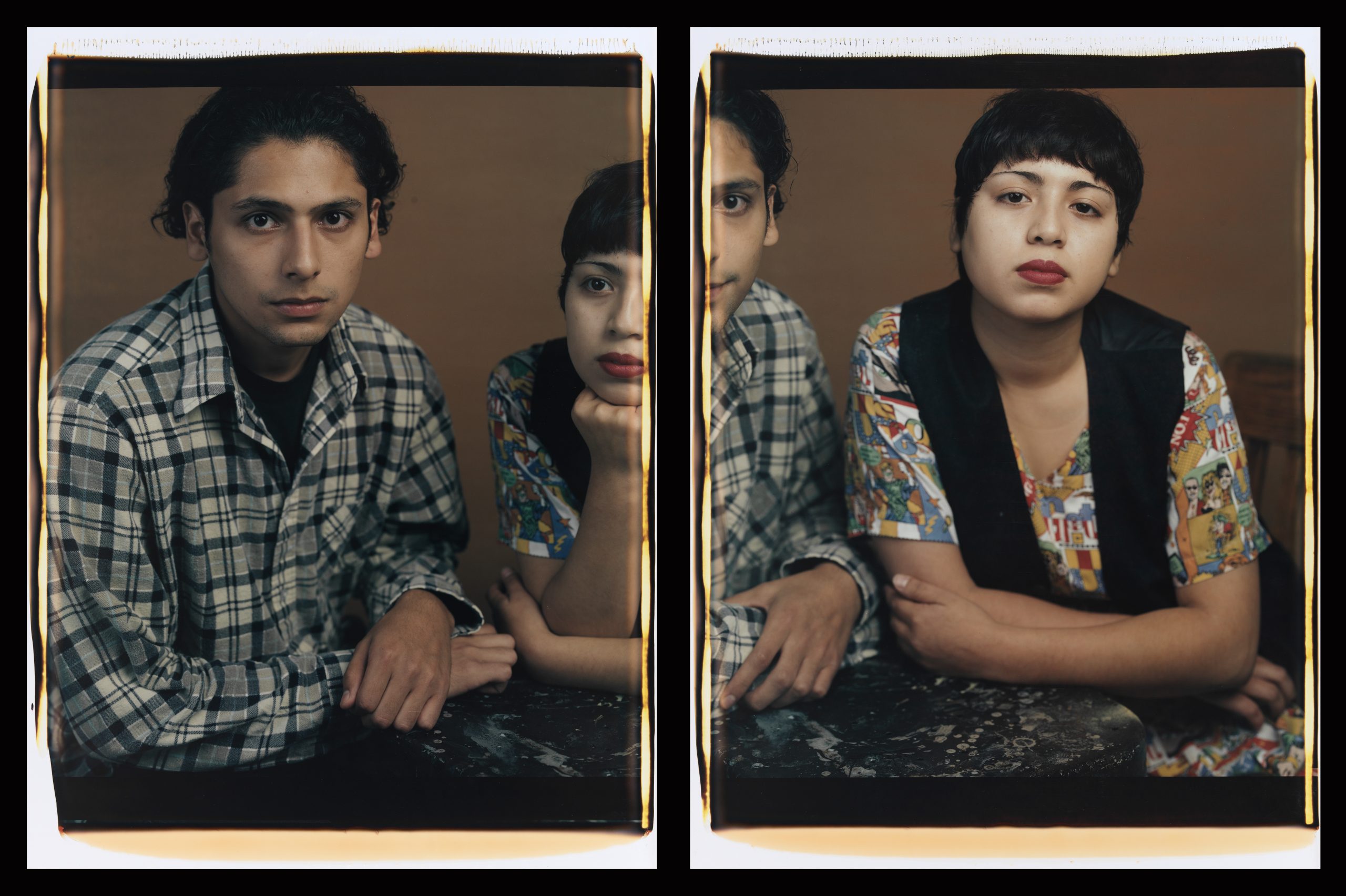 Featured Image: Dawoud Bey, Untitled (Chicago), 1993. Polaroid color prints. Gift of Sari and James A. Klein in honor of Lisa Corrin and Peter Erickson, 2014.4.5a-b. © Dawoud Bey. Two side-by-side photographs of a young man and a young woman show them with subtly different poses and expressions. Image courtesy the artist and Stephen Daiter Gallery, Chicago.
I spent more than 20 years of my professional career as a museum educator. My self-proclaimed mission was to help visitors connect with artworks in ways that were meaningful, accessible, and interesting. After seeing Who Says, Who Shows, What Counts: Thinking about History with The Block's Collection, I came to more fully understand my role in a system that privileges certain voices and viewpoints. While exhibitions are generally created by curatorial teams, it's people like me who also help create legacy by selecting which artists and artworks to discuss with the public. Although museums and galleries are becoming more inclusive and are offering alternative histories, the standard trajectory of art history is one that has been dominated by Western white men.
Case in point: The first work in the exhibition proper is Thomas Struth's Museo del Prado 6, 2005. Part of a series of photographs of visitors engaging with artworks in museums, the image shows throngs of (mostly white) visitors at the Prado Museum in Madrid. Struth is a German male. Visitors are looking at Diego Velázquez's (Spanish male) Las Meninas, 1656, a depiction of the royal court. This photograph exemplifies what many understand as "art history:" a checklist of "must-see" works, created primarily by white men.
Who Says, Who Shows, What Counts is a magnificent and thoughtful antidote to past practice and one of those rare exhibitions where the quality of the art and the strength of the message are both exceptionally strong. The result of a major initiative to acquire works that encourage new ways of thinking about art history, the exhibition features more than 80 modern and contemporary pieces that demonstrate broader viewpoints. Curators Essi Rönkkö and Kate Hadley Toftness explain: "These recent acquisition highlights tell a story of who we are as a museum and what we aspire to be. By inviting our community to write the object labels we hope it sends a message of the ways we seek to serve many types of conversations and inquiries and also how we can be a bridge between Northwestern's research community and our wider audience."
The exhibition's title comes from Louise Lawler's Who Says, Who Shows, Who Counts, 1990, comprised of three wine glasses (often hoisted by wealthy collectors, gallerists, and museum executives at openings) with those phrases faintly etched on the bowls. A reminder of the barriers to entry in the art elite, the text is only visible if you look closely–that is, are part of the inner circle. An infamous Guerrilla Girls lithograph, Do women have to be naked to get into the Met. Museum, 1989-99, explicitly highlights such barriers with its text: "Less than 5% of the artists in the Modern Art Sections are women, but 85% of the nudes are female."
The exhibition doesn't have a distinctively feminist slant, focusing more on diversity of race and culture than on gender. However, Catherine Opie's Skeeter from the series Portraits, 1993, shows a broad spectrum of gender identity and sexual preference. Depicting her friends from the LGBTQ+ community, the series shows a group of people we aren't used to seeing on museum walls. In a 1996 interview she says: "I was thinking about Hans Holbein and the way that he used colour behind his subjects. … It is a way to take people out of their environments and isolate them, because the art is really what they're doing with their bodies." Her portraits portray her friends with dignity, as if they are royalty. In fact, she refers to them as "my royal family" and puts them front and center on museum and gallery walls.
I found the section focused on portraiture to be the most accessible, instructive, and eye-opening. Before the advent of the camera, only the very wealthy could afford to commission a portrait of themselves. Even since the widespread availability of the photographic image, the types of people whose portraits hang in museums tend to be of a narrow demographic or have achieved a certain status.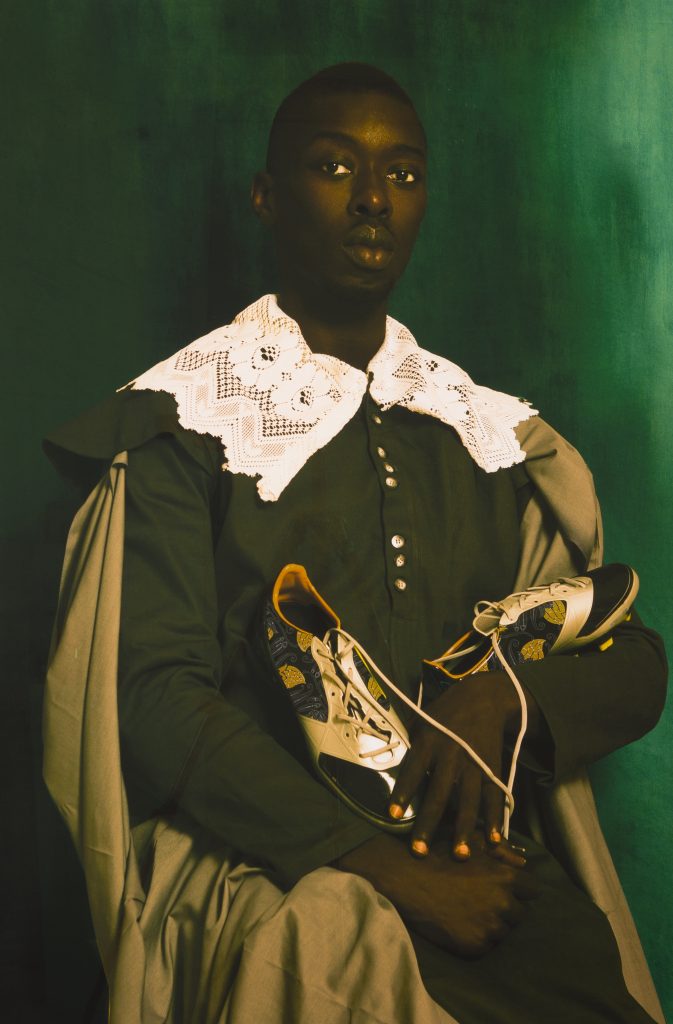 Omar Victor Diop's Juan de Pareja, 2014, is an enigma. A Black man wearing period clothing from a prior era faces the camera and holds a pair of athletic shoes. The wall text consists of an excerpt from Natasha Trethewey's poem Thrall. A bit of research led me to learn that Juan de Pareja was a slave belonging to Diego Velázquez (of the Thomas Struth photograph). After Velázquez painted de Pareja's portrait to high acclaim, he gave him his freedom. Trethewey's poem is written in the sitter's voice and poignantly describes the gulf between the esteemed painter and his subject. In his recreation of the famous portrait, Diop places his contemporary figure against a dark green background (the same device Opie uses), elevating his status in society and in the galleries.
Kerry James Marshall has made it his artistic mission to put black figures on museum walls. His Brownie, 1995, is depicted surrounded by a halo, a convention typically used for saints. She is further elevated by her designation as a "Brownie," part of an organization associated with developing character, leadership, and ethics in young girls. However, the word has a double meaning, linking a type of scout with her skin color. In addition to privileging her as the subject of a museum painting, Marshall connects her with a well-regarded organization that historically was reserved for white people.
Rashid Johnson's Untitled (Anxious Man), 2015, depicts a different, yet equally real, Black subject. An anonymous face, deliberately created without regard to traditional notions of beauty, is formed with black soap, which originates in West Africa. The figure's features are scrawled and scratched into the surface in a physical act which emphasizes gaping, staring eyes—those of surprise or maybe fear.
Throughout history, artists have been in the avant-garde. Anticipating the rebranding of Uncle Ben's rice and Land O'Lakes butter to remove offensive stereotypes, Murry DePillars' Aunt Jemima, 1969, depicts the titular character in a warrior stance, hoisting her spatula like a weapon, escaping the box as well as the roles and expectations that confine her. The Aunt Jemima name and packaging have also been rebranded, although in a more benign fashion than DePillars' rendering.
Another example of artists reframing our perspectives comes from Sky Hopinka's two-channel video installation Cloudless Blue Egress of Summer, 2019, a work the curators hope that everyone who visits the museum will take time to view. They explain: "The thirteen-minute work weaves together footage from the Castillo de San Marcos, the oldest fort in the continental United States, with images from an archive of drawings created by Native Americans who were imprisoned there in the 1870s. It's a beautiful and moving example of the ways that artists help us to access the past and address historical legacies in the present."
The Block's location just north of Chicago makes it an appropriate venue to highlight racial segregation in the city. Tonika Lewis Johnson's 6329 S Paulina & 6330 N Paulina 6900 S Ashland & 6925 N Ashland 6135 S Wolcott & 6129 N Wolcott from the series Folded Map™ Project, 2017, makes the disparities visible. As her title suggests, Lewis Johnson photographs homes at the same street address, but one south and the other north. The home at S Paulina is boarded up, while the one on the north side proudly displays an American flag. Interpretations about America, who it is for and who is welcome, abound. S Ashland features a liquor store while the northside address is a church, playing into misguided stereotypes. Only on Wolcott do the homes and surroundings on the north and south sides appear interchangeable.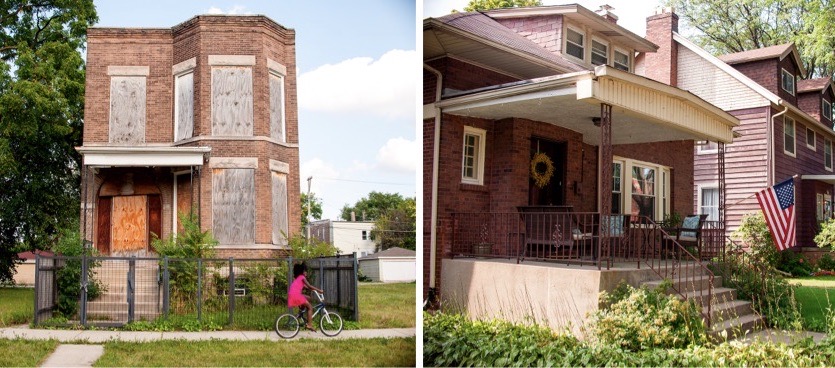 Lewis Johnson's work in the first-floor galleries is one of the final pieces in the exhibition. My hope is that the Wolcott homes can serve as a metaphor for a more equitable city and a more inclusive retelling of art history. Rönkkö and Hadley Toftness conclude: "We hope people will walk away with questions and curiosity to bring with them to other museums and future exhibitions at The Block. How are art collections brought together, who has a say in that process, and why does it matter to the telling of history?" I saw the show over Northwestern's parents weekend; it was refreshing to see students introducing their parents to artists and subjects who weren't included in that generation's art history classes.
Who Says, Who Shows, What Counts: Thinking about History with The Block's Collection is on view at The Block Museum of Art until December 5th.
---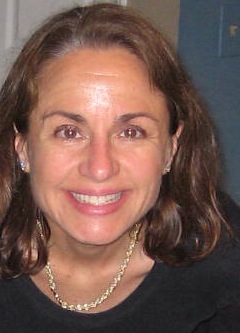 Susan J. Musich spent twenty years as an educator at the Museum of Contemporary Art Chicago communicating fresh perspectives to non-specialist audiences. This experience infuses her approach to writing about art. In addition to freelance writing, Musich serves as a consultant to local foundations and manages the tour program at EXPO CHICAGO.