Kranky Celebrates 25 Years of Ambient Music in a Chapel
I was three years old when Kranky, the ambient music label, was founded in Chicago. In my late teens and early twenties, Kranky was vital to my auditory taste. The…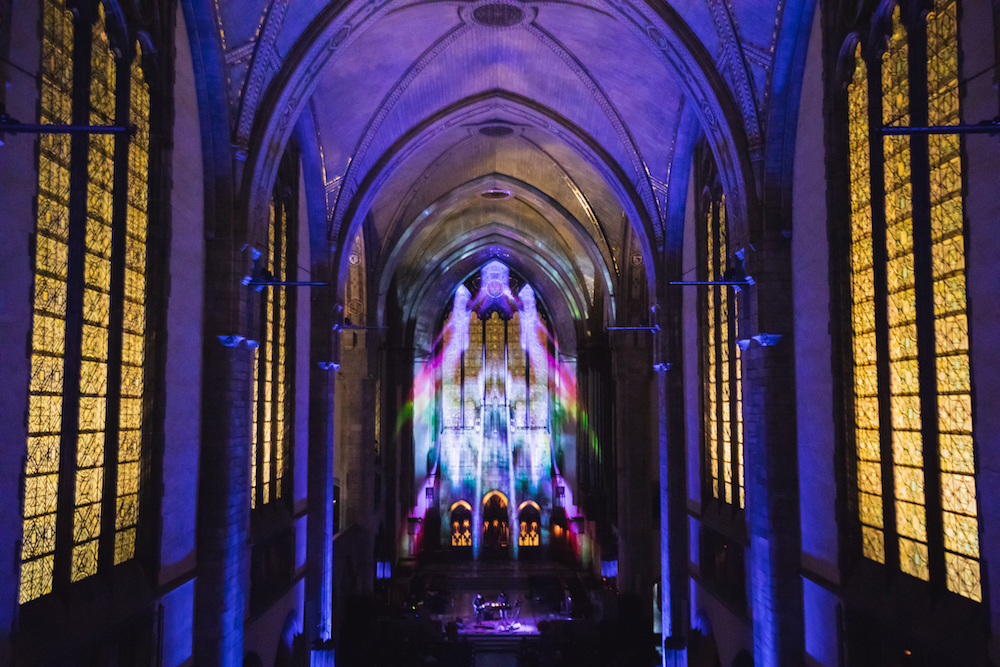 I was three years old when Kranky, the ambient music label, was founded in Chicago. In my late teens and early twenties, Kranky was vital to my auditory taste. The label, primarily focusing on ambient, electronic, or psychedelic music, introduced me to Deerhunter, Stars of Lid, Justin Walter, and The Dead Texan. My youth was spent through a spiral of gazing up towards my ceiling, or driving down dark North Carolina roads while listening to Labradford's album, Prazision. So it's only natural that Kranky would celebrate their 25th Anniversary at the Rockefeller Chapel in Hyde Park with a line up that brings you closer to god, or stillness, or clarity, or whatever brings you solace in a stained-glass building on wooden benches.
Ambient Church is a nomadic event that traveled to Los Angeles, Portland, Chicago and New York, with various different performers in each location. In Chicago, we were welcomed by Matt Jencik, Justin Walter, Pan•American, and Steve Hauschildt.
It's a 25 minute walk from my apartment to the Rockefeller Chapel, a hub for me in terms of hallowed experiences—in 2016, I saw Godspeed You! Black Emperor, for two years I participated in yoga and meditation classes which took place on the altar, and I saw Olivia Block perform with her organ. I didn't think I would be spending my Saturday evening solo at a church—and the crowd of people wrapped around the block probably didn't think so either. And Rockefeller Chapel is quite the holy space. Organs, stained glass, timeworn and hulking doors all add to the ambiance of the event. I seat myself in the middle of the room, rows of people ahead of me are crouched over, leaning on one another's shoulders, couples are intertwined. I have my notebook open. Although it's so large, it is a very intimate space.

Looking behind me at the organ, I see a projector that will eventually create a light show on the stained glass behind the altar. For now, Matt Jencik opens up the show in dim lights and his body, small and minute from where I sit, is illuminated by white light. He begins with a low droning that creates a glacial sensation throughout the space. Kranky is just gearing us up—the light show doesn't begin until Justin Walter, a Michigan native, comes on to the altar. Utilizing electronics and an EVI (Electronic Valve Instrument), Walter and I drift through hazy shifts within the sacred space. The light show is nothing short of mesmerizing. The visuals are curated by Eric Epstein and lighting is designed by Vincent Naples. The focal point begins at the sun-floral shape in the stained glass behind the pulpit and altar. Heads arched up, viewers watch as the light cascades down from this shape in a smoke-like fashion. Traveling, like a dancer, along the stained glass, the light creates a hypnotizing and meditative pattern. It's difficult to explain through words because they just aren't enough.
sa·cred
/ˈsākrəd/
adjective
connected with God (or the gods) or dedicated to a religious purpose and so deserving veneration.
A sacred space contains rituals or practices that differentiate itself from other spaces. The Rockefeller Chapel has always stood out as a community space, a real example of what it means to bring various backgrounds of people together—whether for a religious service, a meditation circle, or experimental music.
Ambient Church's founder, Brian Sweeny, explains his favor of churches to the Chicago Reader:  "They're in every city, and they're frequently not occupied. Every evening these places are open—sometimes hundreds in one city. You have this underserved genre world, and the possibilities from this amazing resource. Those things can meet up." And listening to ambient music for almost four hours isn't for everyone. It's a niche music taste. It can be demanding and tedious. It shouldn't take work to listen to ambient music, but some people claim that it is. Which is why Ambient Church is such an admirable event. It combines features that may incite and excite viewers who don't normally listen to ambient music. The audiovisual component to Ambient Church is strong and incredibly beautiful as the lights beat like a heartbeat and respond to the music and sounds.
Between each set was an intermission—which is very necessary for ambient shows at this length. I mostly listened to other conversations around me, the two young girls sitting one aisle ahead of me fell asleep, the couple next to me embraced.
Pan•American (Mark Nelson) enters the stage with our first set of vocals and a stringed instrument. The echoes of Nelson's guitar were romantic, and surfaced feelings of nostalgia and longing for somewhere warmer, somewhere that wasn't what was outside of the chapels doors. With simple and haunting vocals, the lights continued to dance, though they lessened in impact.
Churches encourage silence and, somehow, all of these acts honor that while simultaneously filling the space with noise. Utilizing synths, electronics, guitars, and visuals, the event is harmonious with what a sacred space should incorporate. The silence surrounding Pan American's performance is crucial. It's almost as if Mark Nelson is whispering into your ear, the microphone capturing every swallow and breath.
Closing the evening is Steve Hauschildt, a resident Chicagoan. It's very Midwestern in the church tonight—I don't feel religious per se, but I do feel grateful, as those thing sometimes feel eerily similar. Hauschildt reminds me of the years I've spent in Chicago, and how this chapel, and this sanctuary city has introduced me to experimental music in a much more broad approach. Steve is accompanied by Michael Vallera and the two take the remainder of the crowd towards an hour before midnight. Ambient Church teaches you mindfulness. I snap out of moments of thought—gazing around the room, wondering what everyone else is thinking. Are they thinking about tomorrow, too? We are all nestled in between our jackets and scarves, heads arched towards the light, and congregating in a space whose doors are always open.
Ambient Church recently closed out in New York on December 15th where Forma, Christina Vantzou, Earthen Sea, and Saloli will performed at St. Ann & the Holy Trinity Church.
FEATURED IMAGE: The altar and stage area is lit up with various hues of colors: red, green, purple, pink and yellow. There is light coming from the outside on two areas of the left and two areas of the right in the chapel. The photographer is looking out on the church from a high angle at the back of the room. Courtesy of Ambient Church.

---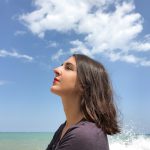 S. Nicole Lane is a visual artist and writer based in the South Side. Her work can be found on Playboy, Broadly, Rewire, i-D and other corners of the internet, where she discusses sexual health, wellness, and the arts. She is also the Office Manager for the Chicago Reader. Follow her on Twitter.
Photo by Jordan Levitt.