Without, Within the World: Hume Chicago
Call them DIY, alternative, radical, or safe, Chicago's independent art spaces create a world without money and borders within a world defined by both. They function as community hubs and…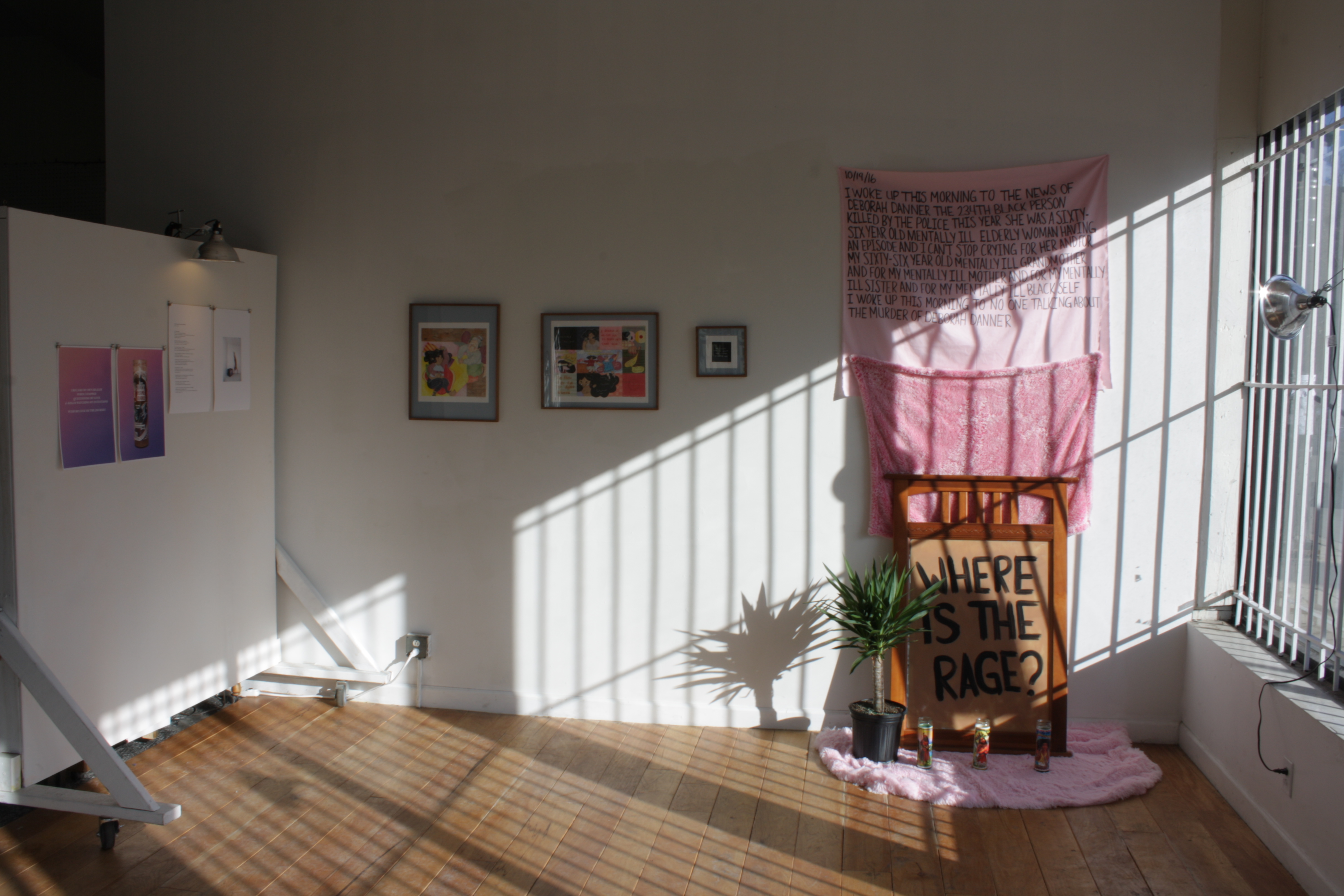 Call them DIY, alternative, radical, or safe, Chicago's independent art spaces create a world without money and borders within a world defined by both. They function as community hubs and communal living spaces, providing free and affordable entertainment, hosting activism workshops and food drives, and building connections among young, emerging, and marginalized artists. "Without, Within the World" is a series of interviews that asks curators and administrators about building utopia while maintaining viable spaces.     
For this installment of "Without, Within the World," we talked to executive director Fontaine Capel of Hume Chicago. Hume is a small gallery and artist studio space run out of a storefront in Humboldt Park. Through an open call process, Hume exhibits work by artists who are underrepresented on the gallery circuit, particularly women, queer, and immigrant artists. In addition to its gallery shows, Hume provides affordable studio spaces for artists and hosts regular events that contribute to its relaxed and friendly environment, such as movie nights and karaoke parties. Hume was established by Capel, Olive Panter, and Gita Jackson, who have since been joined by Katie Waddell, Caroline Walp, Nabil Vega, Krystal DiFronzo, and Katy Albert—most of whom are also artists themselves.
After meeting Capel at Hume, we walked across the street to the liquor store that doubles as the neighborhood bar. Capel excitedly pointed at the various regulars and traditions that make the bar an important locus of community—including the colorful ceiling tiles that have been rented and decorated by its loyal patrons. Capel, who is also a working artist and educator, grew up in Brooklyn as the child of Cuban and Argentinian immigrants. When she returned to Brooklyn after art school, the prohibitively expensive rent and studio spaces she found there propelled her toward Chicago in search of a more accessible and viable artistic community.
Over the early 2000s-era pop punk wails emanating from the jukebox, we talked about the difficulties of running a gallery that, per its mission, exhibits work that's not guaranteed to sell well.  It's a mission that presents obvious financial obstacles but Capel said that long-term sustainability of the space isn't necessarily her—or the gallery's—goal. "We're just doing as well as we can with what we have, which is not that much," Capel said. "And that's fine. We just need to be honest with ourselves about it. And I'm willing to do that. I'm willing to call it quits when it's time to call it quits."
Sasha Tycko: You've talked about how Hume rose out of your own need for affordable studio  space which led to you and other artists renting the storefront together. You could have left it at that, but you opened it up as a public gallery space. Have you always had an organizing impulse?
Fontaine Capel: When I lived in New York, I was an artist assistant to this woman, Simone Leigh, who is this incredible artist, this powerhouse of a human, who was concerned about me moving to Chicago—for my career, first of all, but also, I would find myself asking her a lot of questions. One of them was like, what do I do? I'm a young artist, I just graduated from college, and I don't know how to have a sustainable career in the arts and I don't know what the next step is. And she was like, "Just show your work as much as possible and show your friends' work as much as possible." Make it happen, basically. Whatever resources you have, just use them. And don't think twice about that. I don't even think that she remembers that.
Once I found myself with resources, and once I found myself without a community, because I just moved to Chicago and I had no institutional affiliation here, I knew that I needed to—I just had this desperate need for community. And I think that it kind of came from that, right? And the other catalyzing thing was that I didn't get into a residency, and I was just like, why do I need this external institutional validation? Why not make my own institution? Why not get my friends together and make our own institution? So we can kind of pull each other up and are behind each other. And it's working!
ST: What has led to it working? There's a lot of power that comes with just having a physical space, but it's not just that.
FC: All of the people who started Hume are people who are underrepresented in the arts. I am a woman of color and I am a child of immigrants. People like me are not represented in a way that is egalitarian—even to our population [statistics], in the country. Olive is a woman. And Gita, although not a visual artist, is a black and Indian woman. We were like, yeah let's use this space to show other people. If we have the storefront windows, if we have this ability, let's show people, but let's show people like us, basically. In this broader sense. It just seemed like the right thing to do, the only option really. We're not a commercial space. We're not. And I think at that point we really didn't realize that it was even a possibility to make money selling art so that really wasn't a consideration. And the rent was so cheap that we really didn't need to sell anything, which was so freeing. But it was also a really tiny exhibition space, so at some point we ended up moving to a larger space with a higher rent and we had to worry more about money. At the same time we were getting more and more exposure, so more people were applying—and people who are artists who maybe are used to making money, you know? Which was totally weird.
ST: How has your business model had to shift with the bigger space?
FC: I mean, we didn't have a business model to start. And we still haven't set up a business model that in any way tries to make money, which is problematic for paying rent. But when it started out the people who were running the space were paying money into the space, and only very recently have we shifted that to the people who are renting [studio] space from us who pay for half the space. And then every month we have this deficit that we try and make up through events, basically, and also through monthly donors. We actually have quite a substantial number of people in the community who are just contributing like one dollar, five dollars, ten dollars a month.
ST: Of course not having money is stressful and problematic as you said, but do you want speak a little bit more on the ways in which it's freeing, if you still feel that way?
FC: I feel both that not having money is freeing and that it is super limiting. And I feel both of those pretty strongly. So, in one way, it's freeing because we're not beholden to anyone. I see that in the larger art spaces where I work, that if someone's giving you money, they really want their interests considered. You know, major donors or whatever. We don't have anyone who expects anything of us, which is great. So we have full oversight on every decision that we make. Except running it through our landlord who is an incredible woman who's owned the building for forty or fifty years, and her grandson lives upstairs and helps us with everything and they're super supportive. And then we're just beholden to our artists, right? Doing right by them for whatever they need. And our community, also. So in that way it's incredibly freeing: we can have really weird shit, we can have really queer, like, really strange art. Which is what we want to do.
In other ways not having money is really scary and really limiting. Because we need money, we rent out studio space which in itself is a really nice way to have a built-in community like that, but because we don't have a budget and we don't really ever have anything but a deficit, a very small deficit, we can't provide a lot of the things that we'd like to provide. Just like, really good lighting, or dividers for the studios, or larger studio spaces, you know? They're just all these little improvements to the space and to the life of the studio-mates that we wish we could enact. And also for the artists—we don't have a budget for materials and we can't pay them, and that's huge. Artists and especially people who are underrepresented in traditional galleries already do so much unpaid labor and are also disproportionately not compensated for the labor that they are doing that is unpaid. So to not have monetary resources to give is really, really frustrating.
ST: Do you have any ideas about moving forward on that? Because sometimes it can feel like there isn't a model for sustainability, unless you're just like, well, we'll get closer to being a commercial gallery. But if aspects of that don't align with what you want to do, is there another model you've seen work?
FC: I mean that's the question, right?
ST: Do you have any crushes on other galleries?
FC: Yeah! It's actually really funny. I work at the Museum of Contemporary Art right now—
[At this point, our conversation was temporarily derailed by a Distillers song coming through the jukebox in the bar. Capel: "I had it in a Walkman and I listened to it every morning on the train to school when I was, like, twelve."] 
FC: Great. Hello. I've returned. I'm a professional art person. [Laughs] I wonder what I was saying—so I work at the MCA in the Design, Publishing, and New Media Department (DPNM). There's an artist who is about to be shown at the MCA who is this incredible painter and artist, Howardena Pindell, and I'm reading a lot of her writings right now, proofreading a lot of transcription of her writings. She is a black artist and she was a black artist in New York who worked at, I believe, MoMA, as well as being a working artist in New York. So much of her writing is about racism in the arts. Something that gets mentioned a lot in her writing about racism in the arts in the seventies and eighties in New York is the fact that the alternative spaces in the U.S. are underfunded by the government and by corporations, and so frequently have to close, and those that are run by people of color and primarily show people of color close at an alarming rate because of the lack of funding. And I'm reading this and I'm being like, fuck! This is exactly what I'm experiencing—nothing has changed, there's still no government support.
I, at the least, don't have access to a community that's both interested in these voices and this work and has capital. And I don't doubt that they exist somewhere, but they're not in Chicago, not that I've found. And who knows? I don't know what a perfect model looks like as long as we have to exist in a capitalist society. As long as wealth is concentrated where it's concentrated, and as long as I'm interested in making and showing the work that I'm interested in making and showing, I haven't found and I haven't seen a way to make those two facts jive. You know, I imagine the solution would be government funding for the arts, but that's a pipe dream. I don't know—we have been approached by so many things that just have nothing to do with our values, but that would pay a lot of money.
ST: Like exhibition proposals?
FC: Yeah, like exhibition proposals. And there's a developer of one of those terrible condo buildings in Logan Square that approached us just being like, "We've heard about your gallery and we love what you do. Would do you curate some artists for our brand new high rise? Basically because we want some local flavor." And I remember talking with some folks from Somos Logan Square about it over beers.
ST: Can you explain what Somos Logan Square is?
FC: They're a community organizing group that fights against gentrification and displacement. And I remember talking with them about a plan that fell through of potentially accepting that offer and embedding some kind of, like, saboteur there in place. So, showing portraits that are very beautiful but having the portraits be of all the people who were displaced from the neighborhood, and from specifically the footprint of that building, and telling their stories. That fell through.
We were always interested in highlighting the voices of people who are underrepresented. And we showed an artist who is an immigrant but who is a cis white dude, which is just on the edge. We showed him because we like his work but also because he sells paintings. We sold enough paintings that we weren't scared about paying rent that month, we just paid it without worrying or having to throw a last minute rent party. But it felt bad. Even that little—you know, that didn't hurt anyone necessarily but that just didn't jive with where our hearts and focus are. And it was really clarifying for that reason.
ST: Let's switch into all the positive aspects of your work with Hume.
FC: Yeah, please!
ST: In your mission statement you make a point of emphasizing neighbors—I mean you just mentioned Somos Logan Square and gentrification stuff, but you also had a show of your own work where you recreated a domestic environment and served coffee. Do you want to talk about the ways you make Hume friendly or accessible to your neighbors and why it's important to you?
FC: When I was selected for the 2nd Floor Rear Fest, I did a project in our space that I felt was really important to do in the space that I run where I transformed the front of the exhibition space into a simulacrum of my grandmother's apartment where my mom and my aunt grew up, where I also grew up, and that my aunts who were still living there at the time were just being pushed out of by developers. Having a space that had very specific signifiers of a very specific Latino, but like Caribbean Latino, immigrant experience was really personally fulfilling and was really important. So people kept coming in off the street and being like, "Do you know about these crackers?" And I'd be like, "Yes, this is my art, I grew up eating these." Like, Cuban galletas de mantequilla—butter crackers. And they were like, "Yes, do you know about them?" And I was like, "Yes, this is my art!" [Laughs] One of the motifs that I used a lot was outlets covered in layers and layers and layers of paint until they were rendered unusable, which is something that I grew up with a lot in the apartments where I grew up. And it's kind of like a visual signifier of this really pervasive landlord neglect, super neglect, in these apartments. I had a bunch of canvases that had literal plugs that were just covered in paint until you couldn't plug anything into them. Someone came in with his son, and I don't think he spoke English but his son did, and he was said, "My dad was just so excited to see that, because he was like, I know that, I recognize that. That is what our outlets look like."
I'm also interested in having, you know, really weird work that pushes boundaries, and so one week people walking by can be like, "I feel extremely comfortable in the space and I know the woman who runs it and she spoke to me in Spanish, I feel comfortable with her." And then the next week there's, you know, lacy underwear all over the wall with crystals growing out of it—and then maybe that same person would walk by and not feel super comfortable with that material necessarily or be confused by it but will have an association with the space that is: oh, this space is approachable, I can ask these people what's up, I can walk in here. It's not necessarily like the only thing that's important is reflecting people's experience, the people in the neighborhood's experiences, but also exposing passersby to other lived experiences from other people who are marginalized, because that's intersectionality, right? Common understanding of disparate experiences and their overlapping.
Hume is holding a fundraiser to help cover the cost of winter heating. Donate here. 
Featured Image: An installation view of a recently closed show at Hume Chicago, "Feeling Pink Like My Insides," curated by Ken Folk. From left to right, work by Juanita Segovia, Sharon Akosua and Rene Matic, Alofa Gould, and Ken Folk. Sunlight floods through the barred window, casting a geometric shadow over the gallery space. Photo by Hannah Siefgried.

---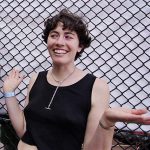 Starting from the proposition that art-making is world-making, Sasha Tycko combines community organizing and curatorial work with writing, music, and performance. Tycko is a founding editor of The Sick Muse zine and an administrator of the F12 Network, a DIY collective that addresses sexual violence in arts communities. Find more on IG: @t_cko and at www.nomoneynoborders.com. Photo by Julia Dratel.