Weekly Picks: February 12 – 19, 2014
Our weekly calendar is a list of visual art related events happening in Chicago.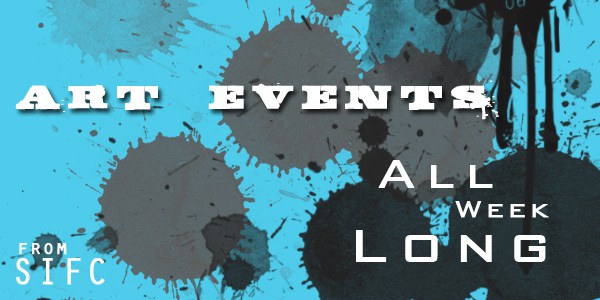 Our weekly calendar is a list of visual art related events happening in Chicago. 
RISK: Empathy, Art and Social Practice
Thursday, February 13, 2014 | Exhibition Runs Through April 26, 2014
Opening this week, RISK considers the interdependent role of empathy and risk in socially engaged art as practiced by Chicago contemporary artists. The exhibition features artists who work in a public arena to foster connections between individuals and to activate communities. Their work invites the outside in, blurs the lines of public/private, reveals our mutual dependencies and effects social change. RISK is one part exhibition, one part city-wide events throughout the run of the exhibition at Glass Curtain Gallery. And it features the work of many artists we know and love–Alberto Aguilar, Jim Duignan, Industry of the Ordinary, Samantha Hill, Kirsten Leenaars, Faheem Majeed, Cecil McDonald, Jr., Jennifer Mills , Cheryl Pope, Museum of Contemporary Phenomenon, Potluck: Chicago, and Fereshteh Toosi. RISK is curated by Amy Mooney and Neysa Page-Leiberman with Assistant Curator Marcela Andrade.
Glass Curtain Gallery at Columbia College Chicago
1104 S Wabash Ave.
5:30pm – 8:30pm
Free
At The Threshold: A Love Themed Launch Party
Thursday, February 13, 2014 | Exhibition Runs Through April 26, 2014
Also opening this week is Envisioning China: A Festival of Art and Culture at University of Chicago, which includes the exhibition Performing Images at the Smart Museum. As part of the kick off, our friend and Smart's Interpreter In Residence Matt Austin is hosting At The Threshold–a love fest in the front atrium of the museum where there will be a special invitation for you to go down memory lane by telling him your first kiss stories, making special music requests for the song you had your first dance to and taking in the love language of Chinese opera through the exhibition.
Smart Museum
5550 S. Greenwood Ave.
5pm – 7:30pm
Free (but bring $$ for drinks!)
Photorealism in the Digital Age
Saturday, Feb. 15 2014
A new exhibit by New York-based artist Yigal Ozeri opens at Mana Contemporary Chicago. Known for his large-scale paintings of women, Ozeri's pieces mingle arrestingly realistic detail with a dreamlike sense of space. The overall effect is a work that feels physically tangible yet otherworldly. This solo show features works from the collections of the Eileen S. Kaminsky Founation, Richard Massey, and Louis K. Meisel, the last of whom coined the term "photorealism" in the 1960s. Meisel and Ozeri will be in attendance, and will be signing copies of their new book Photorealism in the Digital Age. This event runs from 5 p.m. to 8 p.m. on the fifth floor of Mana Contemporary Chicago at 2233 S. Throop St.
Mana Contemporary
2233 S. Throop St.
5pm – 8pm
Free
Closing Reception: whatever-is-not-here-present-to-our-senses-now
Sunday, February 16, 2014
Read Sixty coverage of ACRE artists.
Philip Peters and David Rueter (along with ACRE Projects, who host) conclude their month-long exhibit with an artist-curated walking tour of the surrounding area. Peters and Rueter have assembled a small group of creators to read and perform original pieces, each coupled with a site within walking distance of the gallery. Hot drinks and Swedish parkas will be provided. After the journey, the audience and performers will regroup at ACRE for an informal discussion of the experience.
ACRE Projects
1913 W. 17th St.
Tour departs at 2pm
Free
aroundcenter Panel and Chicago Projections Book Launch
Tuesday, February 18, 2014 | Exhibition runs through April 27, 2014
Read the Sixty Interview with Jan Tichy.
Tuesday sees Jan Tichy's aroundcenter, a site-specific exhibition that casts the Chicago Cultural Center in a new light. Literally. A neon sculpture greets visitors in the Randolph foyer, and as they explore the building, they discover video projections, photographic exhibits, and light-based sculptures themed on the history of the Cultural Center. Curator Daniel Schulman leads a panel discussion along with the artist and MoCP curator Karen Irvine. They celebrate Irvine and Tichy's new book Chicago Projections, which describes an assortment of Tichy's light-pieces projected on nine architectural icons around the city. This exhibition runs until April 27, and the panel discussion takes place at 6 p.m. with a reception from 7 p.m. to 9 p.m.
Chicago Cultural Center
78 E. Washington St.
6pm – 9pm
Free
The Resurrection of Tristan Meinecke
Through February 21, 2014
Every Wednesday through Sunday until February 21, the Underground Multiplex invites the public to explore the recently excavated studio of Chicago's forgotten lunatic genius, Tristan Meinecke. Known for making art out of anything at all–including burning tar freshly poured in the street in front of his house–Meinecke was one of Chicago's original underground artists. Now nearly ten years after he passed away, the Underground Multiplex joins forces with members of the Meinecke family for a guided tour of a madman's laboratory.
Tristan Meinecke's Former Studio
2357 W Chase St.
7pm – 10pm – Weekdays, 1pm – 10pm – Weekends
Free