The Flying Trapeze: Raks Geek
Circus has been making a comeback across the country for the past few decades. Chicago has seen the rise of circus schools, companies, and shows all across the city. Performers…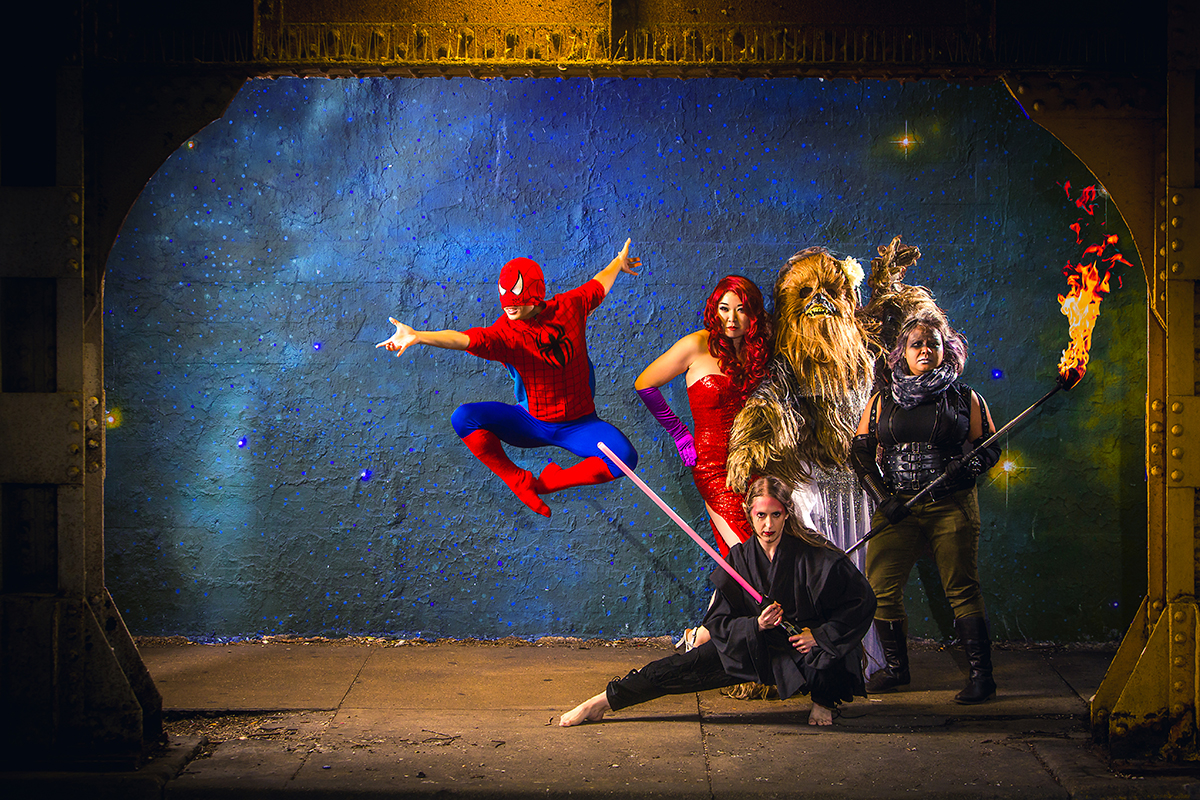 Circus has been making a comeback across the country for the past few decades. Chicago has seen the rise of circus schools, companies, and shows all across the city. Performers train and present their work to audiences while amateurs can learn new circus skills for health and self-expression. Any given month, you can see at least two homegrown shows, not including shows by smaller companies and the occasional visiting circus. The Flying Trapeze is a column that will bring you the best and brightest of Chicago's vibrant circus scene.
---
Raks Geek is a cabaret of belly dancing, fire spinning, and other arts celebrating geekdom. Think Chewbacca dancing or Thor fire dancing.
Dawn Xiana Moon, Raks Geek's founder and director, hadn't originally planned to start the group. It had come out of her own interests as a self-professed geek who wondered if anyone had combined belly dancing and geekery. After searching on YouTube, Moon saw some geeky belly dancing but felt that it wasn't high enough quality. As a professional belly dancer and singer-songwriter, Moon explains that "a lot of people don't know what [bellydancing] is…" and if they do their point of reference is usually Shakira. So she decided that she wanted "people to see belly dancing at a professional level and bring in the geek part" for a one time show.
But Moon realized that the idea had legs and it "organically grew into a proper dance company in 2012." Raks Geek is the dance company's name whereas Raks Inferno, references fire spinning project affiliated with Raks Geek.
Fire spinning was a critical part of the group from the beginning. As Moon was conceptualizing the show, Michi Trota, a fire spinner, as well as managing editor of Uncanny Magazine, suggested bringing in fire into the group. Performers often combine belly dancing or other forms of dancing with fire fans, fire candelabras, and other apparatuses. When asked why fire, Moon put it simply: "Fire is awesome." She learned fire spinning from her friends— their passion spreading from one person to another— and used the "fire [to] highlight… the belly dancing."
Of course, fire spinning does pose some logistical issues for Raks Geek. They have to find a venue that permits it, which is "the biggest hurdle" according to Moon. Once they find the location, they have to make sure that the smoke doesn't fill the theater, whether it's using windows or a good ventilation system. The group uses fuels that burn cleanly to help reduce the smoke.
Each performer has a designated person who watches their performance to step in if necessary should the performer require assistance. In addition to performance insurance, performers have costumes made from natural fibers like leather, cotton, and wool instead of synthetic materials that melt to skin.
Over its eight years, Raks Geek and Dawn Xiana Moon have gotten a lot of press and accolades. The group has regularly performed on WGN over the years. In 2017, the group was voted as runner up best dance group in Chicago by the Chicago Reader. In 2019, Moon was voted best stage performer and best dancer by the Reader as well as runner up for best singer/songwriter and finalist for a world music act.
Belly dancing Chewbacca might be one of the performances that the group is best known for. In their first year, a video from a Raks Geek performance of a belly dancing Chewbacca with a Klingon band went viral; it was even included as the top 50 funniest moments for UK TV Channel 4. While Moon wasn't the belly dancer of the video, she picked up the furry mantle and took off with it. Most recently, Moon performed on Britain's Got Talent as belly dancing Chewbacca.
But like most performing arts groups, Raks Geek had many shows canceled as a result of the pandemic. Moon often plans shows five months out or more but with the shelter-in-place and closure of theaters, no one knows when live theater can begin. Moon says, "It's hard. A lot of people who perform in our group— many are full-time performers— don't have day jobs. [It's hard] for all of your income to disappear overnight for the foreseeable future…"
When news of the pandemic began to take hold, Moon realized that this was not going to be only two weeks; she decided that "we [are] going to have to do some live streaming." However, Moon hadn't watched a lot of live streams: "In the past, the people who were live-streaming were gamers and a handful of musicians, but not very many. It wasn't a thing on people's radar if you're not a hardcore gamer."
When she saw a group of belly dancers in the bay area live stream a show via Zoom, Moon thought, "This is actually a thing that can be not just interesting to watch as entertainment, but also feel helpful and encouraging." She decided to research different platforms, learned new programs to start creating live streaming shows.
Moon wanted to start making shows quickly because "I think expectations for what live streaming should look like three months from now are going to look different from what audiences expect right now." She wanted to get over the learning curve quickly when audiences were more patient and everyone—from small performing arts groups to late-night television— were also figuring it out.
Raks Geek has been live streaming shows via Facebook almost every two weeks throughout the quarantine. Performers have used their homes, backyards, and spaces behind their apartment buildings to belly dance, fire spin, and even do Lyra and hand-balancing. They recently had a Raks Geek show on May 29th with performances inspired by Mystique from X-Men and Pyramid Head from Silent Hill.
They are hoping with the onset of Phase 3, Raks Geek can gather in groups of five or fewer at their usual theater, the Newport Theater, to video some performances. Their next Facebook Live show is June 26th at 8pm with proceeds going to Lighthouse Foundation to support Black LGBTQ+ rights with special guests from Teatro ZinZanni and Full Moon Jams.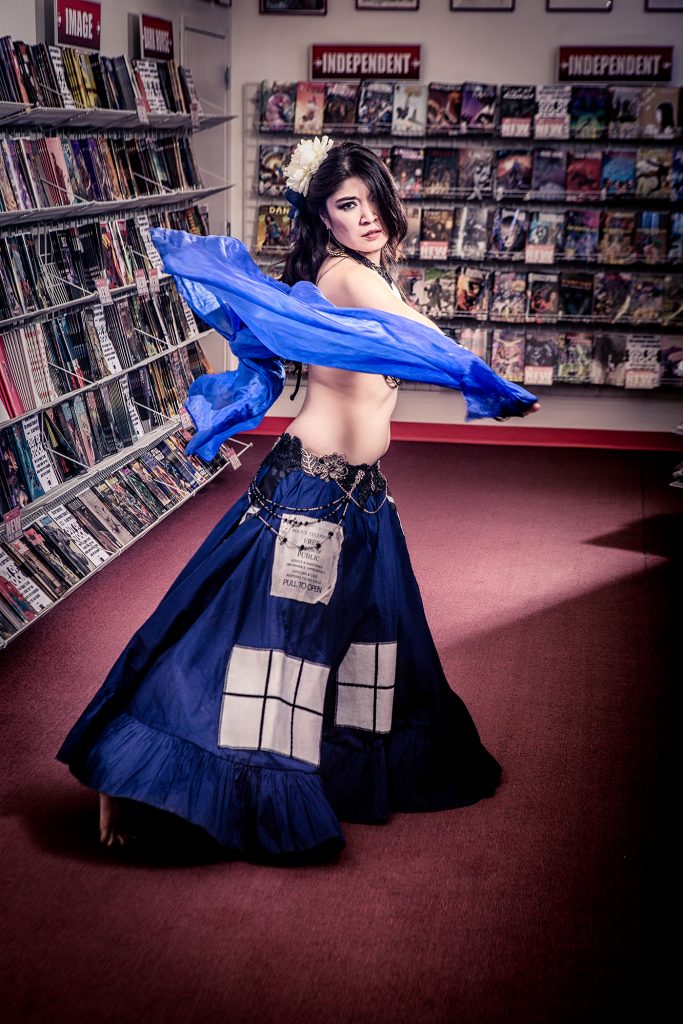 But the dance group's work isn't just about entertainment and celebrating geekdom. The group has taken a political stance in favor of immigrants and LGBTQ rights in particular. Raks Geek is half Asian-American and half LGBTQ, Moon says, so the surge in xenophobia in the past few years had a material impact on their lives.
With the election of the president, Moon says the arts community was grappling with what to do and the group decided to donate 10 percent of funds raised from performances to local and national nonprofits. On May 15th, Raks Inferno put on "I am not a Virus" to protest the recent anti-Asian racism that has increased with the coronavirus and raised funds $1,795 for Asian Americans Advancing Justice (number as of May 19th.) Moon belly danced with fire to one of her own compositions for the show.
Since the election, Moon says, "we became much more open about our identities. We started talking very openly about what it means to Asian American in the U.S. or a trans person in the U.S. and how that affects us." Because Moon, who came to the U.S. at the age of 5 and has become a U.S. citizen, aptly points out: "My existence is political."
Ultimately, Dawn Xiana Moon explains, "This is a thing I know how I do — how to use my particular skill set to make the world better." Bravo to Raks Geek for bringing entertainment and political action into our worlds, whether in real life or virtually.
Featured Image: Image: Group shot of five Raks Geek performers in an underpass with blue wall and yellow metal supports. In the center, red and blue Spiderman jumps into the air as if they are going to shoot a web. To the left, four cast members pose including Jessica Rabbit, sultry in red with purple gloves, a belly dancing Chewbacca clad in white, Mitchi Trota in a black top and gloves with taupe pants holding a giant flaming sphere. In front of them, a Jedi with long blond hair lunges to the right while holding a pink lightsaber. Photo by Braden Nesin.
---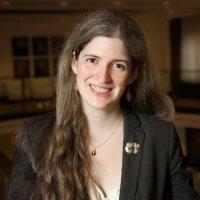 Elisa Shoenberger is a freelance writer and journalist in Chicago. She has written for Boston Globe, Huffington Post, Artsy, Hyperallergic, Deadspin, and others. She writes regularly for Book Riot and Streeterville News. She plays alto saxophone in her spare time and occasionally stilt walks.