BIPOC Circus Alliance Midwest Makes Circus Advocacy Epic
BCAM is forming networks of care to support circus artists and others in pursuit of career and opportunity in the industry.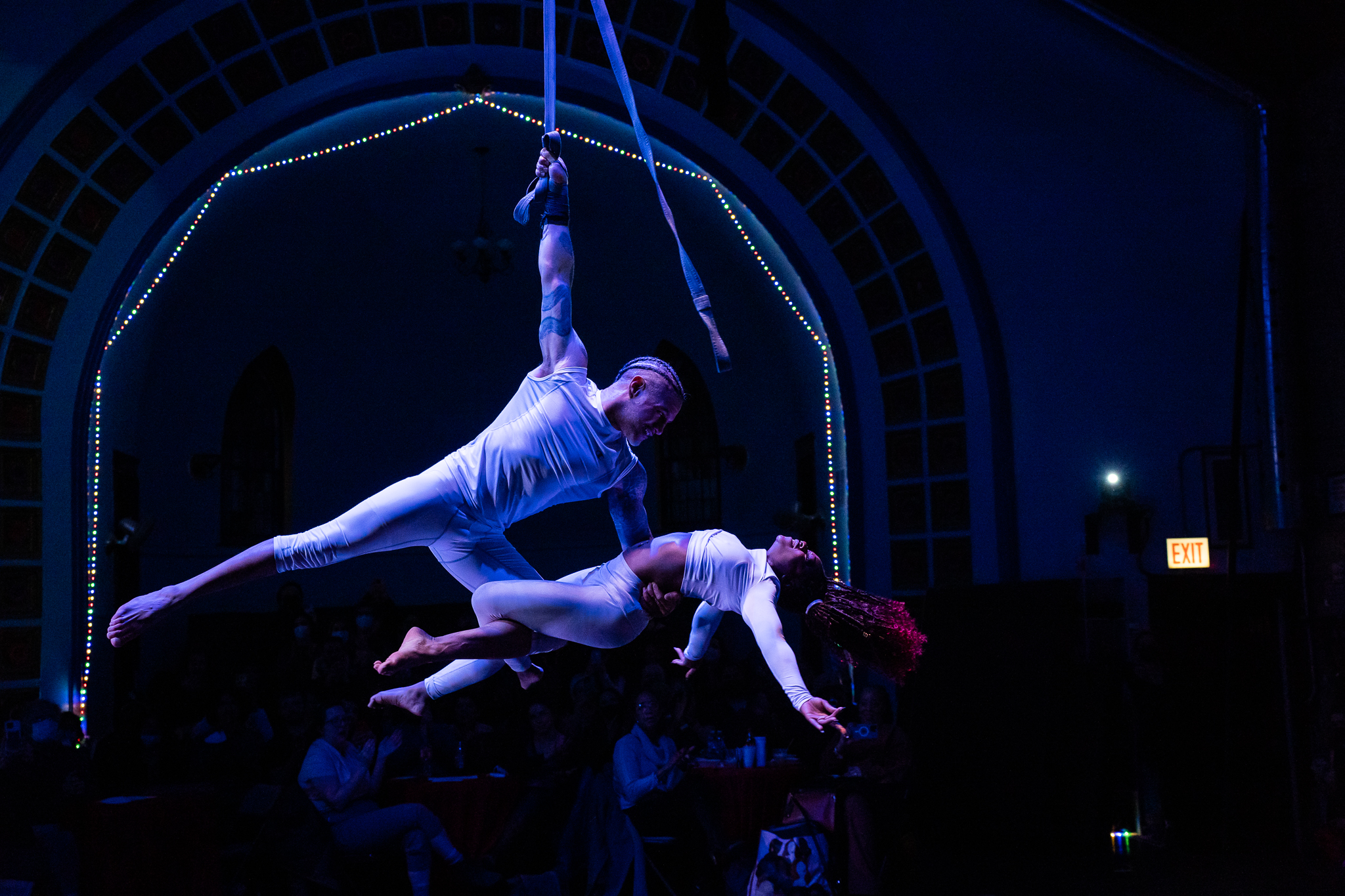 BIPOC Circus Alliance Midwest (BCAM) wanted to fill a void in the circus community. The collective grew out of a Zoom call hosted by Aloft Circus Arts that was a panel of six BIPOC circus performers talking about their experiences as people of color in the circus world in the summer of 2020. After the panel, two audience members, Chris Rooney and Cicely Green, approached circus and theater artist Kaitlyn Andrews, one of the panelists, to keep the conversation going; the panel made them realize there was a need in the circus community to create spaces and opportunities for BIPOC performers.
BCAM would soon be born with Andrews, Eric Robinson, Chris Rooney, Green (who would later leave the group) and Amanda Okolo as the core group. "We wanted to make ourselves a resource for circus schools to be able to reach out to BIPOC artists and get our input from our experiences of feeling othered in spaces," explained Andrews, as predominantly white organizations tried to revamp their diversity, equity, and inclusivity (DEI) efforts. They also wanted to figure out, "How can we come together and create spaces for performers to connect and to showcase their work to each other?" Andrews continued.
The efforts of BCAM are essential to make the circus a more welcoming place for non-white people. Robinson, circus and theater artist, explained: "A lot of performers of color do not feel like they're at home in the circus and the circus is supposed to be for everybody. We're supposed to be learning in this space together, creating something beautiful." But performers of color are often left out.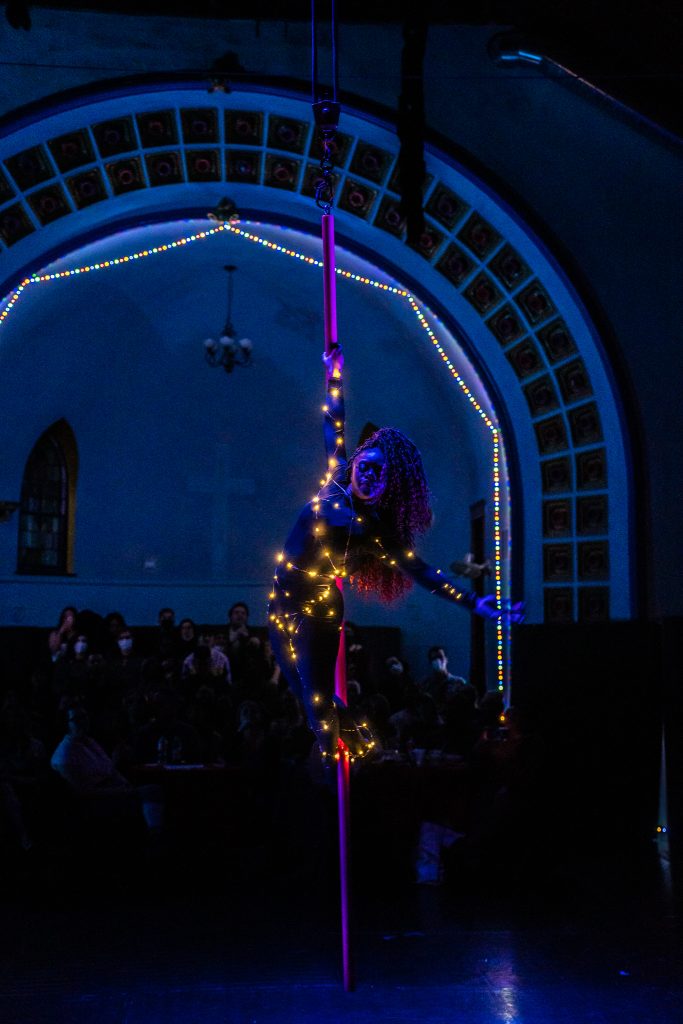 BCAM is working on changing that. "We want to let people know: 'Hey, we're out here. We're building and growing,'" Robinson said. The collective sees itself as internally working to build community, Andrews explained, but also externally working to connect people to opportunities they may have missed.
The collective hosted their first show virtually in 2021 and then debuted in person at the first Chicago Circus and Performing Arts Festival (CCPAF) in 2022. This past February, the collective produced their first solo show, a Black History Month Circus Cabaret, at Aloft with an all-Black performer cast. It was an "epic success," Andrews said.
"I was really struck just seeing everybody after taking their bows together, and […] Whoa, I've never felt this before," Andrews reflected, "I've been doing circus for 12 years of my life now. I've never shared a space with exclusively BIPOC artists, I'm usually the one or one of three people of color in a room."
"It is inherently different to live in this country and to not be white and to be with other people who—without you needing to talk about it—understand a little bit of the nuance of that experience of being othered. It's really significant and powerful to pull off these amazing circuses."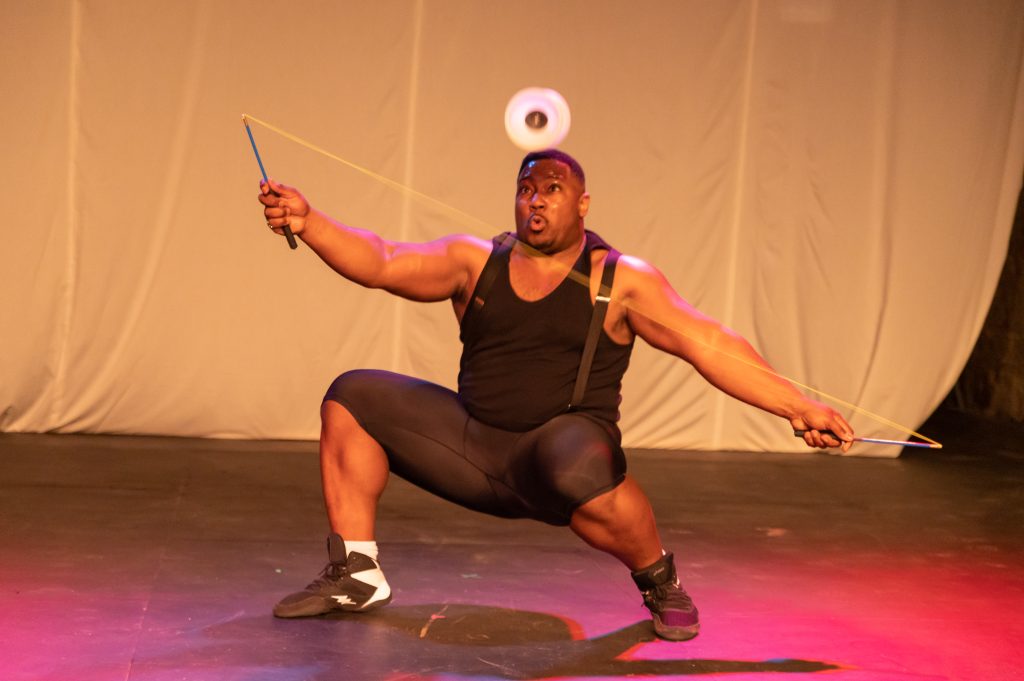 On top of that, Andrews pointed out that, at CCPAF, there were representatives of other circus shows, like Cabaret ZaZou. "We're giving folks the opportunity to be seen and witnessed by folks who have power and who have agency and they may not have been on those folks' radar," she explained.
BCAM is gearing up for their shows in the second annual Chicago Circus Performing Arts Festival. They'll be performing two shows, March 10th and March 11th, at the Den Theatre. The collective will be hosting another cabaret focused on Midwestern artists of color. Andrews and Robinson hope that they'll continue to deepen relationships with the community they've created as well as build connections within the circus and theater worlds.
While they are working to finalize the lineup, there will be several aerialists, a diabolo act (a juggling device with two cups connected at their bases by an axle which the performer manipulates with a string), partner acrobatics, and more. Part of the challenge for all the performers is that the ceilings at the Den are only 12 feet high—which is low for circus arts.
In addition to their shows, BCAM has continued their work to advocate for DEI in circuses. For instance, they worked with the American Circus Educators Association to "facilitate some racial navigation based on their organization because they wanted to be more inclusive," Robinson said. Each month, they also hold a standing Zoom call with about 30 circus companies to talk about rotating topics such as racism, discrimination, and other issues in the circus.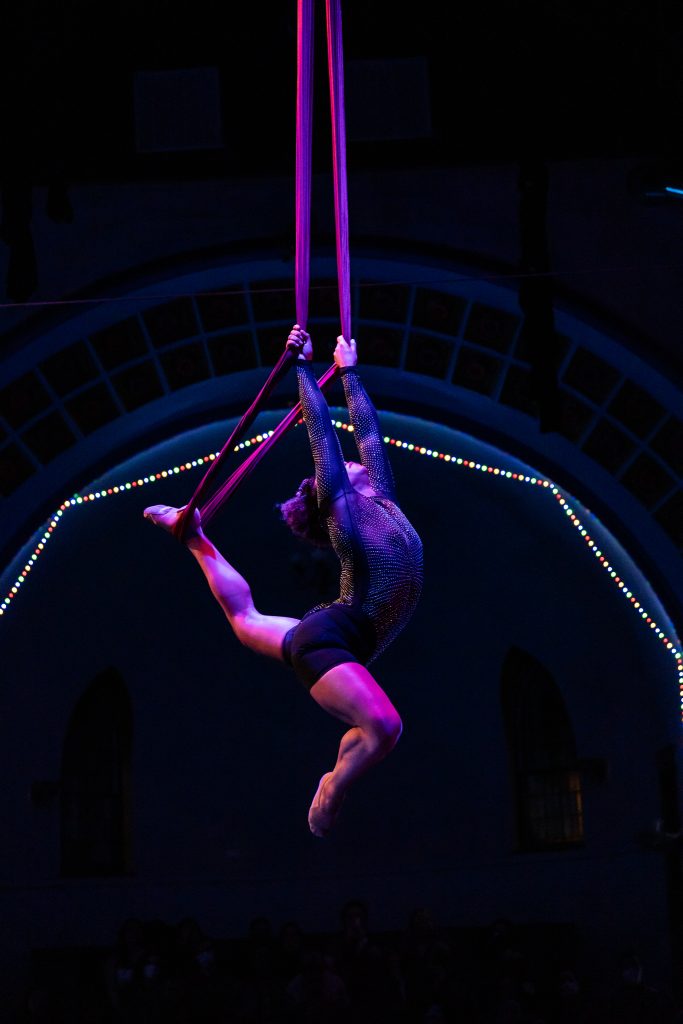 One big change that Andrews noticed since their inception in 2020 was the shift in their questions. "When we initially began in the pandemic, a lot of our questions were centered around how we can serve the circus community," she said when everyone was in lockdown. But now that things are more open, Andrews said, "We're starting to ask ourselves more, 'How can we immediately serve our community of fellow circus artists of color?'"
The rest of this year, the collective will work on the "stability, sustainability, and growth" of the group, Andrews said. There's a lot of momentum, but they do not want to burn themselves out; the core group of BCAM all work other jobs. "We have… [to] figure out how to create some more structure around our groups so we can easily invite others into it so we can distribute a little bit better," Andrews explained. "Then [we can] continue to grow and expand and put on more shows and create more opportunities."
They hope in the future, once they've become more established, that they can help others create their own BIPOC Circus Alliances across the country. Right now, they provide advice to other performers of color who may want to create their own shows, including best practices for a virtual show (such as ticketing, format, etc.) BCAM is open to partnerships with interested performers of color across the country, not just limited to the Midwest.
Next year, Andrews and Robinson hope that they'll be able to be in more shows and festivals including another Black History Month Circus Cabaret and even a Juneteenth performance. "I want us to be everywhere next year," Robinson said.
---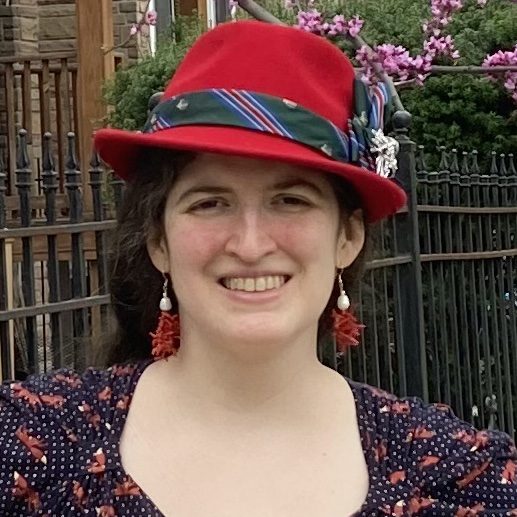 About the author: Elisa Shoenberger is a freelance writer and journalist in Chicago. She has written for the Huffington Post, Slate, Hyperallergic, the Boston Globe, and others. She writes regularly for Book Riot, Murder & Mayhem, and Cheese Professor. She has a BA. in Latin American History from the University of Chicago, MA in Latin American Studies from the University of Wisconsin-Madison, and an MBA in Marketing and Operations Management from Loyola University, Chicago. She's obsessed with dogsledding, murder mysteries, and cheese. She plays alto saxophone in her spare time. Twitter: @vogontroubadour and at Mischief and Writing.