The Flying Trapeze: Camille Swift, the Monstress Madame Mantis
Circus has been making a comeback across the country for the past few decades. Chicago has seen the rise of circus schools, companies, and shows all across the city. Performers…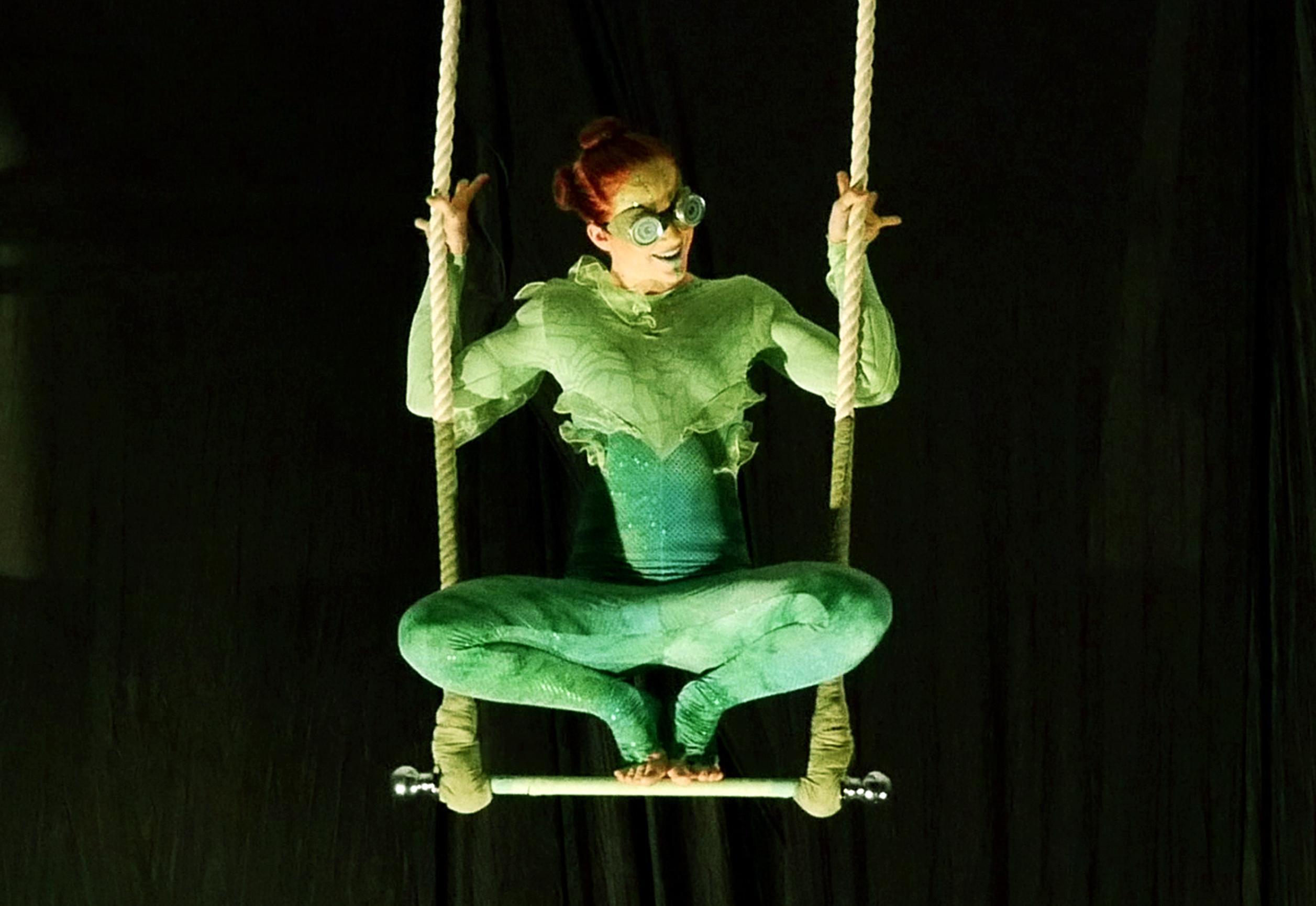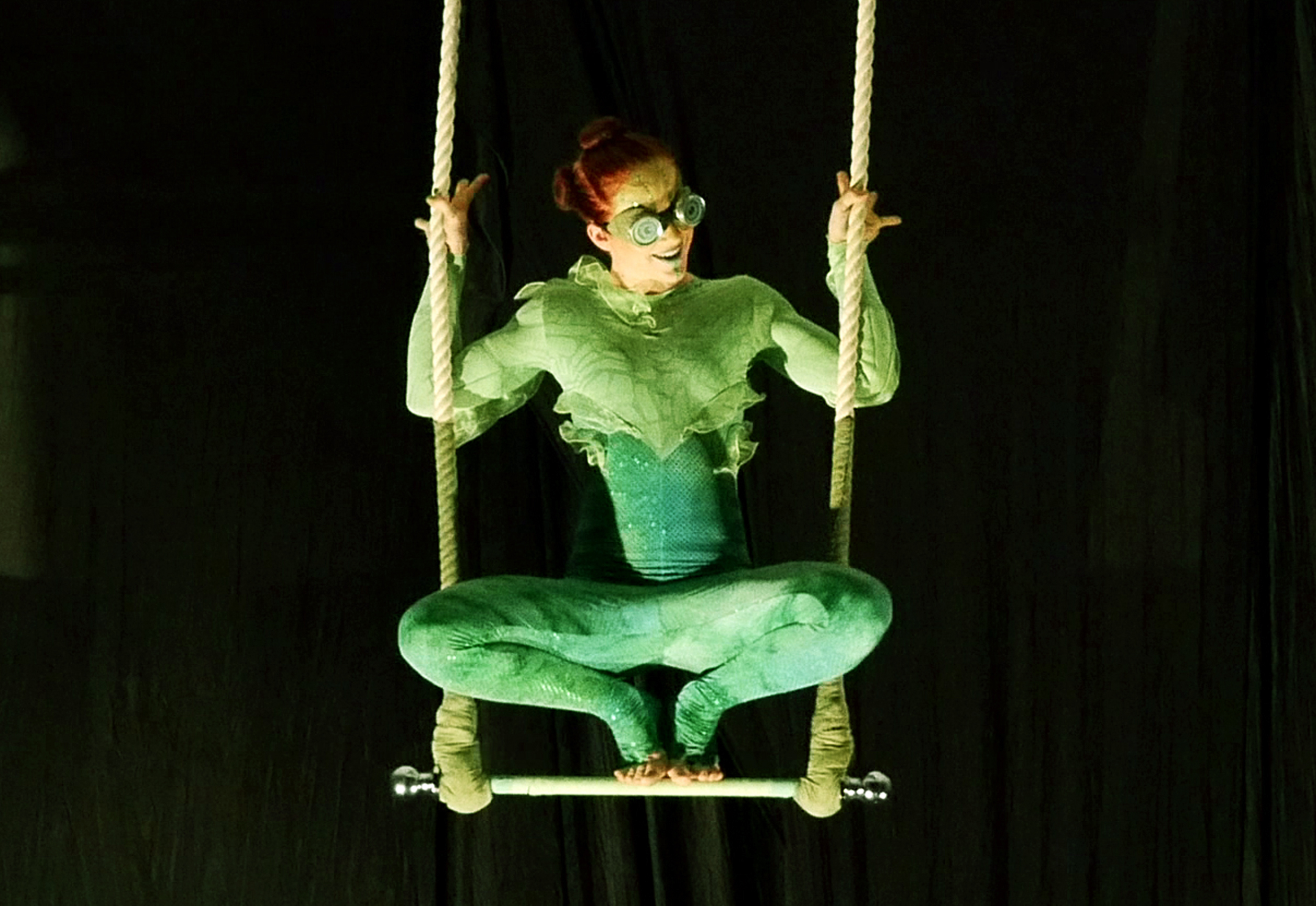 Circus has been making a comeback across the country for the past few decades. Chicago has seen the rise of circus schools, companies, and shows all across the city. Performers train and present their work to audiences while amateurs can learn new circus skills for health and self-expression. Any given month, you can see at least two homegrown shows, not including shows by smaller companies and the occasional visiting circus. The Flying Trapeze is a column that will bring you the best and brightest of Chicago's vibrant circus scene.
---
Circus artist Camille Swift came to the world of circus through an unexpected avenue: Meishi-ha Mugai Ryu Iaihyodo or a form of Japanese sword fighting. In her mid-20s, Swift had gotten into anime and decided to buy herself a sword. But when she realized it was "lame not to know how to use it," she started taking sword fighting lessons. Swift took classes but stumbled upon the circus when her sensei told her about an underground circus show, known as Circo Cheapo (since moving into Aloft's permanent location in Logan Square, the show is now called Sanctuary).
Originally, she had just signed up to get email notices about the shows at Aloft Circus Arts, not realizing it was a school but when the opportunity for a four-week silks workshop came up, Swift took the class. She hasn't looked back since. She's celebrating her 10-year circus anniversary this month.
Part of the appeal for Swift was the sense that she had the right body shape for aerial work. As a kid, she took ballet but her teachers kept scolding her for how she held her arms, not realizing that it was just the size of her arms. With circus, Swift says, "there is use for my enormous deltoids."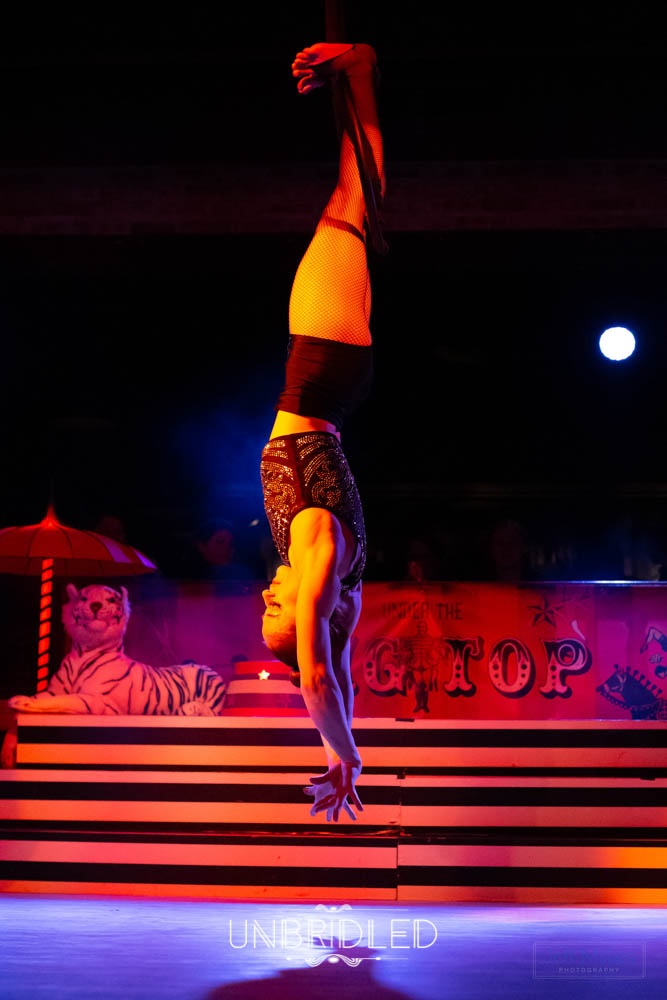 Swift took classes for three years at Aloft before moving to Urbana-Champaign where she taught static trapeze classes for 10 to 15 students for about a year and a half. But when she had a work assignment from the University of Illinois Urbana-Champaign to work in Paris, Swift started taking classes at Association Volaverunt, which she noted had quite the following. The mixed-level classes included international circus professionals, dancers, and students who were in Paris for school.
The large classes had intense warm-up sessions which included 40 minutes of Pilates, warm-ups on the bar, and then tricks on the eight trapezes, silks, and rope. Swift says, "It felt almost like [a] dance class with trapeze."
After her semester contract was up with UIUC, Swift decided to return to Chicago where she already had connections at Aloft and an art studio for the time being. She has made two trips to Montreal, the circus center for North America, where she worked with coach, Chloé Farah, who had been involved with Cirque du Soleil.
Since returning, she's worked on making some truly special acts. The first called "Clockwork Chameleon" is one of the most unique and delightful circus acts that I have ever seen. To put it mildly, Swift performs a trapeze act as a curious chameleon. "I'm obsessed with technique and lines, but I do have a quirky side to myself," Swift explains. "I'm very much a nature lover," growing up on a diet of nature documentaries.
The act took a solid year to put together. She started developing the character on the ground (instead of on trapeze or another aerial apparatus), making "froggy shapes" and over time, it got more and more complex.
During the process of creating the act, she saw Andrey MoRArU's "Black Feather" act that she described as a "weird raven wizard act." Swift recalls, "This is the circus that I need to see" citing MoRArU's kooky foot and hand movements that she likes to do in her own pieces. Seeing this performance helped Swift transform and push forward with her character and choreographer.
She also worked with a costume designer to make a chameleon outfit for the act, one that wouldn't snag on the trapeze, as well as a steampunk goggle company. Her newest act is the Madame Monstress Mantis, which Swift notes has caused one of her young fans to "refers to me as the spiky princess. That's exactly what I'm striving for in the Monstress Madame Mantis."
On her website, Swift has the phrase "Hold me and behold me, beastly and bizarre," which she derived from the French poet, Charles Baudelaire, who wrote, "The beautiful is always bizarre." Swift says, "I think of myself as a strange creature that is sometimes beautiful, sometimes odd." She continues, "I'm always interested in exploring women as beasts."
In addition to her aerial work, Swift is also a trained visual artist, working in oil paints and most recently bookmaking. As a visual artist, she is particularly interested in the "intersection of words and images," which she brings to her aerial work. She keeps extensive notebooks while developing her acts, noting shapes she wants to make as well as "the words and phrases that are inspiring the aesthetics of the act."
When asked about Chicago's circus scene compared to other places, Swift notes that it's smaller compared to Montreal and Paris. But she notes, "I would not be living here if Chicago was NY." But in the past 10 years she's been doing circus, Swift notes that there has been a lot of development of Chicago's circus scene. Aloft has grown from a small circus school to a school with a permanent home in a former church in Logan Square. Chicago is "a fabulous incubator," she says.
You can check out Camille Swift in the next Sanctuary (with an online viewing option) on August, Saturday 22nd at 8:30. Check out Aloft's Facebook Invite for more information.
Featured Image: Swift squats on top of a trapeze bar, smiling at the audience. Redheaded Swift is wearing her chartreuse chameleon outfit—scaled pants and frilly collar with her goggles. She is twirling her hands around the ropes mischievously. There is a black curtain behind her. Photo by Jason Wynkoop.
---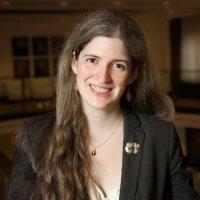 Elisa Shoenberger is a freelance writer and journalist in Chicago. She has written for Boston Globe, Huffington Post, Artsy, Hyperallergic, Deadspin, and others. She writes regularly for Book Riot and Loop North News. She plays alto saxophone in her spare time and occasionally stilt walks.