Intimate Justice : David Nasca
Part of the "Intimate Justice" series which looks at the intersection of art and sex and how these actions intertwine to serve as a form of resistance, activism, and dialogue in the Chicago community.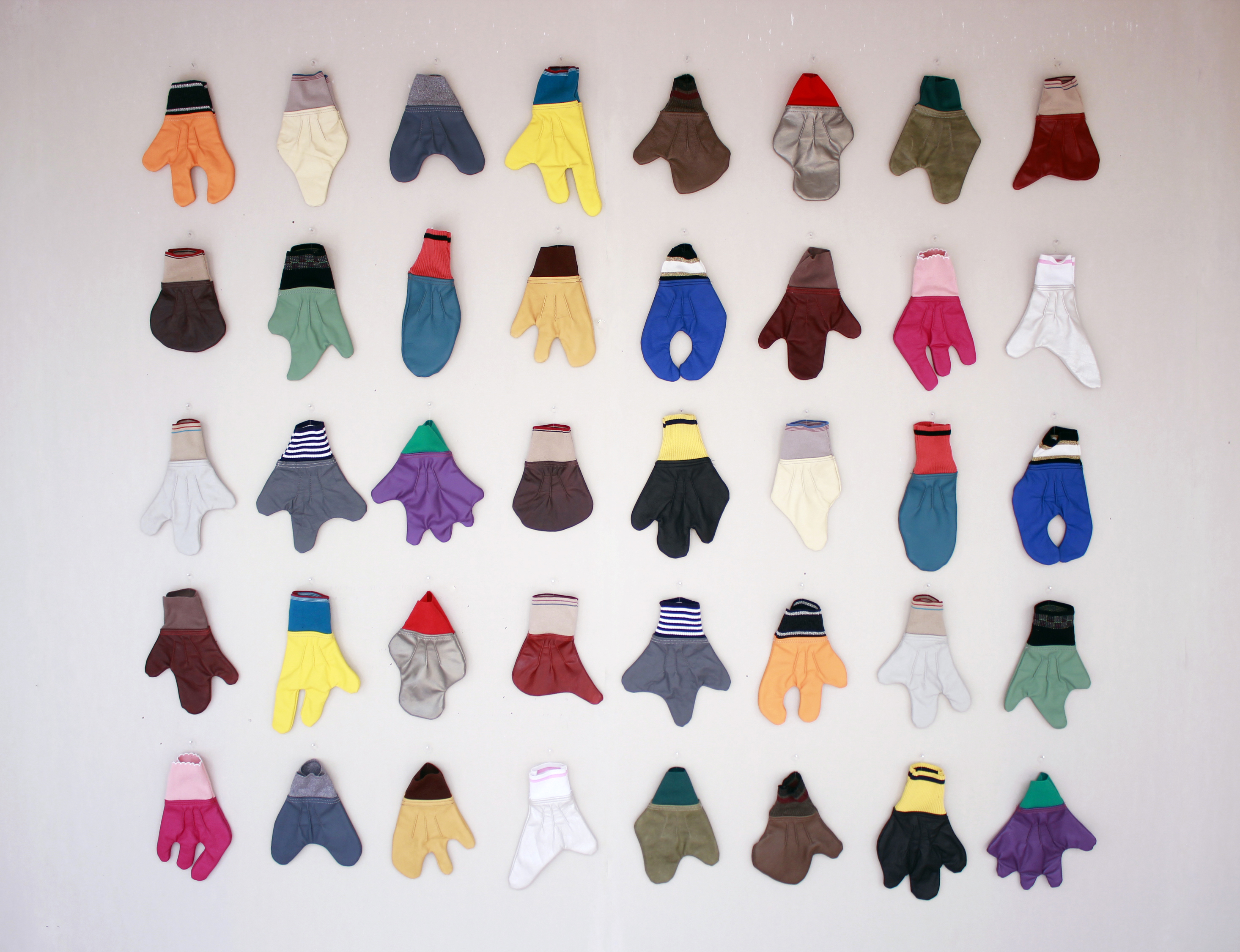 "Intimate Justice" looks at the intersection of art and sex and how these actions intertwine to serve as a form of resistance, activism, and dialogue in the Chicago community. For this installment, we talked to Pilsen artist David Nasca in his studio space about soft sculptures, underwater sea creatures, and a queer future. 
S. Nicole Lane: I stumbled upon your work when I was looking at the list of artists in the "Material Kink" exhibition at Leather Archives and Museum. I'm excited to talk about your work! Where did you go to school and when did you begin making work?
David Nasca: I transferred to the University of Chicago. I went to an alternative two year school in California. I've always been someone who makes things, especially leather, which I've worked with since I was about twelve. At the school, I was on a ranch, and I ended up making a saddle. When I transferred I wasn't sure if I wanted to do something with the arts or something with liberal arts. I sort of ended up at UChicago with a plan to study anthropology. Then I started taking a couple of visual arts classes and at the same time taking queer theory classes. I became an art major. It's a small program—maybe eight or nine people. It's a really great education there. I didn't learn much about how to do things but I learned about thinking through things. I got more out of my queer theory classes.
SNL: Do you also make wearable objects?
DN: I do. I try to keep the artistic practice and the wearable items separate. I never have had a line that I'm permanently selling but I love when people come up to me and want me to make something. We really talk through it together and it's really a collaborative thing.
SNL: Can you talk about "softcore porn?"
DN: Sometimes when you forefront that kink aspect of something, it can foreclose other readings. It's something that I try to tread towards, but it's not only about that. That's why in my piece, Gloves, I used bright colors. Because, you know, most fetish wear is pretty codified. 90% of it is black. It's great to play with it but it's also important to not get too close to it.
SNL: I'm constantly researching and looking at people's work for prospective interviews. I've found myself making people's work sexual even though it may not overtly be so, or even at all. They may have sensual aspect but then I read it as sexually charged and explicitly about sex because of where my mind frame is professionally.
The same thing happened when I looked at your work. I wasn't sure if I was projecting my own reading on to it. There was one piece, it looked like it was made of felt, and it's going in on itself.
DN: Right. It's right here! It's suede.
SNL: Yes! Love that piece. When I saw an image of that, I thought to myself, "Okay, this has to be someone whose making sexually charged work." And then of course I read your artist statement.
But yes, your work definitely has different readings. It goes much further than simply being about one direct thing.
DN: Yeah, and another thing I'm definitely concerned with in my work isn't just sex, or kinkiness. It's biology. I really like making objects that can be perceived as biological forms. I'm really interested in gender reassignment surgery. We live in a time and place where it is possible to get their genitals altered. It's still clearly between this penis and vagina dichotomy. But, if someone wants something totally different, isn't that a possibility? We probably have the medical technology to make something completely new and a new form. But we don't allow that. It's a really interesting queer space to explore. Medical interventions, biological forms, and again, the leather and the plastics work well with that idea.
SNL: Yeah, reshaping shapes that are familiar. Looking at your work, I think I recognize something as a familiar body part but it's still ambiguous as to what it is exactly.
DN: I imagine someone who doesn't have any thought, or background, around queerness. And then they come and look at the Gloves piece and they are gloves, and they are weird, and they don't get it. It's just art. It's fun to have that coded aspect to it.
I'm making weird fantasy objects. I'm objectifying. I like that too. That might be political statement too. I find sexy boys, sexy. That's what I want to make in my work sometimes.
I love inspiration from the natural world. Going back to the biological forms. I've been thinking about plants and the reproductive aspect of plants. The mind is blown by all of the variation. That's also an interesting place to think about a queer future. How many ways to plants reproduce? Sexually, asexually, some plants are male and female, some plants are only female. There is a huge range going on. One of my favorite things are deep sea animals. You know angler fish? All of the ones that are female have that weird dangly thing. All of the males are 1/10th the size and they swim around, until they bite on a female, and they become a parasite. The female literally absorbs them. It's really bizarre and creepy. These animals are so perfectly adapted to where they are. They have completely figured it out.
SNL: You work is a collaging of materials. Can you talk about some of the materials you use? What draws you to certain colors? I'm really interested in that process.
DN: Leather has been the most common in the majority of my work. I really like mixing leather with clear plastics. Playing off of this weird natural materials versus this translucent synthetic thing. But when you sew them together, they behave very similarly. Neither one of them are a true fabric that will fray, they both don't have very much stretch. They play together really well.
It's funny you ask about color because I don't have much of a sense of what color is supposed to mean in the way that I do with materials. I think about what certain materials represent but as far as colors go, it's still something I'm trying to figure out.
SNL: Right. I just feel like you have organic shapes, made with synthetic materials, but the color's are very fleshy and skin-like.
DN:  I have a piece that's made out of a massage chair. It's the totally, plain, natural color of the leather chair.
SNL: It works on its own.
DN: Right. I have a half-tone screen print on the massage chair and the fleshiness comes through. With the piece that's at the "Material Kink" show, Gloves, it's weird too. They are all various leather but they are hyper-saturated colors. You're taking something that was, at one time, an animal skin and in the natural color range and you're dying it a bright pink.
SNL: How has being in Chicago, and the queer community, contribute to your work?
DN: Well, there are two sides to that. I love Pilsen and I love the queer community that is in Pilsen. I live within a two minute walk of 90% of all of my friends in the city. It's a really amazingly diverse community in terms of race, age, sexuality, gender identity. It's everyone. We all have a shared interest. It's nice to see that manifested in everything from DJs that are organizing parties to people that are painters or sculptors, like myself.
The other thing about Chicago is that I love Chicago art. From the Chicago Imagists up until what's going on Chicago now. I love how irreverent it can be. It's always been a third wheel of the American art scene but it's some of the best work. It's a supportive community.
SNL: How often do you work in the studio?
DN: I try to always have something that I'm always working on. For the past few months, it's been more commission stuff. Right now I'm trying to think what my next project will be. It might be something to do with printmaking.
SNL: Have you always worked large? Is any of your work smaller?
DN: I've tried. There's something so hard about making something small that's really, truly engaging. I admire artists so much that do this really well. I've experimented with it. I've made stuff that's okay, but it's never something that I'm really excited about. It's something that I'm always trying to figure out how to do—how to make the thing that's small enough sit enough on a pedestal and still be interesting.
SNL: What gets you thinking in terms of your work? What do you look at and where do you go?
DN: I get sucked into reading about deep sea animals. I'll get really in there. I get stuff from all over the place. The Gloves honestly started because I put on a weird glove that my little brother had that was meant for dusting. It was a mitten with one finger. It grew into this project and became a fruitful thing to think about. Sometimes it's really purposeful. I'll start researching something. I made this big teddy bear and titled it Unlimited Intimacy which is actually the title of this queer theory book that I found interesting and compelling. That's something that I do so much anymore. I don't read as much as I should. I'm also not in a class where you talk about these things all of the time.
SNL: How do you continue to make art during the current political climate where we are being sexually repressed, among, obviously, many other things? Is this something that you have thought about?
DN: It is something that I have thought about but I have a slightly fraught relationship with it. I don't think of my work explicitly political. I think to myself sometimes, "Why am I not making something that someone can look at and actually see some resistance." But at the same time, I am doing things that are political but in a more subtle way. I still think that the art world—even if it's not an immediate point of resistance—it can still be a place where new ideas are generated which will then make it into a more broad political discourse.
Featured image: An image of the artwork "Gloves," which shows 40 multicolor gloves arranged in five rows of eight, with each glove lying flat on a white surface, viewed from above. Image courtesy of the artist. 
Sixty relies on your support and generosity. Please help keep us going by making a contribution today. 
---
S. Nicole Lane is a visual artist and writer based in the South Side. Her work can be found on Playboy, HelloFlo, Rewire, SELF, and other corners of the internet, where she discusses sexual health, wellness, and the arts. Follow her on Twitter.