Intimate Justice: Clitora Leigh
"Intimate Justice" looks at the intersection of art and sex and how these actions intertwine to serve as a form of resistance, activism, and dialogue in the Chicago community. For…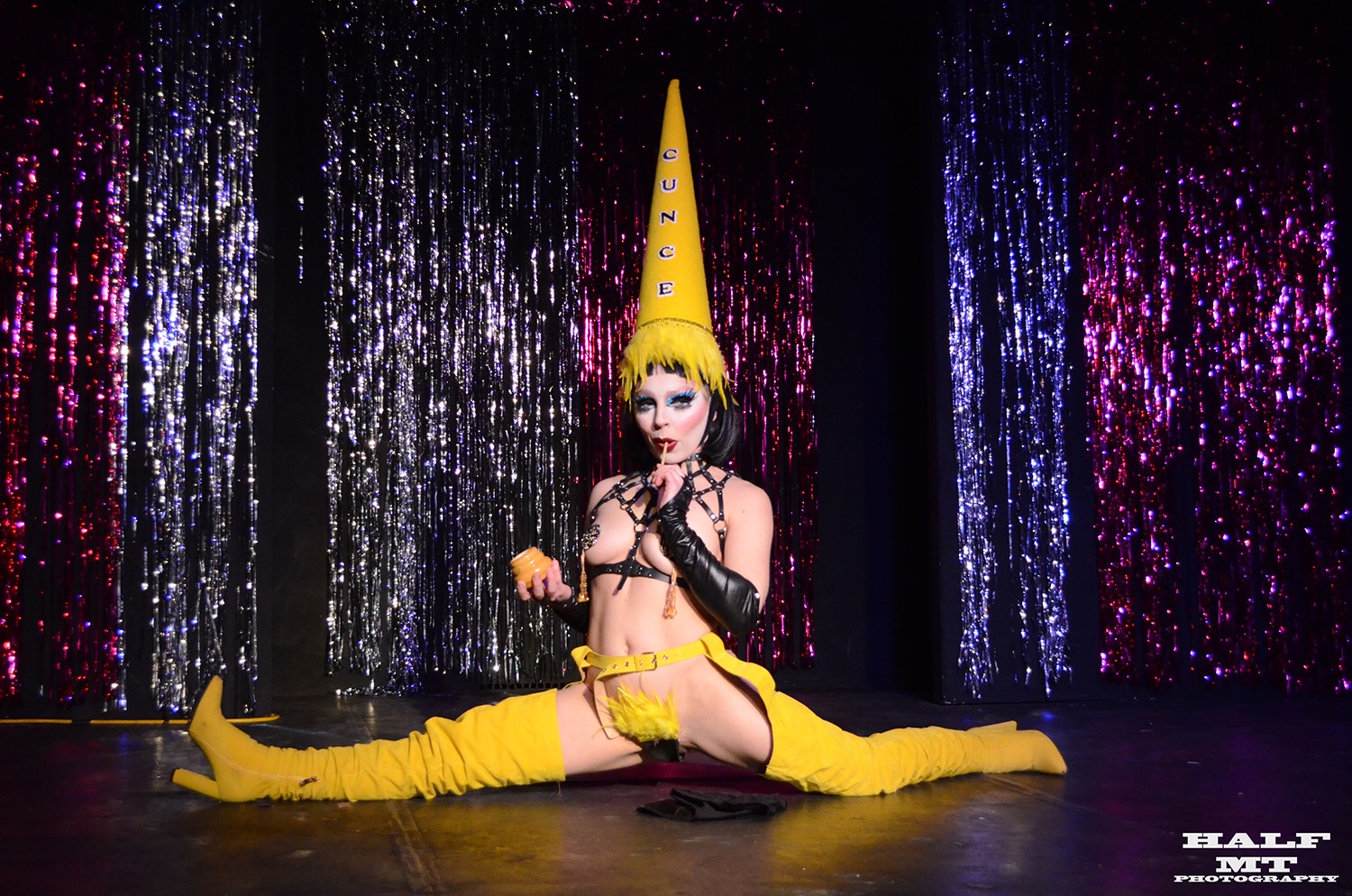 "Intimate Justice" looks at the intersection of art and sex and how these actions intertwine to serve as a form of resistance, activism, and dialogue in the Chicago community. For this installment, we met with Clitora Leigh in Andersonville to talk about strip clubs in Chicago, coming out as a sex worker, and being a sexy clown.
S. Nicole: I saw you perform at Reunion and was like—oh my gosh—I have to talk to this person! It was amazing. Are you from Chicago? If you're not, what brought you here? Did you go to school?
Clitora Leigh: I'm originally from the Cleveland area. I've lived in Chicago for six years. I studied theater performance at Ohio University. I got my BFA, and then immediately after I graduated, I was like – okay, I have six hundred dollars in medical bills, how will I ever pay this off?! I couldn't even fathom having six hundred dollars in my life. I was working in a daycare. Around that time, I started stripping. So, I've been stripping for, like, seven years now.
I visited some friends here in Chicago. The clubs were really cool and I liked that it felt [like a] big city like New York but it wasn't absolutely filthy and over-populated and loud. My friend lived here in Andersonville. I was like, oh my God, this is lovely. So, I just stuck around and it's been fun.
SNL: So, I'm really interested in the strip clubs in Chicago. I'm from the South and there's a club on every corner. We don't have that here in Chicago. What clubs have you worked at or are you currently working at?
CL: I currently work at Rick's Cabaret, which used to be VIP's. Rick's Cabaret is the first corporate club in the city of Chicago. All of the other ones are privately owned, so it's kind of a big deal. It kinda sucks in that way. VIP's was incredibly corrupt. The management was very abusive. And so, in some ways, it's better than the corporate club has taken over because there are higher-ups. You can always go up, up, up the line to be like—this person is stealing my money—you know what I mean? It's still fucked up and misogynistic, homophobic, and incredibly racist, among other things.
SNL: So, you work full time as a dancer…
CL: I work part-time. I should work more, but it's not like I'm working thirty to forty hours a week. It's closer to part-time. But it's my main source of income. So in that way, it is full-time.
SNL: The performance I saw at Reunion – do you bring that type of performance in the club at Rick's?
CL: NO. It's too queer.
SNL: Where are you performing that type of work?
CL: Clitora Leigh is a stripper-drag-clown. Sex work is in it. I will never not be honest and upfront about that. So it's the convergence of sex work and theatricality and clowning. I'm a life-long clown. Even before I knew it. It's been my whole life. And then drag—drag is like this performative gender—so [it's] the intersection of those things.
Up in Rogers Park, [I've performed] at Jack Hammer a bunch of times, and at Meeting House Tavern a bunch of times. Berlin– there was a time in my life where Berlin was the only place I performed a lot. And then, I've performed at Scarlet Bar and private gigs. I used to do burlesque. In that realm, I performed at a lot of different venues. And then I crossed over because burlesque is like—it doesn't have to be but— from my perspective, it's like women wanting to be beautiful. I've been told I've been beautiful at the club. I don't want to be sexualized that way. Especially because it doesn't align with my queer identity and, yeah, I hate men. Hashtag, I hate men. So, burlesque didn't really feel like a fit for me in that way. It has a history of bodyness and playfulness or whatever but I just felt like it was just too tame. And the focus was on female beauty, which didn't really align with me.
SNL: When did you begin this convergence of drag and clown and stripper?
CL: Well, I unfortunately can't not look like a stripper when I move. I just do. I'm just very highly sexual when I perform, accidentally. And also, [I'm] really stupid when I perform. It's really like I'm gesticulating towards my pussy and making dumb faces the whole time. I came out as a sex worker back in December [2018] openly to my family and friends. I mean my friends knew—but I came out officially and publicly because, as a person with a lot of privilege, I want to show other sex workers that they can be safe with me. People have these really fucked up concepts of what a sex worker is and there's this victimhood involved and it's more nuanced than that. And so, I'm a person who's very active and educated, not that that matters—you don't have to be. I have a lot of intersecting privileges. With those privileges, I use them to give sex workers more of a voice and give people more of an in on how sex workers are just people, just regular fucking—or really strange–people. I don't know. They're just all kinds of people.
SNL: In one of our emails you said you just finished up clown school?
CL: I finished circus school. Everyone keeps calling it clown school. [laughs]
S. Nicole: Sorry! [laughs]
CL: No it's great! I think it's so funny! Because clown college is a real thing. Clowning is an art form and it requires a lot of work and we did definitely do that. I was focusing on contortion, hand balancing, acrobatic, and Lyra. So, my final performances for circus school—I had a Lyra act. Then I had an acrobatic, contortion, flexibility, I'll say, act.
SNL: How long was that program?
CL: It was a nine-month program; seven hours a day, five days a week.
SNL: When you're performing at a strip club, are you just dancing on the stage or is there some sort of dance combination that you have already? The reason that I'm asking is because I'm interested in how those processes are different. I don't know how to differentiate the drag, clown, and the strip club. How are those different for you?
CL: Yeah, I mean it's definitely a different performance of gender for sure. But I'm an improviser. Actually, circus school was really hard for me because they required us to have choreography, which is good. It definitely taught me discipline in a different way and challenged me in that way. But I like to improvise.
At the strip club, it's different because you do the same thing over and over and over again. I have a typical stage set that I do. But there's a lot of room for variation. It depends on if anybody's tipping or whatever. I definitely work harder if there's more money on the stage. Like last night, I was doing some backbends that I hadn't done really since school a few weeks ago and I was like—oh I can just do this right now on the stage with these heels on— and that was fun. And I was definitely getting money thrown on me for that. I definitely want to improve. I used to know more pole work but then I kind of got out of practice with it. I stuck to the easy stuff because I'm kind of lazy in that way. But yeah, I definitely want to get back into challenging myself in Pole. A lot of moves for Lyra, for Pole, for a lot of different circus apparatuses are similar or reflective of each other. So, I don't know, I think all of my different trainings informed each other. At work at the strip club, I'm painted pretty dramatically. It's very dragy if you look at it. I think that a lot of people respond positively to that. They're like—oh, your eyes are so big. And I'm like, they're painted that way; they look really big but they're just normal eyes.
SNL: So you improvise most of your performances in drag? Like the one I saw at Reunion?
CL: That was so improvised. So, the costume that you saw was like a mish-mash of a bunch of different costumes. I had a very specific costume for the Lady Godiva Cup number. But I wasn't feeling like putting on a whole wig and I kinda wanted to present a little more masculinely that night and so I combined a couple of different costumes. I was like, "Do I look fucking dumb? I don't even care. I'm going to go on stage looking like a fucking idiot. That's fine."
One of the things about clowning is breathing and looking at your audience. That's your job as a clown, to breathe and look at your audience. There's a lot of vulnerability in it. Some think comedy is making people laugh, and it can be, but it's not all of the time. For me, I've always gotten my energy as a performer from the audience. I'm like, I have to be there in the space to know who's going to be there, who am I going to talk to, who am I going to sidle up to and shimmy on or whatever. I have this number, my Honey number, where I pull a honey wand out of my pussy, dip it in some honey and put in it. I offer it to the audience and it's about consent, "Do you want to try this?" Some people are like, "Oh, not me," but I had a friend once who pushed everyone out of the way, went to the front of the crowd and took it from me and was like [uhhh]. So, it's very important to that piece that there's consent, but it's very improvised. You don't know if someone's going to accept it or not. How long do you have to wave this pussy wand around?
SNL: Where do you come up with these ideas for performances?
CL: A lot of my ideas are from puns. They're really dumb puns — something that's funny if you said it once, and then I create a whole act around it. It's so stupid.
SNL: Can you maybe talk about how you play with gender in your drag work?
CL: Yeah. I feel like when I started drag, I logically thought of myself as a woman. Then I saw an AFAB, an assigned female at birth person, dressed in drag, quote-unquote, female drag, and I was like, "What are you doing?" I was doing burlesque at the time and it was all a farce to me. It was nonsense to me. But then I saw this person dressed in full drag.
I wanted to do what they were doing, and they welcomed me into their show. They were very helpful to me. I'm talking about Kat Sass. Kat Sass is an icon. A very warm, welcoming person and definitely queered up Chicago drag in a lot of ways. So, I started performing as a female impersonator, which was really fun for me because I've always felt very oppressed by the expectations of beauty. I've suffered from life-long eating disorders. I'm like, fuck bras, I don't want to shave. I don't want to wear makeup unless somebody's paying me to wear makeup. Except for these eyebrows. I put these eyebrows on for you [both laugh]. 
I thought it was very fun to exaggerate femininity and kind of mock it in a way. Then somebody asked me to do a drag king number. I did this man, this toxic powerful money business, an "on top" man. I was working on it and exploring this character and it kind of scared me. It went to a really toxic place. I started punching the air. I was like, I'm powerful, I was like [grrrr] roiding out. It was kind of crazy. It scared me. I stepped back from it and it almost made me cry 'cause I was like, "Oh my gosh, is this masculinity? Is this what people want to see? Is this the presentation of it?" And so, that was kind of an interesting exploration. I started to wear a glitter beard when I was a "woman." I never really bind when I'm a "man" character. You don't have to present as a certain way to represent a certain gender. Or since gender doesn't really exist, it's all nonsense anyway. Through my exploration of this "male "drag persona, I came to the realization that —oh my God, I'm non-binary. I'm trans-non-binary. I'm genderqueer. This is a game; this is a proposed way of living that someone came up with before I was alive and we've all been subscribing to it, but it's not real. That realization was really powerful for me. It was through drag that I discovered that I always had this inkling that I just didn't know…
I remember in college, I started wearing my boyfriend's clothing and I cut my hair really short. I was like, "Should I be a boy? Am I a man? Should I be a man?" And I was like, "Eww God no, I hate men!" And I really don't like dick. I don't want to be that. No shame to anyone who wants to be trans binary, that's fine. But for me, it just does not apply. I didn't know there was another choice. I definitely went back to being high performative femme. I was very high performative femme until, like, a year ago. It just didn't feel right to be that way all the time. There was a time in my life where I didn't own a pair of jeans. I didn't own pants. I just wore dresses and skirts 'cause it was easy. But actually, it was really hard.
Less than a year ago, I cut my hair short again and I wasn't catcalled, ever. I was like, "Oh my God, this is amazing. Nobody fucks with me. Nobody bothers me. I love this." I don't want male attention unless someone is paying me to receive that because I don't want it. And then I put lipstick on one day and I was catcalled three times in one day. And I was like, "What the fuck. This is so stupid. It's all so dumb."
For a long time I [was] very, like, "I must wear this wig in front of all customers and no one can see me without this wig," because I felt very precious about my queer identity. But cis-hetero men want access to queerness. For me, as a sex worker, I'm their queer access point. They want me to like girls. They want something kinky. They want it given to them, 'cause they don't have an understanding or any creativity or imagination.
SNL: Yeah. [laughs]
CL: So that's kind of part of the job; exploiting a little bit, your queerness. Or, it can be. For a long time, I was very, like, "I'm a woman and I'm very womanly and I'm hetero." But I don't know—
I have taken opportunities where I'm, like, "Hey, what you said was incredibly racist and I'm not going to sit here while you talk like that." It's hard because you are sacrificing potential money to stand up for what you believe in. I know a lot of people who work in the strip clubs who don't even give a fuck. They don't care, they just play along with it. Black women at the club have to deal with so much racism. So much race play. A lot of them just put up with it. They exploit it so that they can make more money, which is good for them in some ways. It's also harmful in a lot of ways because these men are continuing to believe these things or hyper sexualize Black women. I feel like sex work is the hotbed of all the major issues of society. That's wrong with the patriarchy. That's wrong with the way that we've constructed society. It's amplified to one millionth within sex work.
Featured image: The performer is straddled in a split on a stage with shiny tinsel in the background. They are wearing yellow chaps, a yellow bikini top, black elbow-length gloves, and a large cone-shaped hat. Photo by Half MT Photography.

---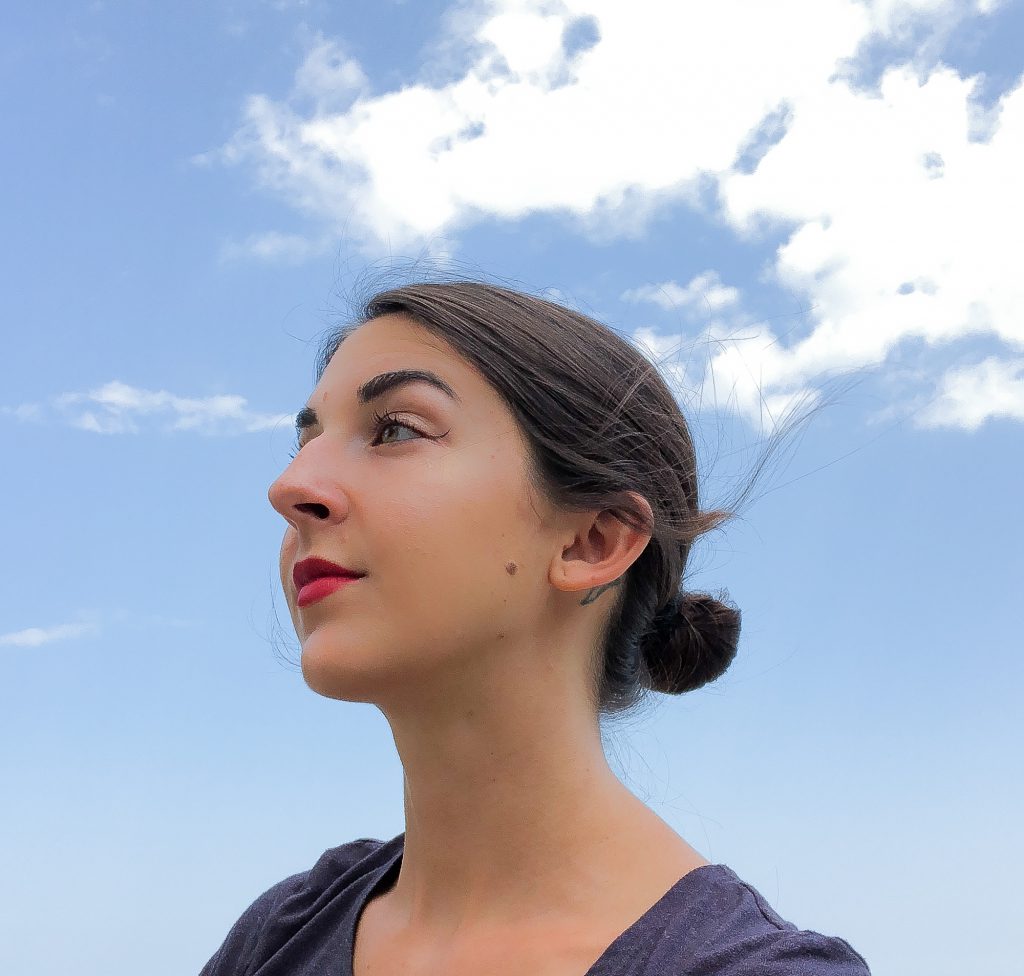 S. Nicole Lane is a visual artist and writer based in the South Side. Her work can be found on Playboy, Broadly, Rewire, i-D and other corners of the internet, where she discusses sexual health, wellness, and the arts. She is also an editorial associate for the Chicago Reader. Follow her on Twitter. Photo by Jordan Levitt.