Intimate Justice: An Interview with Lucy Stoole
Intimate Justice looks at the intersection of art and sex and how these actions intertwine to serve as a form of resistance, activism, and dialogue in the Chicago community. Lucy…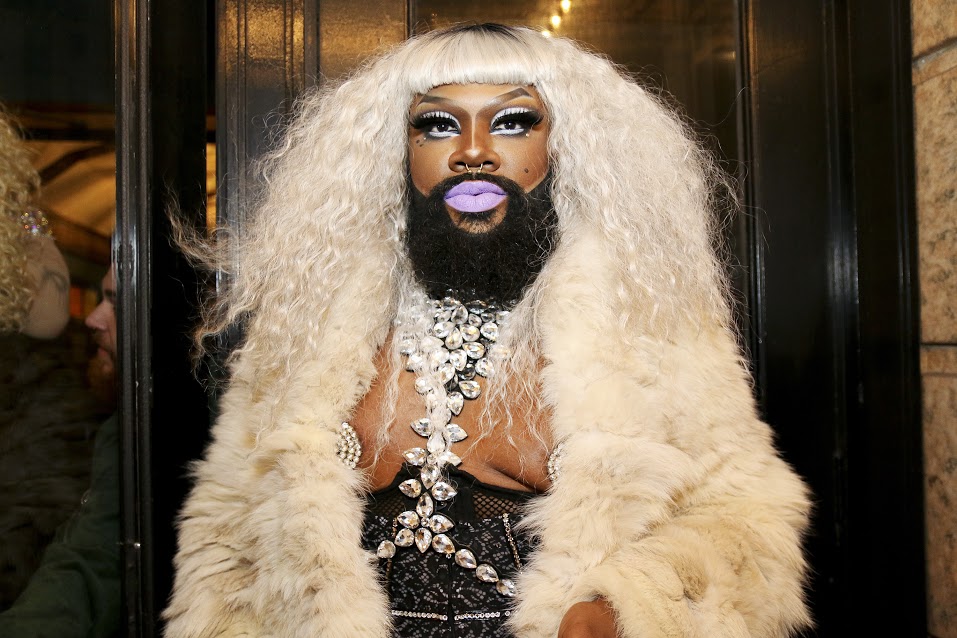 Intimate Justice looks at the intersection of art and sex and how these actions intertwine to serve as a form of resistance, activism, and dialogue in the Chicago community.
Lucy Stoole is an art star. Her drag personality unhinges the queer community in spaces like SmartBar, Berlin, and Beauty Bar weekly. Her larger than life aura tackles pertinent topics like sex positivity, politics, and gender inequality. The filthy and honest mind of this vivacious queen has been having a conversation with Chicago's night life scene and it doesn't seem to be slowing down any time soon.
 Quite fittingly, Lucy recently launched a sex toy line called Stoole Sample, that features high quality toys in her signature color: pink. Her performative essence is now matched with a high quality merch line that accompanies her stage presence.
 I talked to the bearded beauty in a restaurant conveniently located next to SmartBar, where you can see Lucy every Sunday night for Queen! The historical context of drag in Chicago is deeply rooted in its contribution to House, its freedom of sexuality, and the unsuspecting location nestled in the Midwest.
 Our interview isn't a story about drag. Instead, it concentrated on the positivity and encouragement that can be conducive to the art drag lifestyle and influence over the community through the celebration of sexual pleasure. Lucy isn't just standing in a crowd shouting, "Hey, you! Love yourself!" She is creating and collaborating beyond the stage and the dance floor. Her home is underneath the shimmering lights but her voice traverses beyond the club doors and into physical products that actively reinforce the concept of self-love, self-identification, and self-discovery.
S. Nicole Lane: You recently launched your line, Stoole Sample, and had a launch party at Beauty Bar. Could you list some of the events that you're a part of in the city?
LS: Absolutely. Every 2nd and 4th Wednesday is Fabitat, that's the first party that I ever worked at. That's where Lucy was born. It's four years in the making. I'm there every 2nd and 4th Wednesday. Every Sunday night, I'm at SmartBar for Queen! where I'm the resident host with JoJo Baby and a couple of other people. Every first Thursday is a party that we started a few months ago called Femmes Room, which is the sister to Men's Room. It's a femme focused party where people can come and be comfortable, sexy, and femme without the whole masculine thing going on around them. Second Friday's is Grrrl Power at Beauty Bar. It's nothing but female artists and I'm the host, basically just having fun. Femme is a big theme for me. I am all about promoting the femme. It's super important to me. Then there is a million other things that I'm a part of too.
SNL: Are you originally from Chicago?
LS: Born and raised in Kansas City, Kansas. I went to school in Iowa and I have been in Chicago for around ten years. I basically feel like I'm a Chicagoan. I love it here. I couldn't imagine myself living permanently in any other city. It's my favorite city in the world.
SNL: I want to begin with just a basic understanding of your new sex toy line— is this something that you always wanted to do?
LS: A part of being a drag queen is having some kind of merchandise that connects with people. Besides selling t-shirts and stuff like that, because that's what everyone does, you're always trying to think up your own special thing that you can sell. Jokingly, me and my buddy Dan, were like, "Wouldn't it be funny if we made cock rings and butt plugs?" That joke totally became reality. We were like, "Wait, a second, we actually know someone who makes butt plugs…" It happened that easily. Everyone was so into the idea.
It's also really fitting for me. Everyone knows that I'm dirty and brash. I speak very openly about sex. It's positive. It makes all the sense that, of course, I would be selling sex toys for my Lucy Stoole merchandise.
SNL: Right. Right. Was it something that you thought up immediately? Was it something that you thought about a year ago?
LS: It happened almost immediately. We probably started talking about this in December and then we had the first prototype in January. They were on sale in February. It came to fruition really fast. Every party that was involved with it, was ready for it and right behind it. I have to thank Vamp Silicone so much. Because the moment we mentioned it, they were like "Yes, yes, yes." They have been nothing but fucking fantastic.
SNL: Did you know someone at Vamp Silicone?
LS: Yeah, yeah. Her name is Lucy. She has been working for Vamp for two years, I believe. She's the person who actually makes the products. I was really good friends with her because she's a performer known as Dusty Bahls. We had already had a friendship together. Yeah, it worked out perfectly that she was the contact person and she literally makes them. They are handcrafted in small batches.
SNL: Can you explain the designing process? Shapes, sizes, colors — all of that? 
LS: Yeah! Vamp Silicone is already a set-up, legit, established company. They have their own products that they make. The collaboration with me was basically me designing the colors, picking out sizes, and the options. A lot of the products were already being made but not in my signature colors and not with my stamp of approval. Right now, I'm using their products and changing them to my colors.
Drag queen penises are something that we are working on. Of course mine is going to be the first one. We are cloning my dick and a couple of other peoples throughout the city.
SNL: Oh my god, that's amazing!
LS: Yeah, yeah. I'm super excited. When I started doing this, I knew that I wanted it to be more than merch. I knew that I really wanted to make toys for a lot of people in the queer community that I would also have my name on. The future of it, for me, is certainly how to create and design my own products. Also, learning more about sexual health, the body, what people need, and what the market is lacking right now. That's definitely the next step for me. It's turned into something that I can definitely see as a future now. It just makes so much sense for me. I love it.
SNL: There is such a passion about sexual health. I had an interview earlier today with a woman run sex shop and I was definitely on a high afterwards. It's such a rewarding field of work and you're helping the community that you care about. I totally agree. Your advertisement and your video for your line are amazing.
LS: Thank you! Lucy (Dusty Bahls) made that one too. We are just this little tight team. She filmed it.
SNL: Cool! Are you advertising these primarily for the male customer?
LS: That was another thing that I really wanted to focus on. I want them to be something that everyone can really use. It's not marketing just towards gay men. It's marketing towards everyone in the community. That's why I started with butt plugs. All of our wirings are a little different, but everyone's got a butt! Everyone can figure out something to do with these. The cock rings are obviously a little bit more male-centric and male-focused. People have been wearing them as bracelets, honestly. They are super pretty, too! It really is something for everybody.
SNL: You said earlier that it's your signature color. Lucy Stoole has definitely been the main source of inspiration for this line.
LS: Absolutely. Another aspect of my drag is the juxtaposition of the masculine and feminine. A lot of sex toys always seem kind of dirty and they have to be black, brown, or white.
SNL: They have to look like the actual body part.
LS: Yeah! Why can't they be fun, pretty, sparkly, and femme? That's another thing I wanted. I wanted something that was beautiful that people could use. I love being able to spread that femme vibe all over the place. That's really important to me.
SNL: What else are you going to add to the collection? Have you started thinking that far ahead yet?
LS: I've been talking to a lot of my friends in the other kink communities and I want to make a little puppy tail. So you know the little plugs that have a tail at the end? That's something that I'm working on. The drag queen dick clone is that another big one I want to do. I definitely want to get into toys that are made for strap ons too. So people can have my penis and other things and use it for however they want. I also want to make a few other toys that are trans focused. I have been talking to a lot of friends that trans men could use, for trans women, and for people who are not really into the idea of phallic toys. There are a lot of people who are not into that idea. Yeah, it's just about trying to branch out and everyone has something that they get to use. I don't want anyone to feel left out. That's my motto in drag too, basically. I just want everyone to feel like they have a home and a friend in me.
SNL: Yeah, there is this really get surge of sex shops that are appealing to everyone without the heteronormative expectations. There are all of these communities coming out with amazing platforms that are merchandising really well and providing positive resources. Are you going to be selling these items at events or mostly online?
LS: The online store is the easiest for me. I will be selling them at events because being there in person is really great. We also have an option online where you can pick the items up. You can buy it online and the next time you see me you can pick it up from me there. I will sell them anywhere they will have me. I will literally carry around a bag with me everywhere, girl. I will set up shop.
It's also just about accessibility, too. I love that people are allowing me into all of these spaces. Literally everywhere has been like, "Feel free to set up." Yeah, it's really cool.
I had one girl buy a toy from me and she couldn't stop laughing while we were talking about it. I totally understand because it was embarrassing for her. But she was just so into the idea of it. She was like, "I've never even bought anything like this but I want to try this so bad." And I'm like, "You should!" I set her up with a medium and she went home and she loves it. That's so fucking cool to me. I have this group of people who weren't even thinking about it [sex toys] and they want to explore this. It's just another part of what I want to do. I just want to be able to open people's minds to at least look at it from another angle.
SNL: Yeah, there's no reason for it to be a taboo subject anymore.
LS: So much of this stuff has so much stigma surrounding it. I grew up in a very reserved, brutish household. It's kind of funny, but I guess it also makes sense, how we break out of this. I went full steam, honey.
I know there are a lot of people who grew up in that situation and are made to feel dirty or bad about it. I love being vocal about sex and I love being vocal about my relationship, my sex life, and our sex life with other people. We need to get rid of these stigmas. We have to. That's what this platform should be used for. I need to be speaking up on these issues.
SNL: For sure. This is the time to talk about sex. I've been researching how to be a sex expert lately and get that certificate so I completely agree. Sex is important.
LS: You're just taking control of your body and loving yourself and knowing your body. It's really important.
SNL: What are your future goals?
LS: You actually inspired me to get a sex expert certificate. That's definitely something that I will be looking into later. I've been thinking a lot about this lately. How can I turn this into something in the future? Sex is really important to me and something that I know a lot about from my own personal research. I would love to use my voice and platform to teach more people about it. Safe health practices will definitely be the future. Like I said, learning to develop my town toys. I would like to create something that I dreamt up, or did in collaboration with somebody. That may be something that will be happening later this year. I've already had some interest in New York City and LA. That's really cool.
Drag has been so great for me. It's opened up so many doors. I love the art form and I don't see myself stopping any time soon. I've always been the type of person to have a lot of irons and fire, you know? I can't stop. I didn't even realize that I wanted to do something like this, which has been really inspiring about the whole process. It's just that it really opened my mind. There is a future here, somewhere. Which is how it started for me with drag, too. I started playing around with it. I can actually accomplish a lot and say a lot of things with this. Yeah, I'm just excited to learn more about the process of making all of this happen and talking to my community about what else they want to see.
I would like for this to be a full legit line, including designs by me, one day. I think it'll happen.
Featured Image: Lucy Stoole portrait. Image credit: Erik Michael Kommer.
---
S. Nicole Lane is a visual artist, writer, and editor based in the Southside. Her work can be found on The Establishment, HelloFlo, Newcity, Bustle, and other corners of the internet, where she discusses sexual health, wellness, and the arts. Follow her on Twitter.