Intimate Justice: An Interview with Jacquelyn Carmen Guerrero
"Intimate Justice" looks at the intersection of art and sex and how these actions intertwine to serve as a form of resistance, activism, and dialogue in the Chicago community. For…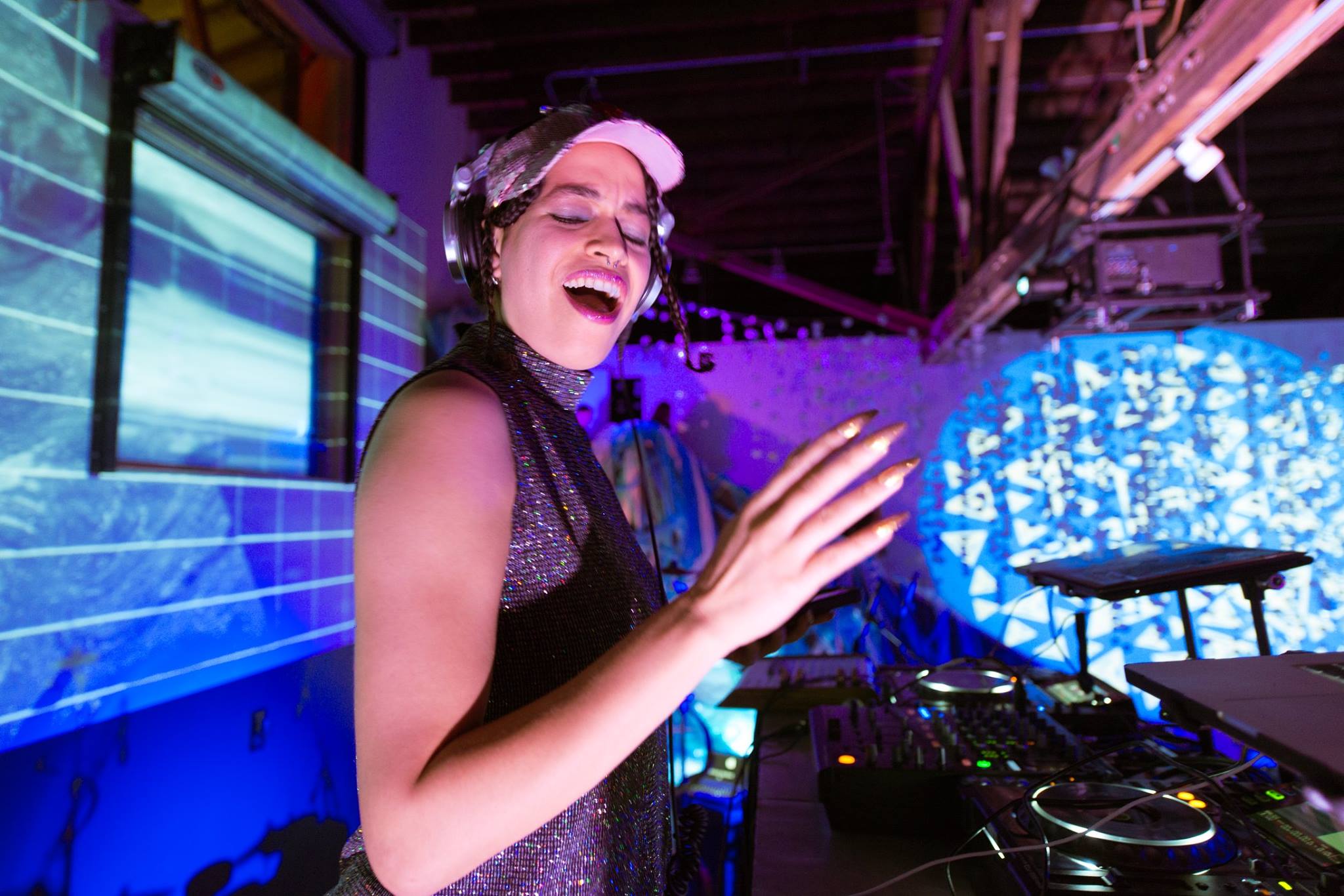 "Intimate Justice" looks at the intersection of art and sex and how these actions intertwine to serve as a form of resistance, activism, and dialogue in the Chicago community. For this installment, we met with Jacquelyn Guerrero in the Pilsen neighborhood to discuss heritage, performance, and Chicago music.
Nicole Lane: Where are you from? How did you end up Chicago?
Jacquelyn Carmen Guerrero (aka CQQCHIFRUIT): I'm from Miami. My mom is Cuban, my dad is Puerto Rican. I ended up in Chicago when I went to Northwestern. I studied theater and dance. I really wanted to go to school away from Miami. I didn't appreciate the culture when I was growing up there. I came out as bisexual when I was eighteen and I wanted to have some room to figure out what that meant.
SNL: Can you talk about the events that you're a part of and the queer spaces that you're creating with parties like TRQPITECA?
JCG: After I graduated school, I really loved to go out dancing. I tried to go to all of the queer parties. I went to Chances Dances, which is a collective that I'm now a part of, but we're kind of on hiatus right now. They taught me how to DJ. I also started doing performance art a little bit around that time. Before I graduated from Northwestern, I started to get into the burlesque scene. I knew that I didn't want to do traditional theater but I wanted to do something that was incorporating dance, storytelling, and an opportunity to explore my performance of sexuality and gender. I started to do drag burlesque. I was never really comfortable with the spaces where I would be performing. Sometimes it would be in a theater, sometimes it would be in a bar. I was very aware of the male gaze as my sexuality moved away from being bisexual and being more same sex or gender queer. I didn't want to be consumed by that particular audience. My art making was also evolving.
I got a grant from Chances Dances, which was their main focus at that time. It was a grant for queer artists. That really helped me do more performance work. A lot of these events were on the North Side. I started hanging out with people who lived in Pilsen and started to collaborate with them. It became clear that there wasn't a party down here. Pilsen is really notorious for house parties and art galleries. But there wasn't a clearly defined space for queer artists. Me and my partner Natalie (La Spacer) created TRQPITECA in 2015 to provide a space for ourselves and also create an opportunity to develop and show work.
SNL: Are you still doing burlesque work? Or is it in the past?
JCG: It's kind of in the past. It's still something that I think about. Every other week I'm like, "I should do a performance!" but my work is going in so many different directions. My aesthetics are heavily influenced from burlesque and drag performance.
SNL: Can you expand on that?
JCG: Two words: glitter and sequins.
I have my BA in Communications, it's not even in theater. But I studied the technical elements of lighting, set design, costume design, and performance. I try to think about those things and incorporate those things in the work that I do so that I can make it as full of an experience as I can — to really transform the space.
SNL: For example, at TRQPITECA, do you make the installations?
JCG: Yeah, I started to make decorations. The piece I'm most well-known for is called, "Glitter Beach" and it was just on display at Navy Pier. Chances Dances had a ten year anniversary, which I originally made it for. It's huge — 20 ft, by 10 ft. It's a tapestry of deconstructed sequin garments. It's meant to represent the spirit of the ocean, but it can also be the sky. It's blue and white. After that, I made a similar large tapestry for Providence's Pride Festival. I wanted to make something big and representative of our aesthetic.
SNL: When you perform, is it danced base?
JCG: I work a lot with my partner, Natalie, who is my partner in real life and my creative partner. We have been making music together since around 2016. When we perform together, it's movement based.
For the Navy Pier exhibition, the commission was to collaborate with another performer, whose name is Holly Chernobyl. We did something based off of the music that Natalie and I made in the past. We combined Holly's Butoh performance and my movement performance. My performances have really changed since my days in burlesque. I started to become more experimental and started putting my body out there.
Sofia Moreno and I did a performance that was on the beach. It was about rebirth, cleansing, and healing. Of course, you can't talk about rebirth without talking about pain and death. I feel like those are very common tropes in performance. After that, it took me a long time to recover from that. The next performance I did wasn't until a year later. It was for the Chicago Home Theater Festival. I did a more interactive performance with the audience. I've been studying Afro-Cuban folkloric music and dance for the past few years. When I was younger, I was really not into my own heritage for some reason. I think being away from it for so long really made me appreciate it. I've been learning how to play the conga, the drum, and learning folkloric dance. I did a performance where I invited the audience to make music with me, based off of those traditions. My performances still incorporate all of my body and my experiences.
I did another performance in Kansas City. It was more specific to colonization, the processes of assimilation and that sort of cultural death.
My life now is this interesting process of trying to recover these elements of heritage that I haven't had access to. It's all about the body, mind, spiritual connection, which I think is so important to sexuality.
SNL: I went to a performance of yours at The Promontory for The Corner Series, in Hyde Park. I remember you describing the environment of Chicago. You asked us to imagine looking out and being able to see Lake Michigan with no buildings or architecture blocking our view — before colonization. This was such an important moment for me! I became very emotional. It made me think about my body, my surroundings, and where I am physically.
JCG: I think that water is so much a part of who we are. It's where we come from. I think my work references water as a mother. We are born in a wave of water when we are in the womb. It's upsetting to think about what is happening to the water on the planet. That's something I try to talk about too. It's such a sensual and essential thing. It's very at risk right now. Water feels very precious. What responsibility do we have for future generations? It's hard to think about.
SNL: How do you cope as an artist and continue to make work? How is that process for you?
JCG: I'm a part of a system but trying to work against it at the same time. Learning about my heritage and learning ancient practices is a part of my resistance. I want to empower people to look outside of the system. I hope that my work does that. I think part of it is through magic, joy, wonder, and the other part is enjoying life and living through your body.
For the past year, I've been studying Reiki. It's been changing my understanding of energy. It's a non-denominational way of healing. It's working with energy to try and align people. I think it helps connect people in different ways. It's a touch based practice. I've been very closed off to religion, but very fascinated with the art that comes out of religious practices.
SNL: Let's talk about your DJ practice. What kind of music do you play?
JCG: My focus is definitely on tropical music. I think there is a fine line between physical liberation and when you find that one song that makes you snap on the dance floor. When you get into the groove and your mind can turn off. You can just express. I struggle with the lyrical content of a lot of songs. I try to not perpetuate the violence that can be transmitted through music, especially dance music. I try to find music that makes me want to dance and share it with people.
Since House is such a huge thing in Chicago, it's definitely a big part of what I play. But I still try to stay true to my roots. I try to play things that are fresh. Maybe not new, but new to people here. I've been recently getting back into trance. It would always be playing in the clubs in Miami. Part of me doesn't really like the club environment. I'm not really into drug culture. It can be a really problematic space. There is a need that people have to be social and come together. Partying is an ancient tradition that serves different functions. I try to go back to celebration and celebrating being alive.
SNL: How has Chicago music shaped you?
JCG: I think my understanding of House and Juke, coming out of Chicago and connecting it to a global perspective, is something that I bring to my set. It always felt like it was wrong to move my body in this way when I was younger. It has opened up my mind. In a way, music has shaped my understanding of the global patterns and systems of oppression and commonalities of people. It's really magical.
I think we are really lucky and spoiled in Chicago. Yeah, we have our issues but in terms of the queer scene, it's nice.
SNL: Every article I write always comes back to the incredible Chicago queer scene.
JCG: I try to uplift. I try to play music by divas and music that has a soulful feel to it. I try to mix it up between music that is sexual role-playing.
The music that I make with my partner is electronic. My partner is from here and she's really into House and Techno. I love to sing. I've been trying to find my voice and what I really want to say. I'm inspired by the ocean and being queer, and the body element.
I want the music to be empowering for women. I want to bring emotions on to the dance floor. I also sing during my sets. So it has a performative aspect to it. I really enjoy strong femme voices. Even if I'm playing old school music, I do a lot of research of women and queer artists around the world.
I did a mix for the DePaul Art Museum. It was music about the AIDS crisis, or music by artists who were HIV positive, or died of AIDS. I love doing research like that. That's a huge part of what I do.
SNL: Do you want to talk about anything that's happening in the future?
JCG: TRQPITECA is happening at a new location in Uptown. On July 7th, I have a group exhibition at ACRE. I'm making a new piece for that which I'm really excited about. I'm working with natural dying and making a hybrid flag. I do sequin and bead embroidery as well.
Thank you so much for reaching out to me and making me feel relevant. Transcribing our words and our work isn't something that the institution isn't going to do. People should engage and contribute.
Sixty relies on your support and generosity. Please help keep us going by making a contribution today. 
---
S. Nicole Lane is a visual artist, writer, and editor based in the South Side. Her work can be found on The Establishment, HelloFlo, Newcity, Bustle, and other corners of the internet, where she discusses sexual health, wellness, and the arts. Follow her on Twitter.