In Our Bodies, Together: Disability Art Showcase and Maker-Space
Creative, connecting, and celebratory—these were the intentions laid out for people at the start of the Disability Art Showcase and Maker-Space on April 16th. The event organizer, Bri Beck, a…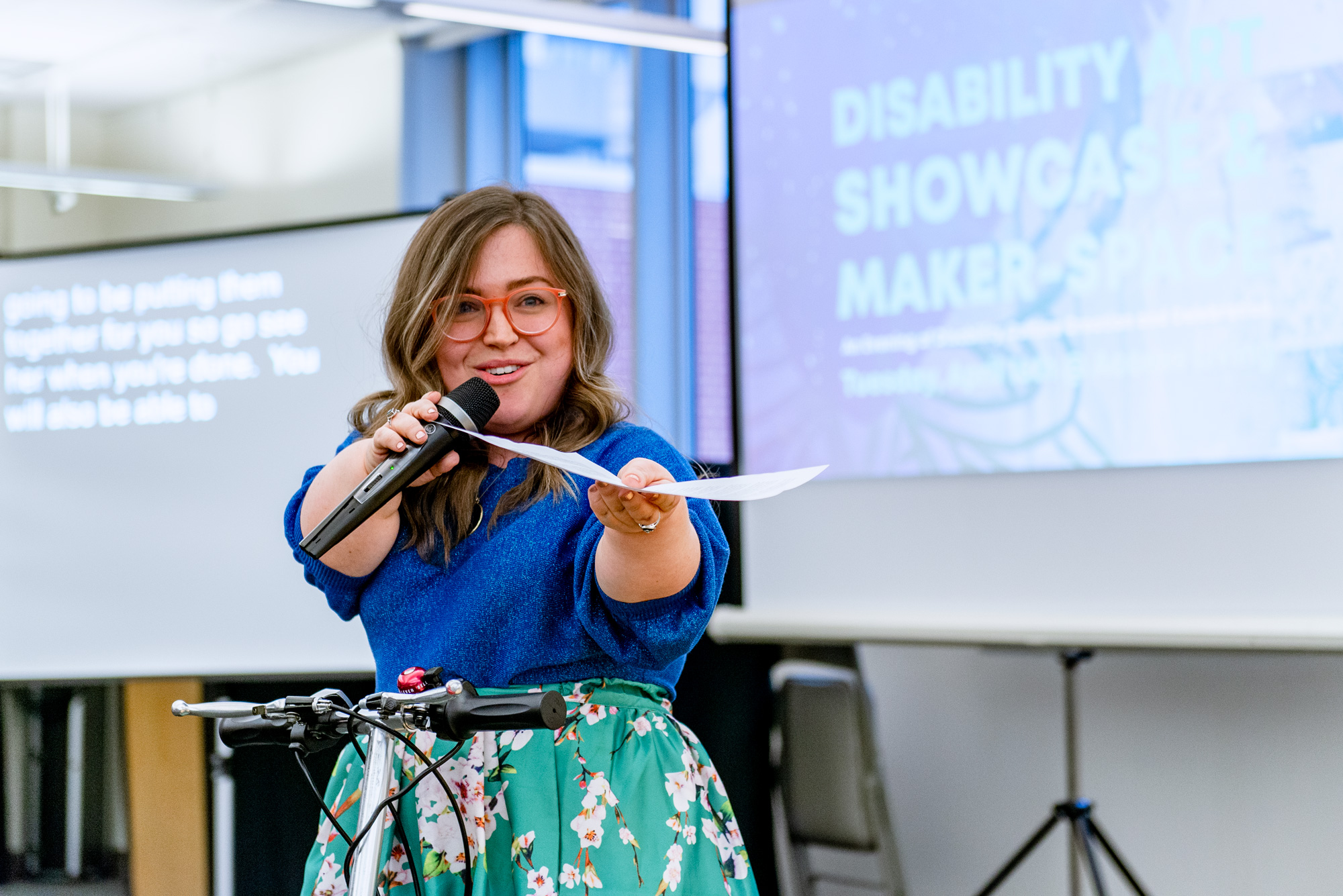 Creative, connecting, and celebratory—these were the intentions laid out for people at the start of the Disability Art Showcase and Maker-Space on April 16th. The event organizer, Bri Beck, a disability artist/advocate and art therapy graduate student from the School of the Art Institute of Chicago, hosted between sixty and seventy participants at Access Living, downtown Chicago's main Center for Independent Living, for an evening of art-making and community-building.  
Systemically divided groups of disabled people, veterans, scholars, art therapists, artists, activists, and more, were invited to utilize the arts "to share the varied story of disability and to bring together those that are disabled and those that work within this community to further grow and define a collective voice and community"—per Beck's design.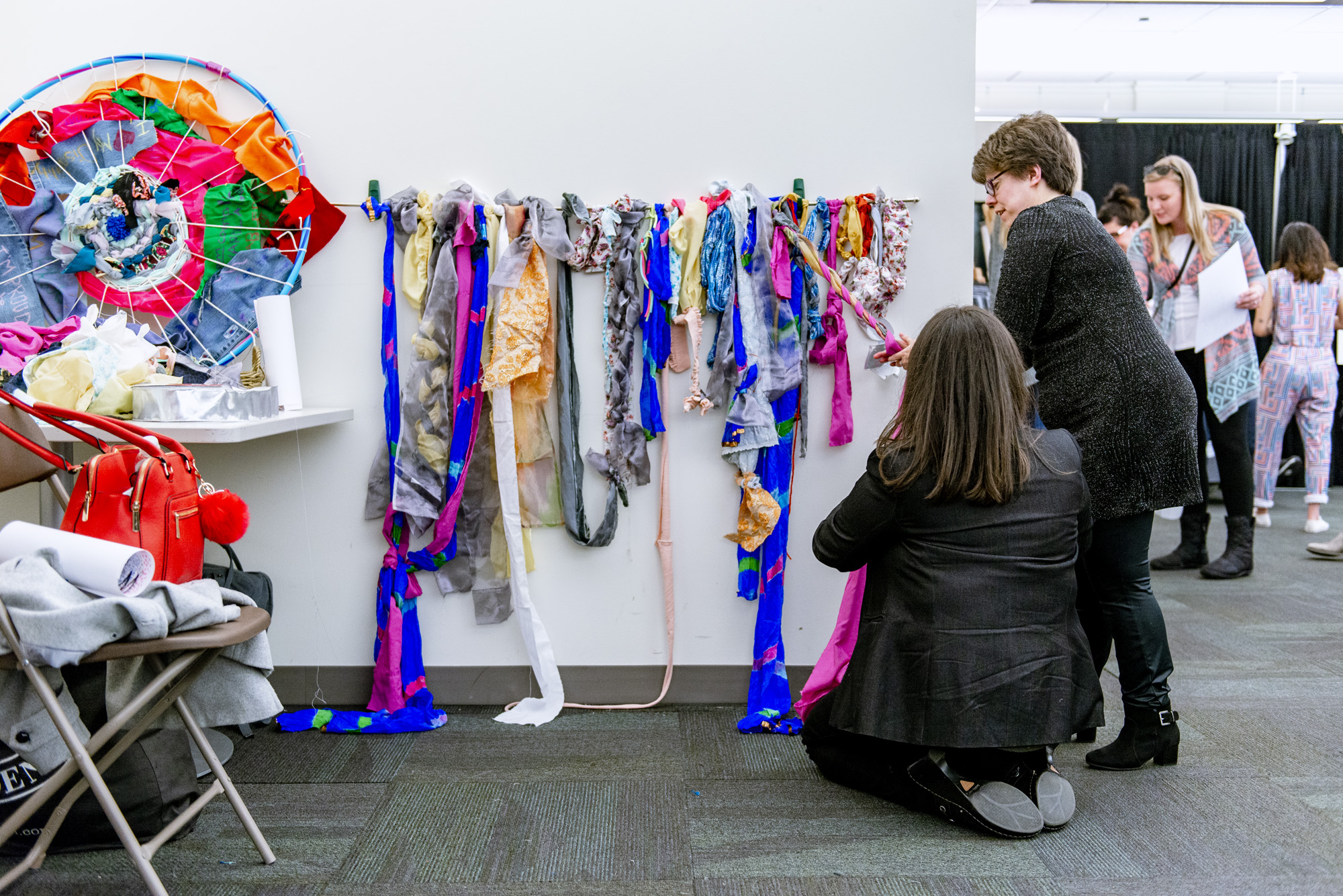 Image: Two people, one kneeling and one standing, work together on a colorful wall tapestry made of various fabric strips. Photo by Ryan Edmund.
Guests contributed to a group tapestry, created disability pride buttons, wove fibers alongside someone new, participated in a #DisabledIAm photobooth, and engaged with artwork created by disabled artists from SAIC, Access Living, and the Jesse Brown VA. I spent some time at the weaving table, indulging in what some participants noted was a grounding activity that doesn't take all of your attention, still allowing for conversation—a very art therapy driven framing, and entirely accurate. Friends, colleagues, and total strangers exchanged their experiences. Perhaps the most tender moment was when a one-month-old baby joined the festivities, cradled in her father's arms.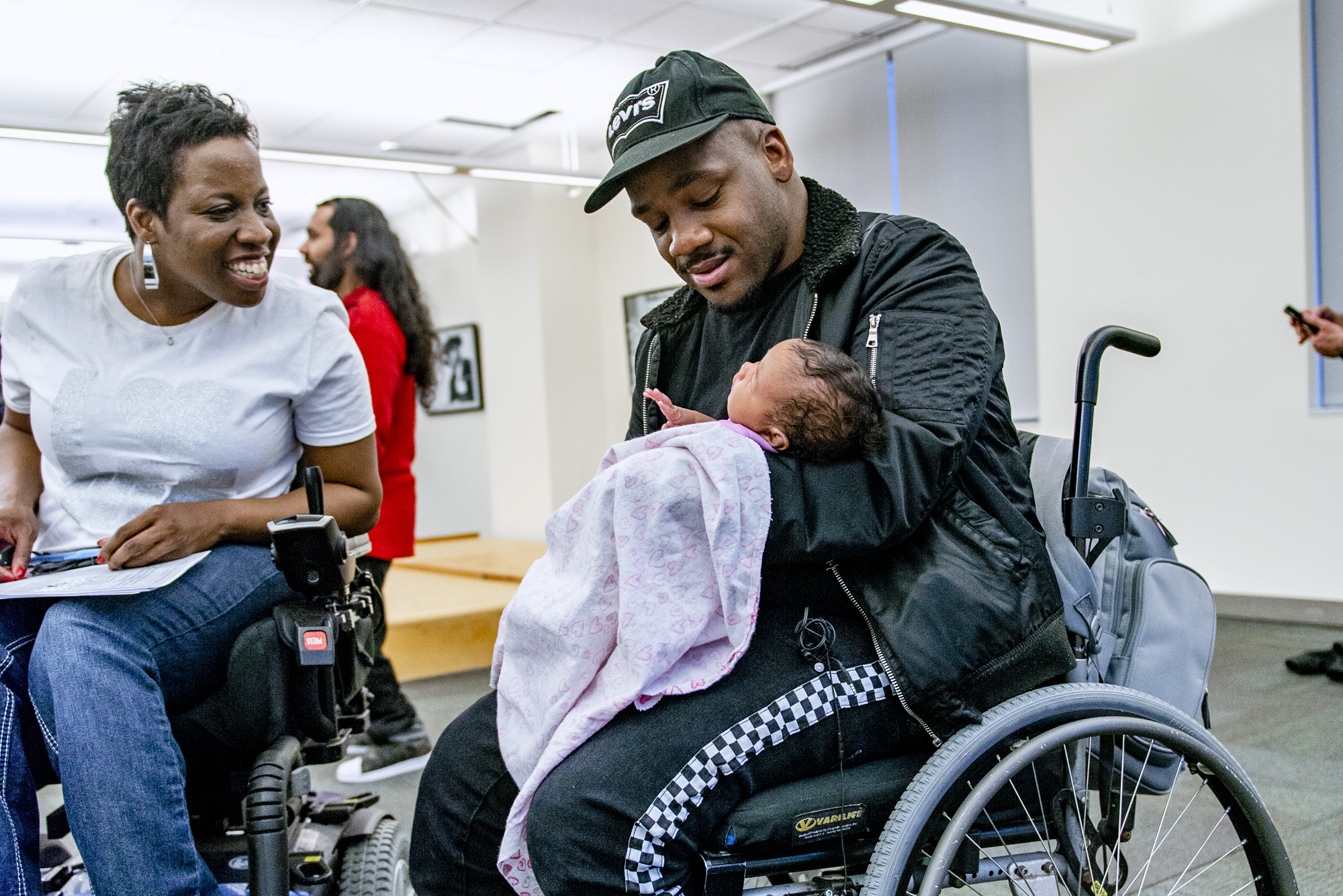 Image: An infant, wrapped in a blanket, is cradled by her father while he is seated in his wheelchair. Candace Coleman, Access Living advocacy staff member, smiles at the baby. Photo by Ryan Edmund.
Though it may have been new to some in the room, as is typical at many disability arts events, guests were encouraged to take care of their bodies and minds throughout the evening. Sandie Yi, artist-in-residence at Access Living and Disability Studies PhD student at the University of Illinois at Chicago, asked people to recognize what they needed and to do that for themselves. Guests sat on the floor, stood, leaned, and took breaks from the activity, all of which added to a sense of relaxation and comfort in the space. Yi expressed excitement about welcoming new audiences as well as a new program format to Access Living. She explained that their events usually follow more of a set program schedule and tend to be less collaborative. Yi was specifically interested to see the SAIC art therapy community in the space because so often people are "taught to think from the interventionist model, so disability culture might not be something they've been exposed to—it's good to have people recognize disability beyond pathology, patient, or client."
There is an existing tension between art therapy and disability culture, due to the interventionist or medical model that dominates the therapy perspective. The medical model approaches disability as something to be cured. Beck's intention in bringing art therapists into a disability-centered space, was to continue to adjust the perspective from curing to a lessening of distress and internalized ableism. "There's a lot of repair that needs to be done," Beck explains, but as we know, "art can be tool to repair many things."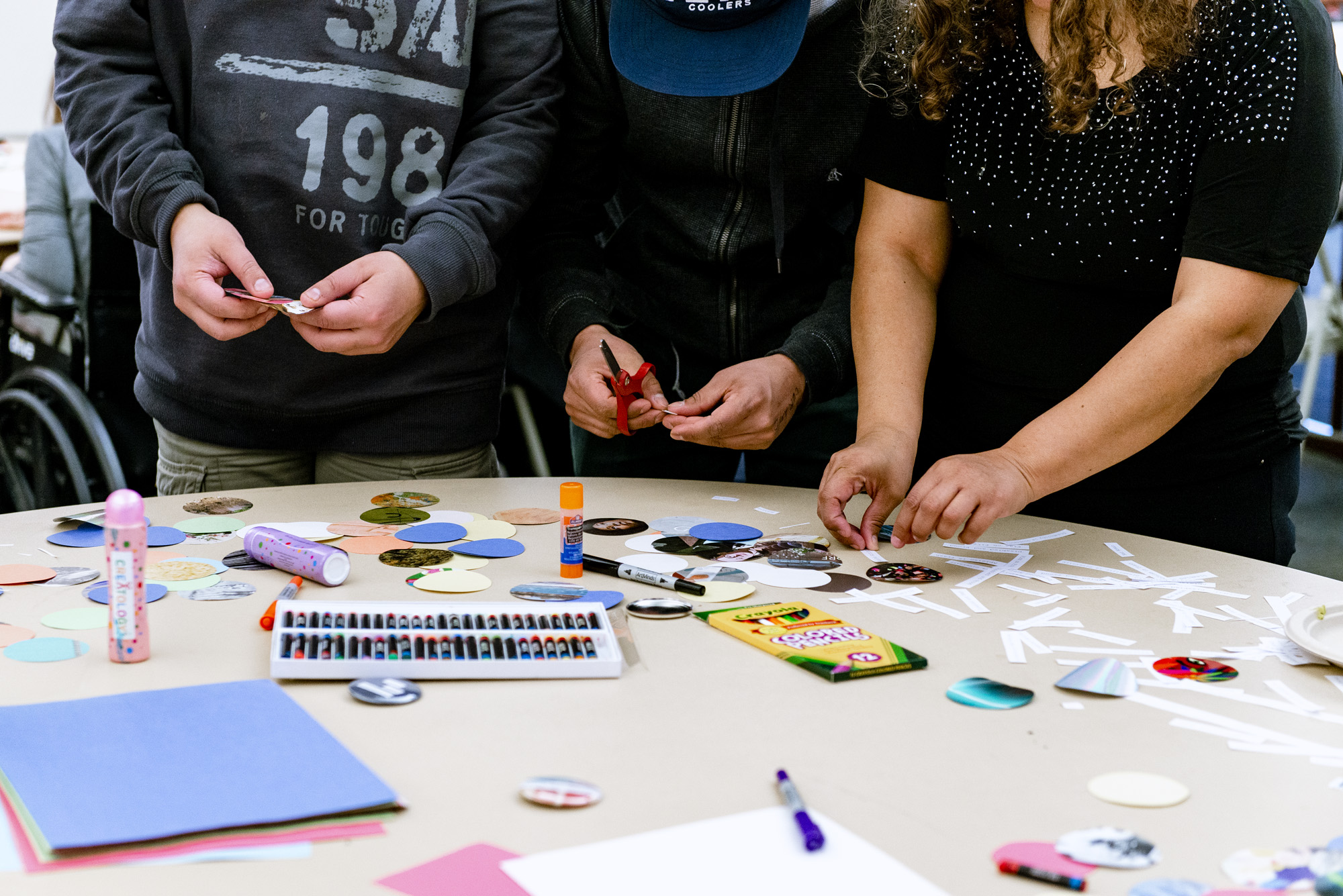 Image: Three people, only visible from chest to waist, create their own disability pride buttons with various art supplies on the table in front of them. Photo by Ryan Edmund.
I found myself asking most people how they heard about the event, to gauge their connection to the space and the work being done there. People came from SAIC, Access Living, Bodies of Work, and the VA, but perhaps most interesting were the few who had no affiliation—deciding to check out the event after seeing it on Facebook.
I learned everyone, no matter their age, delights in seeing that lever pulled to reveal their custom disability pride button, shiny, new, and ready for action. After some time spent reveling in making and conversing, a short but poignant performative portion capped the night. Participants shared the impact art therapy had on them and touted upcoming artistic projects. Jay, aka JC the MC, performed a moving spoken word tribute to a dearest that "preached like Malcolm, loved like Martin." Lastly, Curtis Harris danced to Beyoncé's Crazy in Love, which, to me, drew a connection to the derogatory term crazy, and the reclaiming of that word through a joyful dance, accompanied by whoos of encouragement from the room.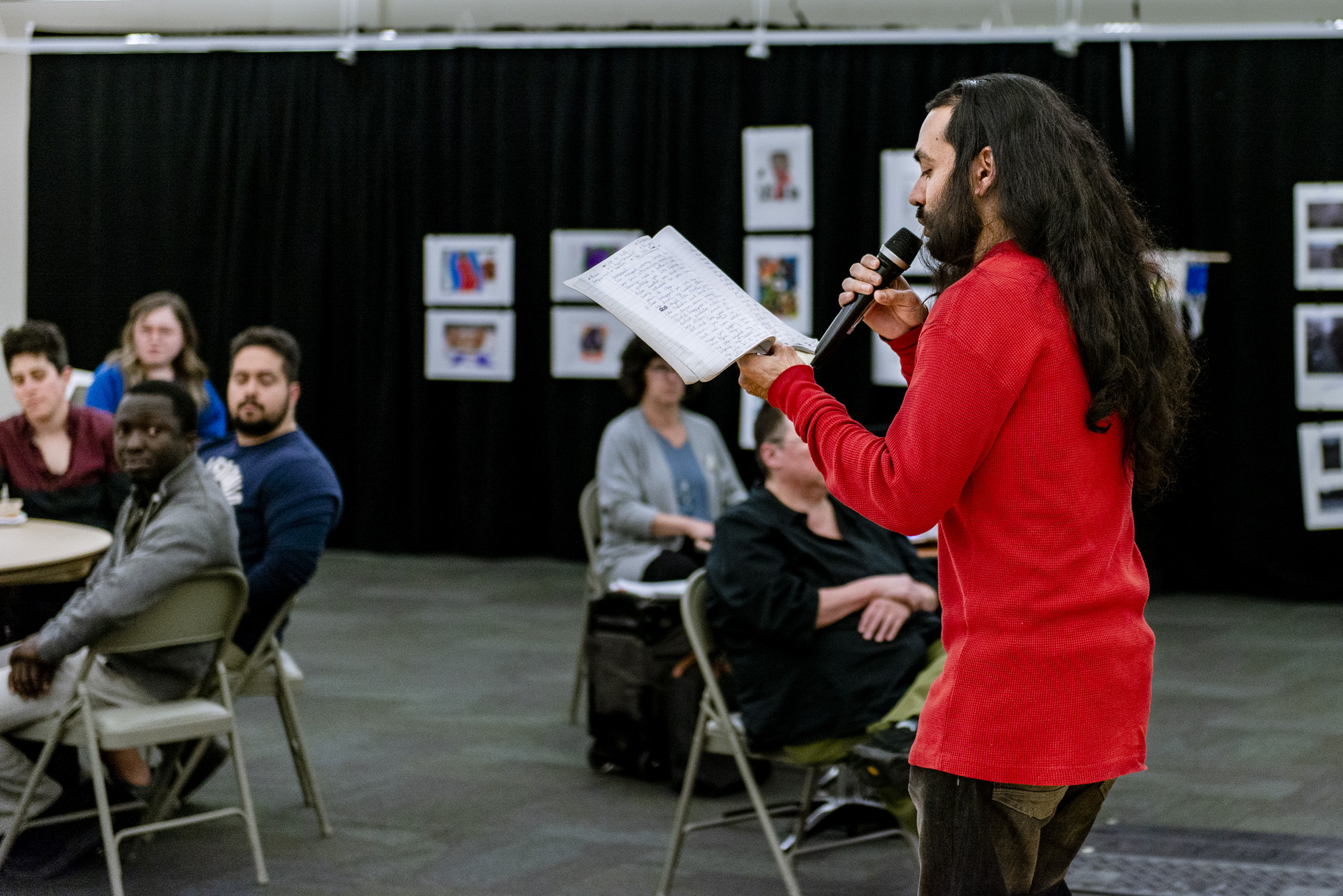 Image: JC, wearing a red shirt and dark pants, reads his spoken word piece to the audience, some of whom can be seen looking intently from their seats. Photo by Ryan Edmund.
At its core, the event was an utterly enjoyable night, but it began to accomplish something much more critical. Several art therapy students expressed the immense value in seeing theories and practices from coursework in action and in having the opportunity for these groups to engage each other in a non-therapy setting. But perhaps the most important aspect was creating a moment for people, as Beck simply put, "to be, in our bodies, together."
The Disability Art Showcase and Maker-Space was sponsored by Bodies of Work and Access Living's Arts and Culture Project and was presented by Bri Beck. 
Featured Image: Bri Beck, wearing a blue shirt and a floral skirt, speaks into a handheld microphone, motioning to an unseen audience. The handlebar of her motorized scooter is visible at the bottom of the frame. Behind her, a projection screen on the right displays the event title, while a smaller screen on the left features CART open captioning.  Photo by Ryan Edmund.
---
Courtney Graham is a Chicago-based arts administrator, writer, and event planner. Her writing and research focuses on accessibility for people with disabilities in cultural spaces, exploring access and spotlighting artists with disabilities. Courtney serves as the Assistant Director of the Evening Associates at the Art Institute of Chicago, engaging the museum's next generation of art-minded philanthropists. She completed her BFA at the University of Michigan and her MA at the School of the Art Institute of Chicago.