Flying Trapeze: Yes, Ma'am Circus
Circus has been making a comeback across the country for the past few decades. Chicago has seen the rise of circus schools, companies, and shows all across the city. Performers…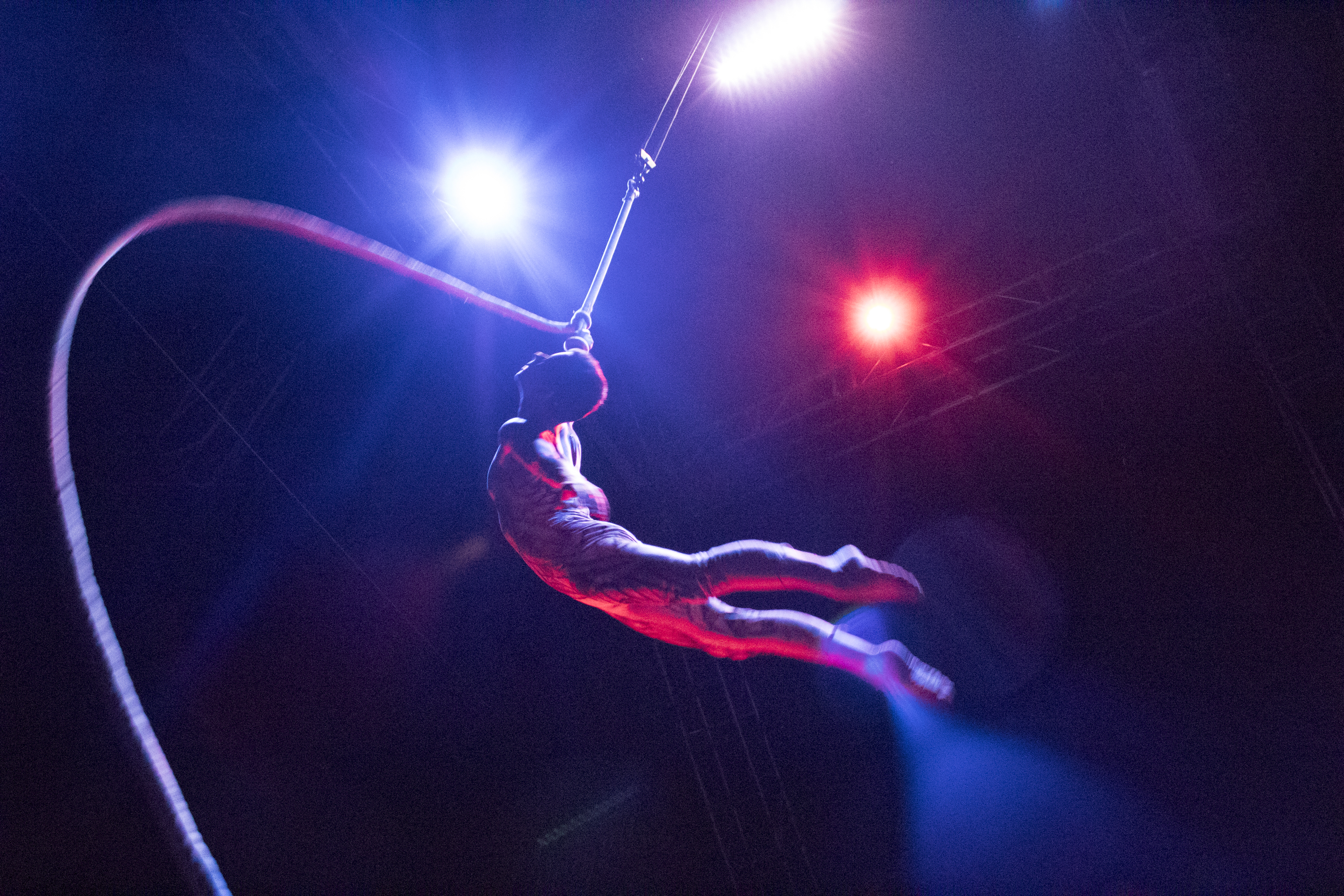 Circus has been making a comeback across the country for the past few decades. Chicago has seen the rise of circus schools, companies, and shows all across the city. Performers train and present their work to audiences while amateurs can learn new circus skills for health and self-expression. Any given month, you can see at least two homegrown shows, not including shows by smaller companies and the occasional visiting circus. The Flying Trapeze is a column that will bring you the best and brightest of Chicago's vibrant circus scene.
---
Ever think to combine John Milton's epic poem Paradise Lost with acrobatics and aerial arts? Or the dulcet phrases of William Shakespeare's Twelfth Night with trapeze and juggling? Yes, Ma'am Circus has successfully brought these works to the circus world in the past few years.
Executive Director Amancay Kugler didn't expect to be running a small theater company but through her dual dance and psychology degree, she was exposed to the circus craft. She had taken a required class on dance composition which resulted in her developing an interest in rigging (how folks safely set up trapezes and other circus equipment) and eventually led to classes at the Philadelphia School of Circus Arts. "On my 21st birthday, instead of partying like crazy," Kugler says, "I took a train, a subway, and a bus to get to the Philly circus, an hour and a half one way, went back, and did that for once [a] week until summer."
When her fiancé, now husband, Matthew, got an internship in Chicago, she discovered Aloft Circus school and its 9-month full-time circus program. She ended up enrolling and there she met fellow classmate Maggie Karlin.
But it was not until they both graduated that the spark of the circus company began. In 2017, they had the idea of putting together a 20-minute circus sketch about buddy angels on the wrong side of the War in Heaven, inspired by Neil Gaiman and Terry Pratchett's novel Good Omens. The idea took wing when Karlin's roommate Athena Giles had a lyra act (lyra is a large metal hoop that is suspended in the air and turns 360 degrees) about Icarus falling from the sky that could be adapted into Lucifer falling from heaven. The idea kept growing when Giles got her fellow classmate Myriam Bloom from The Actor's Gymnasium involved with an idea to work the Archangel Michael into the piece.
With two people playing demons and two performing as angels, the group decided to put together an hour show. But that meant selling tickets and receiving money for tickets, Kugler says, and they realized that the best course of action was to incorporate as an LLC. Thus, Yes, Ma'am Circus was officially formed in 2018. The founding members, including Kugler's husband Matthew, decided to debut the 1-hour show in May 2018 at Aloft. The show included Matthew Kugler as the narrator and original music from Ben Folson that cast members sang during the show.
But the group didn't rest on its laurels. "We kept pushing it further," Kugler says, "we took comments from a bunch of different audiences" and created a 1.5-hour long show that they brought to the Athenaeum Theatre in August of the same year.
Combining circus and plot is a challenge. While musical theater has figured out how to integrate musical numbers into its plots, many circus shows often miss the mark. Many circuses, notably Cirque du Soleil, often rely on loose plots, often without any dialogue to convey a message or a story, but often don't work; it's either jarring or too facile.
When I had the opportunity to see Paradise Lost at the Athenaeum, I was impressed by how well they were able to pull it off. Part of it may be the source material, the lyricism of Milton's epic poem melding well with the elegant aerial acts or it may be the narration by Mathew Kugler which helped ground the show to add context to the well-thought out acts.
After the run at the Athenaeum, the company took their show to Philadelphia that fall where the company began brainstorming another show. That's where Matthew Kugler's idea of adapting Shakespeare's Twelfth Night for 2019 came up. "I'm not great at writing new original work," Amancay Kugler says, "I wanted something premade so to speak, something to work from, not [a] blank canvas." Kugler had also learned that she was pregnant so having a pre-made show would be quicker than developing something from scratch. Kugler points out that Karlin and Bloom were constantly being mistaken for each other, which fit in nicely with the plot of the play.

Starting that fall, founding members and new members, including my husband, came together to start adapting the almost 3-hour Shakespeare play into something manageable for a circus show. Kugler secured Theater Wit in Boystown for several weekend runs in June 2019.
However, the road to circus Twelfth Night was a bit rockier than their road to Paradise Lost. "The production seemed cursed vaguely from beginning to end," Kugler says. First, Bloom suffered a serious foot injury and was not able to train or perform. Another cast member had to bow out when professional gigs conflicted at the last minute. And then Kugler ended up having her child a month early.
But the production came together at the end. They found great performers to replace cast members who had to step out of the production with Kathleen Hoil as Viola and Kristi Taff as Countess Olivia, which brought great energy and graceful acts to the show. "I could not have imagined it going better than it did," Kugler says.
Some of the individual acts have shown up across Chicago in cabaret shows, like Aloft's Sanctuary as well as MSA & Circus Art's Fly By Night. The company adapted parts of the show for the popular gaming convention, GenCon, later that summer for a circus dungeon crawl, where people face and "fight" monsters and other beasts in a fantasy setting.
For 2020, Yes, Ma'am decided to take a step back and focus more on themed cabaret shows. Two founding members moved out of Chicago and other life changes happened amongst the group. In December, they hosted a Heaven/Hell themed holiday show called Hellidays at MSA, which fit well with their repertoire of Paradise Lost.
"We wanted to include work that wouldn't normally get shown at a circus show," Kugler explains, such as contemporary dance. The show was a mix of aerial acts, clowning acts, and excerpts from Luke Virgilio's Carnal Inferno, a contemporary dance show. Kugler wanted to "showcase works in progress" and "longer sets of work not ready to be standalone."
Yes, Ma'am had another show planned for March, which was canceled due to the coronavirus. Kugler was disappointed since she was excited about showcasing performers Karlin and Emily Butcher's "beautiful work about being nonbinary and queer lived experiences." Kugler hopes that they'll be able to produce the show, which included dance and spoken word, along with others next year.
Other upcoming plans include a local circus festival to showcase the local talent in Chicago and the area in 2021. "We have so many talented artists," Kugler says, pointing out Raks Geek, Acrobatic Infiniti, and other groups, "We'd love to have a place for all the local talent to be shown and celebrated."
Unfortunately, that plan will have to be put on hold for 2-3 years in part because of the coronavirus since it's unclear when it will be safe for large gatherings in theaters. There's also the issue of circus performers being trained and ready to perform given the restrictions on training spaces. And then there's the significant challenge of putting on an entire festival.
Nevertheless, Kugler and Yes, Ma'am will continue to do their literary and sometimes nerdy work in the world of circus. This August, they'll be doing a virtual version of the circus dungeon crawl show, which will be a great opportunity to create new work.
As always, Yes, Ma'am will pivot and rise to the occasion, much as Kugler herself has done in her professional career. Kugler concludes, "I was going to be a psychologist or social worker to work with troubled kids. I never pictured at 25, [being] the executive director of a circus company…[But] I knew I wanted to run things."
Featured Image: In a still from Paradise Lost, Maggie Karlin is hanging by their hand on a rope while spinning around above the viewer. They are wearing a costume of printed feathers and eyes with red lights overhead. The rope curves dramatically as Karlin spins. Photo by Johanna Vargas.
---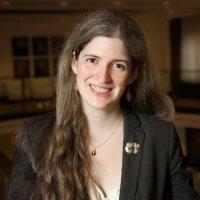 Elisa Shoenberger is a freelance writer and journalist in Chicago. She has written for Boston Globe, Huffington Post, Artsy, Hyperallergic, Deadspin, and others. She writes regularly for Book Riot and Loop North News. She plays alto saxophone in her spare time and occasionally stilt walks.