Writing Comics We Want to Read: An Interview with Damian Duffy
If you've been paying any attention to pop culture lately, you've noticed that we've become enamored of comics and graphic novels. Like most media, the authors and subjects have been…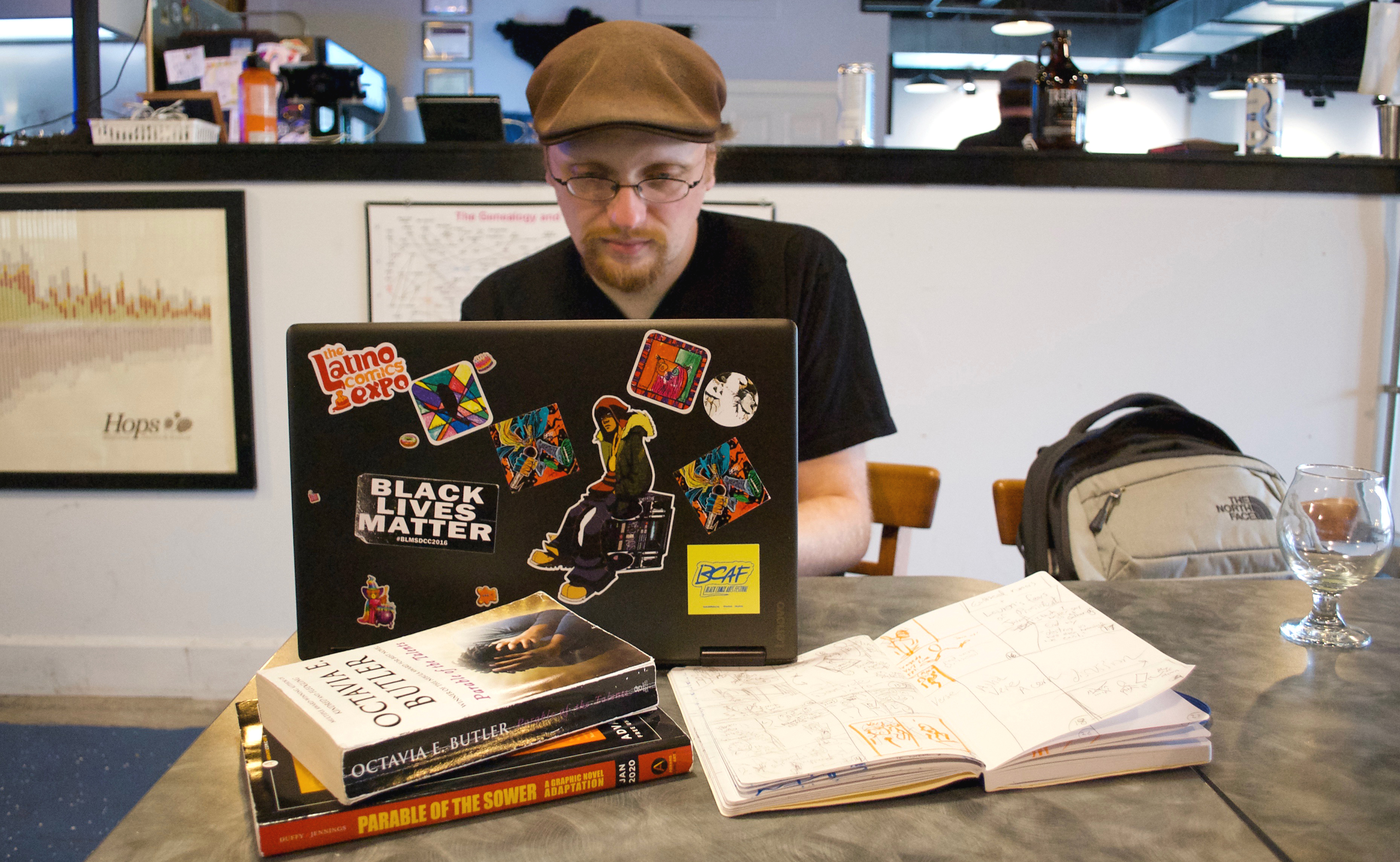 If you've been paying any attention to pop culture lately, you've noticed that we've become enamored of comics and graphic novels. Like most media, the authors and subjects have been predominantly white, and it's hard to remember that there are other stories being told. As comics become more mainstream, there's an opportunity to expand the genre to feature different voices through authorship, artistry, and subjecthood. The inherent collaborative nature of comics—artist working with author, most simply—makes it ripe for bringing like-minded individuals together to manifest a story not yet pictured.
This summer, I had a beer with comics author and artist Damian Duffy. Duffy is an Eisner-award winner (that's the prestigious award handed out by Comic Con International in San Diego), and a New York Times bestselling author. With artist John Jennings, Duffy is the co-author of "Black Comix" and "Black Comix Returns" and the adapter and author of "Kindred: A Graphic Novel Adaptation," the first visualization of celebrated author Octavia Butler's work. He's also the adapter and author of the forthcoming graphic novel adaptations of Butler's "Parable of the Sower" and "Parable of the Talents" (also with Jennings). Additionally, he is developing his own material—a comic and a novel. Duffy is humble, funny, sarcastic, and thoughtful. Most of his work addresses marginalization and the uniquely American brand of racism. In talking with Duffy, it's clear to me that those subjects, as well as our current social and political realities, weigh heavily on him. Through our conversation and reading his work, I find that he often taps into dark humor to process the horror of our circumstances.
Duffy received his PhD in Library and Information Sciences from the University of Illinois at Urbana-Champaign, where is currently an adjunct lecturer.
This interview has been edited for clarity and length.
—
Jessica Hammie: I was hoping that you could start with describing your practice. It's multifaceted and dare I say complicated because you have a lot going on, in a good way.
Damian Duffy: A simple way to describe my practice would be comics, and that's like, mostly it. So I write graphic novels then I also make comics that are academic essays, although I've cut back on that since I'm an adjunct and that doesn't have any value. [laughs]
JH: What does that look like? So basically, instead of writing a scholarly essay…
DD: Yes, it's a scholarly comic.
JH: So you're illustrating it?
DD: Yeah. So mine is…it's like a more boring version of Scott McCloud's work, Understanding Comics, where it's like a meta comic. There's a little cartoon me talking to you, the reader, and that sort of goes back and forth with a third person narrative voice. I still cite sources and everything, but sometimes I'll illustrate examples, like literally with illustrations. The most recent thing I did was about being an artist practitioner and I used my cartoon self as a metaphor where me in more professional garb was professor me, and then me with normal t-shirt was comics me, so I ended up drawing stuff where half my face was professional me and half is like… it got weird. But even that is usually looking at comics and studying comics…
JH: Because you're an actual scholar of comics.
DD: I'm an actual scholar of comics, which is often weird to say because it's not my job or something I do super professionally anymore. Teaching—I squeeze comics in a little bit but it's not really about comics. And then the graphic novel writing is just writing, or adapting, but I'm trying to write a little more. Some of my own stuff too, eventually, in the cracks. But the comics scholarship thing—I have that article that I was talking about.
JH: For a peer reviewed journal or something?
DD: I mean, it's nice, but I don't really have a tenure document or anything, and you don't really get paid for it. So I'm in this weird sort of border between practicing artist and scholar and curator of the "Black Comix" art books I did with John [Jennings].
JH: Yes, I want to talk more about those, but before we get there, I want to talk about what you just said about being a scholar of comics and using that within your artistic practice. As any type of artist, I think that the most successful and compelling—responsible, even—artists are scholars of their field in many ways.
DD: Yeah, to a certain extent, every artist is a scholar of their own work or their own field.
JH: Right. And you have to know the material and the stuff you're doing to do it well.
DD: Yeah, so that [scholarly comic] was mostly about Rodolphe Töpffer—he was considered one of the first people to do what could be considered a graphic novel or a comic in the 1800s. But he also was one of the people to write the essay about "How do you make these picture stories?" I think that to a certain extent it's inextricable; I have that more formalized academic scholarship side. I'm very experienced with that, which isn't true with a lot of artists, some for sure.
JH: Right, but you actually have a doctorate. That gives you a lot of scholarly credentials.
DD: That's right. I can force people to call me doctor [laughter]. Not my kids—they're like, "You're not a doctor!"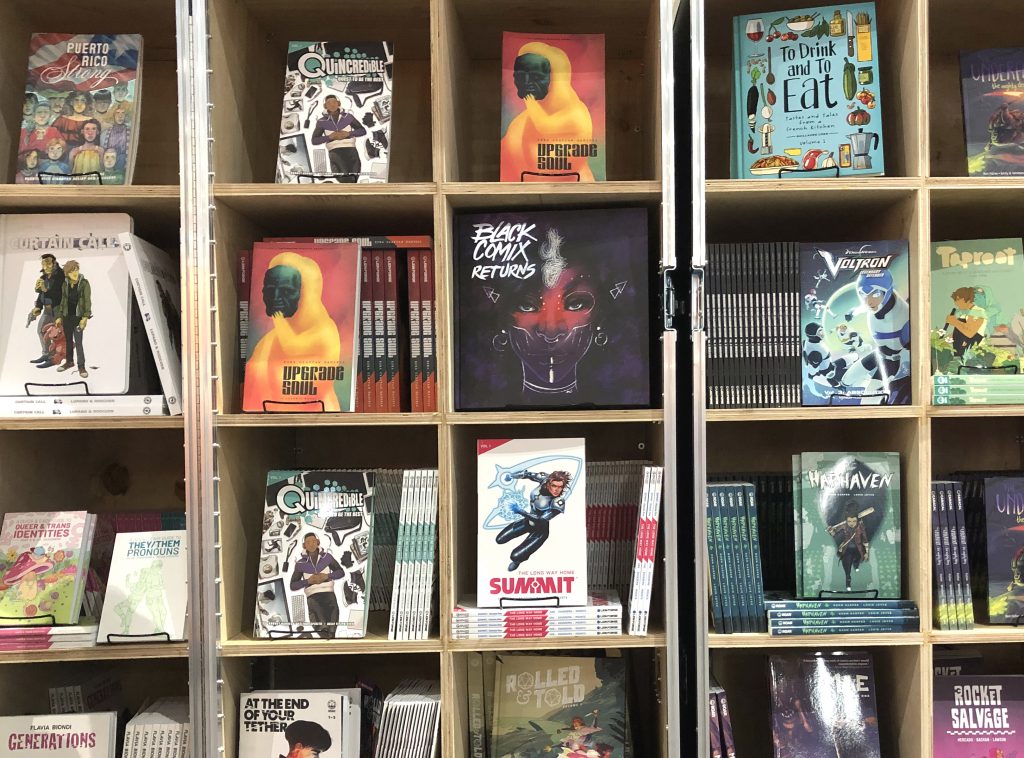 JH: So that manifests more directly in the work that you do in your collaboration with John [Jennings] with the "Black Comix" books. The second one came out last year, is that right?
DD: Yeah. It seems really long ago. It came out February 2018.
JH: So how did you come to be someone who collaborates with other people? Because that feels important to me.
DD: Comics, not necessarily, but often is inherently collaborative. There are people who write and draw everything but often there's at least a writer and artist. From six to fifteen I was trying to be a comics artist. And then I sort of talked myself out of my drawing skills, like, "I can't draw that well. I'm gonna be a writer." But then I think back, even during college when I said I wasn't doing comics, and I made three comics. My first attempt at being professional in comics was a collaboration with Dann Tincher, who's an artist and animator. We had both sort of done the same thing where we were like, "Oh, we're not doing comics"—he was just going to do painting or something, I'm just writing. And we just started talking and we were like, "Oh, we should do a comic," and so we self published "Whisp" and it was carried by Diamond Comic Distributor for three issues, back when they would do that and not give you a sales minimum. I think it's true with a lot of pop culture but comics especially, is that it's very much a mix of professionals and fans. Fans are always wanting to be professionals, and professionals are always past fans—it's a very tightly wound connection. There's that kind of collaboration, too. So I was self-publishing "Whisp" and I met John [Jennings] around that time. And we started talking and collaborating after that. John and I, we just had very similar ideas about what we wanted to do with comics. We're very into, push the formal boundaries and stuff like that, and we were also both super interested in hip hop and identity issues.
People will often ask—I'm white—I should point this out. I. Am. White. [laughs] People think I'm not, so I try to be as public about that as possible. People will ask me if that sort of started because I met John or something, who is black. But, not exactly. I remember being a kid and being very interested in race issues and identity issues. Why is my family super racist when my best friend is black, you know? Anyway, so, all that—we connected on that. It's sort of been like that working with John for 15 years. He is just a fountain of ideas, nonstop. The Octavia Butler stuff happened, so that's mostly what I'm working on. It's an honor and a privilege, but it's super depressing, cause it's very prescient. I like to get myself off the ledge and I've been working on other original stuff.
JH: I want to touch on the original stuff, but let's go back to "Black Comix". "Black Comix" volume—well, I guess it wasn't volume one at the time, technically, but now it's volume one—came out nine-ish, almost ten years ago, and that was a curated collection of black artists working in comics.
DD: Yeah, that one, I think, is African American [artists] exclusively. Or, artists of color, predominantly black artists, independent comics artists. So they either own the rights to their work, self publish it, or it's published by a small press. But yeah, non-corporate, home-grown comics. And then there were 50 artists in that one I think, something like that. That grew out these art shows John and I curated in 2006 and 2008. 2006 was "Other Heroes: African American creators, characters, and archetypes", or something like that? But that was actually our practice show for "Out of Sequence" which was at the Krannert Art Museum, and [featured] underrepresented voices in American comics—underrepresented demographically, but also aesthetically. We had abstract comics, just mixing whatever was underrepresented. And from those two shows we realized we had a bunch of art files from these awesome artists and there wasn't—and still isn't, other than our stuff—that much that was an art book introducing that independent comics culture, or subculture. So we were like, "Oh, that'd be an easy thing," and we pitched to this one publisher—this art book publisher that John was familiar with—and they picked it up, so we made it. [laughs]
But we decided to get all new art because having it be easy? Why would we do that? That's foolish. So that publisher went bankrupt, which was not our fault. We were one of the few selling titles, from what I understand. But we still had copies and John randomly talked to someone at some coffee shop who ended up working for this small publisher that got bought by a bigger publisher and so forth, so "Black Comix Returns" was the follow up to that.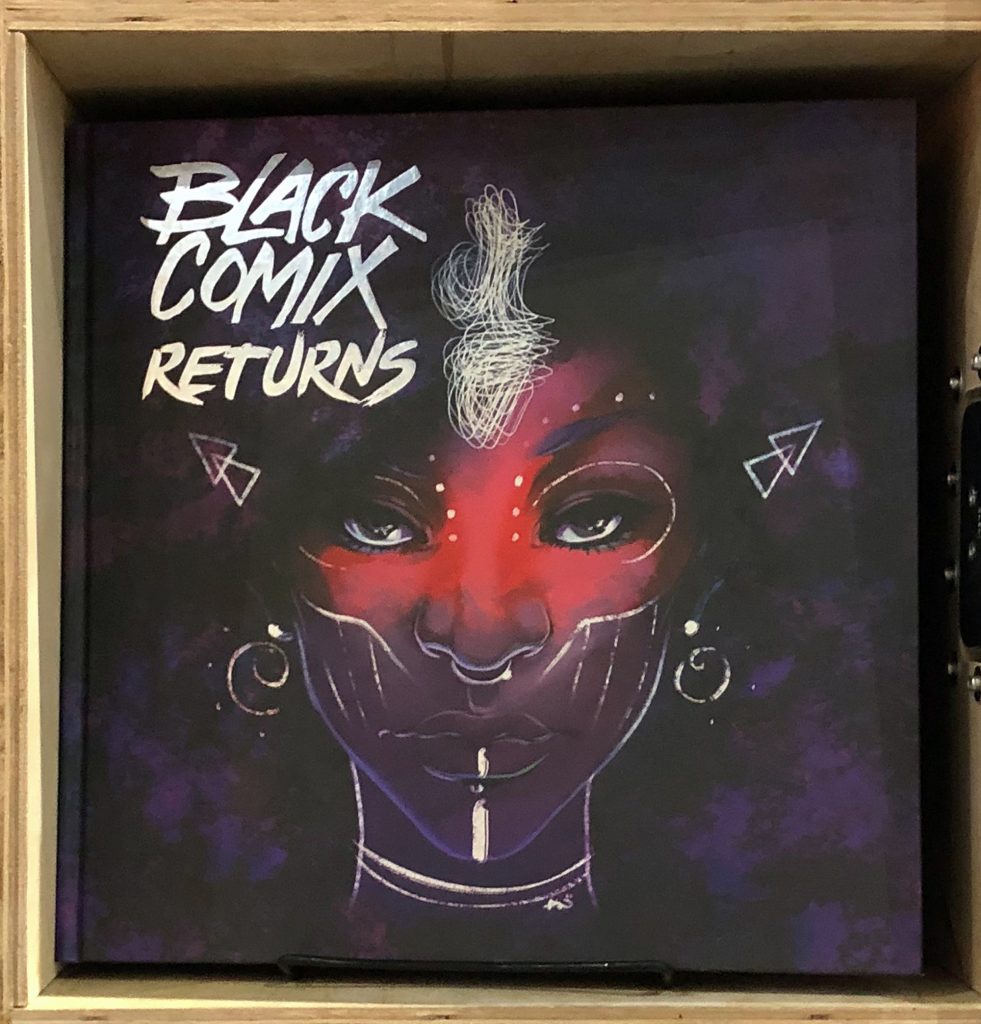 JH: Right. And that was just last year, and that's bigger.
DD: That one has a hundred artists and it's also a bigger book; it's album sized, like, old school album sized. Both ["Black Comix" and "Black Comix Returns"] have essays and lists of different conventions and stuff because they're not just supposed to be coffee table art books, but also an introduction to black independent comics culture which has its own events, touchstones, and figures and stuff like that.
JH: So in addition being a curated resource of these amazing artists, it's also a resource of how one can participate in the economy of it all.
DD: Yeah, for each artist we include a URL for their website, or ways to find them, so if you see something you like, you can continue on.
JH: You can actually support those individuals and their publishers. That's cool. Continuing on this collaboration track, the most recent thing that you did with John was "Kindred".
DD: The most recent graphic novel, yeah, that was "Kindred".
JH: Which is a big friggin' deal!
DD: It is!
JH: Because it was a NY Times number one best seller, which is incredible.
DD: Back when they had a graphic novel bestseller list, and then they got rid of it right after.
JH: I mean, you killed it. You broke it. There was nothing else that could be done.
DD: I mean, we got more books coming out, but whatever NY Times.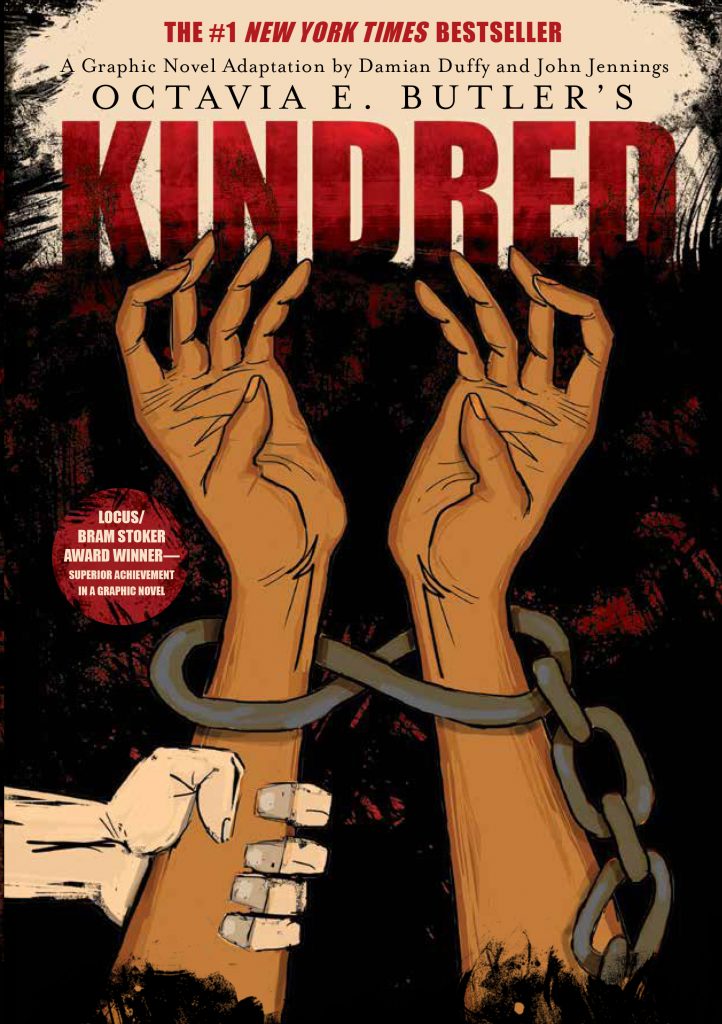 JH: I know that you guys have done a lot of press for this and it's been super well received, critically and commercially. And I know you've talked a lot about this, so I don't want to belabor this too much, but talk a little bit about that process. It's a beast, right, to take this object of literary genius and be like, "You know what? Let me just chop it up a little bit and piece it together."
DD: It seemed like such a good idea pitching it, like this would be great—then it was like, oh shit! The first draft I wrote was kind of terrible. I added stuff that wasn't in the novel and I sort of wrote a comic that would force you to read the novel, which I thought was amazing in my crazy brain, but the sales departments were like, nah that's not what it's for. But at a certain point I'm like, "Everybody needs to read this fucking book!" But our editor, who's awesome, Shelia Keenan, she did a great job of cutting away my bullshit.
I made jokes about it the whole time and I don't think I realized I was serious until much later, but just the pressure of cutting Octavia Butler's prose— they call her the Grand Dame of Sci Fi, but she hated it —but just, McArthur Genius Grants, and ah! I guess that was sort of how I got through it; through postmodern-y thinking about the medium of comics techniques that I end up highlighting when I do the academic stuff. It was all garbage as something someone would want to read, but it was sort of useful to get a first draft out of it. I apparently I learned my lesson because the script I wrote for "Parable of the Sower" there were more minor edits—expand this one scene, and cut this one.
JH: When you're writing you're not writing in prose, right? You're writing in screenplay?
DD: It's kind of like a screenplay format. I've done it different ways. Usually every comic's a little bit different. Usually with John, when we don't have an editor, I will write a script that also will have drawings of ideas and stuff. I did that a little bit with "Kindred" but not as much. It's like page one, panel one: here's a description of what's going on in panel one, here's the dialogue, move on to panel two. And this was the first time I've worked with an editor who actually edited content and I was lucky that she was really, really good. But even though she was really, really good, my first response is always like, "But my genius!"
JH: Yeah, it's hard.
DD: Yeah. For these, I wrote a script, sent it to the editor, she sends back notes, and I incorporate those notes into a new script. I think we went back and forth two or three times and then with "Kindred" the script had to be signed off by Butler's estate. Then John did rough art for the entire script, so kind of like thumbnail sketches, and I lettered those for the advanced reader copy. Then he went back and finished all the art and then I had to fix lettering for the finished one, and I think the estate signed off one or two times in between there. There were a lot more intermediaries.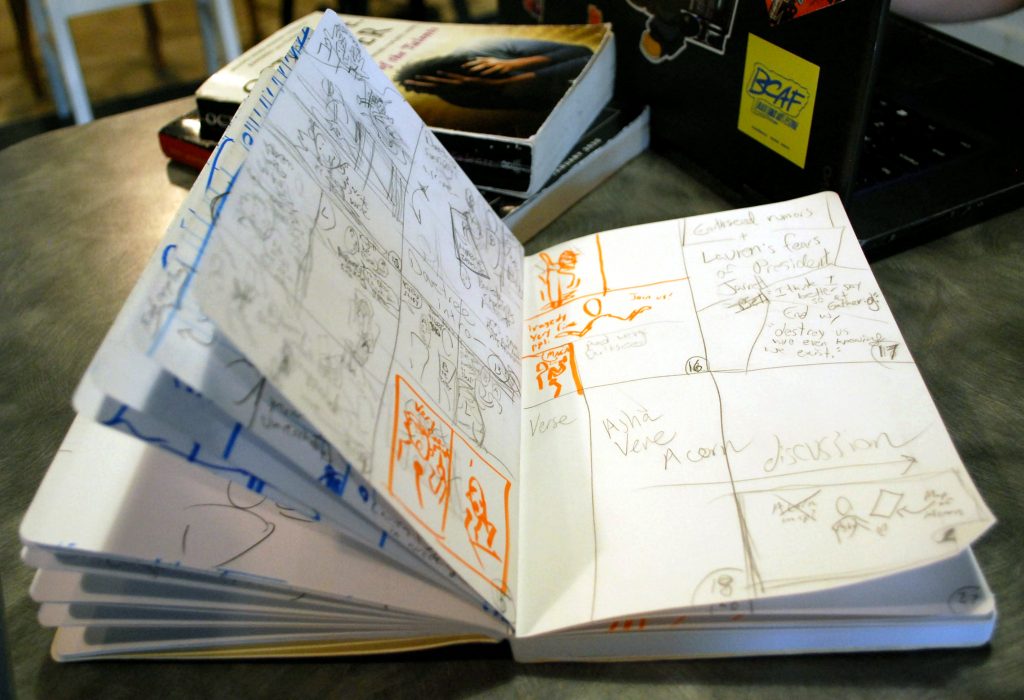 JH: That's really cool that they gave—I know they legally had to—but it also has to be pretty cool that they gave their blessing because it's never been visualized.
DD: Oh my god. It hasn't. I think I was nervous—well, I'm always nervous— but I think I was exceptionally nervous about the book right up until we met her cousin, and she had seen the finished thing and she was like, "Oh, it's just great," and I was like, "Oh, thank god. I feel okay now." It's only in retrospect, where I'm like, oh yeah that was a lot of pressure. Maybe I did have a tiny nervous breakdown.
JH: But now you guys are working on adapting "Parable of the Sower" and that is one in six books?
DD: One in two. So this one—Butler had planned it to be more, but she died without finishing or really getting going on the third one. But the third one had—it was like, thousands of years in the future from the second one, so it's kind of a good encapsulation.
JH: So what's the ETA on that? Can you say?
DD: It's supposed to be in January 2020.
JH: And you'll also do the second book in that series.
DD: Yeah, so I'm actually working on the script for the second book, "Parable of the Talents" this summer. They're both very—it's a dystopia. So it's a future dystopia—well, it starts in 2024. And it mostly takes place in California. It's been ravished by climate change and wildfires and poverty.
JH: So basically now. It's reality.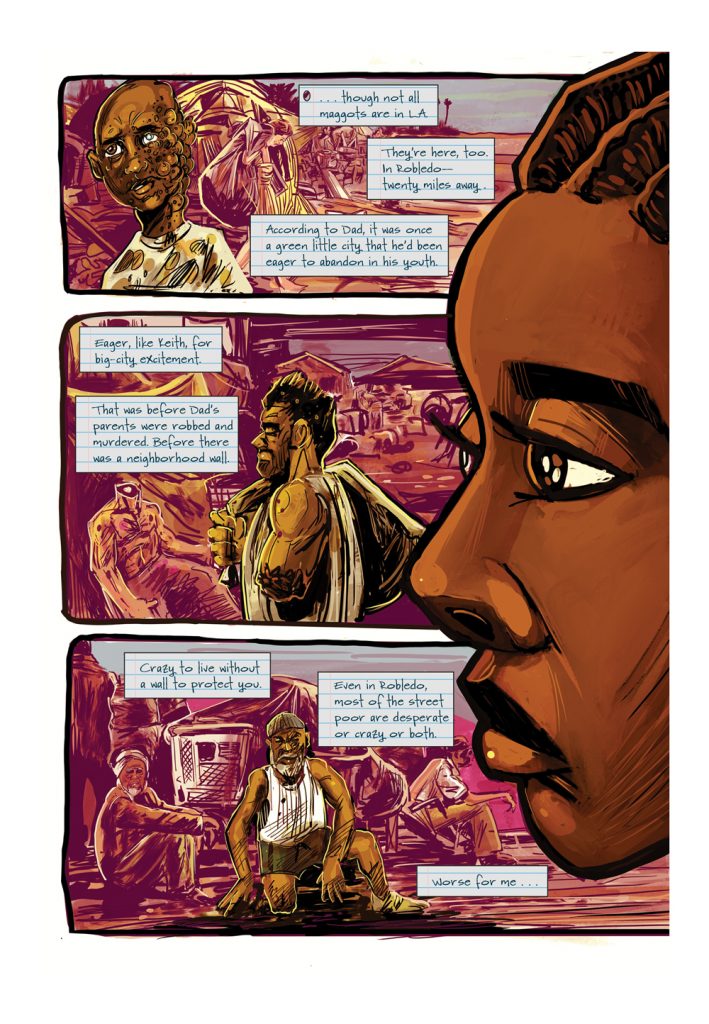 DD: Oh, I'm not done. "Parable of the Talents" includes a presidential candidate who wins under the slogan "Make America Great Again."
JH: No. Is that true?
DD: Yeah.
JH: That's so depressing.
DD: Yeah, and people being separated from their children and put in camps is a big plot point.
JH: Science fiction and some types of fantasy are really great ways to engage with the hard stuff that's happening in our own realities, regardless of time. I guess this speaks to the depressing nature of humanity, we just keep doing the same thing over and over again.
DD: She [Butler] wrote the ["Parable of the Talents"] in the mid 90s and ["Parable of the Sower"] around 2000. I'll tell people that, and they'll be like, "Oh, she saw!" and I'll be like, "No, she was just kind of paying attention." It's not like no one saw any of it coming.
JH: It's not like any of this is particularly new, either. As we all see from the all of the Hitler and Nazi references in our social media feeds.
DD: Yeah. There are lines in the new book that pains me to work on. The presidential candidate is this über-Christian dude, Christian extremist. He has his own Christian America church and his followers have restarted witch burnings and stuff like that. There's a part, "Something new has started. Or something old." And I'm like, oh, that's like…there's just too much where it's just, "Oh, great!"
JH: It seems like as awful as it is, it's important for this sort of stuff to permeate different audiences. Often, making it visual is an easy way to do that. I'm sure there are people who have read your adaptation of "Kindred" who have never read or didn't know about Octavia Butler before.
DD: That was my other blind spot. After I read it I was like, "She's a genius! Everyone must already know about it!" I always do that for some reason. I've had multiple people, who "Kindred" is their first comic they've ever read, but comics are everywhere.
JH: That's pretty cool.
DD: That's pretty cool, yeah.
JH: Because they're such heavy topics, how do you, as a creative person, continue to think through the traumas and legacies of racism and race, the histories that we've inherited in this country and that we continue to live through?
DD: There's a reason I work here [at Triptych Brewing] often. [laughs] It seems like sometimes you're arguing—this isn't even a good answer—but it feels like sometimes you're arguing with a force of nature or something. You know? There's just this powerful wave of stupid that refuses to be stopped. I feel like a lot of the times I'm just hitting this wall; I don't even get why this shit is still a thing. I mean, I do get it. But super logically, rationally it's like, "What the hell is wrong with y'all?"
JH: Why are we still talking about this? Why have we not made changes? Why is so hard to push through change?
DD: There are many examples, and this is just basic decency. Like the concentration camp stuff, has just been—I feel sick all the time, you know? So, how do I think through historical traumas and systematic racism? I don't know if I've gotten through it.
JH: How do you continue to deal with it?
DD: Sometimes it's just…well I'm a white straight guy, so no one's going to choke me to death for walking down the street. Maybe whatever trauma or emotional issues I develop working with this stuff, that's a small price to pay to learn about the world, compared to what other people have to go through. And then there's, I suppose underneath it all, the kind of hope that somehow doing this work helps people? 'Cause like, I'm useless in a march. I'm not going to punch a Nazi. I'll break my wrist or something.
JH: And also that doesn't seem to have much of an effect beyond the immediate.
DD: I mean, god bless the people who do it. But I don't like people anyway [laughs], so this sort of work feels super organic to things I've always been interested in and perplexed by, and also it feels like the sort of problem that has vexed me always, or well back into my childhood. Like, what the fuck is wrong with us? Racially, but also just in general. Prejudicially. The comics are the thing I do. They're the thing that feels natural to me, the way I feel best able to communicate with the world, and hopefully somehow slightly impact the world. So yeah, I don't know what else to do.
JH: Then I guess you're doing what you need to be doing.
DD: I guess so.
JH: It's that old adage about making work because you're compelled to make it. It's super cliché and really cheesy, but I think there is some truth to that.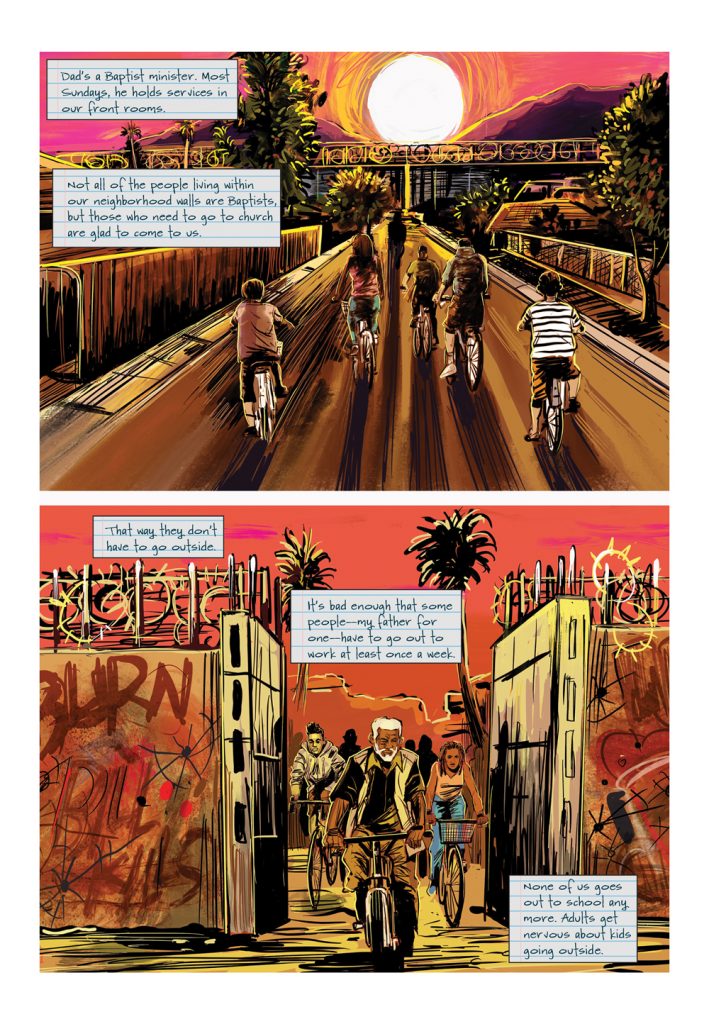 DD: Especially in comics where there's no money. You hope your GoFundMe for your healthcare will come through. Even when I told myself I was not doing it, I did those other [comics].
JH: You're doing it.
DD: I have to.
JH: It's clear that America inspires rage through the work that you're doing. Do you draw on that rage?
DD: I guess I do. Maybe that's healthy, or something?
JH: I think that's the healthy way to process these things.
DD: Maybe it's true of a lot of artists, but I always feel like my work is a very small drop in the bucket of people reacting to what's going on in the world. Although, I guess the Octavia Butler stuff is a larger drop in the bucket.
JH: It's quite a big drop. How do you think about editing and writing? I'm thinking about "Kindred" and some of the ways you're editing the novel for a shorter space. Does that influence the way you think about your own writing?
DD: That's a good question. I'm not sure.….I think about the economy of prose differently, or the economy of words differently. In writing other comics, I don't think I ever paid as close attention to word count in a particular panel as I do now because I want to get as much in as possible. Whereas before I'd write any old shit, and I'll change it when I letter it anyway, so who cares? So I've thought more about that, I think. I use em dashes more, because Butler uses em dashes.
JH: Tell me about the stuff you're working on. Your original stuff.
DD: Mostly this summer I've been trying to write my own stuff…my own comics and also, I think it's a novel? It's called "Mind Races." It's about this underground sport where two psychics face off and they go into each others' minds. They've constructed mazes in each others' minds and whoever makes it through the maze first wins. It's been slow going because the main character is black—I had this idea of marginalized people would be better at this game because they deal with double consciousness and stuff like that, so they're more skilled at it. So I've been messing with those ideas. I have two pages…I have an outline. Working on that post-"Kindred" and still very much adapting Octavia Butler, it's part of the reason I wanted to start it. I don't want to get totally lost. It's a weird anxiety. I want to make sure I still have my own voice.
JH: It makes sense.
DD: [Another one] is "Night Boy" which is actually me, John, and Stacey Robinson. It's a supernatural superhero character John and Stacey made up. We've done this a couple times, where they make up this giant universe and I'm like, this is repetitive and this doesn't make sense and I kind of edit it down, or add my own stuff. So that's a super collaborative approach. But I've been trying to work on a script for this character that we've been talking about for a number of years and they've drawn stuff for.
I started this story…I think it's going to be called "Shoulder of Giants". You know the myth about the turtle? Like, the world's on the back of a giant turtle? So there's this planet and the world is covered in giant monsters and each giant monster has a civilization that lives on it and it's more about the civilizations on the monsters than the monsters themselves. There are different Godzilla-y, gigantic, kaiju monsters and each one has a society that lives on it—literally lives on the monster. It's about how different societies interact with the monster they live on, what happens when the monsters battle, but then the sort of main character comes from this civilization of humans who are anti-monster and live underground because monsters are always trashing the surface of the planet. I actually mentioned this story to cartoonist Carl Antanowitz; I was like, "I had this idea for a story," and Carl was like, "Hey you should give me a script and I'll draw it." And I'm like, god damn it now I have to do this. So I've been working a bit on that.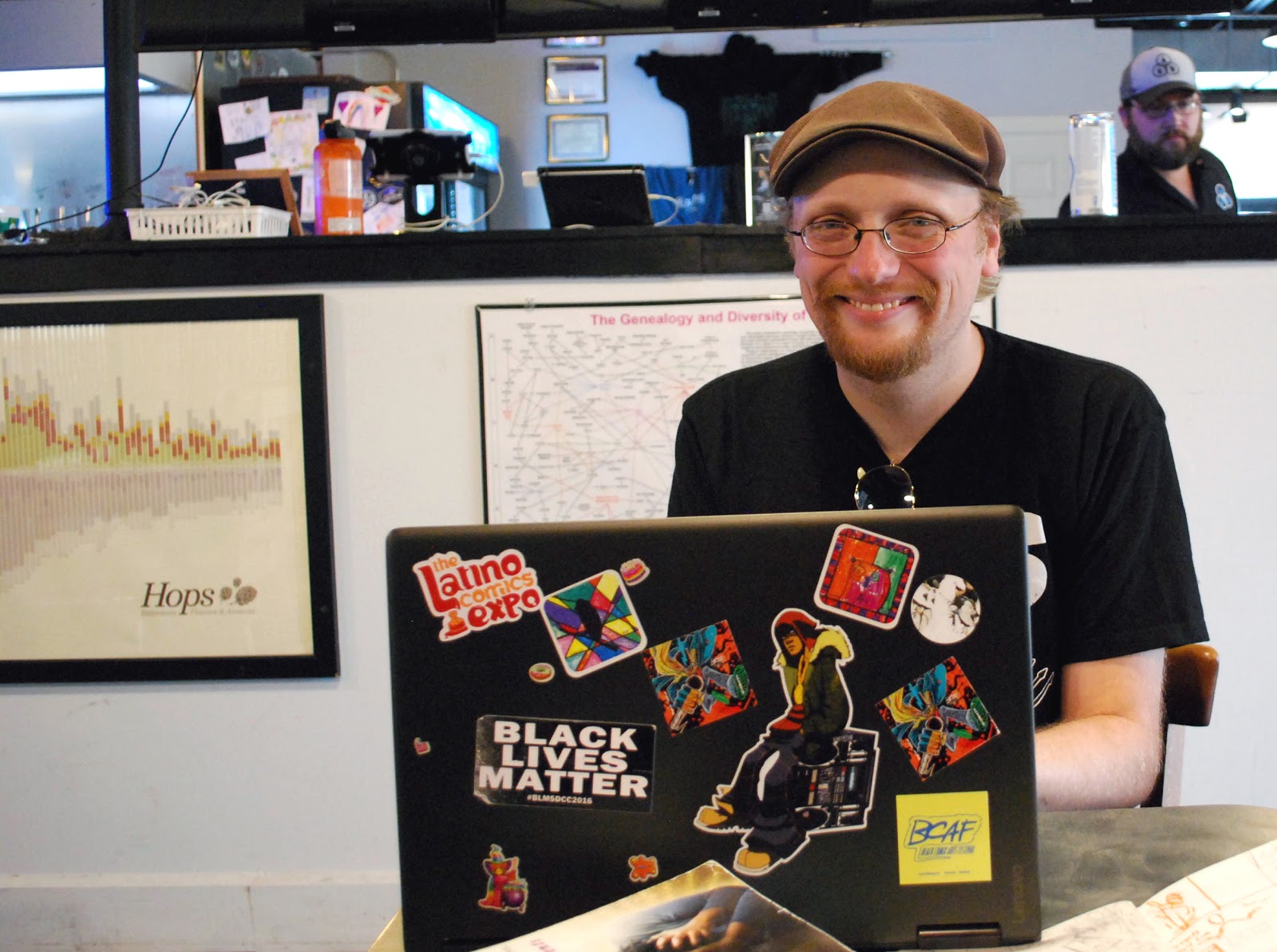 JH: That sounds awesome.It's about finding the time, and it sounds like you've been really busy with other stuff. How can people get in touch with you, if you want them to get in touch?
DD: DamianDuffy.net—dot com is some Irish photographer. But it has links to Twitter and Facebook, which I'm sort of on. I look at them, but I don't post much. There's an email on there.
Featured image: Damian Duffy sits at a table in a brewery and works at a laptop computer. In front of his computer are paperback copies of Octavia Butler's "Parable of the Talents", an advanced reader copy of his graphic novel adaptation of Butler's "Parable of the Sower", and an open notebook with sketches. An empty beer glass is set to the side. Photo by Jessica Hammie.
---
Jessica Hammie is a writer based in Champaign, Illinois. She earned an MA in Art History from the University of Connecticut, where she studied hip-hop's influence on contemporary art practices. Jessica writes about how artists visualize identities, and how arts help us understand our interconnected public and private histories. In addition to writing for Sixty, Jessica is Managing Editor and the Food & Drink Editor at Smile Politely, a Champaign-based culture magazine.