Weekly Picks: February 26 – March 2, 2014
Our weekly calendar is a list of visual art related events happening in Chicago.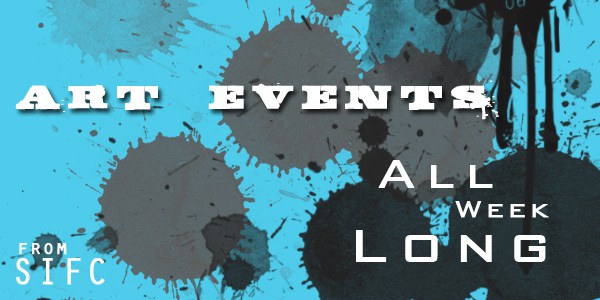 Our weekly calendar is a list of visual art related events happening in Chicago. The events that we choose are loosely curated based on the information that is put in front of us. If you would like to take advantage of having your event listed on our website please send a press release to reuben.westmaas@sixtyinchesfromcenter.org
THURSDAY || February 27
Demons, Snakes, and Evil Trees
Opening Receptions
11:30 a.m. to 1 p.m. and 6 p.m. to 8 p.m.
Harold Washington College, President's Gallery
30 E. Lake St.
Chicago, IL 60601
Free to the public

Brian Chankin of Odd Obsession Movies curates an exhibit of one-of-a-kind movie posters from 1980s Ghana. This exhibit focuses on Voodoo-themed Nollywood–the Nigerian film industry–imported into Ghana and advertised with hand-painted signs. Men and women transform into animals and quiver before ravenous, bestial faces in these truly unique posters, which traveled across the country with a TV, a VCR, and a power generator. Says Chankin of the paintings, "Frequently the posters have only passing relation to the referenced film. The language has been contorted and mistranslated, and there is a preoccupation with violence tinged with humor. These peculiarities add to the posters' strange allure and abet their artistic successes."  Chankin will deliver a talk on the subject at 7 p.m. on February 27, and the show runs through Sunday, March 30.
FRIDAY || February 28
Mundane Afrofuturism
Performance Lecture
6 p.m. to 8 p.m.
Arts Incubator
301 E. Garfield Blvd.
Chicago, IL 60637
Free to the public
Martine Syms isn't just an artist, she's a conceptual entrepreneur. Her resume includes the art book New Guards, a collection of scans from a water-damaged copy of Stephen Shames' The Black Panthers, a position as the lead designer of Nasty Gal, and lectures delivered at SXSW, Yale University, and MoMA PS1. In her most recent essay, "The Mundane Afrofuturist Manifesto," Syms explores radical creativity on an everyday level. Syms delivers a performance lecture based on the manifesto, and afterwards shares an enlightening conversation with artist and author Krista Franklin. The program accompanies Black Radical Imagination, a screening of Afrofuturist and Afrosurrealist films by artists of color, which will take place on Thursday February 27 at 6pm in SAIC's Columbus Auditorium.
SATURDAY || March 1
New Work New York: Prints from the NY Society of Etchers
Opening Reception, Open House, and Printing Demos
12 p.m. to 6 p.m.
Chicago Printmakers Collaborative
4642 N. Western Ave.
Chicago, IL 60625
Free to the public

The Chicago Printmakers Collaborative welcomes a few of their Big Apple brethren for a two-month-long studio show. The New York Society of Etchers is going on 16 years old, but draws inspiration from their 19th century predecessors the New York Etchers club. In this opening reception, 12 of the society's etchers offer demonstrations of their art all day. Then, through April 26, visitors can marvel at the impossible detail of Kirsten Flaherty's Salem, the muscular power of Andy Hoogenboom's Horsemen of the Parthenon, and the eery beauty of Richie Lasansky's Belladonna.
SUNDAY || March 2
Show Closing
Closing Reception
4 p.m. to 7 p.m.
Ian Sherwin Gallery
2649 W. North Ave.
Chicago, IL 60647
Free to the public
The former co-owner of Sherwin's Gallery in Lakeview, Ian Sherwin packed up his canvases and moved to Humboldt Park earlier this year. February 1 marked the beginning of his grand opening party, which winds to a close on Sunday, March 2. A contract artist for the field museum, Sherwin's works often draw inspiration from the sciences, and can also be spotted in CPS classrooms. Painter Rebecca Moy, watercolorist Peggy Macnamara, illustrator Mark Molitor, peanut caricaturist Steve Casino, and Anna "Queen of Tape" Dominguez join Sherwin in displaying at this party-ending fiesta.