Retelling Lives on the South Side through Film: South Side Home Movie Project
As a Hyde Parker, I hear about the South Side Home Movie Projects (SSHMP) frequently. I'm a hop, skip, and jump away from their front doors; I'm a short bike ride away…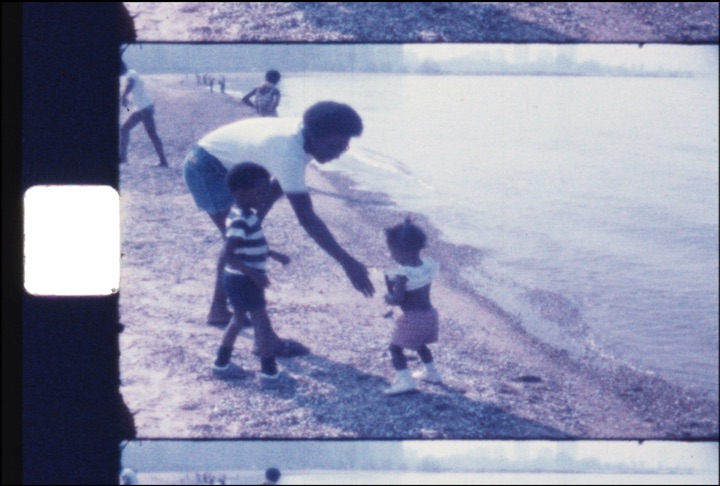 As a Hyde Parker, I hear about the South Side Home Movie Projects (SSHMP) frequently. I'm a hop, skip, and jump away from their front doors; I'm a short bike ride away from where their current exhibition is located. But I'm always surprised to hear that other people, in other parts of our city, are unaware of their presence, and their promising initiative to archive, collect, restore, and preserve the South side's history. The SSHMP's mission is to focus on the people who live here, who have lived here, and who will live here. Their process of researching and exhibiting home movies from the South side of Chicago is reinstating an untold legacy and offering access to views of life on the best side.
What follows is a Q + A interview with Candace Ming, the Project Manager and Archivist at the SSHMP.
S. Nicole Lane: When did you get into archiving? How did you end up at the the Southside Home Movie Project?
Candace Ming: After graduating from American University with a degree in film production I became interested in film archiving and began looking up programs. I attended the Moving Image Archiving and Preservation (MIAP) Program [in NYU Tisch School of the Arts] from 2009–2011, graduating with an M.A.
After graduation I worked at the Museum of Modern Art in New York and worked with a curator named Ron Magliozzi on an unreleased silent all-black cast Bert Williams film. I did a lot of the research on the cast, including the lead actress who was unknown, eventually identifying her as Odessa Warren Gray. Dr. Jacqueline Stewart [director of SSHMP, Gray Center for Arts & Inquiry, and UChicago film professor] had heard of my work and thought I would be a good fit for the project. I was excited about working with her and the mission of the project so I came aboard in 2015.
SNL: What does the Southside Home Movie Project collect?
CM: SSHMP collects 8mm, Super-8, and 16mm reel-to-reel film. At this time, we are not collecting videotapes, but we are looking into how we can.
SNL: How would someone get into the archive? Is it digitized?
CM: Our archive is digitized as collections come in so anything that we have digitized can be seen at sshmpportal.uchicago.edu.

SNL: How far back do some items in the collection go?
CM: Our oldest film, though just a fragment, is from around 1929.
SNL: Can you discuss film preservation? What goes into it?
CM: There are many types of film preservation but what we do here is called a telecine transfer. Basically, the film is played through a projector like system and instead of a light shining outward, a camera captures each frame individually. This is then stitched together to create one digital file. All our transfers are done in real time and captured to a hard drive. Prior to being transferred each film is inspected for deterioration and repaired for damage. Since our machines are like projectors, they are sprocket driven, meaning the film needs to fit onto the various cogs that drive the machine. If the film is too deteriorated this can cause problems so we make sure to do thorough inspections to make sure we are not putting any film on our machines that can't go through. 

SNL: How many films are in the collection?
CM: We have about 300 films in the collection right now, not all them digitized.

SNL: Who uses your collection?
CM: Our users include teen groups, UChicago researchers, and most often documentary producers searching for footage.
SNL: The project has films and videos presented in exhibition spaces. Can you discuss some of these events? What are some exhibitions that stand out in the past?
CM: Currently we have an exhibition up at the Arts Incubator entitled "Everyday Resistance: The Art of Black Living in Chicago." Working with the curators there we are exploring the idea of black leisure during times of radical activism and resistance. We have several programs featured during the run and the gallery has been transformed into a 1960's living room space.
I think one exhibition that just ended has been our coolest. We worked with the McCormick Bridgehouse Museum at Michigan and Wacker and artist/architect Mejay Gula to project home movies around and about the waterways of Chicago through one of the porthole windows which could be seen from the DuSable Bridge. It looked really cool at night and I think it's something very different from what we've done previously.
SNL: How do you envision the archive acting as a tool and/or resource for creatives in Chicago, or elsewhere? What can be learned from interacting with these materials?

CM: There is so much history in our collections and material from around the world. I think that artists can find this a resource for their own creative projects either just for research or to actually include in their own works. Because our archive spans from 1930–1980, there is a wealth of material featuring not just the south side, but places around the country and the world.
"Everyday Resistance: The Art of Black Living in Chicago" is on view until July 6th. The Arts Incubator is open Wednesday through Friday, 12 – 6pm. 
Featured Image: Film still from the Gustina Steele Collection, The blue-tinted still shows an adult figure leaning down and playing with two toddlers on the sand shore of Lake Michigan. Courtesy of the South Side Home Movie Project.

---
S. Nicole Lane is a visual artist and writer based in the South Side. Her work can be found on Playboy, Broadly, Rewire, Healthline, and other corners of the internet, where she discusses sexual health, wellness, and the arts. Follow her on Twitter.
Photo by Devon Lowman.