Week Ends, Art Begins || July 8th – 10th
By now, you know the drill. Weekend. Art. Repeat.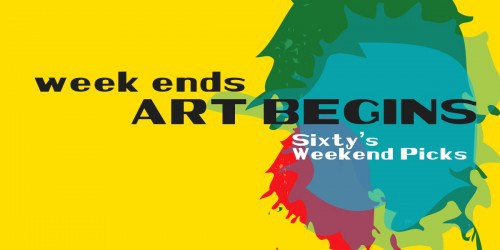 By now, you know the drill. Weekend. Art. Repeat.
FRIDAY || July 8, 2011
"100 CANVASES FOR A BETTER WORLD" Art Exhibition Fundraiser
The Silver Room, a lifestyle boutique that has been a pillar of Wicker Park for 13 years, is hosting the art exhibition titled "100 Canvases for A Better World". This is a juried group show and all procedes from the silent auction will go to funding The Silver Room 9th Annual Sound System Block Party "A Better World," which will be held Saturday, July 16th. "100 Canvases for a Better World" is the generous creative contribution of 100 local artists. Each artist was given the creative license to express " A Better World" in a 12 X 12 inch space.The mediums were not limited to canvases- work on metal, wood, glass, and fabric are all making a feature in this group art exhibition. The art will be sold by silent auction, the starting bid for each piece is $50. Come for the good vibes and to support nine years of unity, leave with some art by some great Chicago artists.
The Silver Room
1442 N. Milwaukee Ave.
7pm – 11pm
Free (Unless you plan on supporting the cause, then the price varies)
8th Annual Artivist Film Festival (Friday, Saturday and Sunday)
Zeitgeist Chicago is teaming up with Artivist Film Festival to present Artivist Film Festival 2011! The goal is to not just bring independent film artist to the attention of the people of Chicago, but more importantly, bring our city the world perspective, shifting questions, and the ideas that so desperately need to be examined by the public at large. In the words of Peter Joseph, a previous Artivist Festival award winning director, "Action without consciousness is futile", and with that sentiment they hope to not just create a yearning in the public for change, but also an informed conscious mind-frame for which to guide those actions.
MultiKulti
1000 N Milwaukee, 2nd & 4th floor
Fri: 7:15pm
Sat: 11am – 9pm
Sun: 12:15pm – 7:30pm
Free (Registration Required–click HERE)
Wandering Around in a Small Place
Jennifer Cronin, who is known for her large scale, realistic self-portraits with surrealistic elements, will be exhibiting her recent paintings. "Wandering Around in a Small Place" takes this surrealist theme further into fantasy through Cronin's use of setting and the subject's playful, almost child-like interaction with other elements in time and space. "It is a re-imagining of everyday life, based on often small, seemingly inconsequential frustrations. These frustrations can be the growths of the seeds of worry, fear, amusement and minor upsets based on our daydreams while at home and at work. It is about what a mind does with what it is given." – Cronin. Her self-portraits are less about the fact that they are self-portraits and more about the figure being a representation of all of us within both the realistic world and our personal world of fantasy. Elephant Room, Inc. is proud to be hosting the exhibition and R. Hanel Photography is graciously donating the space.
R. Hanel Photography
119 N. Peoria, Unit 3A
6pm – 9pm
Free
"Collections" featuring The Post Family
The Post Family has been known for finding inspiration in everything from the monumental to the mundane. Given the opportunity to showcase some of their own work together for the first time in a gallery setting since they opened their doors in 2007, the family has decided to change the typical gallery spotlight from framed finished pieces to the unusual artifacts that fuel creative process. One part hoarder habits and one part cabinet of curiosity, they aim to share these objects in order to inspire others to take action in making and sharing together.
Chicago Urban Art Society
2229 South Halsted Street
6pm – 11:30pm
Free
Underground
Betty Heredia zines will be displayed in a pop-up library show, along with other artists' work. Woman Made Gallery is proud to present a self-published art exhibition featuring the work of women, transgender, and gender non-conforming artists from all over the United States. The show includes both a pop-up library of zines, comics, and other self-published works by over 50 artists and writers organized in collaboration with Chicago Underground Library, as well as a show of installed artworks in all media by 12 self-publishing artists.
Woman Made Gallery
685 N. Milwaukee Ave.
6pm – 9pm
Free
Call of the SpiderBug (Friday and Saturday)
SpiderBug is a mobile short-film festival based in Chicago, organized by artist/filmmaker Catie Olson, with assistance from EC Brown. SpiderBug's goal is to extend screening programs toward environments, and to incorporate other media in innovative ways. Featured filmmakers include Damon Bishop, Meg Duguid, Nicholas Hayes, Chris Hefner, Chuck Jones, Dubi Kaufmann, Michael Morris, Bruce Neal, Paul Nudd, Catie Olson, Danielle Paz, David Reninger, Alaric Rocha, David Saradin, and Kendrick Shackleford. Also joining them is The
Bodice Cobra Philharmonia.
Defibrillator
1136 N. Milwaukee Ave.
Screenings at 9:30 pm
Doors open at 8:30 pm
$5 Suggested Donation
SATURDAY || July 9, 2011
Digital Kmactus Closing: Dance Performance
Check out the closing reception for Digital Kmactus, featuring the work of Barmey Ung (Video, Sculpture, Mixed Media) and Nick Bach (Painting, Drawing). There will also be a dance performance by Laboratory Dancers, Laura Chiaramonte, Chris Knowlton and The Dance Team, Molly Taylor, Kate Puckett and previewing some music video work for the band Kmang Kmang.
The Kmangatang
1703 W Division 2W
8pm – 12am
Free, but donations are welcome
Friends of Ringo present: RINGO FEST
We're always suckers for art that has a good cause. As recently reported by JR Nelson and Jessica Hopper in Gossip Wolf, on May 30th, Co-Prosperity Sphere friend Eric "Ringo" Ringbloom — who helped run The Sphere and Buddy and about a million other things (but now lives in New Orleans, rebuilding homes) — was shot at ten times in his own front yard. Ringo dodged nine bullets but took one in the ass, straight through his abdomen – he's healing, and is back at home with his wife Mandy, but there is a long rehabilitation ahead. To help get Ringo back on his feet, the Co-Prosperity Sphere is throwing a party – RINGO FEST! It starts with a BBQ at 5p, an art auction at 7p, live music and dancing at 9p. Eat up, buy up and rock out to help Ringo.
Co-Prosperity Sphere
3219 S. Morgan St.
5pm – 1am
Free (Unless you're there to support the cause, then the price may vary)
DuSable Museum's 37th Annual Arts & Crafts Festival (Saturday and Sunday)
Music. Art. Film. This year the Festival "Goes Back To Our Roots," featuring original works of art and crafts taking center stage along with a Sankofa Jam Session hosted by renowned African-inspired spin doctor DJ EZ Street. The Sankofa Jam Session is an interactive musical journey through the African influence on popular music and dance. Award-winning actor and activist Isaiah Washington will make a special appearance to sign copies of his new book, A Man From Another Land: How Finding My Roots Changed My Life. There will also be a series of family-friendly films screened throughout the weekend.
DuSable Museum of African American History
740 E. 56th Place
12pm – 8pm
Free
People Don't Like to Read Art
The title of the show takes its name from a 2009 drawing (not in this show) by Deb Sokolow that humorously reflects on some viewers' aversion to reading text in visual art works. While the use of text in contemporary art is fairly commonplace, the artists in this show move beyond the use of single words and phrases by working with paragraphs, lists, fully-formed narratives and book formats, asking viewers to take the time to actively read the work.
Western Exhibitions
119 N Peoria St, 2A
5pm – 8pm
Free
SUNDAY || July 10, 2011
BEN RUSSELL : US
After approximately 778 days, 72 artists, and 12 group exhibitions of the most contemporary of the contemporary arts, BEN RUSSELL offers you a misty-eyed finale to what has undoubtedly been the greatest curatorial collaboration this city may have ever known. What with our lease expiring at the end of July and one of our directors leaving Chicago indefinitely for Parts Unknown,BEN RUSSELL : US will be our 13th and final show. And so: in pre-memorium and now-celebration of the hyper-intellectual pseudo-aesthetic alliance betwixt Brandon Alvendia (aka Chicago's Best Artist) and Ben Russell (aka Chicago's Best Local Filmmaker) and ummm You (Chicago's Best Audience), the umpteen artists participating in BEN RUSSELL :US represent a veritable smörgåsbord of artistic alliances as drawn across fraternal, familial, romantic, pedagogical, and altruistic lines. Hand-picked for their collective sensibilities and their beguiling confidence in the generative power of directed camaraderie, these are artists that work together because they live/work/love together – they are US, plain and simple.
BEN RUSSELL
1716 S Morgan #2F
4pm – 9pm
Free
//THERE'S ALWAYS MORE//