Unreasoned Scores 2/6: Ellen Holtzblatt and Salim Moore
The following article is part of Unreasoned Scores, a series of six articles edited by Fabiola Tosi, Juelle Daley, and Stephanie Koch, the 2019-2020 HATCH Curatorial Residents with Chicago Artists Coalition (CAC). When social…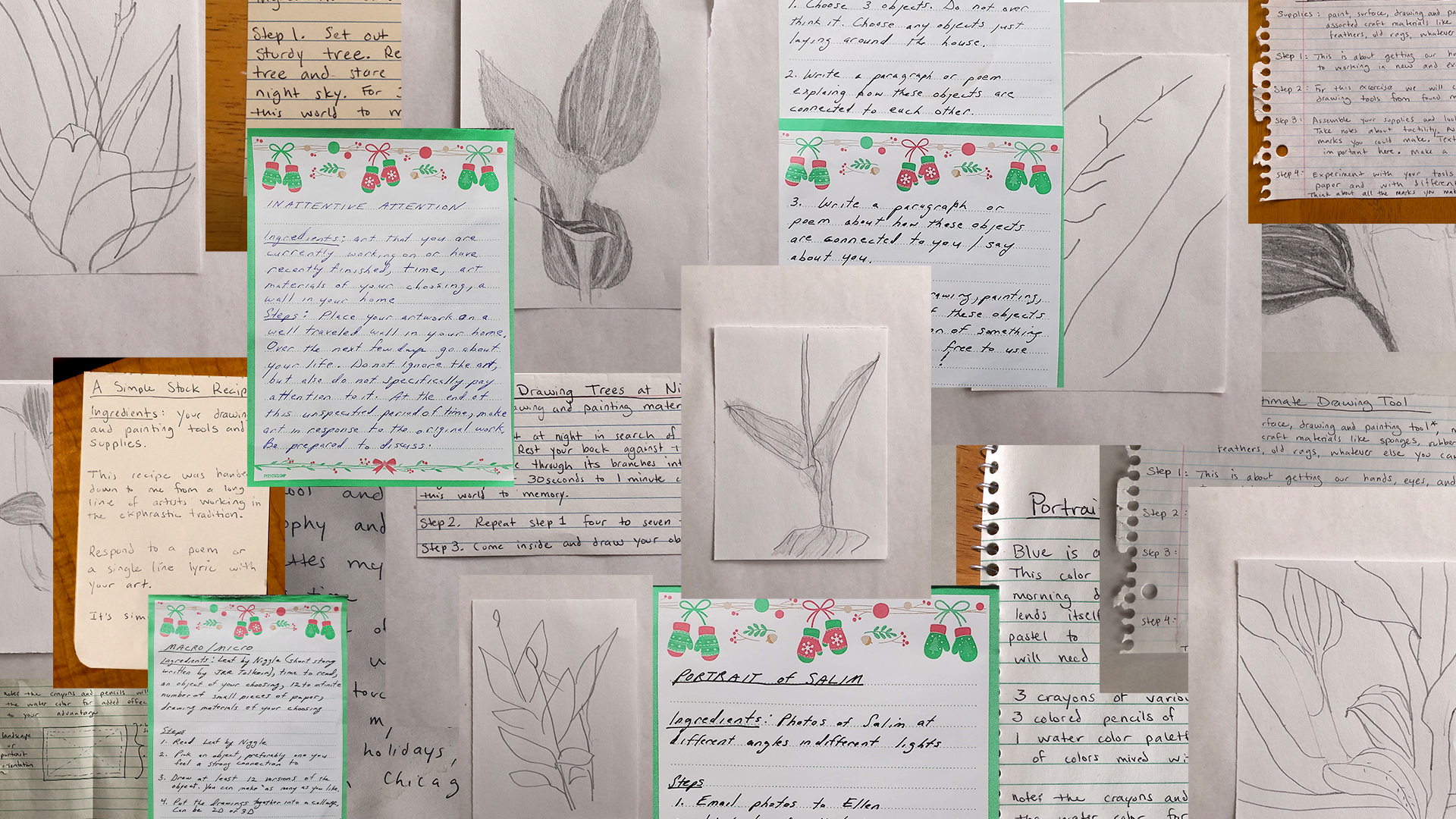 The following article is part of Unreasoned Scores, a series of six articles edited by Fabiola Tosi, Juelle Daley, and Stephanie Koch, the 2019-2020 HATCH Curatorial Residents with Chicago Artists Coalition (CAC). When social distancing posed a challenge to building community between the artist residents of the program, Daley, Koch, and Tosi created a structure for artists' interviews which asked: How can we be isolated together?
Through a series of exercises, curators encouraged artists—paired together based on artistic practice, experience, and personalities—to connect through a series of interviews with one another. The goal was to foster a human-scale connection between artists, beyond the hyper-mediated space of online meetings.
With this experimental editorial project, the curators seek to investigate "How does one archive ephemeral works which may not fit the formats of a traditional archival record?"
Read Unreasoned Scores 1/6 featuring Katie Chung and José Santiago Pérez.
Ellen Holtzblatt and Salim Moore, edited by Fabiola Tosi
It is almost certain that each and every one of us during the past year felt a sense of deep isolation and suffered from a lack of human contact. In this context, artists Ellen Holtzblatt and Salim Moore decided to challenge those feelings and actively reinstate a sense of connection by exchanging practical experiences. Prompted by the Unreasoned Scores project, Holtzblatt and Moore found that the act of sharing recipes can be an intimate form of transferring personal experiences, a way of getting to know a person more intimately. The two artists revised the traditional format of the recipe to create weekly activities, guided actions that they gifted to each other in a continued mutual reciprocation.
There is something very familiar in a recipe. Each of us probably has received at some point in our lives a piece of scrap paper from a relative with the secret for their best dish inked on the surface. We keep them as small treasures because they represent parts of our personal and family history, chunks of someone's identity passed on to us. Holtzblatt and Moore asked themselves: "Would it be possible to recreate that intimate connection between two people who just began to get to know each other? And what effects this process would have on their relationship?"
Before diving into this series, it is important to understand the framework in which Moore and Holtzblatt decided to work. Between December 16th, 2020 and January 20th, 2021 they exchanged one recipe per week, all hand-written on reclaimed paper, much like the ones you may find in your grandmother's recipe box. Though the recipes were shared digitally, it was still important for them to retain that physical quality and materiality that in itself provides a sense of intimacy and familiarity. Each artist took the following week to experiment with the proposed activity. The recipes that Moore and Holtzblatt created were inspired by their everyday life and guided the other person through an often emotional experience. The ingredients are equally material and immaterial, the instructions are physical and spiritual activities.
Following here is a selection of the recipes that Ellen and Salim exchanged over time, accompanied by the ephemera that were created through this process.
A Moment in Pandemic Time – Ellen Holtzblatt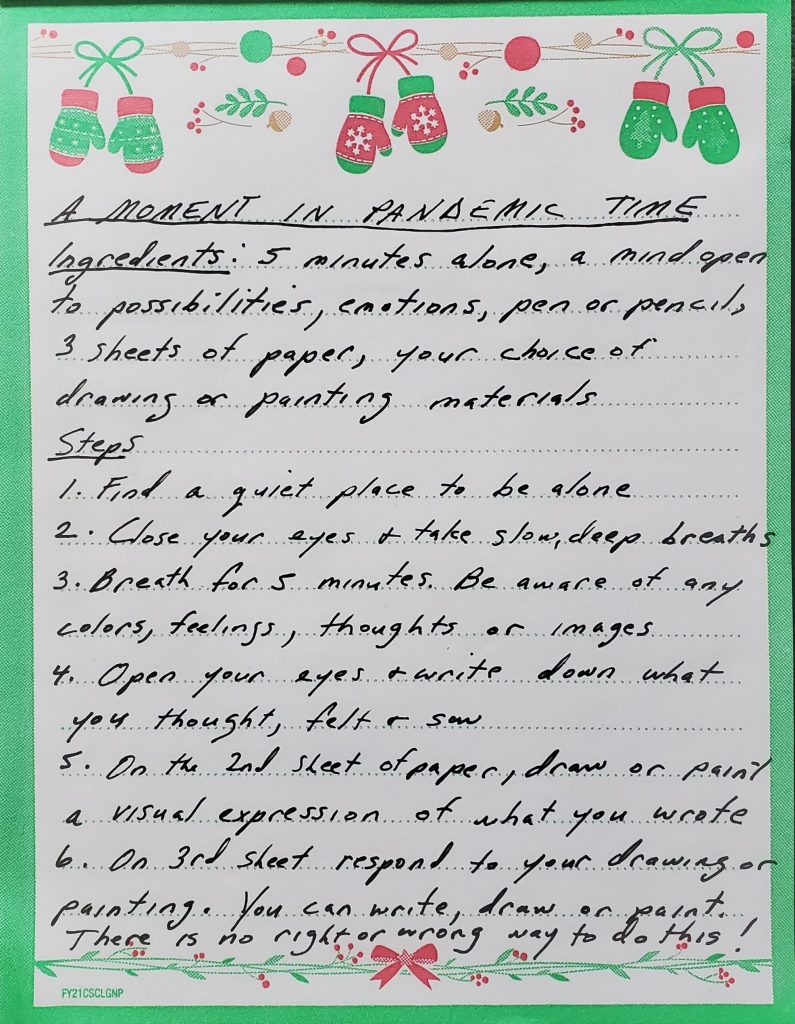 Ingredients: 5 minutes alone, a mind open to possibilities, emotions, pen or pencil, 3 sheets of paper, your choice of drawings or painting materials.
Steps
Find a quiet place to be alone
Close your eyes + take slow, deep breaths
Breath for 5 minutes. Be aware of any colors, feelings, thoughts or images
Open your eyes + write down what you thought, felt or saw
On the 2nd sheet of paper, draw or paint a visual expression of what your wrote
On 3rd sheet respond to your drawing or painting. You can write, draw or paint. There is no right or wrong way to do this!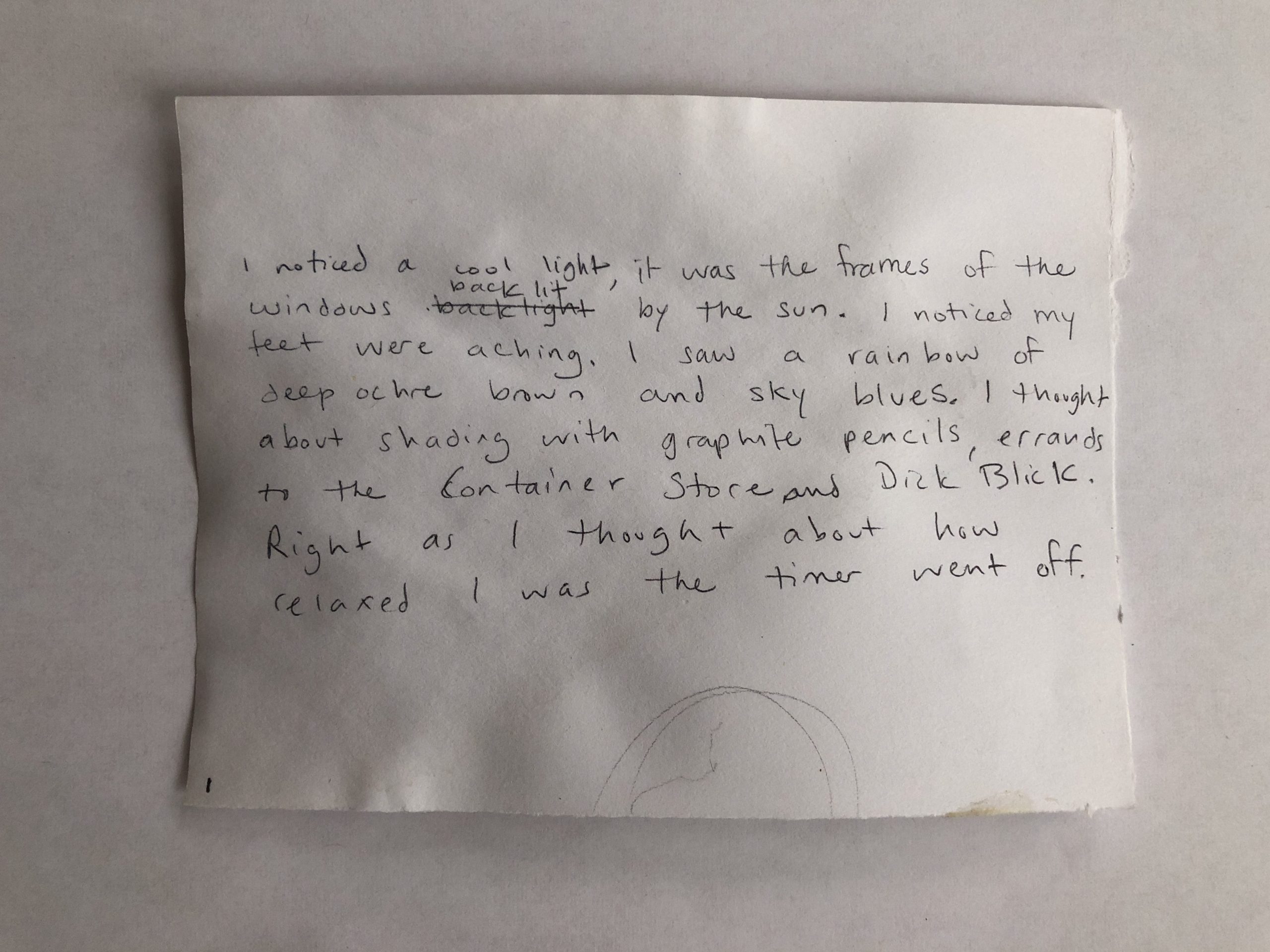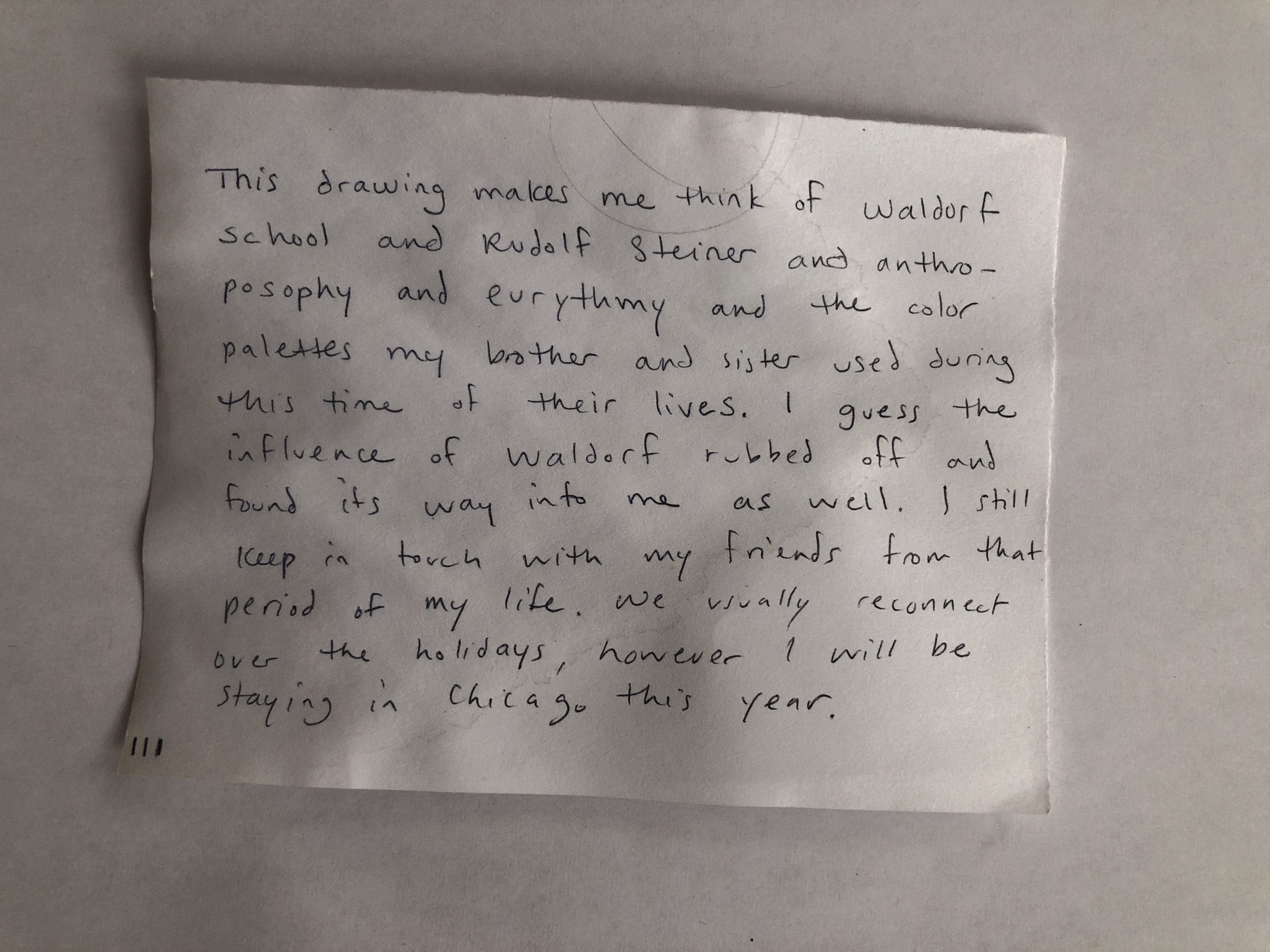 We can all relate to the difficulties of the past year, each one of us experiences this time in our own way. With the recipe A Moment in Pandemic Time, Holtzblatt took inspiration from her own struggles, and shared with her fellow artist a way of recording and reflecting on a moment in time when all moments may feel the same.
The exchange of recipes prompted meaningful conversations between the two artists, working as a gateway to the uncovering of their identities and personalities. Among other things, Moore and Holtzblatt share common attributes in their artistic practices, mainly based on drawing. Some of the recipes explicitly reflect this trait of their personality.
Portrait in Bleau – Salim Moore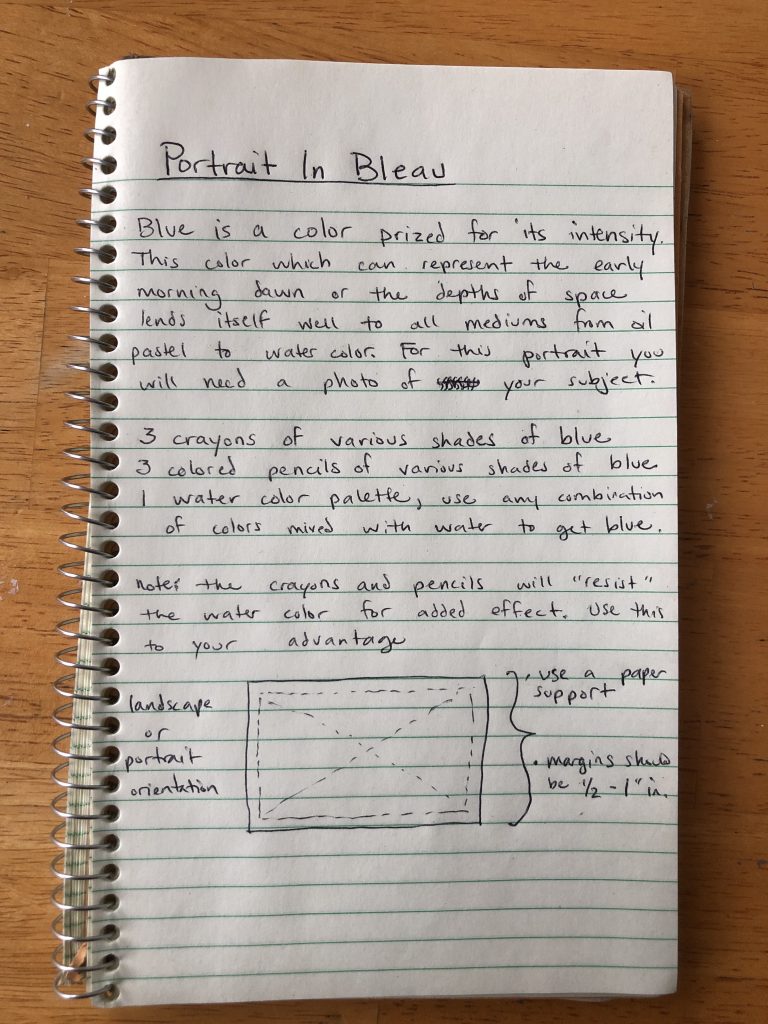 Blue is a color prized for its intensity. This color which can represent the early morning dawn of the depths of space lends itself well to all mediums from oil pastel to watercolor. For this portrait, you will need a photo of your subject.
3 crayons of various shades of blue
3 colored pencils of various shades of blue
1 watercolor palette, use any combination of colors mixed with water to get blue.
Note: the crayons and pencils will "resist" the watercolor for added effect. Use this to your advantage.
Landscape or portrait orientation.
Use a paper support.
Margins should be ½-1" in.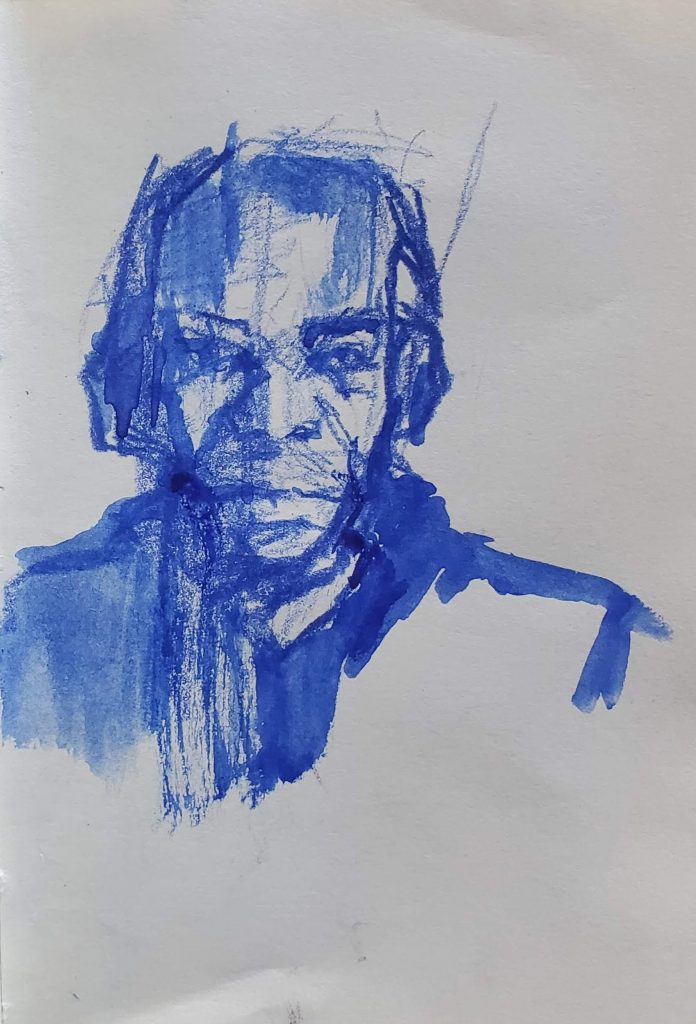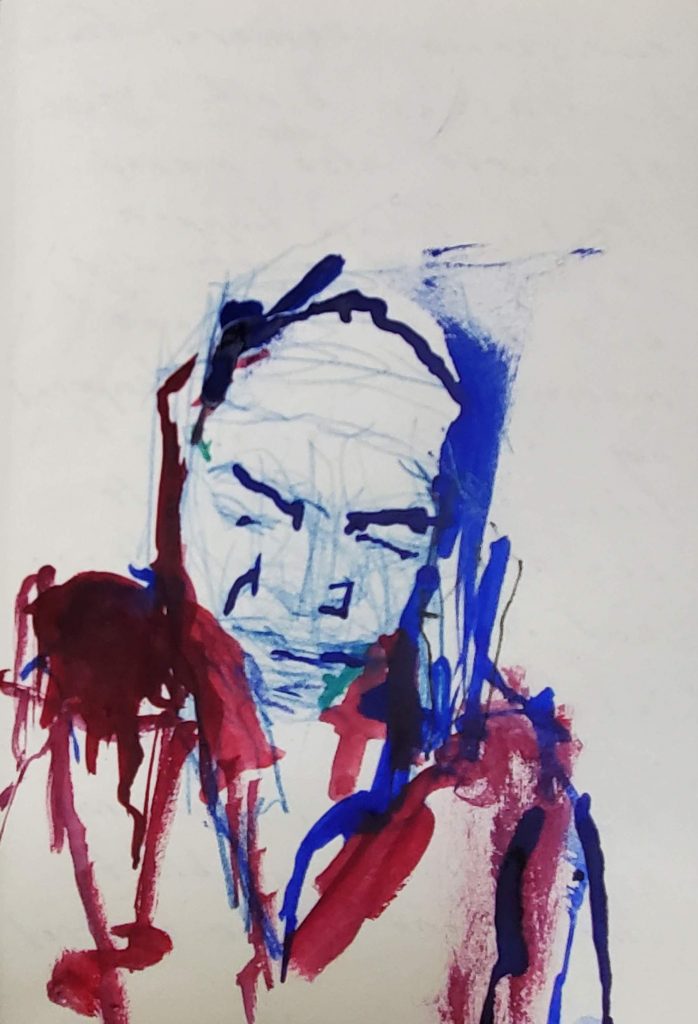 Throughout the process, the recipes became repositories of the two artists' personalities. Paired with their ephemera, the collection almost assumes the quality of a portrait, fixing their experiences and feelings to a physical representation of a specific moment that will now last through time. The experience they lived by performing their own activities produced objects that capture the ephemerality of this specific moment and become an archive of the beginning of their relationship.
Still Life Run Deep – Ellen Holtzblatt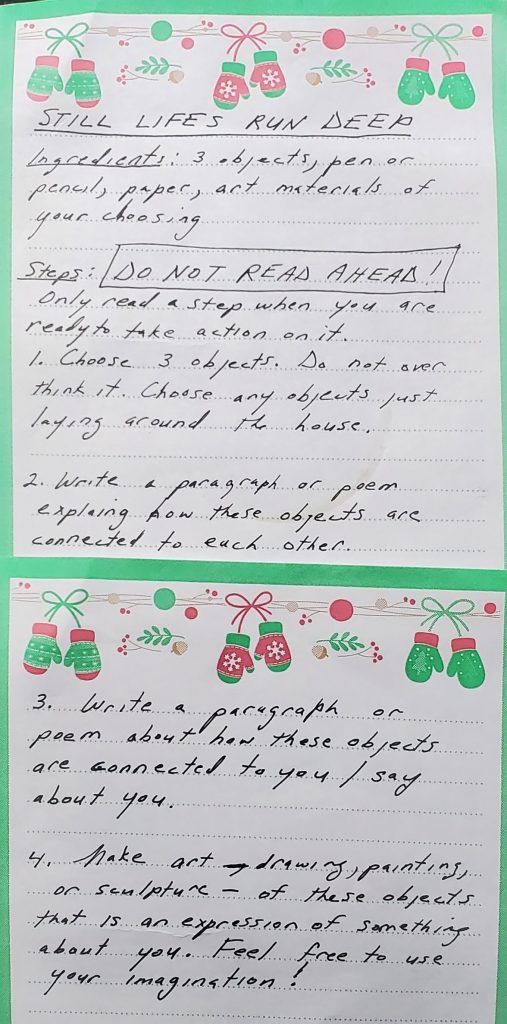 Ingredients: 3 objects, pen or pencil, paper, art materials of your choosing
Steps: DO NOT READ AHEAD!
Only read a step when you are ready to take action on it.
Choose 3 objects. Do not over think it. Choose any objects just laying around the house.
Write a paragraph or poem explaining how these objects are connected to each other.
Write a paragraph or poem about how those objects are connected to you/say about you.
Make art—drawing, painting, or sculpture—of these objects that is an expression of something about you. Feel free to use your imagination.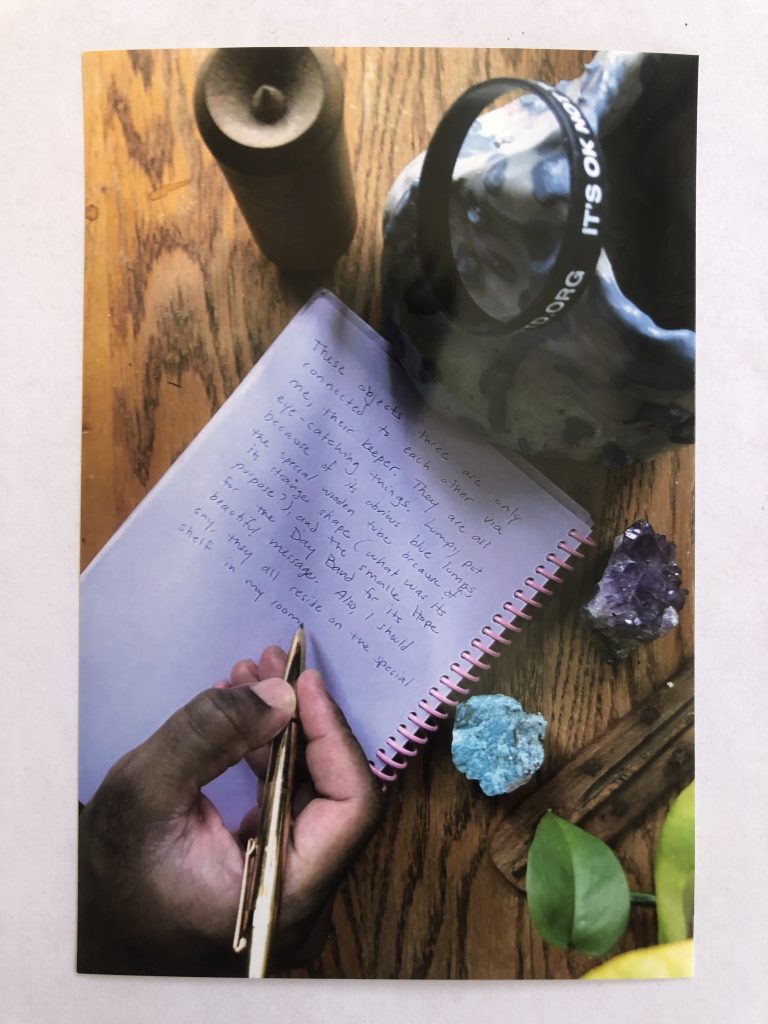 With the recipes being so deeply tied to personal experiences, emotional moments naturally emerged. It becomes evident how the exchange of ephemera amplified and accelerated the development of a strong sense of empathy between them, even among two people who were just getting to know each other.
Cool Ice Drawing – Salim Moore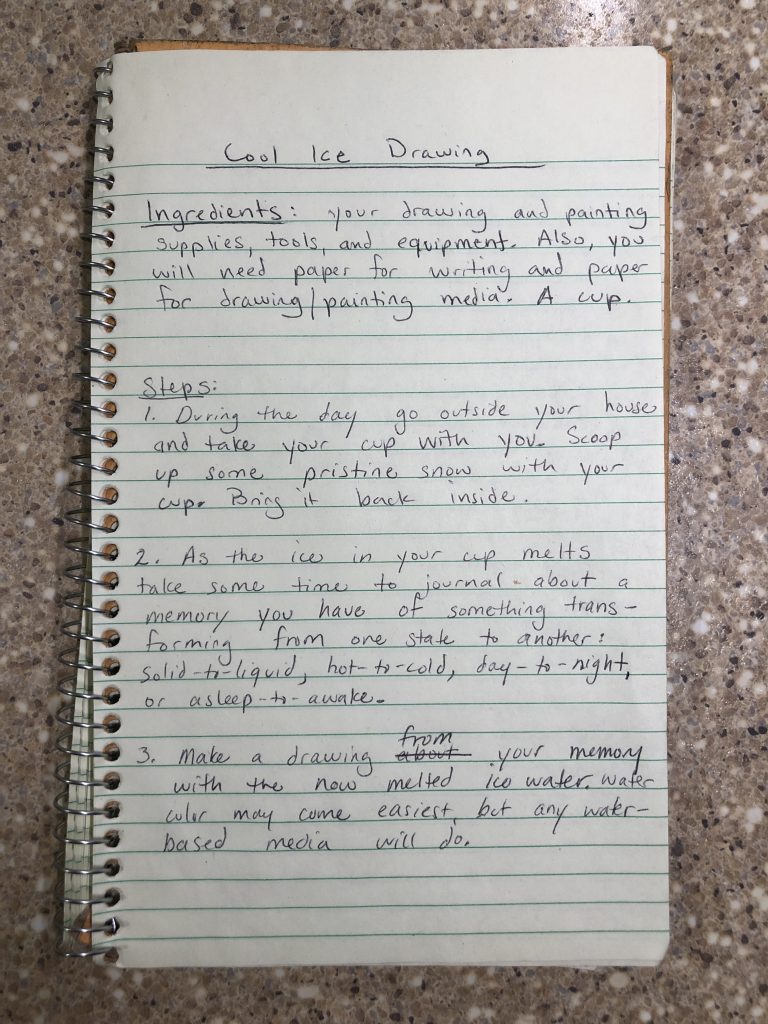 Ingredients: your drawing and painting supplies, tools, and equipment. Also, you will need paper for writing and paper for drawing/painting media. A cup.
Steps:
During the day go outside your house and take your cup with you. Scoop up some pristine snow with your cup. Bring it back inside.
As the ice in your cup melts take some time to journal about a memory you have of something transforming from one state to another: solid-to-liquid, hot-to-cold, day-to-night, or asleep-to-awake.
Make a drawing from your memory with the now melted ice water. Water color may come easiest, but any water-based media will do.
After a few weeks of exchanged experiences, Moore and Holtzblatt decided to create one final recipe that would speak to everything they learned about each other during this process.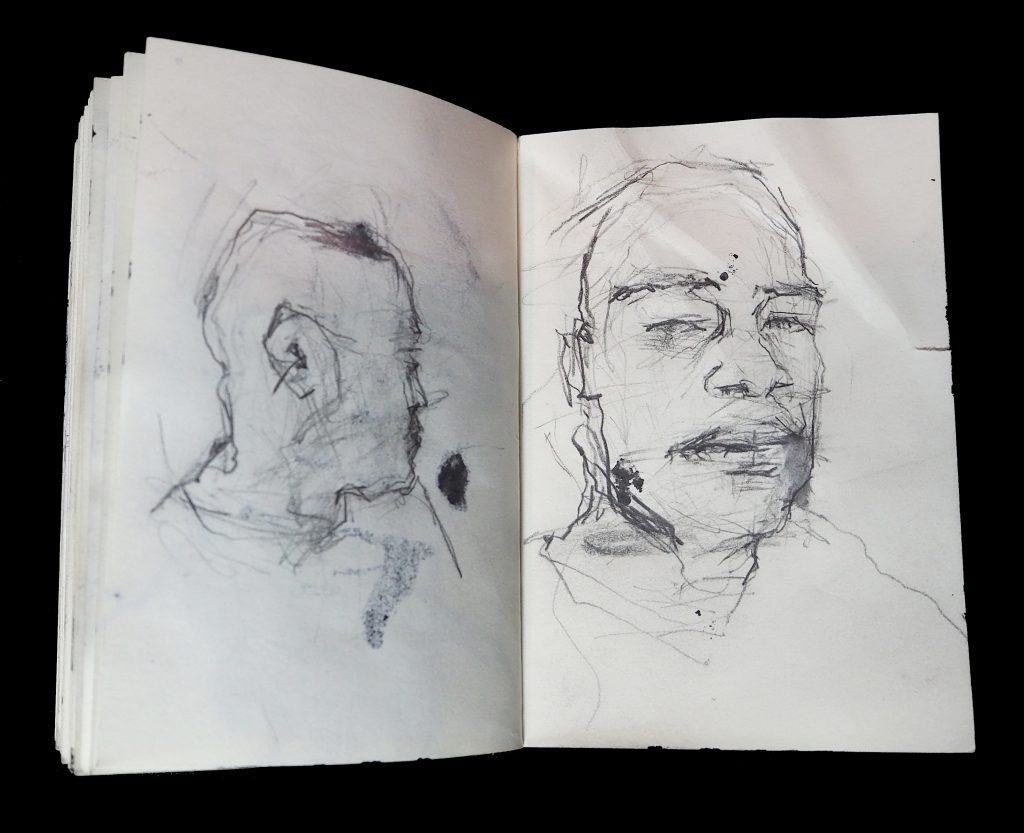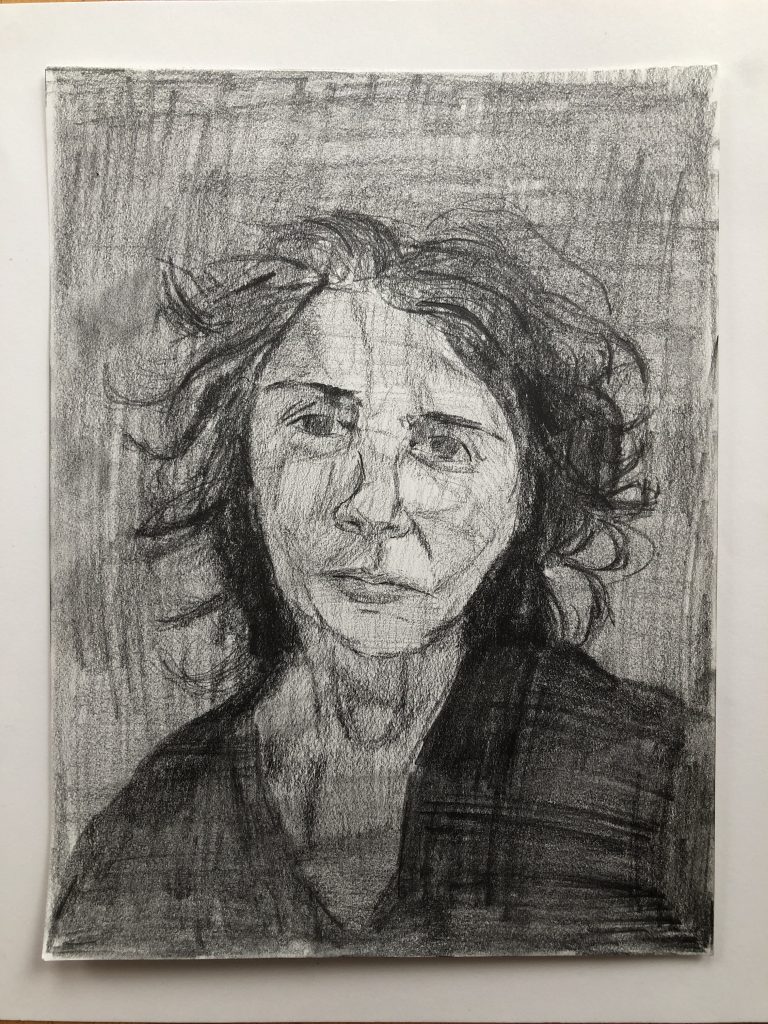 In the end, Holtzblatt and Moore were able to create a framework in which they exchanged acts of care in challenging times. They were able to create space for deep emotional connections between two people who knew very little about each other, showing how intentionality can impact the building of a relationship. The production of physical objects and ephemera that document and archive this process in a specific moment in time is extremely important. They redeem the initial stages of a relationship from the ephemerality of time, and from the faultiness of memory, elevating them to a precious portrait forever fixed into physical reality.
Featured Image: A collage of drawings and notes from the artists. Courtesy of the artists.
---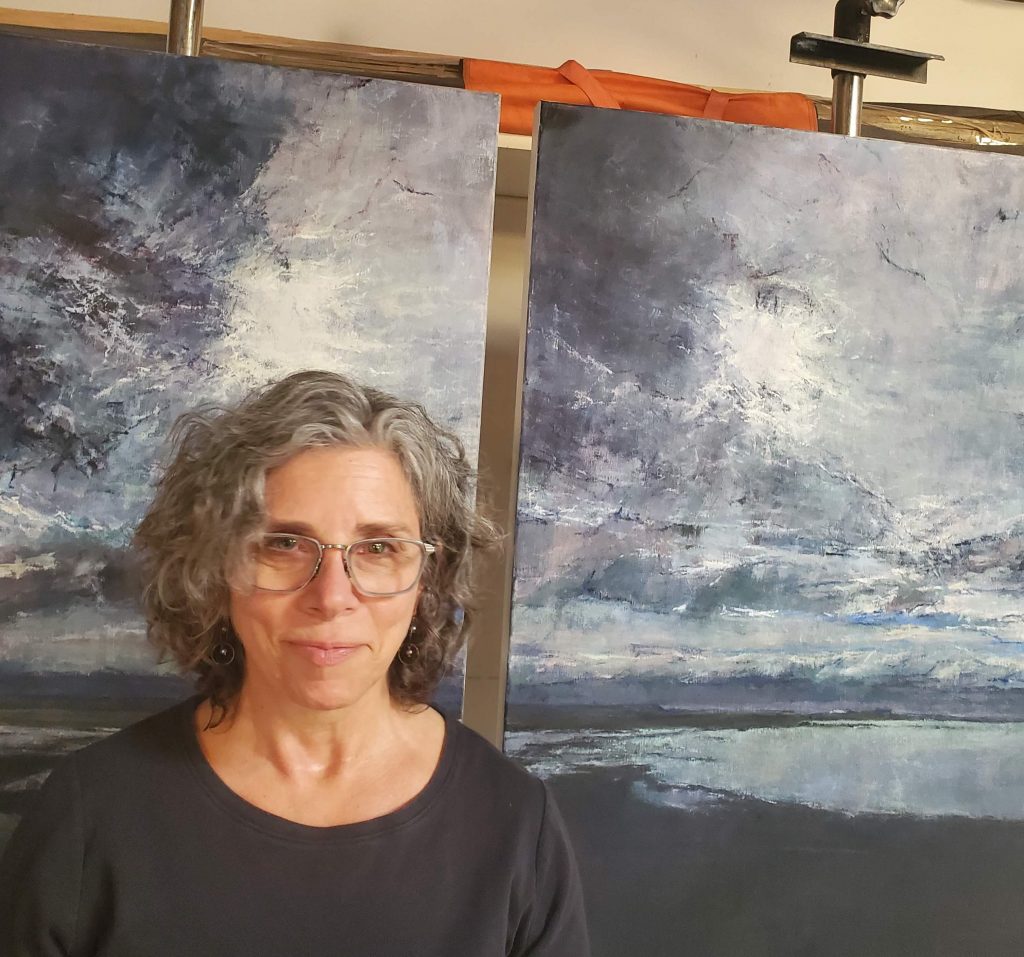 Ellen Holtzblatt, a Chicago-based artist, creates paintings and drawings to explore connections between the physical and the spiritual – the memories of the body that reside in the soul. Her work becomes an allegory for psyche and emotion, evolution and decay.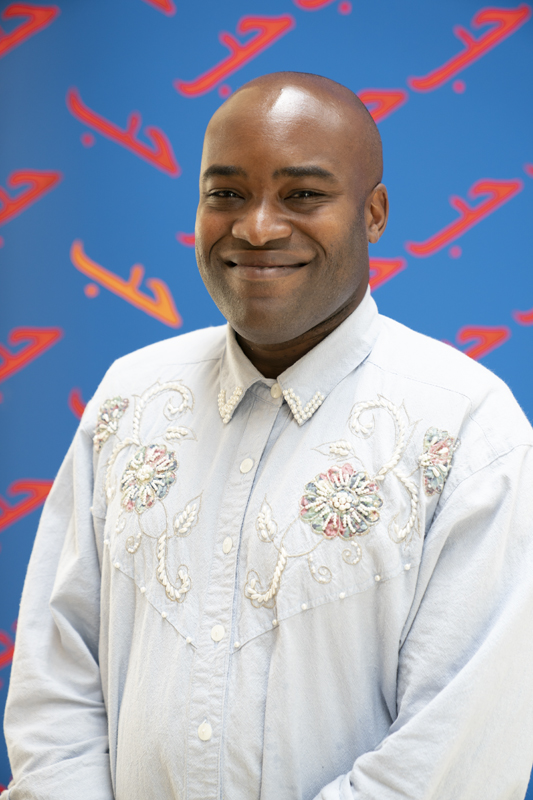 Salim Moore is a visual artist whose work primarily focuses on the different ways fantasy becomes reality. Moore interprets English ballads, folktales, and myths through the act of placing himself, his friends, and others in these stories. Currently, he makes prints, drawings, and paintings.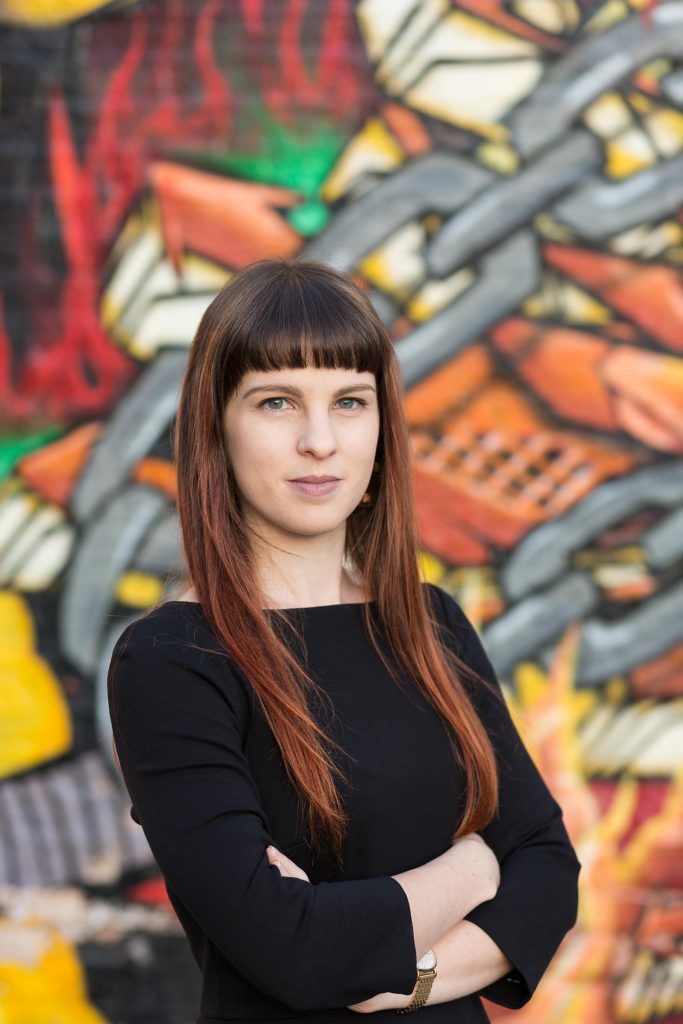 Fabiola Tosi is a Chicago-based curator and arts administrator. Originally from Italy, Fabiola is an experienced project manager promoting international cultural exchanges. Her curatorial work aims to unveil cross-cultural practices as a platform for discussion around politically and socially engaged issues. Fabiola is the current Exhibits Project Manager at the Peggy Notebaert Nature Museum in Chicago, and formerly Assistant Director of Exhibition and Programs for the US Pavilion at the Venice Architecture Biennale 2018. In 2017, she received her MA in Arts Administration and Policy from the School of the Art Institute of Chicago.