The Vessels that Marva Made: An Interview with Members of Sapphire & Crystals
A reflection on the founding of Sapphire & Crystals and the profound influence of Marva Lee Pitchford-Jolly with co-founder Felicia Grant Preston, and members Arlene Turner-Crawford, Joyce Owens Anderson, Rose Blouin, Makeba Kedem-DuBose, Patricia "PJ" Stewart, Pearlie Taylor, and Rhonda Wheatley.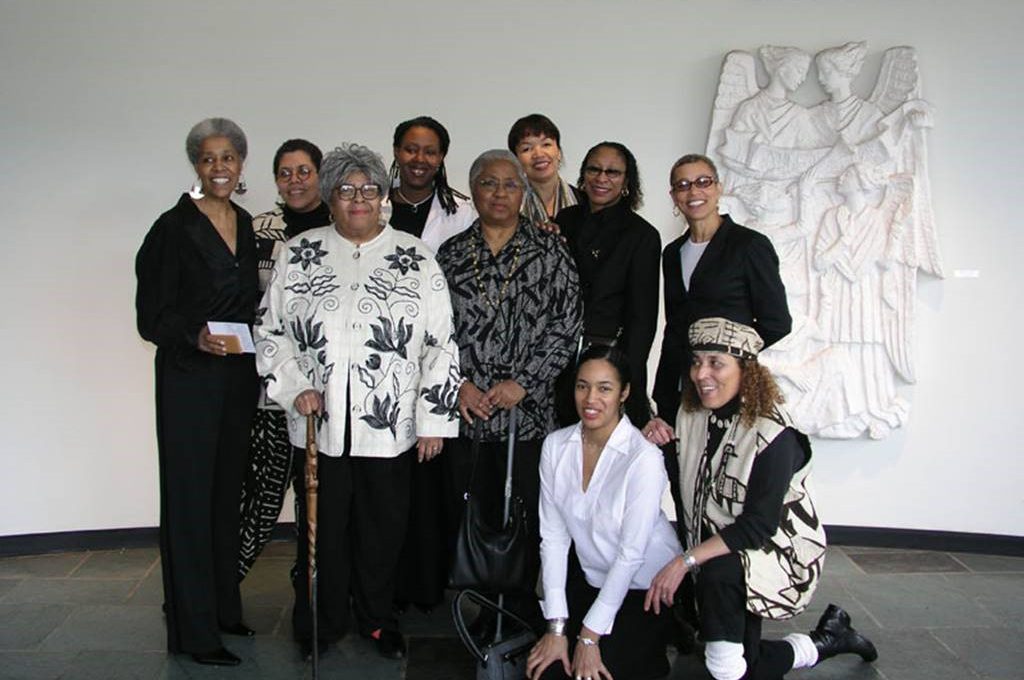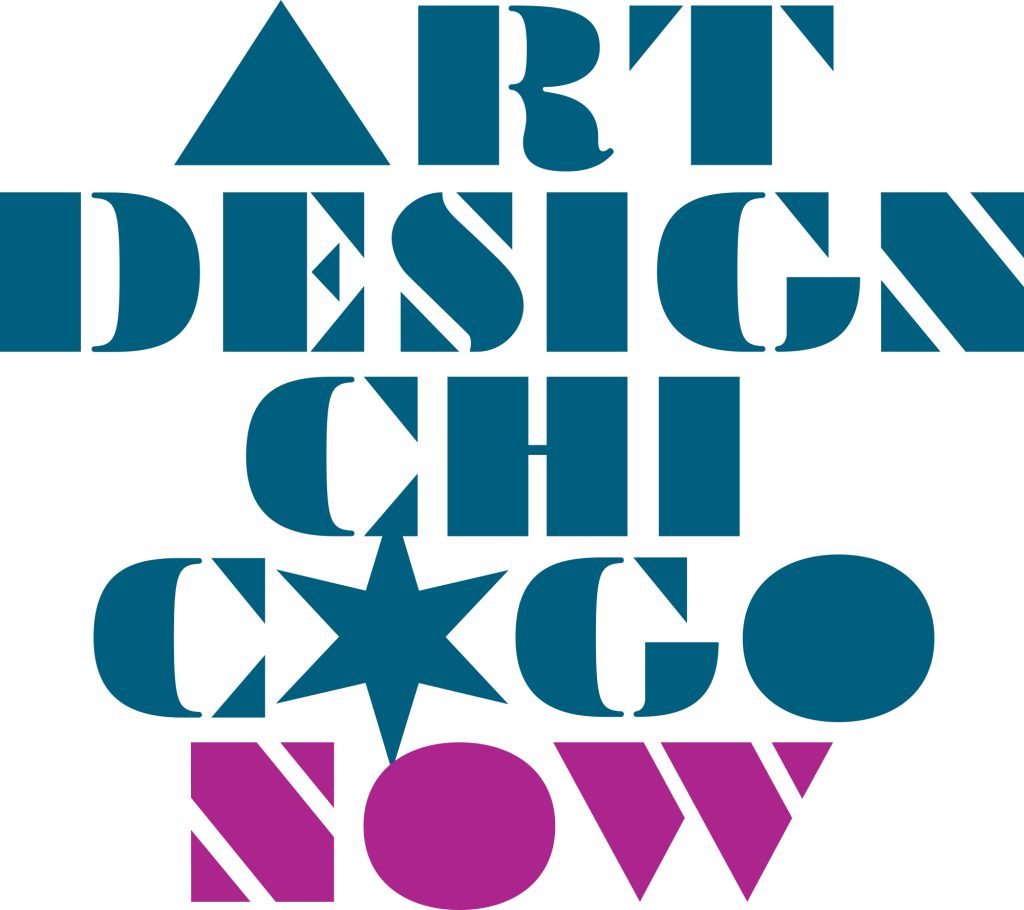 This article is presented in collaboration with Art Design Chicago, an initiative of the Terra Foundation for American Art exploring Chicago's art and design legacy through more than 30 exhibitions, as well as hundreds of talks, tours and special events in 2018.
---
Sapphire & Crystals' current exhibition Forward is on view at Bridgeport Art Center through September 22, 2022. Learn more here.
---
"I am a strong woman; my strength as a Black woman pays homage to what I call the Sapphire Spirit. A woman who is sassy, jazzy, spiritual, brainy, the healer–she is Mother Earth in its grand splendor.
I salute this spirit in all Black women everywhere. The recognition of my own Sapphire Spirit provided me with the knowledge I needed to speak. My name is Marva and I speak through my art, my voice extends all the way back to the first known human being who was a Black woman.
Going forth, through my ancestors, I am creating new symbols and new directions, moving from my own individual voice to that of the collective voice. I now join with sixteen other African American Women Artists and form the Sapphire & Crystals group.
As a collective we step forward to the world."
–Marva Lee Pitchford-Jolly
---

In 1986 artists Marva Lee Pitchford-Jolly and Felicia Grant Preston started meeting in Pitchford-Jolly's home to discuss how to continue supporting women artists after the group Mud Peoples Black Women's Resource Sharing Workshop dissolved. Inspired by her upbringing in Mississippi and memories of playing in mud as a child, Mud Peoples started off in the early 1980s as a gallery and studio of which Pitchford-Jolly was the founder and director, and eventually grew into a collective of six women artists. Years later when Grant Preston and Pitchford-Jolly were the only two remaining members left, they began crafting a vision to move forward. From those conversations at Pitchford-Jolly's kitchen table the idea of Sapphire & Crystals was seeded, first through an exhibition at the South Side Community Art Center featuring all Black women artists, then as a collective that is still actively exhibiting today.
At that same kitchen table is where Pitchford-Jolly refined her craft. In 1968, during a time when there was "a lot of social upheaval going on and we all needed something to curve our nerves," she took a ceramics class at the Hyde Park Neighborhood Club. Soon, she bought her own kiln and set up a studio out of her home, making many of her earliest works from her dining room. After losing her job in 1982 as a result of cuts in federal healthcare funding, Pitchford-Jolly committed her life to becoming a professional artist and decided that clay would be her medium of choice.
Known for their intricate patterns, elaborate narratives and and vastly different forms and functions, Pitchford-Jolly's sculptures are sharp metaphors for her life story and the imprints she's made on Chicago's culture and the community of artists who she held and who also held her. I see this connection reflected in the beautiful vessels she created, especially her signature orbs that we often painted or inscribed with scenes that told stories on the surface while leaving an open space in the center to carry the future stories waiting to be told. Sapphire & Crystals can be understood as a similar kind of vessel. On the surface, the art of the women in the collective often illustrate testimonials from their lives. But beyond the surface their work holds the memories of their ancestors and the communities that helped inspire and nurture their work.
Over the past 31 years, the members of Sapphire & Crystals has ebbed and flowed, including multidisciplinary artists such as Mary Ann Abella, Joyce Owens Anderson, Leticia Appleberry, Stephanie Bird, Venue Blue, Rose Blouin, Cheryl Boone, Simone Bouyer, Patricia Bohannon, Rhonda Bristol, L'Tanya Cason (aka Akosua Bandele), Dorothy Carter, Glendia Cooper, Arlene Turner Crawford, Faith Davis, Evelyn Davis Frazier, Kay Dawson, Debra Dillworth, Jackie Duncan, Jan Spivey Gilcrhrist, Juarez Hawkins, Carol James, Renee Williams Jefferson, Sheryl Jones, Makeba Kedem-DuBose, Annie Lee, Lillian Morgan-Lewis, Kathy O'Kelley, Monica Plott Ratcliff, JoAnne Scott, P.J. Stewart, Shirley Sullivan, Dorian Sylvain, Pearlie Taylor, Renee Townsend, Anna Tyler, Beverly Warner, Shahar Caren Weaver, Rhonda Wheatley, and Shyvette Williams, among others whose names may be missing from this list.
The history of Sapphire & Crystals is being held in another kind of metaphoric vessel through the Art Design Chicago exhibition Where The Future Came From, which is a collective research project that tracks the history of feminism and women-run art activities throughout Chicago beginning in the late 19th century to the present-day. Presented as a living and editable archive, the exhibition invites the public to take a deep dive into the histories of women-led cultural production while also encouraging people to add their own knowledge along the way, filling the gaps that time, lack of documentation, and memory have made.
While the story of Sapphire & Crystals has been documented in many ways over the past few decades through numerous exhibitions, public discussions, and even teaching curricula, I asked a few of its members to share their memories of the collective and their thoughts for its future so that it will be included in the Sixty archives. The following is a group interview with original members Felicia Grant Preston, Arlene Turner-Crawford, Joyce Owens Anderson, and Rose Blouin and later additions to the fold, Makeba Kedem-DuBose, Patricia "PJ" Stewart, Pearlie Taylor, and Rhonda Wheatley.
This interview has been edited for clarity and length.
---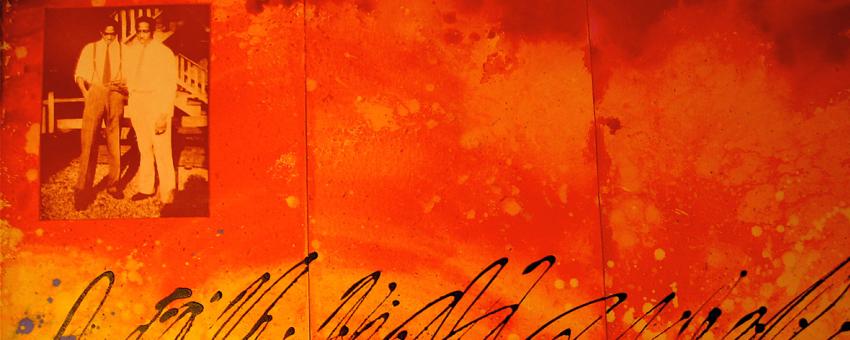 Tempestt Hazel: The members of Sapphire & Crystals have such varied practices that take different forms within and outside of a studio. How would you each define yourselves as artists and the kind of work that you do?
Felicia Grant Preston: I consider myself a colorist. After many years of working representationally I found that what I love most is working with color and texture. My palette does not vary much. Most often you'll see the colors that you see in a sunset or sunrise. The first time I saw a sunset in the Bahamas, I knew that that is what I was always trying to achieve on an unconscious level. I also came to realize that when experiencing a sunrise or sunset, there is this sense of peace or a feeling of being in the presence of God. When I am working, there is a feeling of joyfulness that I experience and I am able to pass that on to others–that feeling of peace and joy. I work with mixed mediums because it gives me the opportunity to layer colors. Using different materials to create texture has different effects on the colors that I use. I am always experimenting with new ways to create texture and apply color. While in graduate school at Northern Illinois University, I also found that I love printmaking.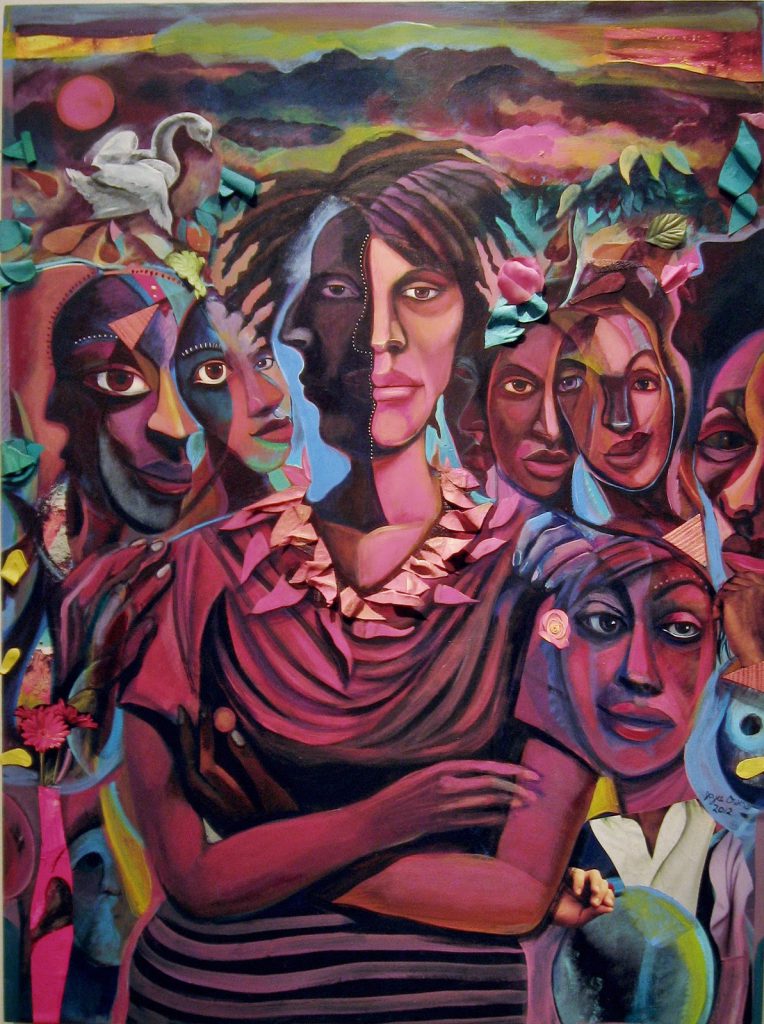 Joyce Owens Aderson: I have described myself as a painter [but] I have worked in a wide range of art mediums including three-dimensional works in clay, wood, and mixed media/found objects. I also work on paper–etchings, linocuts, silkscreen prints, drawings in graphite and charcoal, and watercolor.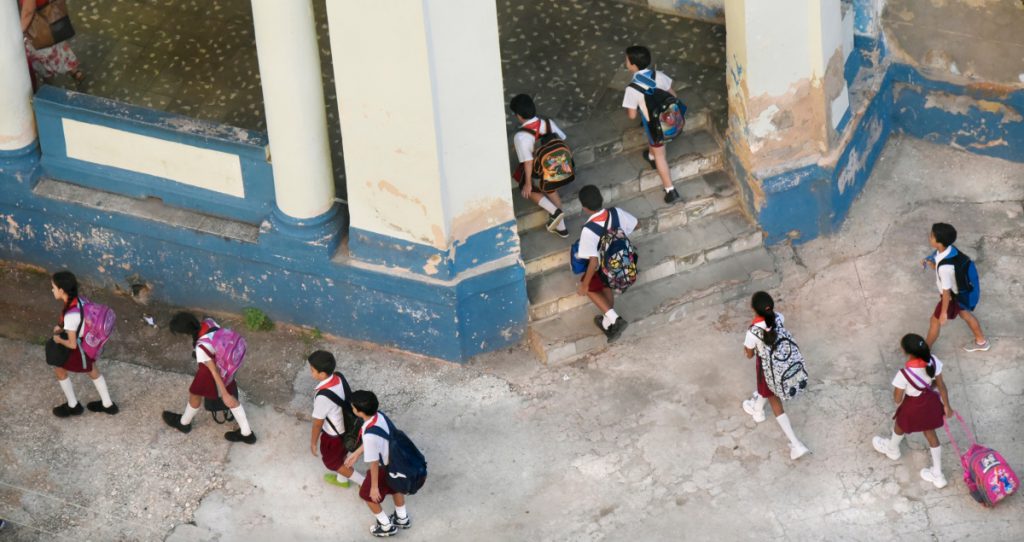 Rose Blouin: Photography is my gateway to timelessness. Consider that a photograph, taken at 1/4000th of a second, forever freezes a fraction of a moment in time. Whenever I photograph something, I am searching for that one moment which captures time, place, people and events that speak to me of timelessness and preciousness. While we can't relive the past, we can forever cherish what is captured in a photograph.
Since I began my exploration of photography in 1980, I've been drawn to documentary and fine art photography. Within the realm of documentary work, I've photographed family and community gatherings, cultural events, Chicago jazz, African-American writers and festivals. I've documented the people and cultures of Hawaii, Havana, South Africa, Australia, and Madrid. I look for the magic in the moment and the spirit in the people and the environment, seeking images that capture beauty, hardship, creativity and all that endures in time, in place, and within the human spirit.
My fine art images include landscape, macro, nature, collage and experimental processes such as multiple exposure and selective toning. I look for beauty, balance, harmony and light. I believe nature is the most perfect expression of spirit that we can observe, the Divine Order of things. In my fine art work, I try to capture these essences.
Photography always reflects the way one sees; a personal vision refined by introspection which seeks to connect the inner and outer expressions of life. For me, it's an ongoing dance of magic and creativity.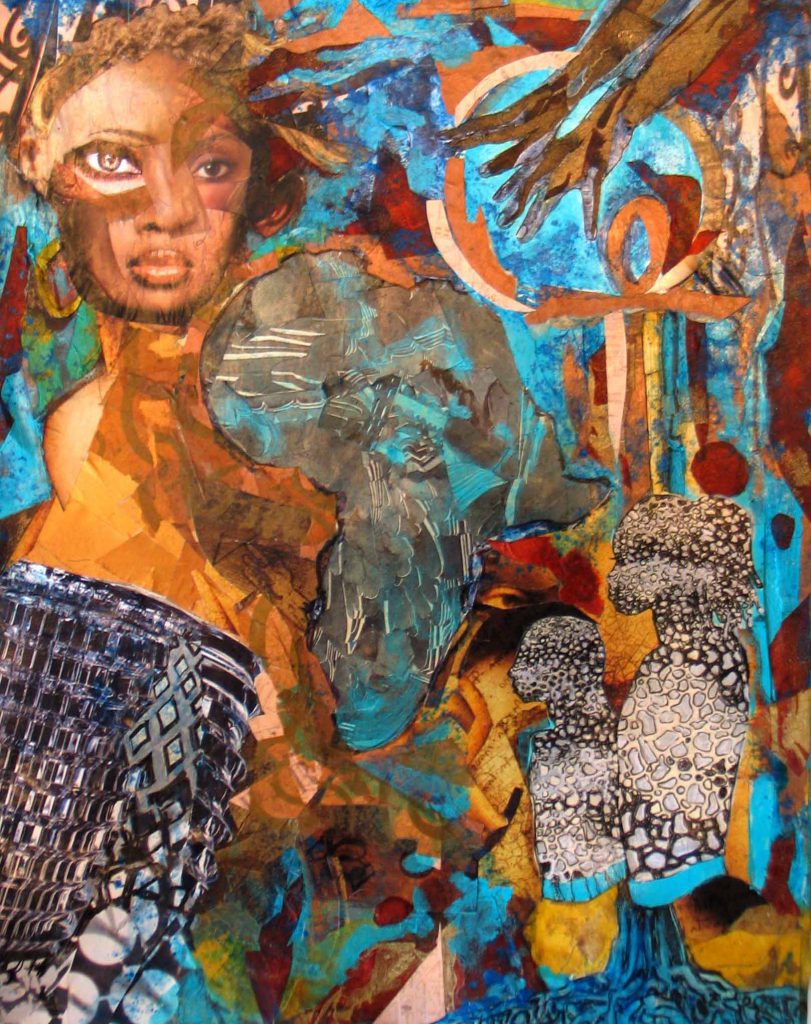 Arlene Turner-Crawford: My work attempts to speak to a connection between people, culture and ideas. My images are here to address you, to celebrate who we are and to honor us.
My aesthetic influences have been shaped by the Black Arts Movement. [It was] a time when artistic subject matter was inspired by our origins, history and our declarations of self-determination; we chose to define what is beautiful, whole and authentic about Black People and our community. I was a student of some of the members of AfriCOBRA (African Commune of Bad Relevant Artist). The following are some of the elements [of AfriCOBRA philosophy] which I apply or use in my work: Frontality of the form or using representational images, which help the viewer identify the subject. Rhythm, syncopation, and improvisation [which are] principles key to African and Black American music, i.e. Jazz or rather Black Classical music, R&B and the Blues. Bright and vital Kool-Aid colors give the visual energy that my people use to adorn themselves. Functionality to the visual statement [so that] a message is conveyed. You can choose words or symbols to communicate some of these themes–like who we were, who we are, who we hope to become; our contributions and values.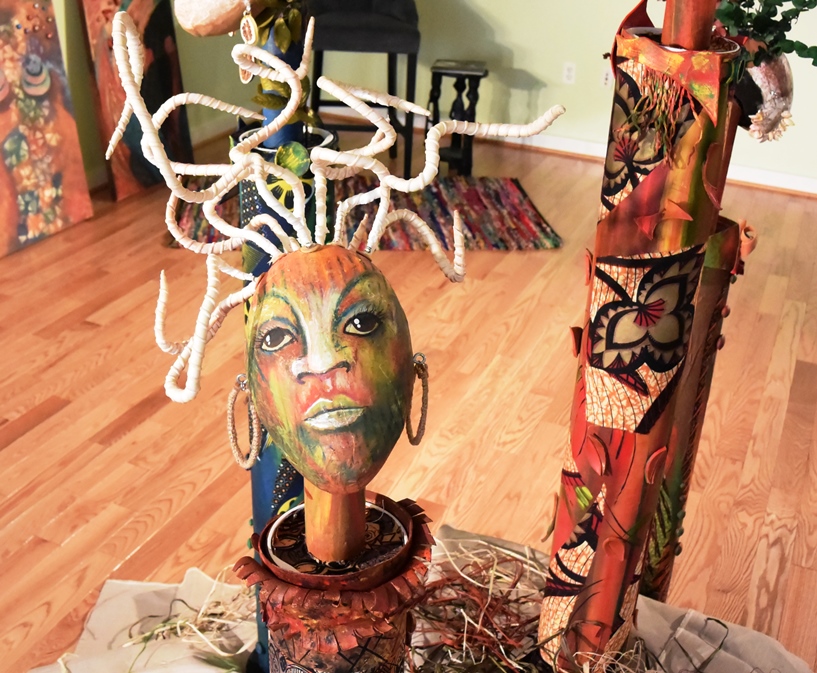 P.J. Stewart: I use exciting colors, contemporary forms, original shapes, and overlapping constructions to help define our history through our past and present cultures while simultaneously reflecting my thoughts, dreams, and beliefs. My ultimate goal is to recreate the movement, dimension, and tensions of our natural world while expressing the sensitivities of life, the unity of family, the fidelity of friends, and a respect for intellect. It is observation, imitation, and practice that helps build undeniable relationships and appreciation of our existence. [My] artistic strengths are found in figurative, abstract, and wearable art through a variety of exotic mediums and composed in a style that is distinctive.
[My work] is recognized by countless institutions and is enjoyed in many collections world-wide. I received a fine arts degree from Southern Illinois University and a master's degree from Chicago State University. I studied at the School of the Art Institute of Chicago, the International School of Art and Design in Miami, and the Savannah College of Art and Design in Georgia. I have exhibited at various institutions earned recognition for my dry pastels, acrylic paintings, jewelry, and leather assemblages and fabric collages.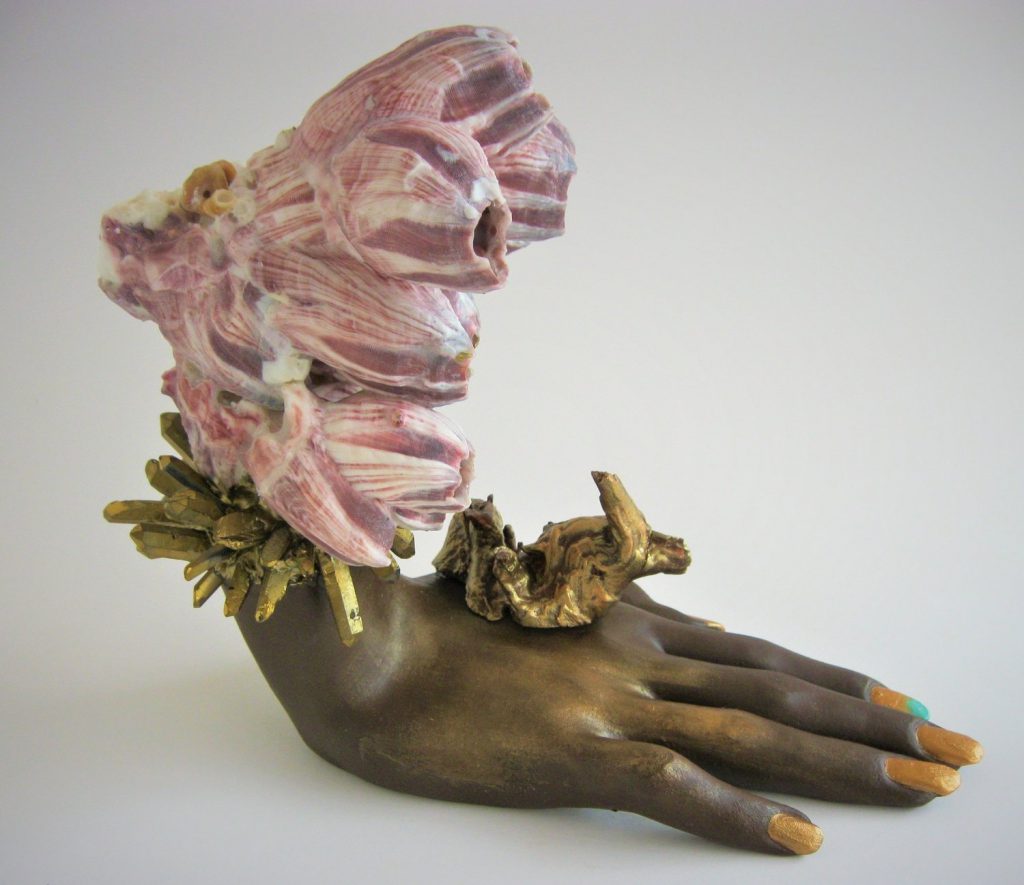 Rhonda Wheatley: My practice has evolved a great deal since I first joined Sapphire & Crystals in about 2002, which was a little more than a year after I'd started showing my art professionally. I was working in 2D, making paintings and collages using text-as-image and exploring themes around consciousness and the metaphysical. However, in 2015, after a few years off from art making, I began creating assemblage-based sculptures and installations accompanied by texts that explain how users may interact with my objects and spaces. I exploded very quickly into new territory, also giving performances and facilitating workshops dealing with the themes in my visual work. Today, my art work reflects my interests in and direct experiences with energy healing, personal transformation, spirituality, and the metaphysical. I play with ideas of parallel universes, higher dimensions, and more in my sculptures, while my interactive performances provide a glimpse into my personal experiences with the unexplained as I read entries from my journals or give tarot card readings in front of audiences. I also facilitate workshops centered around healing and personal growth as part of my art practice.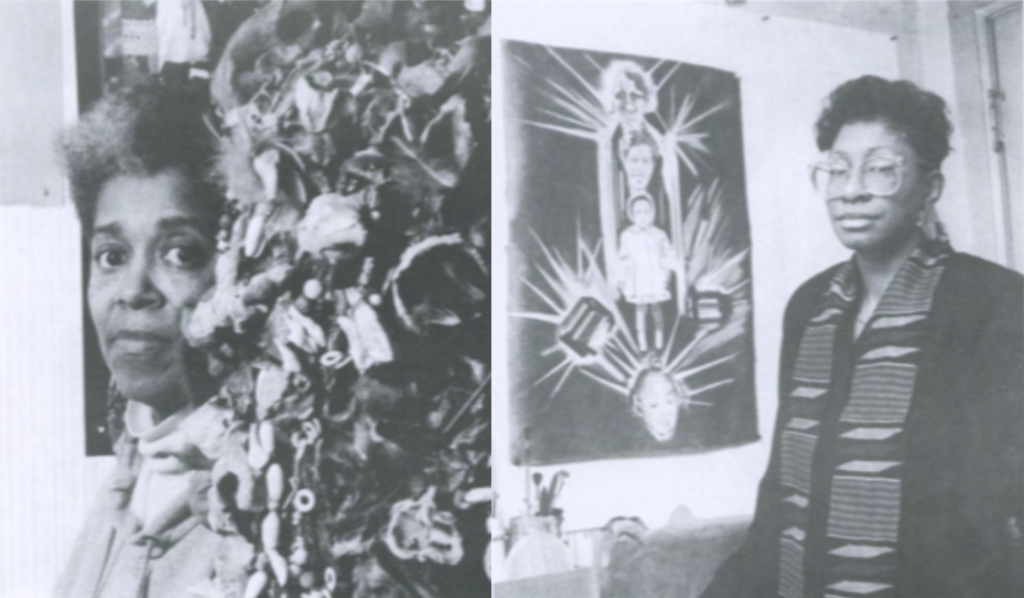 TH: When and how did Sapphire & Crystals get started and who were the founding members?
FGP: The founding of Sapphire & Crystals originated as the title of an exhibition. Marva [Pitchford-Jolly] and I had been a part of another group called Mud Peoples back in the early 1980s. The group at its largest included only six members. When two of the last four members decided to quit the group, Marva and I decided we would continue. Marva had said that she always wanted to do a women's show, so we agreed that this was something that we would do together. At that time, I was also chairman of the Arts and Letters Committee of Delta Sigma Theta Sorority, Chicago Alumnae Chapter. Most of the planning for the exhibition, including the title of the show which was Sapphire and Crystal, Marva and I decided on ourselves. We met at her house or my house–but mostly her house because I had young children. This is what we came to call our "kitchen table meetings." Later we enlisted three other artist to work with us to put together the show. They included Dorothy Carter, Lynn Pertum, and Penny Williamson. Deltas Arts and Letters Committee worked on the reception.
The first exhibition was at the South Side Community Art Center in 1987, and the second on was at Nicole Gallery. People often referred to the women who exhibited in the exhibitions as Sapphire & Crystals.
RB: Their idea was to form a collective of African American women artists to share ideas, exhibit their work and provide a network of support for each other.
ATC: I think it was the Spring or Summer of 1987 when Marva Jolly and Felicia Grant Preston contacted a number of women artists and invited them to a meeting at Marva's studio. I believe Rose Blouin called me and told me about the meeting. She said we would be coming together to discuss forming a collective of women artists. I was very interested because I had been mentored by various members of the AfriCOBRA collective and I believed in collectives. To my recollections, the women in attendance included: Marva Jolly, Felicia Preston, Rose Blouin, Dorothy Carter, JoAnn Scott, Faith Davis, Akosua Bandele, Mary Reed Daniels, Renee Townsend, Shirley Sullivan, Venus Blue, Dorian Sylvain, Renee Williams Jefferson and myself. Marva also mentioned that Margaret Burroughs, Annie Lee and Anna Tyler would also be apart of our group. Those who attended that 1st meeting make of the founding members, in my mind.
At the meeting we discussed starting the collective, our purpose being: to provide opportunities for Black women to show their artwork. We were coming together to show our self-determination as artists, to claim a place in the art arena (feeling that men were dominating the scene and that there were not enough opportunities for Black women to show work); to encourage other women artists and emerging Black women artists to become more assertive.
TH: Was the collective part of a movement for women collectives at the time? Were there other women collectives in Chicago that you were (or are) aware of?
RB: I think there were many collectives forming around this time as women artists recognized there were fewer opportunities to exhibit their work than there were for male artists. Historically, in contrast to male artists, women's artwork was not considered as valuable and collectible. The feminist movement which began in the 1970s inspired women globally and artists were often at the forefront of the movement, and African American women artists were becoming empowered as well. Other than Sapphire & Crystals, I was not aware at the time of other collectives but certainly there have been many formed since the 1980s.
JOA: As a new mother at the time of Sapphire and Crystals' inception, and still relatively new to Chicago, I simply responded to an invitation to exhibit. Artemisia and ARC, both member-driven women's collectives, were already in operation in Chicago.
TH: Why did Sapphire & Crystals form? Was it speaking to a specific need for you as an artist or was it speaking to a need within the artistic landscape of Chicago?
JOA: My understanding is that Sapphire & Crystals formed because there were fewer opportunities for women artists, especially Black women, and especially in the midwest. Marva and Felicia asked artists whose art they had seen and liked. Marva asked me to participate in an exhibition at Nicole Gallery. I remember it as fairly casual. There was no theme. I was asked to bring in a piece. I think the point was to showcase women artists of African descent.
RB: Within the artistic landscape of Chicago, there was certainly a need for more and better representation of women artists. As I mentioned before, our idea was to form a collective of African American women artists to share ideas, exhibit their work and provide a network of support for each other. I personally enjoyed getting to know other African American women artists and sharing ideas about art, art-making, creating art, working, and raising children. I enjoyed receiving feedback from other artists on my work and, over the years, I have especially enjoyed the sense of sisterhood that Sapphire & Crystals has developed and the spiritual consciousness that many of our members aspire to.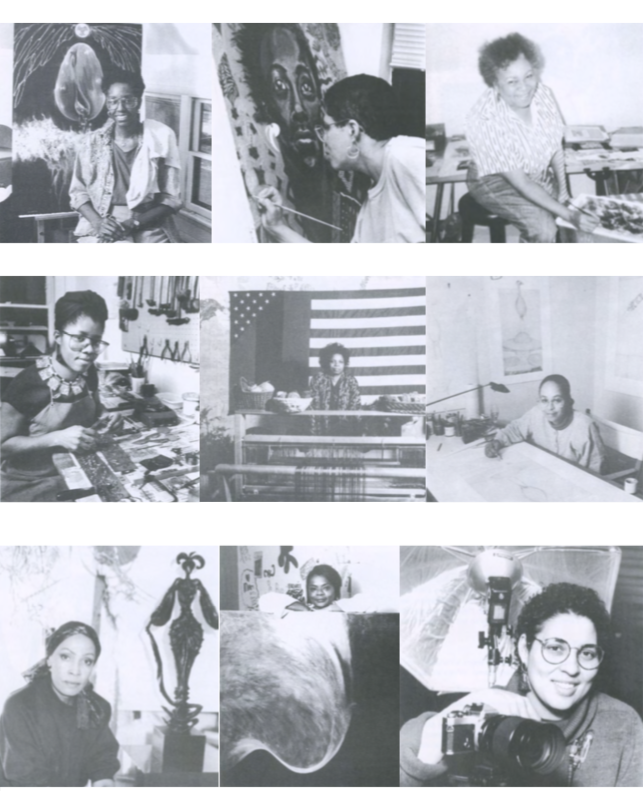 TH: What is the meaning behind the name of the collective?
FGP: The title Sapphire & Crystals came as the result of a growing spiritual consciousness. I was always a "church girl," as Marva would often refer to me, and one day she turned me on to a book by Shirley McClain, titled Out on a Limb. This began a quest to read and grow more spiritually. As Marva and I were both reading spiritual books which some might refer as "new thought," we read about crystals and gems, and their energy and vibrations. Marva actually brought back some crystals from a trip–I believe it may have been Arizona or Hot Springs Arkansas. We considered other names as well with the leading contender being Sapphire & Diamonds, however Sapphire and Crystals had a better ring to it and a better feel.
JOA: The name was an obvious nod at precious gems, or "hidden gems," perhaps. When Marva invited me to the second exhibition in 1987, Images, at my friend's Wood Street Gallery and Sculpture Garden. I thought this was a great group of artists and was delighted to be included. After this exhibition, if I was the one who secured the space, I decided to curate the exhibition.
RB: Gemstones and crystals were considered powerful spiritual tools and spoke to the spiritual component of art and the artist's frame of mind. We also discussed the stereotype of "Sapphire," which many remember from the old Amos and Andy television show as well as countless films. But we decided to embrace Sapphire as an empowered woman who stood up for herself and crafted her own destiny, ideas which were consonant with our objectives as artists.
ATC: Sapphire, as Marva said, represented that woman who demonstrated a strong WILL and was a precious gemstone; and Crystals, because crystals represented a spiritual healing energy.
TH: Who invited you to be part of the collective and why did you take them up on the offer to join?
JOA: I was invited [by Felicia Grant Preston and Marva Pitchford-Jolly] to exhibit in the second exhibition at Nicole Gallery.
RB: I was invited to the initial meeting of interested artists by Marva, I think, since we both worked at Chicago State University at the time. I very much liked the idea of working with other artists and developing opportunities to share and exhibit my work.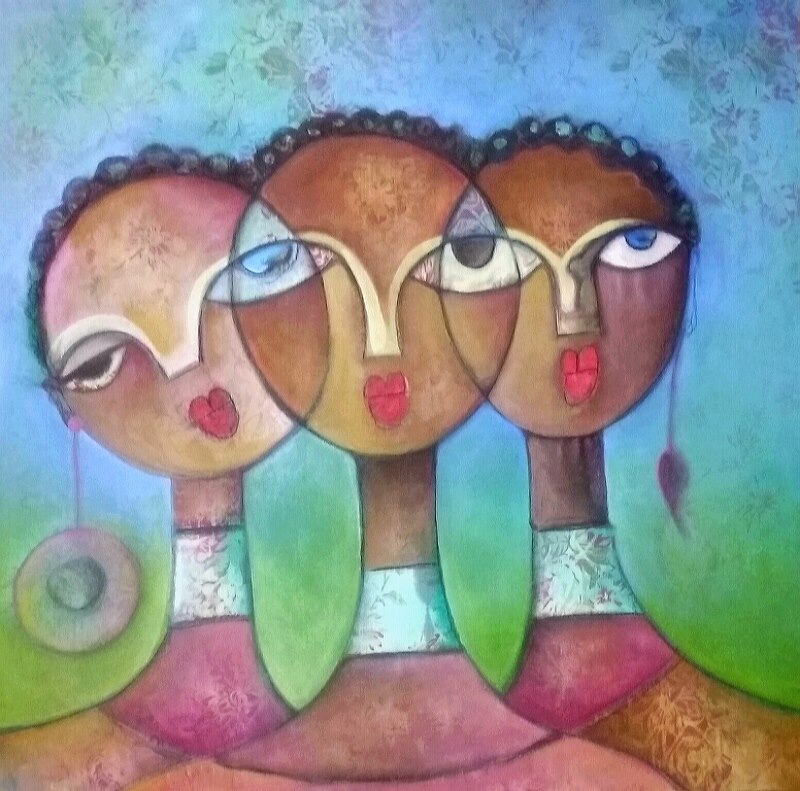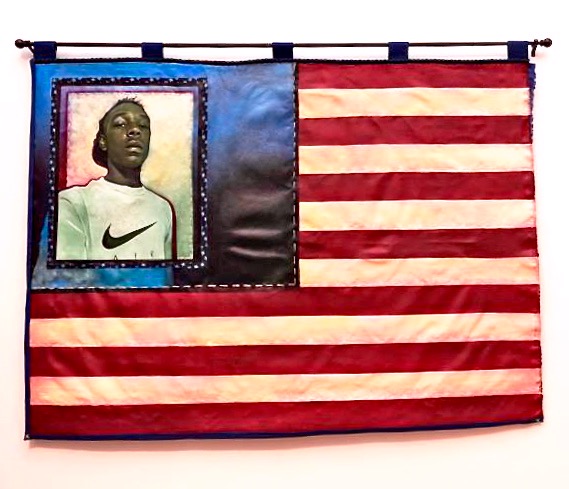 Makeba Kedem DuBose: Technically, it was Marva Jolly who first showed interest in me as an artist, after we met at an early Sapphire & Crystals exhibition at a River North gallery prior to my Nicole Gallery days. I was a novice artist and a friend familiar with the group had invited me to my first Sapphire & Crystals show. I remember being in complete awe of an exhibition of art created solely by Black female artists. It was something I'd never witnessed before, and it went against everything my grandma had warned me against [when] becoming an artist, despite me emphatically knowing that I'd been born one. My grandma, who raised me, would say that there was no room for a Black female artist in the world we lived in. I'm sure I was nearly drooling I was so anxious to become one with these women.
Marva gave me her telephone number after we'd talked for a while towards the end of the opening reception. I tried contacting her for some time, not knowing that she was traveling outside of the country shortly after our meeting. It wasn't until the opening reception of my first invitational show with Nicole Gallery that we would meet again in 2013 for the Annual Women's Exhibition which included several members [of the collective]. After seeing the work that I'd presented, Marva said to me, "Now you can exhibit with Sapphire & Crystals."
Coincidentally, I was blessed with a sold out show which included more than 10 pieces of my works. Then I was invited to be assistant director at Nicole Gallery II, which opened shortly thereafter in the Bronzeville neighborhood located on the south side of Chicago. Though my first interactions were with Marva, as it turned out, it was Joyce Owens, acting as curator, who invited me to participate in my first exhibition with the collective.
ATC: In that first meeting we all committed to an exhibition at the South Side Community Art Center. We [decided we] would produce new work for it, we would hold this exhibition in September (celebrating Marva's birth month), and we would each contribute monies to fund a catalogue for the exhibition, which would include an artist statement from each of us, a picture of each artist (possibly in her studio). We also decided that we would critic the work submitted [in order to] provide our best work and create standards for showing work and that we would curate and hang our own show. Each of us committed to certain tasks to follow up on; someone would take the notes from the meeting and distribute them (I did that one), someone would collect the monies, someone would oversee the catalogue production and layout, someone would proof and edit statements. Someone would create flyers or media for our exhibit and someone would curate and hang the exhibition.
PJS: I was invited by Joyce Owens Anderson and Felicia Grant Preston.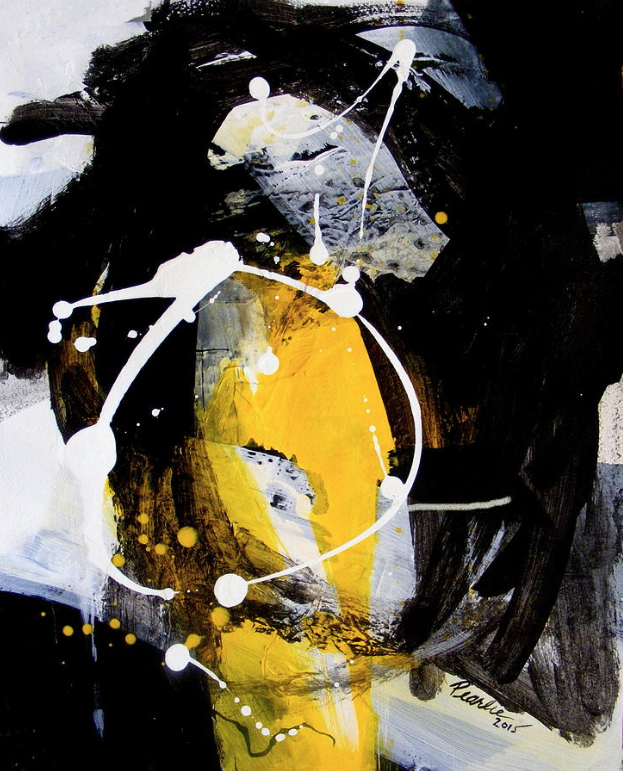 Pearlie Taylor: One day in 2009, I received an email to attend a meeting at Marva Jolly's house. I'm not sure who sent it, but it turned out to be my introduction to Sapphire & Crystals. Even though I was pretty new on the art scene, I knew most of the women in attendance. It was a remarkable group. Each woman was clearly unique in her own discipline or style of work. Felicia Grant Preston and I represented the abstract expressionistic branch. I felt absolutely honored and proud to be a member of such a talented, all female artist collective. The group was well educated and organized. Their goal was to mentor and promote the work of African American women artists. They had the audacity to choose themselves and create their own exhibition opportunities.
RW: I met Sapphire & Crystals members Joyce Owens Anderson, Renee Williams Jefferson, and co-founder Marva Pitchford-Jolly, on separate occasions around the same time in 2002. One night at an art opening at the Bronzeville Military Academy, where I had work on display, I was discussing a painting by Joyce with my sister while Joyce was around the corner chatting about my work. We heard each other and met in the middle! Some months later I had an artist booth at an outdoor South Shore Cultural Center event and I noticed this elegant woman signing my mailing list. I looked at the name, which read "Marva Jolly," and I thought, I know this name is important—I'm supposed to know this name. I introduced myself to Marva and as we chatted, I remembered that just a few months earlier, Beate Minkovski, co-founder and then director of Woman Made Gallery, had told me I should seek out Marva Jolly. And there she was! It wasn't long before Joyce, Renee, and Marva all recommended that I be invited to join Sapphire & Crystals. I was shocked because I was so new; I was just beginning my art career. But I was honored, incredibly grateful, and said "yes" because this was a great opportunity to be a part of a warm and embracing community–to make friends with, learn from, and exhibit alongside these talented Black women artists with deep roots in Chicago's art scene.
TH: Do you remember the first exhibition you were part of? What was the name, when did it happen, and what was the premise of the show?
RB: I participated in the first Sapphire & Crystals exhibition held from June 28 to July 19, 1987 at the South Side Community Art Center. It was titled An Exhibition of Black Female Artists Working in the Chicago Area, and the sponsors listed in the exhibition catalog were The Arts and Letters Committee, Chicago Alumnae Chapter of Delta Sigma Theta Sorority, Inc., Mud Peoples Women Artists Resource Sharing Workshop, and the South Side Community Art Center.
MKD: If memory serves me well, it was either Wood Street Gallery's Wish You Were Here: Postcard Show, or the first of several exhibition at Fourth Presbyterian Church curated by Joyce Owens who likely curated every show that I was invited to participate in.
PJS: It was BEyONd Race and Gender at the Noyes Cultural Arts Center in Evanston in 2009.
PT: I think my first exhibition with SC was [also] the BEyONd Race and Gender show in 2009 at the Noyes Arts Center. Important components of all the exhibitions was the affordable self-portrait silent auction and altar installations. The auction presented a prime opportunity for anyone to start or add to their art collection.
TH: Which exhibitions have been the most memorable for you? And how many shows have you participated in so far?
FGP: The exhibition which was most memorable for me, was The Literary Impulse. One of the reasons this was my most memorable exhibition was because, at the time, I had told [Marva] about a different type of catalogue had seen at an exhibition. By this time the group had established itself as a women's group. As a strong group, we saw the importance of documenting our exhibitions with a catalogue, so we began funding our own catalogues. Marva gave me the name of a business owned by two women who work at Chicago State University called Twin Computing–they did the design and layout for the catalogue. It took me quite some time to put the catalogues together after they came back from the printer. They consisted of and outer carrier, or pocket used to hold individual bios, statements, photographs, and other information which had to be put together. I can remember being up all night putting them together for the opening the next day, and watching the funeral of [Princess] Diana.
I also had a breakthrough with a large piece I had been working on and I was trying to get it ready for the show. The title of the work was Zora's Fire, [inspired by] Zora Neal Hurston. The piece itself is now in the Paul Jones Collection at the University of Delaware.
JOA: [The most memorable exhibitions include] Sapphire and Crystals Invitational at Chicago State University President's Gallery. I curated and was a program producer for Mentors, Goddesses, and Other Heroes, an exhibition featured as part of Chicago Artists Month in 2001. [There also was] Sapphire and Crystals in Black and White (a tribute to Spiral) at Concordia University in February 2004, Sapphire and Crystals Rites of Spring at Fourth Presbyterian Church in March 2005, BEyONd Race and Gender at Noyes Cultural Arts Center in Evanston in January 2009. Sapphire and Crystals: Black White and Blues, [which was] one of twelve featured programs for Chicago Artists Month, Routes to Roots at Nicole Gallery in 2009. Sapphire and Crystals: Visions at Elmhurst College's Frick Center in 2010. State of G/Race: Sapphire and Crystals Celebrate 25 Years at Woman Made Gallery, in November 2012, The Divine Marva Pitchford-Jolly: Sapphire and Crystals Remember in 2013, and Sapphire and Crystals at Prairie State College in 2013.
RB: I believe I've participated in 25 shows to date, and [two] shows were most memorable: The Way My Mama Did and Black White and Blues. We were always challenged to create work which addressed a particular theme, usually chosen by whoever was curating the show, whether by Marva or collectively. As I worked toward creating photography for The Way My Mama Did, I was most challenged by creating my artist's statement for the exhibition and finding connections to my own mother. In the process, I discovered that my love for photography had, in fact, been inspired by my mother who always had some kind of camera and enjoyed taking snapshots.
I was inspired to address the Black White and Blues exhibition by selecting black and white photography and applying a blue color toning process which nurtured my interest in experimental processes. Some exhibitions are more memorable than others because of the fantastic gallery spaces: Wood Street Gallery, the Nicole Gallery, Noyes Cultural Arts Center, South Shore Cultural Center, and Satori Gallery, to name a few.
MKD: My most memorable exhibition was a show at Fourth Presbyterian Church in 2005. A little old lady waited patiently for at least an hour for me to return after finding my work hung in a little cubby where someone had placed a safety sign on the floor blocking the entry to the area. She waited for me in order to purchase an entire polyptych of my Black Madonna pieces, though they were available as individual pieces. I'd stepped out for lunch with my daughter, and upon returning I was informed that the lady, a member of the church, had patiently been waiting to meet me for about an hour.
After we'd talked for a while I asked her which piece she was interested in, and she looked at me with what appeared to be surprise as she said, "Well, I think I have to have them all." I was elated. I'd been sure that no one would see, let alone purchase, my work being hidden as it was. Including this show, I believe I've participated in approximately 10 to 12 shows between the years of 2003 through 2018. Among other shows memorable to me, I'd include the Black and White show at Concordia University, BEyONd Race and Gender at Noyes Cultural Art Center, and all shows and events at Woman Made Gallery.
ATC: I believe I have participated in approximately 18 exhibitions with Sapphire & Crystals. I have organized two myself. [One of] the most memorable ones for me were, Goddess, Mentors and other Heroes. I had coordinated an Artist talk for Sapphire & Crystals as a program event for the African American Arts Alliance during that year's Chicago Artists Month. One of my own mentors and heroes, Jeff Donaldson, attended the talk, which made me quite proud. I created a self-portrait that honored Malcolm X and his words. Images [was memorable] because I thought the catalogue was outstanding. [Another was] Diaspora Ashe, which was one of the exhibitions I curated at the Vergie Buxton Gallery with Carson Pirie Scott.
PJS: According to my records I have exhibited with Sapphire and Crystals 11 times. The most memorable one was in 2012 when we exhibited at Woman Made Gallery at its old 685 North Milwaukee Ave location. That exhibit became sad for us because the theme STATE OF GRACE: In Celebration of Sapphire & Crystals 25th Anniversary abruptly changed to mourning the death of our founder, Marva Pitchford-Jolly.
RW: I have fond memories of our shows at the South Side Community Art Center, Woman Made Gallery, South Shore Cultural Center, and Nicole Gallery, among others. The practice of setting up altars at many Sapphire and Crystals shows stands out for me as one of our most memorable traditions. Aside from our individual paintings and sculptures, these altars were a collective ritual of gratitude, consisting of a collection of spiritually charged objects we'd each contribute that made our shows unlike any I'd ever attended or participated in. But the exhibition that stands out the most to me opened shortly after Marva Jolly passed away in 2012. Marva had an undeniably powerful presence when she was alive, but I could feel that presence everywhere on opening night, even though she was no longer with us in the physical.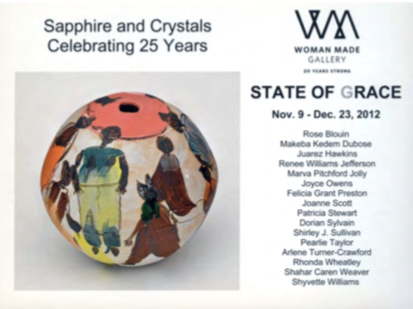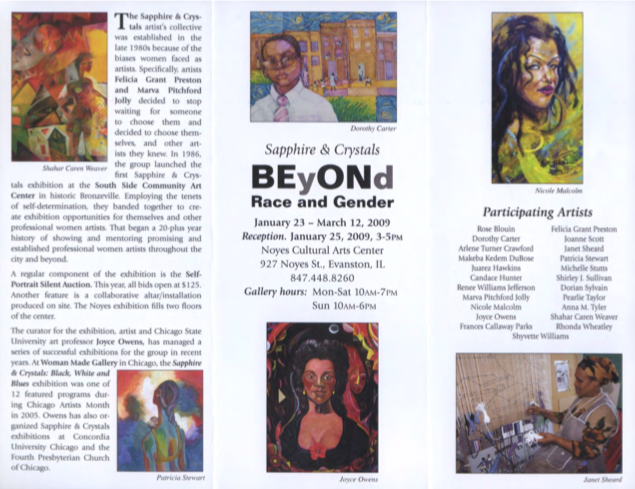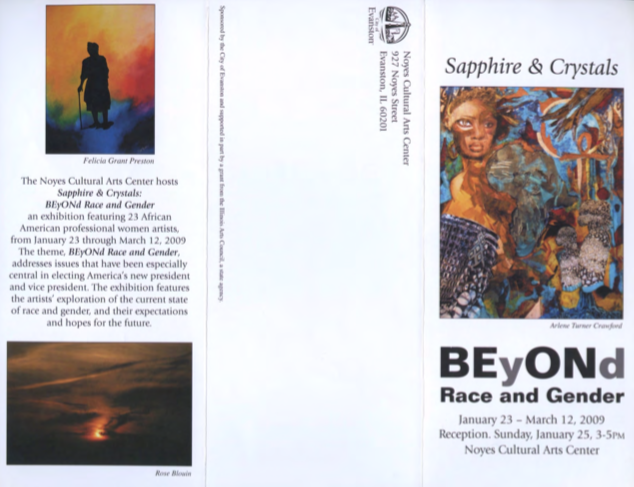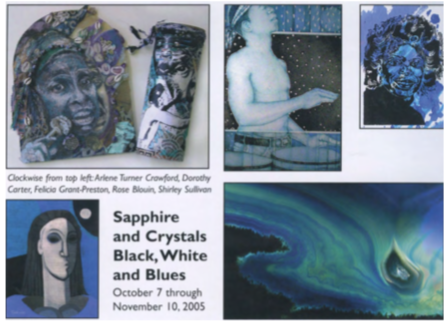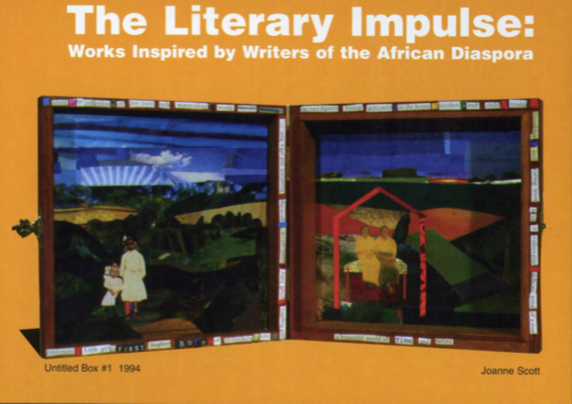 TH: How has being a part of this collective influenced your practice and career?
RB: As a member of Sapphire & Crystals, I've been challenged to continually create exhibition-worthy photographs, even during years when finding time for photography was difficult. I worked full-time and was single-parenting two children, so for many years it was hard to find the time for my photography. I'm not sure I would have been as consistent as I've been without the ongoing inspiration of Sapphire & Crystals. I've been inspired also to seek additional opportunities to exhibit based on my experience with the members of S&C, and I've witnessed the artistic growth and development of the members over time–myself included.
MKD: Being a part of the Sapphire & Crystals collective has influenced both my practice and career in a myriad of ways, including greatness by association, participation in well curated exhibitions under the curatorial expertise of Joyce Owens, who also provided a teaching environment that has greatly informed my own curatorial practice. I learned a lot about how I've managed my own curatorial projects over the years by closely watching Joyce while simultaneously incorporating individual style and developed practices from experience. After years of trial and error, I obtained curatorial certification through the University of Chicago's Graham School in 2017. I adopted the practice of working in series also, where before I worked in a one-off sort of fashion that possessed far less cohesion than my work represents today after years of watching and learning from more seasoned members of the group. As the old saying goes, "there is power in numbers," therefore it stands to reason that I also received a great deal of access to established galleries, universities, and other prestigious venues to exhibit my work, and my client base increased as well.
ATC: Being a part of Sapphire & Crystals has helped me be more consistent in producing new work and kept my name and work in the spotlight as an artist here in Chicago. Recently, the interest and notoriety of our long history has caused the general art scene in Chicago to take notice of the Black Women artists in the group.
PJS: Although there have been considerably fewer exhibitions, I learned more about the goals and aspirations of this wonderful group of women artists. This, in turn, has helped me become more focused on myself as an artist so that my work exemplifies growth and [an] awareness of our purpose in life. Sapphire & Crystals has never been satisfied with an average or mundane exhibit, but [rather] chances to show beyond the conventional.
PT: Even though I joined SC late in its formation and just a few years before Marva Jolly's death, the collective was instrumental in shaping my views of how to think about my worth as a female artist. For me, it was fun. I had been drawing and painting my whole life and I was happy being in a position to exhibit. Just being present in the collective made me think about the importance of creating art and that I should have a voice in the direction in which I wanted my work to take.
RW: Sapphire & Crystals members embraced and saw something in my work, which was incredibly encouraging. The support of people like Joyce Owens, the late Marva Pitchford-Jolly, Juarez Hawkins, and Felicia Grant Preston made me feel more comfortable taking risks and pushing myself to actually try the new, experimental ideas I sketched out but may have otherwise not pursued. Opportunities to create work specifically for themed Sapphire & Crystals shows, such as Sapphire & Crystals in Black and White, a Tribute to Spiral in the early 2000s kept me challenged and experimenting. Additionally, Joyce and Marva invited me to participate in other exhibitions outside of the collective, like the two-person show I did with Marva in 2005 at 3Arts' space before they became a funding organization, which increased my visibility as an artist. I also made some of the strongest work of my career for that show because I was so honored that Marva had chosen me that I wanted to make it count. I wanted her to be happy with her decision—I wanted my work to be worthy of hanging in the same space as her magnificent ceramic pots.
TH: How have you seen Sapphire & Crystals evolve and change over the years? And, in your opinion, how has the artistic landscape changed–for better or worse–for women artists and collectives over time–in Chicago and beyond?
FGP: Sapphire & Crystals has definitely evolved over the years. I was new to exhibiting [when] Marva and I put together the first exhibition. I had only participated in exhibitions at the universities I attended, art fairs, and a one person show prior to that. Many of the women came into the group at different stages of their careers, and with different skills. We learned from each other, and became much more professional in our approach to exhibiting because we shared ideas and expertise in different areas. Over the years we curated and hung most of our shows. Joyce Owens became a great curator for many of the shows and other women such as Shyvette Williams, Dorian Sylvain, and Candace Hunter to name a few, had skills in hanging great shows. Due to a group of remarkable women who did remarkable work we began to attract large numbers of people who attended our shows.
And I believe that the artistic landscape in Chicago has improved for women and other artist, in particular African-American artists. But we still have a long way to go. As an undergraduate and graduate student I did not learn about African-American artists and few women artist. Though there have been some positive changes, we still lag behind when it comes to gallery representation, work in major collections, public spaces, museum collections, and wider recognition within the larger community.
RB: Evolution has included inviting additional women artists [to the collective] and greater initiatives by our artists to expand opportunities and participate in panels and conferences devoted to issues important to artists–women artists in particular. As a founding member, I often wish that we could have been more proactive in Chicago's art community and nationally. The artists of S&C are all extraordinary women artists and the artwork we produce is significant, especially in that it is, first, great art, and it reflects the African American experience from a woman's perspective as well as political and spiritual perspectives. Being employed and being wives and mothers makes it difficult to do the extensive work of marketing and promoting our art. It would be great to have exhibitions that travel and to show in more significant art venues. I do think that we've amassed an impressive exhibition history in and around Chicago despite [these] challenges. It is also heartbreaking to lose members who have passed away: Marva Jolly, Anna Tyler, Venus Blue, Renee Townsend, and others. They were incredibly talented women and are missed by all of us.
MKD: Sapphire & Crystals is a very proud organization which I feel has stuck with the tried and true way of doing things since the conception of the collective. In the close to 20 years that I've been involved with the group, I've not noticed much change, but there has been a consistency to adhere to excellence. I've always felt assured that any project that I've been invited to participate in with the group is predestined to be very well organized and presented with pride.
Though there has been some change in that women artists, and other women working within the field of art are being seen more, and appointed positions of power within arts institutions, I certainly feel there is more growth necessary before women artists are on par with their male counterparts. We need to own more galleries, museums, and hold more seats at the table to better influence the future of art for women.
ATC: As we moved forward, we made commitments to exhibit yearly and to invite other Black women to join in our exhibitions. We needed to fund raise to support the production of our catalogues and other media materials for our group's record and history. We included the idea of a silent auction to encourage collectors to purchase our work. The starting bids would begin at $100. Marva suggested creating self portraits for this auction. We also began to include an altar installation, to honor our ancestors and those group members who had passed away over the course of the years. Several of the members took on the task to find venues for exhibitions and to call meetings and organize the details of those exhibitions.
It seems to me that in the last 5 to 10 years, here in America and in Chicago, there has been more interest and exposure of art that is socially and politically conscious. This has helped both Black and white artists in general.
The celebration of the Wall of Respect; AfriCOBRA collective's 50 year history and the contributions of notable Black artists like Kerry James Marshall and Carrie Mae Weems exhibiting in the Art Institute of Chicago and the Museum of Contemporary Art, has been a milestone. This, I think, has caused the art world, in general, to look closer at Black Art and its history. Sapphire & Crystals has become a part of that scrutiny, which is a good thing, and has put us on the landscape finally–cause we deserve it!
PT: Since 1986 the artistic landscape for women has changed considerably in that women are taking control of their lives and have become far more involved in art making than ever before. Women are still not on par with men in terms of exposure and sales, but I expect that will change in the near future.
TH: What do each of you see as the future of Sapphire & Crystals?
FGP: What I see for Sapphire & Crystals in the future is greater exposure for its individual members, as well as greater exposure for the collective. I would also like us to be mentors to younger women at younger ages, so that they can see clear possibilities of pursuing artistic and creative careers. Finally, I would like to see our history published, which is something I started trying to work on a few years ago, but life has seemed to temporarily get in the way. It took quite a number of years for AfriCOBRA to receive the recognition that it justly deserves. I would like to see Sapphire & Crystals get our flowers while we can still smell them.
RB: I don't know the future, but I'd hope to see the collective continue and grow, with younger artists becoming involved and taking the collective to the next level, whatever that might be. I'd like to see Sapphire & Crystals include all kinds of women artists: musicians, poets and writers, dancers, new media artists, etc. Many of our founding artists are aging and, though we continue to produce work, we need youthful energy to dream and manifest a larger future.
MKD: I would like to see Sapphire & Crystals become more progressive in regard to documentation; I'd like to see a Wikipedia page for the collective and pages upon pages of Google search results highlighting the group as a whole, as well as its individual members. I'd also like to see more overall structure and clarification in regard to membership. Lastly, I'd love to see Sapphire & Crystals expand beyond Chicago. It's well-known among Chicago's tight-knit art scene due to a long, golden presence and exhibition history. I feel it's time to up the ante and pursue events such as Art Basel and other such opportunities, as Sapphire & Crystals has a strong foundations that begs for exploration into potential for national growth.
ATC: Hopefully, it will continue to grow and we will expand our membership and include the next generation of significant Black Women artists to find a place in the history of art here in Chicago. I am also really interested in seeing our exhibitions travel to universities around the country, to venues in New York, Miami, Atlanta, Los Angeles, England, France, Africa, in general–the world is our limit!!!
PJS: Among the many ifs, I do believe that we need strong leadership, a great location, and a robust theme.
PT: Over the years the group has aged and the exhibitions have dwindled, which is a direct result of what happens when younger people are not brought into organizations to perpetuate continuity.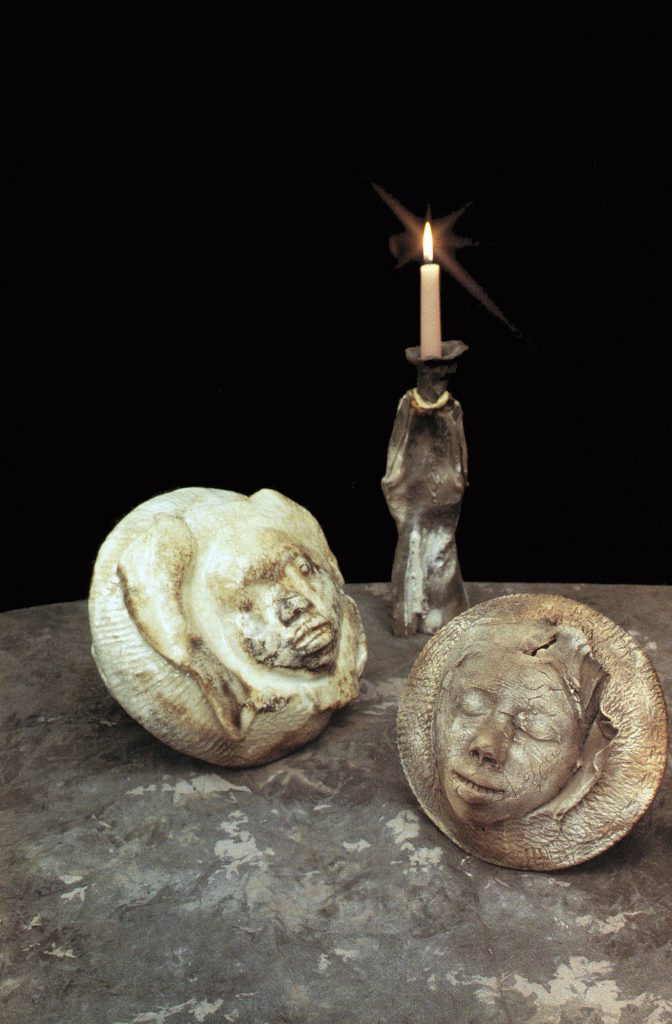 ---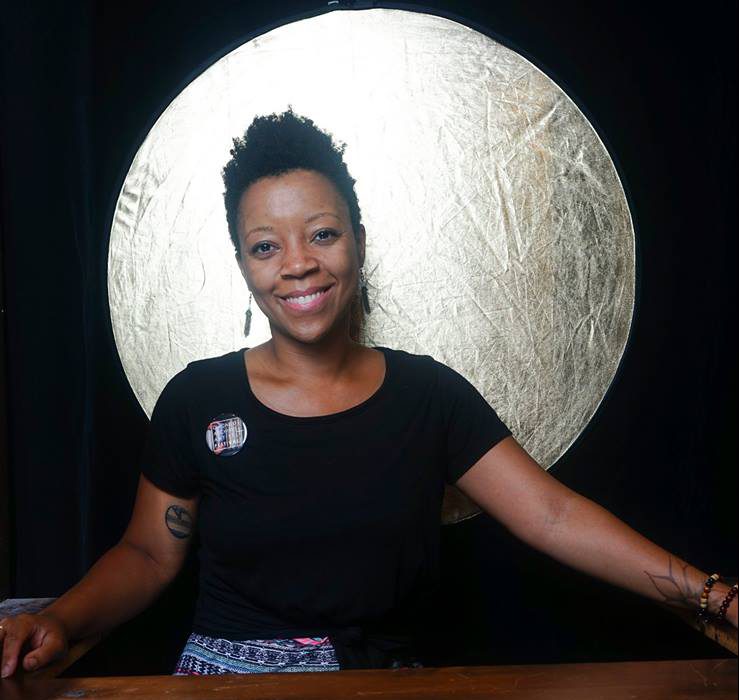 Tempestt Hazel is a curator, writer, and co-founder of Sixty Inches From Center. Her writing has been published by Hyde Park Art Center the Broad Museum (Lansing), in Support Networks: Chicago Social Practice History Series, Contact Sheet: Light Work Annual, Unfurling: Explorations In Art, Activism and Archiving, on Artslant, as well as various monographs of artists, including Cecil McDonald, Jr.'s In the Company of Black published by Candor Arts. You can also read her writing in the upcoming Art AIDS America catalogue for Chicago and the online journal Exhibitions on the Cusp by Tremaine Foundation. Find more of her work at tempestthazel.com. Photo by Darryl DeAngelo Terrell.