Art + Love: Francine Almeda and Antonio Robles Levine (Blesstonio)
Francine Almeda and Antonio Robles Levine (a.k.a. Blesstonio) on how they make art, love, and partnership work.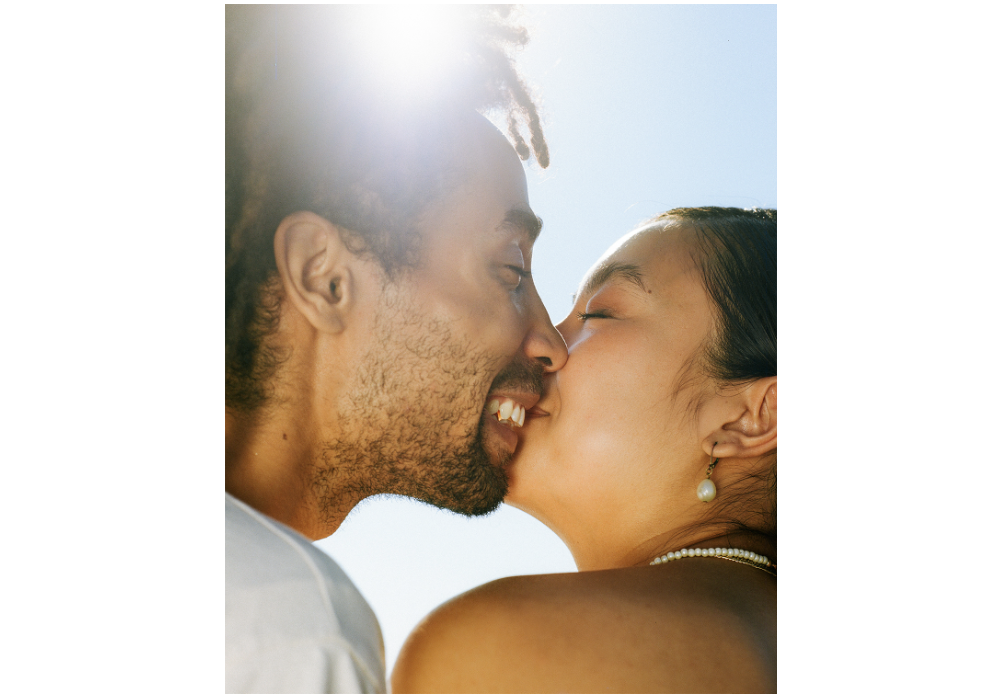 As part of our Art + Love series, Francine Almeda and Antonio Robles Levine (a.k.a. Blesstonio) reflect on their first encounter at Heaven Gallery and the coincidences that led to them literally falling in love on the dance floor.
This is their story.
---
On where it all started:
Francine Almeda: I love this story because it feels like a chance meeting that was always meant to be. We met on June 4th, 2021 at Heaven Gallery, but have been orbiting each other for over a decade. It was a sunny day when Antonio walked up the stairs to the gallery where I was working the front desk and I was immediately struck by love at first sight. He shopped around for a little and picked out a beautiful, black Armani blazer. As I wrapped up his purchase and folded the blazer into a paper bag I took the opportunity to strike up a conversation. I immediately felt comfortable with him and discovered we shared a love of dancing and music. Right then and there, I invited him to a dance event I was hosting the next evening at my own gallery, Jude Gallery, in Pilsen.
Antonio Robles Levine (a.k.a. Blesstonio): I had been to Heaven the week before and met the director, Alma Wieser, who I connected with and [she] encouraged me to come back again. I loved the vibe of Heaven and I invited my friend who was new to Chicago to go thrifting there the week after. When I walked up, Francine, so kind and warm, was working the front desk. She complimented the Armani blazer I picked out and introduced herself. Our conversation felt really lively and familiar. It helped that my friend was new in town and was excited to also make new friends. Francine then pulled out her phone and told me about an event she was hosting at her gallery. We often joke about this moment, because she so unabashedly used her "I own a gallery" line to spit game. That moment was caught on a video [that] Alma was taking. It's a joy and so special to be able to rewatch our very first moment together. I was so flattered and excited Francine invited me to her own space the following evening.
FA: Right after I got off work I picked up an old friend to drive down to Hyde Park for our fifth-year high school anniversary at The University of Chicago Laboratory Schools. I remember sitting in traffic and, completely out of the blue, he turns to me and asks, "Do you know Antonio Robles Levine?" I was shocked. "Yes" I replied "in fact, I just met him an hour ago."
It turns out they were mutual friends and the thought to mention him had randomly popped into his head during our silence. Only then did I find out Antonio had also attended Lab from first grade to senior year, but had graduated five years above us. Our school is small, only about 100 per grade; and we had never met, not once in all those years. I always thought it was such a crazy coincidence my friend decided to bring him up, of all times, on the day of our first meeting.
ARL: Also, the fact that our first meeting happened the exact same weekend as our respective five-year and ten-year anniversaries happened is wild to me.
I arrived at Jude Gallery the next evening, right on time. Francine was busy hosting, so we floated around each other the whole evening. It wasn't until the very end that we found each other again on the dance floor. Francine booked some amazing DJs and we spent an hour lost in each other's movements. It was Francine's sense of rhythm and her understanding of nonverbal communication that really struck me. Our connection was deeper than words.
FA: He reached his hand out to me and we shared our first dance.
ARL: It was magnetic, we were connected from that moment on. And it felt like we had known each other our whole lives.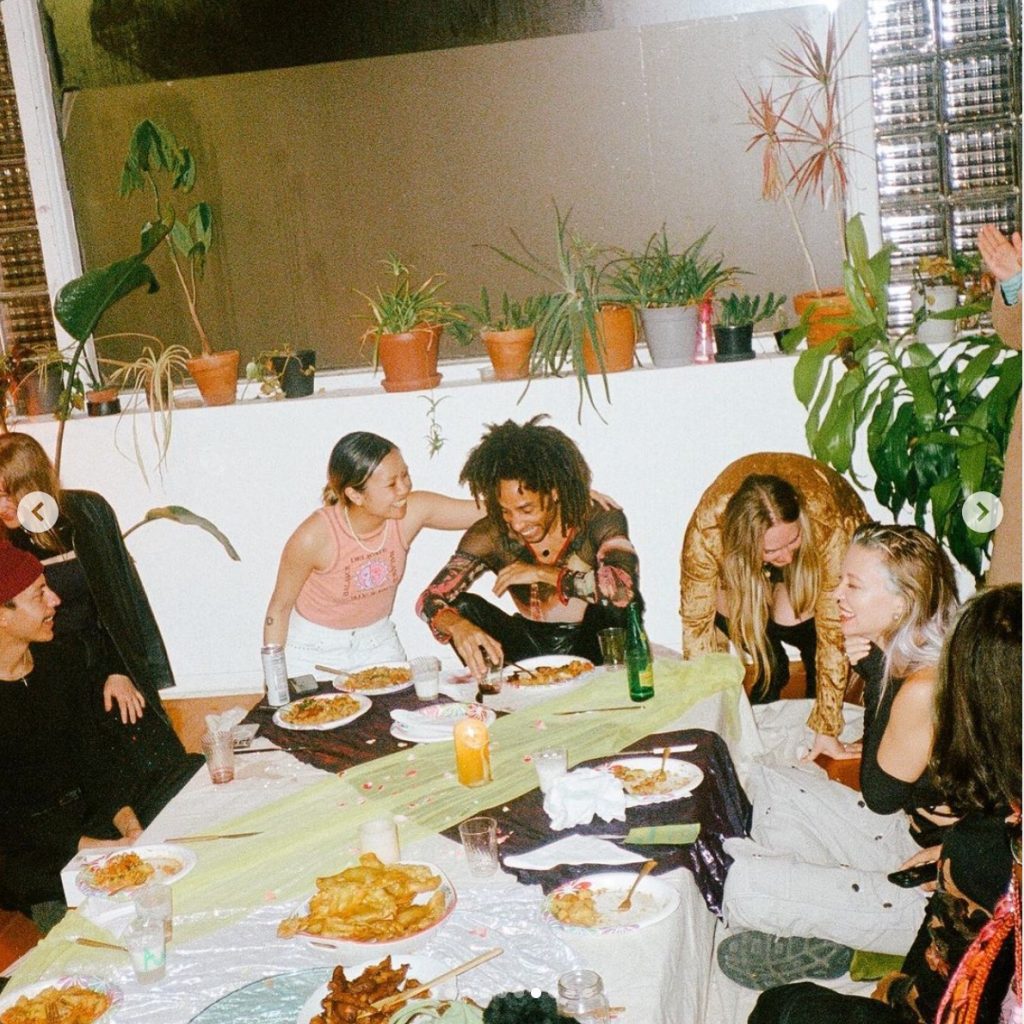 On one another's process and practice:
FA: There is so much I could say. Antonio is led by compassion and rigor—the meeting point of the two creating a practice that is continuously committed to producing music, environments, and communities that are inclusive and electric unlike any other. He is deeply thoughtful, meticulous, and considerate in his process. One of my favorite things about his work as a DJ and space curator is that he is motivated by and for joy. He genuinely loves to have fun, and his joy is infectious and meant to be shared.
Not to mention, he is the absolute best dancer I know, and his grace of movement is central to his practice: affording himself and others the grace to be truly, unapologetically themselves. He takes much inspiration from his close friends and meticulously cares for the beautiful network around him. I'm so proud to have seen his DJ career flourish this year as both a performer and event curator—and his fearlessness to push new boundaries at every turn. Everything about his passion makes his success make complete sense. It is like watching someone's fate unfold on the path they were always set to achieve.
ARL: Francine's artistic practice is beautifully inspiring. She has this fierce go-getter drive that is rounded out by a deep understanding and practice of communal care. One who knows Francine knows that she has the capacity to do and achieve so much. What I know about and see in her is her ability to be anyone she wants to be. Whether that be a successful gallerist, a community organizer or leader, a bright academic, a seasoned world traveler, a killer DJ, a friend that will always do her best to show up for you, a loving family member, or a supportive, communicative partner. She has what it takes to do all of this while being a best friend to herself. One of the things I admire so much about Fran's practice is her ability to create a lane for herself. She never went to art school, and, in spite of this, [she] provides herself with the tools to be an incredible gallerist, entrepreneur, and curator. She has only lived in Chicago for a few years post-college, and yet, [she] finds, builds, and surrounds herself with a strong community of artists that motivate her to reach new heights in her career. I really know Francine is one of the most innovative, creative, unique, graceful, and intentional programmers in the art world.
On sharing space:
FA and ARL: We share an open-concept loft apartment in West Town that encapsulates all three—living, studio, and performance. The space has a built-in, elevated stage and we see this unique layout as an opportunity to build our most personal, collaborative project, [which is] opening up this home as a venue. It allows us to exercise our talents, passions, and careers into one. It is where Francine's love for curation and hosting meets Antonio's joy for DJing and throwing parties. In the past two years, it has been the site for dinner parties, filming projects, dance events, and more. We fill it with the objects and people we love the most and are mutually hopeful that it can be a gathering space to be cherished.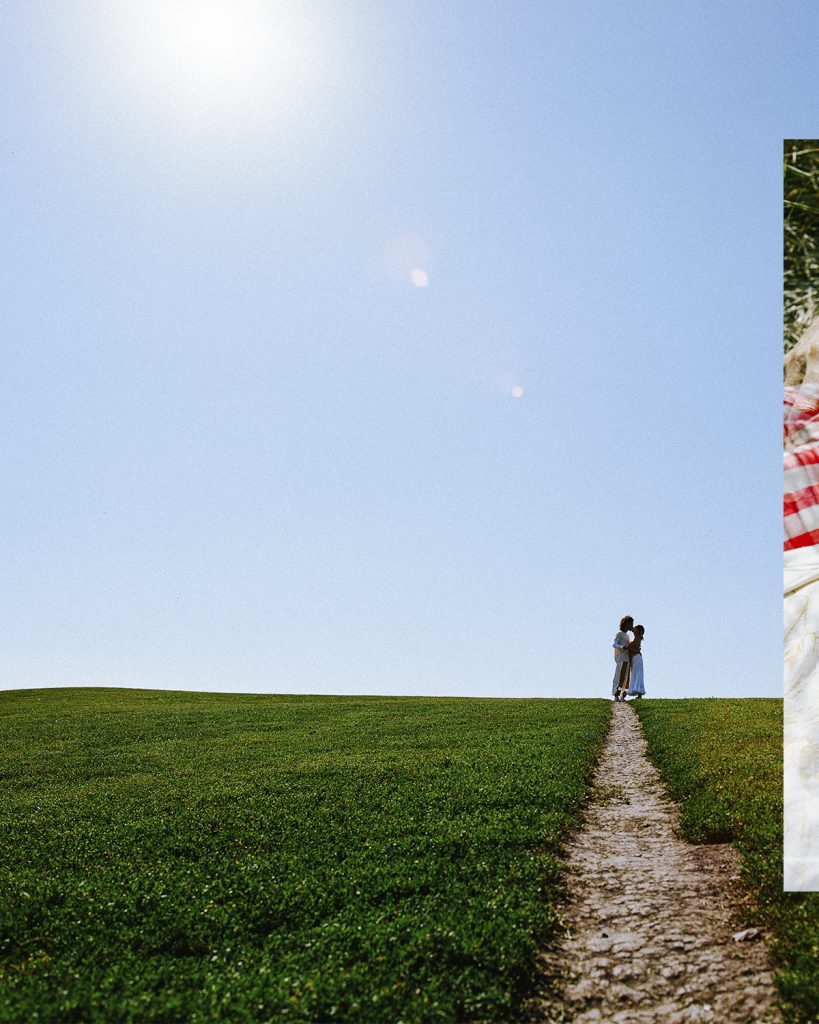 On collaborating with one another:
FA and ARL: In our partnership, collaboration is a form of love. We feel lucky that our worlds of art and music have such a mutually beneficial overlap, each enriching the other. Hinged by the same passion for building community, we move between supporting each others' individual practices and coming together to work on a shared project or event. We love organizing and hosting events together. This can range from openings at Francine's gallery, Jude, where Antonio DJs; to throwing events with Antonio's party series, Fortune, where Francine co-hosts and does event administration; to hosting intimate dinner and dance parties at our loft; to doing B2B DJ sets together. Our work synergy is very compatible and necessary in often the fast-paced lifestyles we both live. Francine is very detail-oriented, and organized, and has so much experience with admin work. It compliments Antonio's often lofty ideas, turning them into realities. Both of us have a very keen sense of social dynamics, which helps a lot on the curation side of things. It is always really fun working on a project together. We really believe in each others' abilities to achieve success, especially under pressure.
On how their process and practice have been influenced by one another:
FA: I find that we are so perfectly similar, yet different. His own relentless integrity holds a mirror to the ways I can better show up for others, and he has a keen attention to detail and often catches things I would overlook. One of my favorite ways Antonio moves through the world is by turning his attention toward celebrating the friends and loved ones in his life: he sits deeply in his gratitude. He is constantly noticing, acknowledging, and verbalizing the things he loves in [others]. I have previously struggled with being able to define my own successes (especially in creating my own path in the arts) and seeing his own ability to revel in the success of others and himself has inspired me to do the same. His support has been invaluable in expanding my ideas of what I can achieve; I have been able to open myself up to new ideas in art and within myself, that I would have never otherwise imagined.
ARL: Francine is an excellent listener and care runs through everything she does and how she is. She encourages me to solve problems and approach relationships with a deeper sense of intention, patience, and compassion. She is one of my biggest supporters and firmly believes I can achieve all of my goals and dreams. She is the air sign that fuels my fire sign. I hope to be the fire and passion that can ignite her. Many of the achievements in my career since 2021 are either directly or indirectly linked to her belief in and support of me. She motivates me to be a better person and inspires me to trust that my goals are just a moment away. I am so grateful for her love and companionship.
On the songs that soundtrack their relationship:
FA: Comó me Quieres by Khraungbin. This was the first song we danced to together.
ARL: Melody (1983 Club Vinyl Mix) by Plustwo. This song brings out an incredible joy in Fran and it always brings up special memories of her dancing.
…and one more thing:
FA: (To Antonio) Loving you is an eternally youthful belief in life's radiance. You are limitless.
ARL: (To Francine) Sharing a dance with you is having the secret power of extending a joyful moment into a momentous lifetime.
---
About the Author: Tempestt Hazel is a curator, writer, and co-founder of Sixty Inches From Center. She spends her time working alongside artists, organizers, grantmakers, and cultural workers to explore solidarity economies, cooperative models, archival practice, and systems change in and through the arts. You can see more of her editorial, curatorial, and other projects at tempestthazel.com.