The Art of Styling: A Peek into Gilda's
Between the hum of Anita Baker and the rustle of clothes hangers and metal is the personality of Gilda Norris. It's snowing as I walk across the street from my…
Between the hum of Anita Baker and the rustle of clothes hangers and metal is the personality of Gilda Norris. It's snowing as I walk across the street from my apartment to Gilda's shop on 55th street in Hyde Park. It's a garden floor space—take a few steps down and you're in a sea of clothing. It's small and intimate, making it hard to not brush past fabrics, sequins, and buttons.
In the summer months you can count on spotting Gilda standing on the steps of her shop. Leaning against her railing, she always looks effortlessly cool. Her stance itself is an advertisement to pop into the shop. But today we are on the other side of the beaches and drips of sweat of summer. We are shuddered indoors and grasping for any hint of Vitamin D. I quickly hustle inside of Gilda's, a solace from the wetness of Chicago, the cocoon of clothing creating a sense of comfort and nostalgia. 
This interview has been edited for length and clarity. 
Gilda Norris: I was born and raised in New York. From there I went to Washington D.C. to go to Howard University and did the whole American Dream thing. Got married, had a couple kids. Got divorced later on. But when I was at Howard, I was initially a psychology major. And because my parents were going to have three kids in school at the same time, in college, they chose me to work and take care of that end because my brother wasn't gonna do it and my sister wasn't gonna do it. I love to work anyway. And that's when I started working in retail. I started actually when I was a freshman. I saw that I had a knack for putting things together, and I had an eye for good design, good fabrics, good quality and what have you. So I also began dressing people at school. Because at Howard University, it's extremely competitive at how you look. It's like a fashion show up on the yard. 
S. Nicole Lane: That's amazing.
GN: I would put their clothes together for them, and sometimes they would pay me in books or food. Sometimes, they didn't have a lot of money. So I decided to change my major to business and fashion merchandising. This was in the early eighties. And I would go on to answer ads because that's the way we did it back then. You went through the classifieds, you actually called and talked to someone, and if they liked your voice or liked what you had to say on the telephone, they would have you come in for an interview.
GN: I didn't want to do just moderate clothing, I wanted to do more high-end, so I went on an interview at Claire Dratch in Washington D.C. on Connecticut Avenue. I went to go interview for assistant manager, but when I got there they didn't even want to interview me. I knew what the reason was. But that didn't deter me. I actually walked out the door, walked right back in and said, "Wait a minute. I was in traffic trying to get here. I paid money for the garage. I would really appreciate and interview. Because that's what was scheduled, okay?"
SNL: Right.
GN: I said, "You won't be sorry." So the manager at the time did interview me. And she said to me, "Well I don't have an assistant manager position. But if you wanna start part-time as an associate that's cool."
I said, "Okay great, I'll take the job." And within a month, I was assistant manager, then manager, and then the woman across the street that owned the store Marie Claire was all European fashion, came and grabbed me to manage her store. I started working at big box stores like Macy's, I worked there as manager for a few years and went to Ann Taylor, went to Draper's and Damen's, went to a lot of stores as manager. Then I became the merchandiser for Joan's Apparel group.
I really did everything I could in D.C. and D.C. was growing—very beautiful, but very young. And the things that my friends and I used to do were all taken away, we didn't have that anymore. I sold my house and went to New York. I looked around in Brooklyn and thought, "Oh this is gonna be harder than I thought because of the prices." You know, I'm not a millionaire. Everything started at a million dollars if I wanted to buy. And to rent, I mean, it was like eventually you were gonna spend a million dollars anyway. I went on vacation, came [to Chicago] to see my boyfriend, who had moved here from D.C. I was gonna stay with him for a month, and walked around.
GN: I came to Hyde Park and fell in love with it, 'cause I am a vintage person. I love vintage, I love character. Hyde Park reminded me a little bit of Brooklyn, except a little bit more quaint—not as congested, not as many people. And when I started looking at the apartments, I just went crazy 'cause it had my name all over it. I said, "This is me!"
I always wanted a boutique. I mean, even when I was a little girl I grew up around my mother who was a designer. She designed clothes and sold them and made clothes for the neighborhood. That was her part-time [job], you know, that was her hustle gig. My grandmother was a pattern-maker, and my uncles owned an upholstery shop. I was around fabric all the time and I love fabric. I love quality. I just love the textures and different colors and putting it together.
Then one day, I was walking by here, my grandkids were visiting in the summer and they said, "Oh Meemaw, that spot is available!" And I'm like, "No, it's not!" When I came in here, there was a guy that was doing a pop-up. So I talked to him and then a couple months later, it was completely empty. I called my sister and said, "It doesn't make sense to move, and I've only been here for a few months." She said, "Darling, when the opportunity knocks, it doesn't matter how long you've been anywhere. You take advantage of it."
SNL: Yeah, I remember when all of a sudden there was a shop here.
GN: I've been here for two years and I like it a lot. The neighborhood is fabulous. I literally have people coming in here from the ages of 15 to 96.
SNL: I was wondering that—if it's just university people or people from the neighborhood, or if it's just a mix, you know?
GN: No, it's a mix. It's a nice mix, too—I love it. I'm very fortunate. I think I have the best customers, the best clientele. It's really what a person would dream of, because you don't have to zero in on one person or one type of person. And it allows you to be more creative. I have doctors, lawyers, people who are fashion-savvy. Then, [I have] people who aren't so savvy and just need a little help.
SNL: Do you know about brands just from personal research or from working in fashion?
GN: From both. I'm not as hip on the newer people. Like before, back in the day, if somebody was walking down the street, I could tell exactly what designer they have on—whether I've seen it before or not—just by the way it was falling and the construction of it and what have you. Designers are not that distinctive anymore. It's not that signature anymore. So everything is pretty much the same. Everybody's into J. Crew—that same look and this that and the other thing. I can tell when something comes from Forever 21.
SNL: What are some of the challenges with running a small business?
GN: The biggest challenge is getting the customer to come through the door. If ten people come in, eight to nine are gonna buy something. And that's been my statistics. I've tracked it and what have you. Like, last week, only five people came in and four people bought. But the biggest challenge is getting them to come into the store…and it's not just the location, it's the internet.
I hang signs up all over the neighborhood. I'm very old-fashioned.
SNL: Yeah, I learned about your store from the signs that you've put around the neighborhood.
GN: That's the biggest challenge, just getting people to come in here, having the university promote me. They really don't. They concentrate mostly on 53rd street. But that's what they own, that's their property.
SNL: Where do you see yourself in five or ten years? Do you see yourself with your store here? Do you hope you're somewhere else, doing something else, or…
GN: I'd like to still be here, but I would like for this to be one of my places. I do wanna open up something on the east coast, either a brick-and-mortar or a mobile shop. I think that would be fun. But I do like being here, it's just that at my age, I don't know what's gonna happen. Who knows?
Gilda's Thrift Boutique is located at 1703 E 55th St, Chicago, IL 60637. You can find more information on Etsy or Instagram.
Featured Image: Two people are standing on the sidewalk outside of Gilda's. Their faces are cropped, showing off what they are wearing in the center of the photo. The person on the left has a beige coat on with a red-checkered scarf and a red shirt. The person on the right has a brown coat with buttons and a leopard collar. Their shirt is brown, beige, and black. Photo by Ryan Edmund Thiel.

---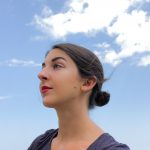 S. Nicole Lane is a visual artist and writer based in the South Side. Her work can be found on Playboy, Broadly, Rewire, i-D and other corners of the internet, where she discusses sexual health, wellness, and the arts. She is also the Office Manager for the Chicago Reader. Follow her on Twitter.
Photo by Jordan Levitt.