Sixty's Print Dreams Come True with For the Birds Trapped in Airports
Sixty is thrilled to announce the expansion of our ongoing print and book partnership and a few print projects coming your way in 2023!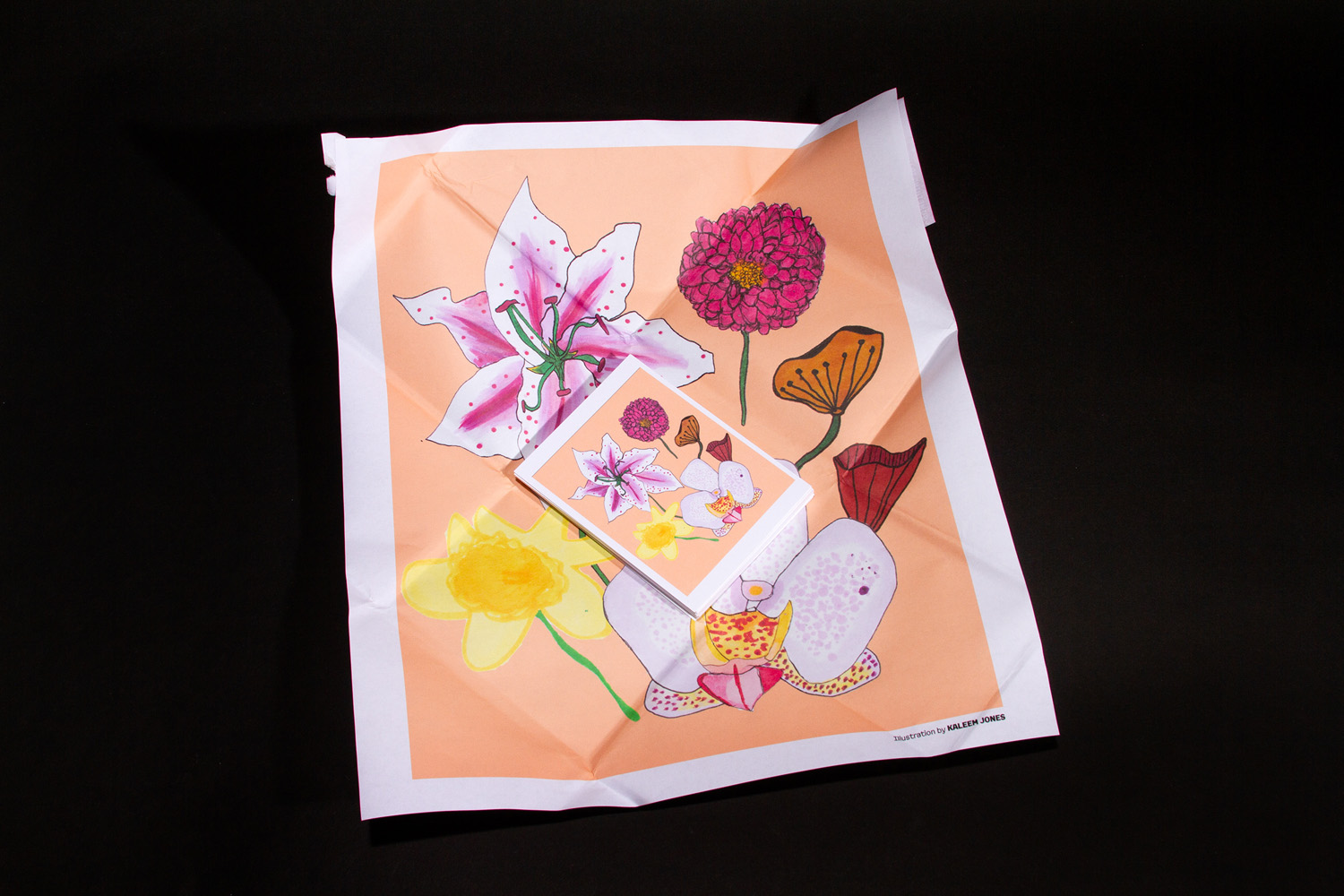 There's nothing quite like holding a book or other printed materials in your hands.
That's why we can't wait to tell you about the expansion of our ongoing partnership with the formerly Chicago-based bookbinding studio For the Birds Trapped in Airports (FTBTIA)! Though we've collaborated before, Sixty will now be working with FTBTIA to more intentionally and consistently dream up and release print projects that support our current and future archival, editorial, and curatorial projects.
Additionally, this partnership isn't limited to Sixty-centered projects. We will also be creating a way for writers, editors, photographers, illustrators, and other members of our collective to pitch Sixty-supported print ideas related to their work with Sixty or their own creative practices, starting in 2023.
As you read this, the folks behind For the Birds Trapped in Airports are busy establishing their brand new publishing and bookbinding studio where they will have the ability to run all aspects of production in-house, which helps make beautiful print projects affordable and feasible to more artists and organizations like Sixty. If you're interested in and capable of supporting them in the earliest phase of this new chapter, we encourage you to donate to their fundraising campaign.
We're kicking off our co-conspiring with the release of two new projects for your bookshelves — pre-sales coming soon!
Chicago Archives + Artists Project Book (2023)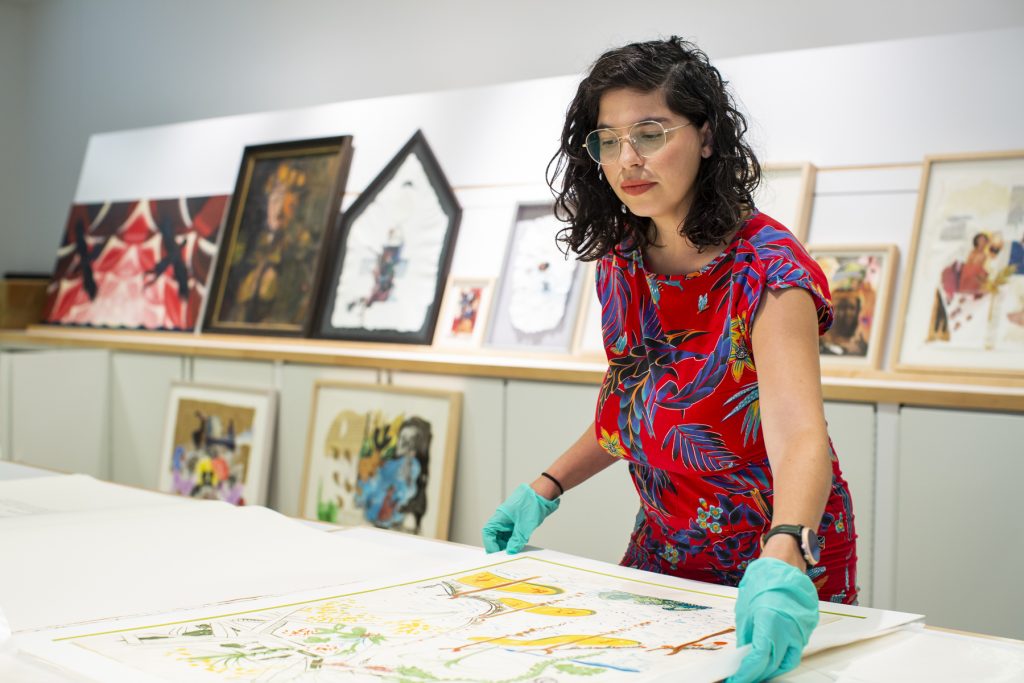 This book serves as a site for two new artist/archive pairings and makes space for partners, collaborators, and Sixty's team to reflect on 5+ years of the Chicago Archives + Artists Project. This publication is made possible through generous support from the Hauser & Wirth Institute and the Andy Warhol Foundation for the Visual Arts. We would tell you more, but we want to leave you in suspense just a little longer…to be released in Spring 2023! More…
Image: Natasha Mijares in the archives of DePaul Art Museum's Latinx collection. She is holding an artwork and wearing bright green gloves. Photo by Kristie Kahns.
Something to look forward to (2023)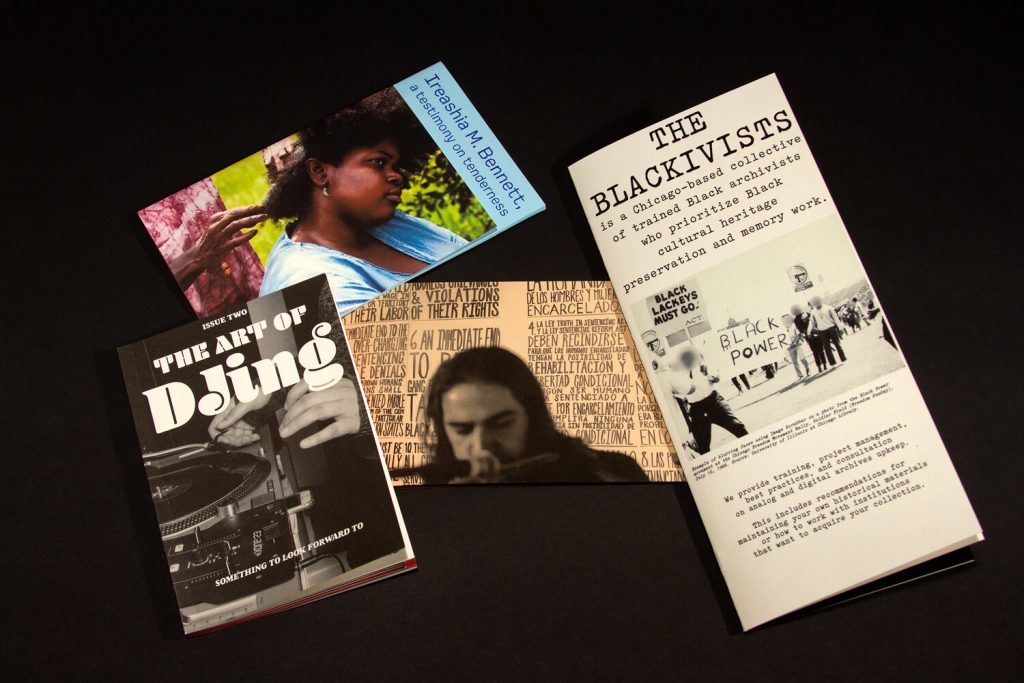 Picking up where the inaugural Something to look forward to left off in 2021, we are releasing a new edition of our 6-issue mini-anthology series, pulling together some favorite writings, photography, illustrations, and interviews around themes chosen by Sixty's marvelous editorial team. Like the previous iteration, this subscription-based series will be offered on a sliding scale — starting from $0 — allowing you to choose an amount you can afford and making sure anyone who wants something to look forward to can have it. More info coming soon…
Image: A photo of four small zines, partially overlapping, against a black background. Courtesy of Candor Arts.
---
If you want us to keep you updated on each of these projects and future print objects you're going to undoubtedly fall in love with, sign up for our monthly-ish newsletter at the top of this page.