Risk/Play/Reap at Jan Brandt Gallery
This is an excerpt from Sight Specific's review of  "Risk Play Reap",  a collaborative exhibition by Allison Carr, Danell Dvorak, Monica Estabrook, and Amy Wolfe, which was installed at Jan Brandt Gallery in Bloomington,…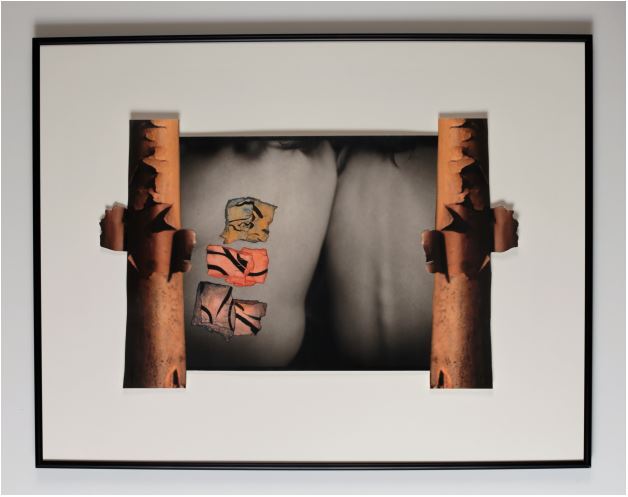 This is an excerpt from Sight Specific's review of  "Risk Play Reap",  a collaborative exhibition by Allison Carr, Danell Dvorak, Monica Estabrook, and Amy Wolfe, which was installed at Jan Brandt Gallery in Bloomington, IL. Presented through Sixty Regional.
Art making is usually thought of as a solitary activity, but what happens when that usually solitaire activity is opened up to the direct input of others? This show, consisting of the collaborations of four artists offers some experiential insight into that question.
A statement accompanying the show in part explains the collaboration process: "Each artist began a piece, then passed it to another for further development. Additions, alterations, and reconfigurations continued, until the group agreed a piece was completed, whether through lengthy, multiple cycles, or two to three passes."
First of all, I noticed that when viewing the entirety of the show, the exchange of approaches within each piece had resulted in a variety of finished works that, at the same time, had a consistency of formal solutions. Layering, transparency, textural surfaces, juxtaposing of imagery, and often a sculptural (object) presence were in evidence in most pieces. On the other hand, variety stemmed from the use of different subject matter or formal approaches, format sizes and shapes, chosen materials, textural surface presence, flat optical or illusory pictorial space, and color concepts….
Read the full article on Sight Specific.

Featured Image: Estabrook, Wolfe, "Back Bone", 2018, archival pigment prints, print making paper, acrylic medium and washes, ink, thread. A black and white print of two bare backs is framed on either side with collaged tree truck forms. Three rectangular collaged forms, one green, one pink, one violet, descend down one of the backs. Image Credit: Jan Brandt Gallery.
This article is part of Sixty Regional, an ongoing initiative by Chicago-based arts publication Sixty Inches From Center which partners with artists,  writers, and artist-run spaces throughout the Midwest and Illinois to highlight the artwork being produced across the region. This work is made possible through the support of Illinois Humanities, which is supported in part by the National Endowment for the Humanities and the Illinois General Assembly through the Illinois Arts Council Agency, as well as by contributions from individuals, foundations, and corporations.
---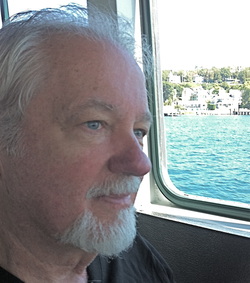 Ron Jackson is a retired Associate Professor having taught at Virginia Commonwealth University for six years and Illinois State University for thirty years. He received his MFA with distinction from the California College of Arts and Crafts (now California College of Art). He is a prolific artist having produced and exhibited work for decades.