#abovetheclouds: Studio Visit with Molly Markow
This is an excerpt from Sight Specific's studio visit with artist Molly Markow. Presented through Sixty Regional. In her recent works, Markow skillfully balances scenes of sublime natural (or "natural") beauty within…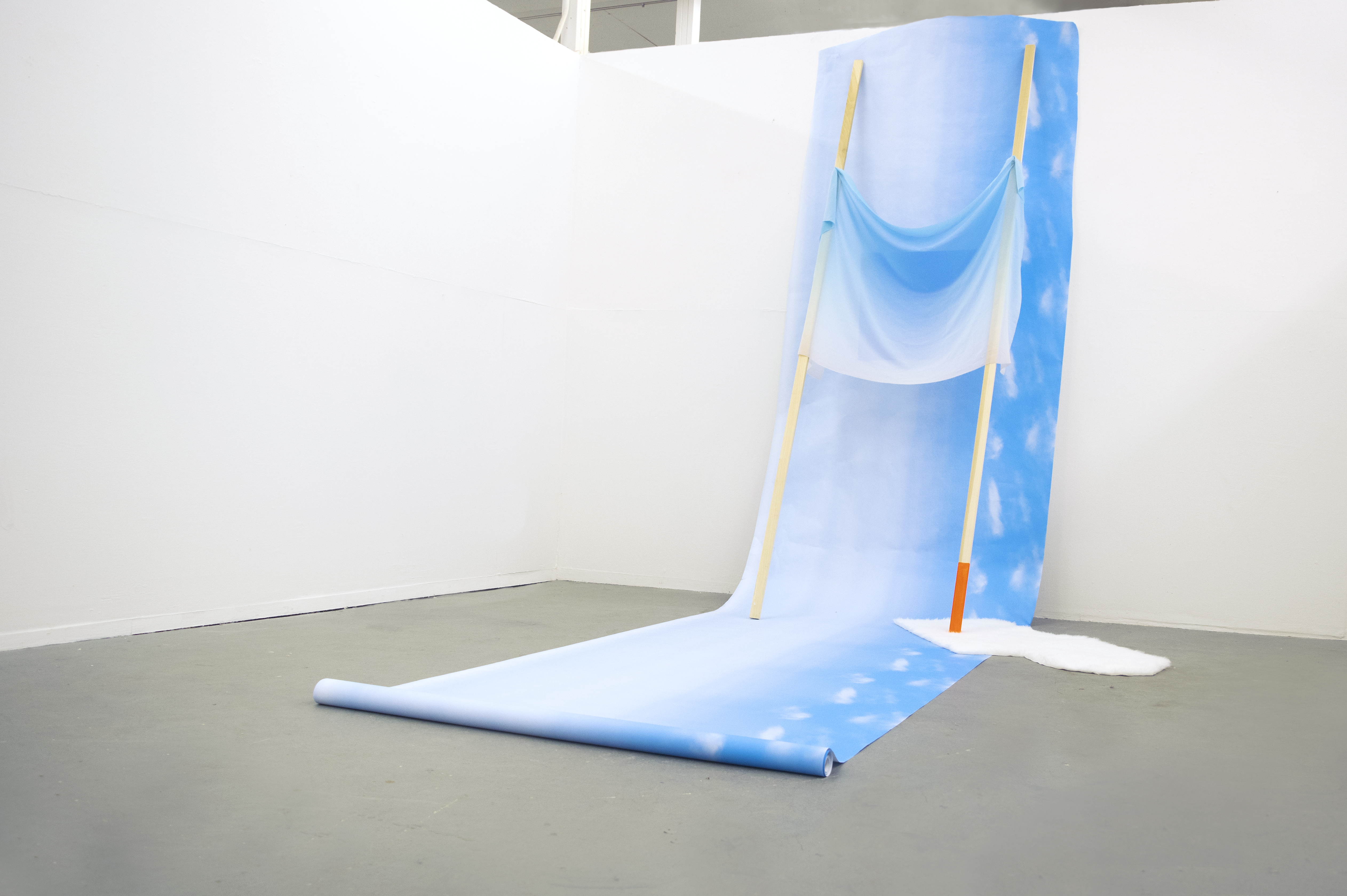 This is an excerpt from Sight Specific's studio visit with artist Molly Markow. Presented through Sixty Regional.
In her recent works, Markow skillfully balances scenes of sublime natural (or "natural") beauty within the constraints of manufacture. These scenes–a white-sand beach with yawning palms, a fluorescent sunset bleeding across the horizon, a deep-green bed strewn with pillows of searing calendulas–provoke deeply-rooted physiological responses of the human subject in nature. But feelings of serenity, of tropical escape, or of wholistic unity (dasein, or being-in-the-world) are subverted by the infinite trappings of contemporary life: in Paradise (2018) the beach, printed on a Walmart shower curtain layered with a soft pink latex paint, is seen vaguely as rectangles where paint has not been applied, like disjointed pieces of an exploded puzzle. In Sun-baked (2019) the sunset, painted onto the plaster cast of the inside of a baking pan, is miniaturized to the size of a laptop that's been rotated into portrait mode (Given the vitriol of online comments when an uploaded video is shot vertically instead of horizontally, imagine the response if the sunset did the same…). In Garden Party (2018) the calendulas are printed in mirroring repetition on satin, wrapped within concrete, and slashed with hyper-saturated spray paint to resemble a hand-sculpted gnome hat or parking cone.
Markow began working as a printmaker and photographer, and her gift for composition and subject matter has withstood recent excursions into three-dimensional works and installations. She enjoys playing within the history of representation, such as "unpacking the cliches of sunset photographs." "In a critical context," Markow said with a laugh, "[the phenomenon of taking photographs of the sky] can be such a cheesy thing, but I love to do it, and my photographer friends love to do it. So what is it that makes it so appealing, and what's the implication of that?" Her larger works, such as #abovetheclouds #infinity #clouds_of_our_world #suns-spotters #sky #air #cloudporn #skylovers #skywatcher #nature #cloudlife #beautiful #skyview #visionclouds #cloudgazing #instacloud #smokescreensky (graciously abbreviated to #clouds) (2018), delight in the apparent subjective disconnect between our multi-sensory immersion in natural life and the flattened, ocular ingestion of a mediated image.
Read the full article on Sight Specific.

Featured Image: #abovetheclouds #infinity #clouds_of_our_world #suns-spotters #sky #air #cloudporn #skylovers #skywatcher #nature #cloudlife #beautiful #skyview #visionclouds #cloudgazing #instacloud #smokescreensky (2018). Sky-blue bulletin board covering paper, wood, blaze orange paint, faux fur, drafting film, photograph of the sky printed on chiffon. A roll of  bulletin board paper printed with an image of blue sky is attached to the top of the gallery wall and cascades onto the floor. Two wooden posts set on top of the paper lean against the wall. A piece of chiffon fabric, also printed with an image of the sky, is draped between the posts. The foot of one post is painted bright orange and rests on a piece of white faux fur. Image Credit: Molly Markow.
This article is part of Sixty Regional, an ongoing initiative by Chicago-based arts publication Sixty Inches From Center which partners with artists,  writers, and artist-run spaces throughout the Midwest and Illinois to highlight the artwork being produced across the region. This work is made possible through the support of Illinois Humanities, which is supported in part by the National Endowment for the Humanities and the Illinois General Assembly through the Illinois Arts Council Agency, as well as by contributions from individuals, foundations, and corporations.
---
Edward Breitweiser is an Illinois-based artist, musician, and writer. Incorporating models from various intellectual traditions and bodies of knowledge, Breitweiser organizes particulars (software, electronics, audio/visual signals, text, networked distribution channels, improvisational music, performative activities) into arrangements whose products are the macro-result of the emergent interactions of all components at once.
His works have been presented at Festival MusicAlp (Courchevel, France); Network Music Festival (Birmingham, UK); the School of the Art Institute of Chicago (Chicago); Illinois State University Galleries (Normal, IL); MobileHCI (Stockholm); Salle Cortot (Paris); threewalls (Chicago); the Giorgio Cini Foundation (Venice); Illinois Wesleyan University (Bloomington, IL); the Fuse Factory (Columbus); and the McLean County Arts Center (Bloomington, IL).