Review: We forgot the moon while holding up the sun
Kelly Kristin Jones brings the faces of racism and white supremacy to light under the cover of darkness.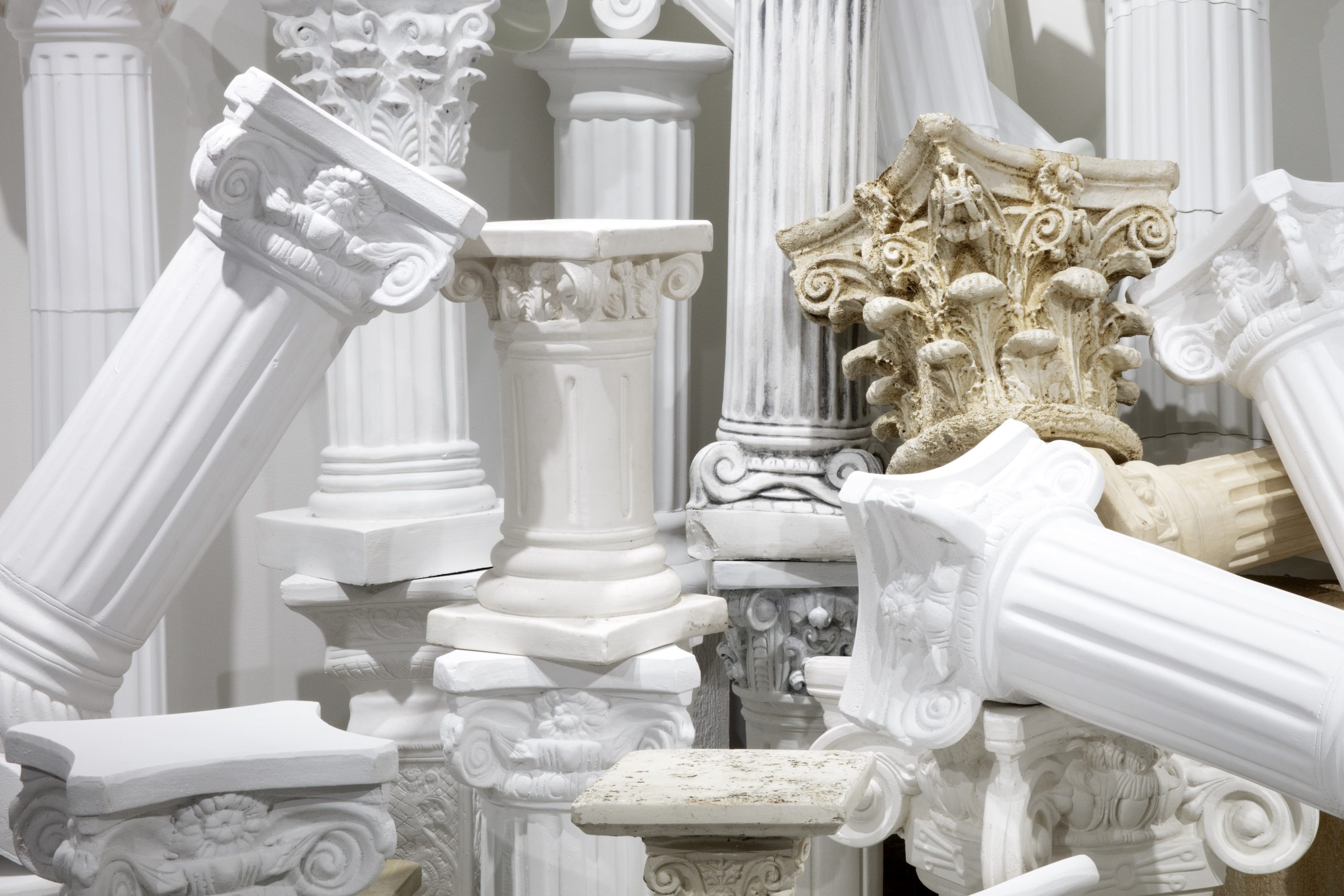 If you are familiar with the work of Kelly Kristin Jones, then you know that her work is all about contested monuments. Through physical intervention by way of her body, printed photographs, and digital tools, she disrupts and alters our view, blocking controversial public monuments from our sightline so as to literally and conceptually change our perspective of what these monuments represent. To memorialize is to signal value, and the monuments that Jones has engaged with, such as figures like Christopher Columbus and Ulysses S. Grant, are quite literally put up on a pedestal.
What are these bronze sculptures if not markers? Markers of location, markers of historic events, and markers of whom we have decided have enough value to be remembered—along with the principles they stood for. Living in a highly-populated area like Chicago, we witness countless of these monuments all over city parks and other public spaces.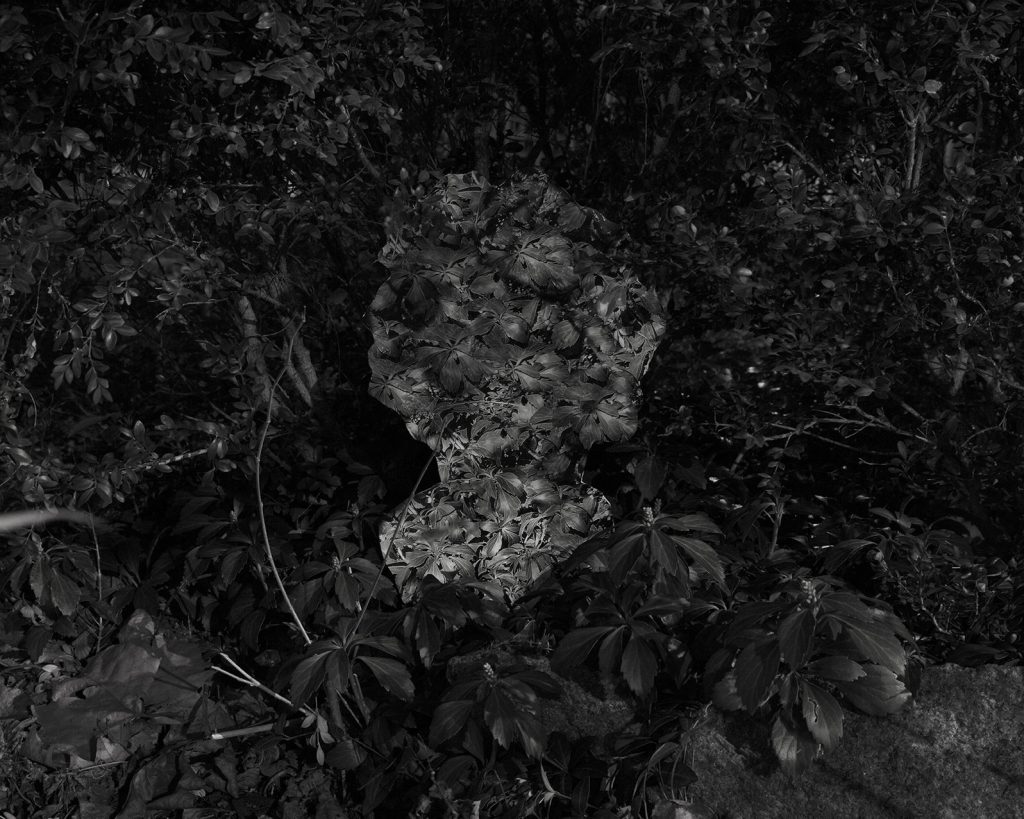 In Jones' exhibition at 062 Gallery, we see a quite notable shift take place in her work. This shift is as subtle and poetic as the title of the exhibition; We forgot the moon while holding up the sun. The sun and moon are related, they are two sides of the same coin. This body of work is a sibling to the artist's previously mentioned work, a sister that is hidden in plain sight. She is cleverly masked in architecture and design, obscured by location. Yet, to quote the photographer Claude Cahun, "Under this mask, another mask. I will never finish removing all these faces." While Jones previously looked for the not so covert, systemic racism embedded within extremely public monuments in urban areas, she now turns her eye to the not-as-populated areas, in not-so-obvious places. Her lens is squarely pointed towards the domestic, private spaces as subtle markers of not only figures in history that have upheld racism, but also markers of something larger: signifiers of Western, European wealth, false superiority, and as the makers of the "highest" forms of art.
In We forget the moon while holding up the sun, Jones brings these faces of racism and white supremacy to light under the cover of darkness. All of the photographs in the show are in black and white and were taken at night. Aesthetically, this gives the photographs an eerie mood and lighting. Logistically, it was easier for the artist to take these photographs while hidden by the night.
For each piece, Jones first takes a digital photo of one of these markers, which include a neoclassical lawn ornament in a shape akin to a Grecian vase, rocks with bronze plaques on a historical site, and a house with large, white columns. She then manipulates the photo digitally with the cloning tool in Photoshop until the marker disappears. Then, this new image is physically printed, and the artist ventures once more into the darkness to physically install this photo in front of its counterpart. The final photo is then taken.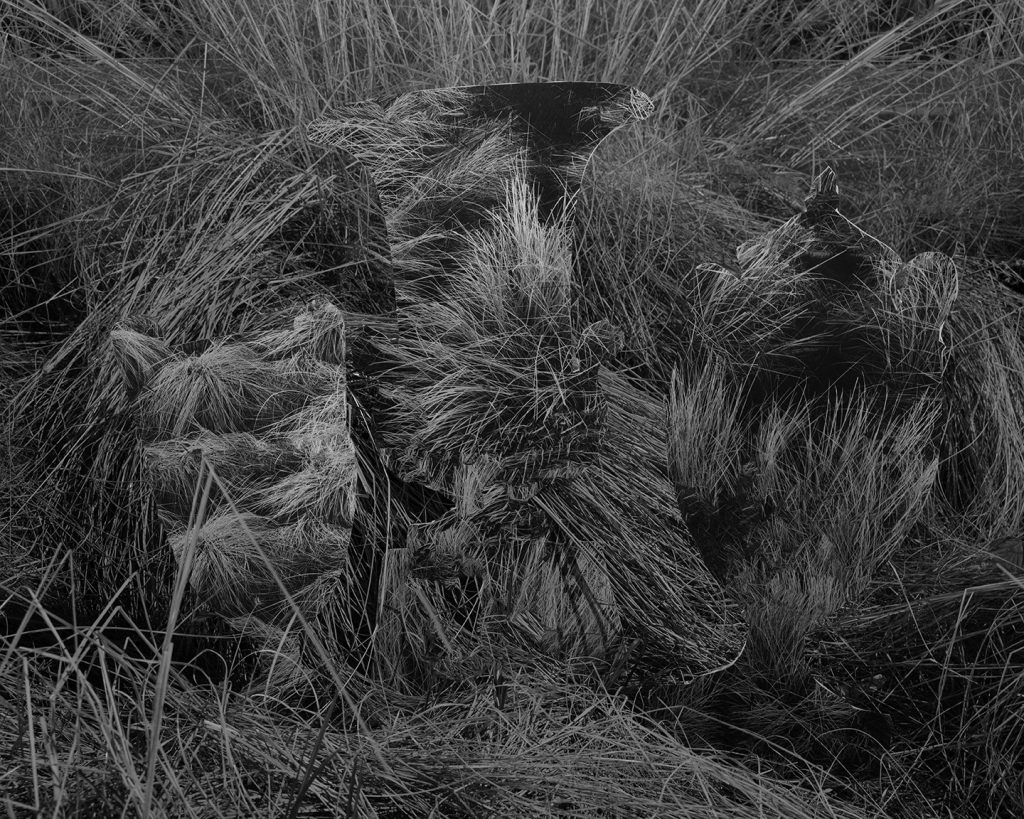 What the viewer is left with is a photo of a photo, one that physically blocks our view of the object, seeing instead what is behind it, such as leaves, sky, or trees. The series is clever in this way, creating a trick of the eye, with details telling you that something is amiss, something is off. Yes, something is off, and Jones brings these troubling markers to our attention by removing them completely.
Creating these photographs at night adds a specific element: a hint of political rebellion. Historically, when covert political parties had to meet in secret, they met at night. In this, the viewer gets a sense of protest, a sense of strength in the political action in Jones' photograph-taking while veiled by the night. The title We forget the moon while holding up the sun points to this very secrecy and element of concealment.
Urban areas like Chicago are filled with large, towering monuments that prop up blatantly obvious historical racism and have been propelled into debate since last year's civil unrest. However, the monuments, markers, and signifiers in Jones' new body of work presently stand without contention—they just show up in a different way. While looking at the sun, while trying to pressure the city to take down these contested monuments, we forgot the moon—the more subtle objects that Jones has captured in her nighttime images.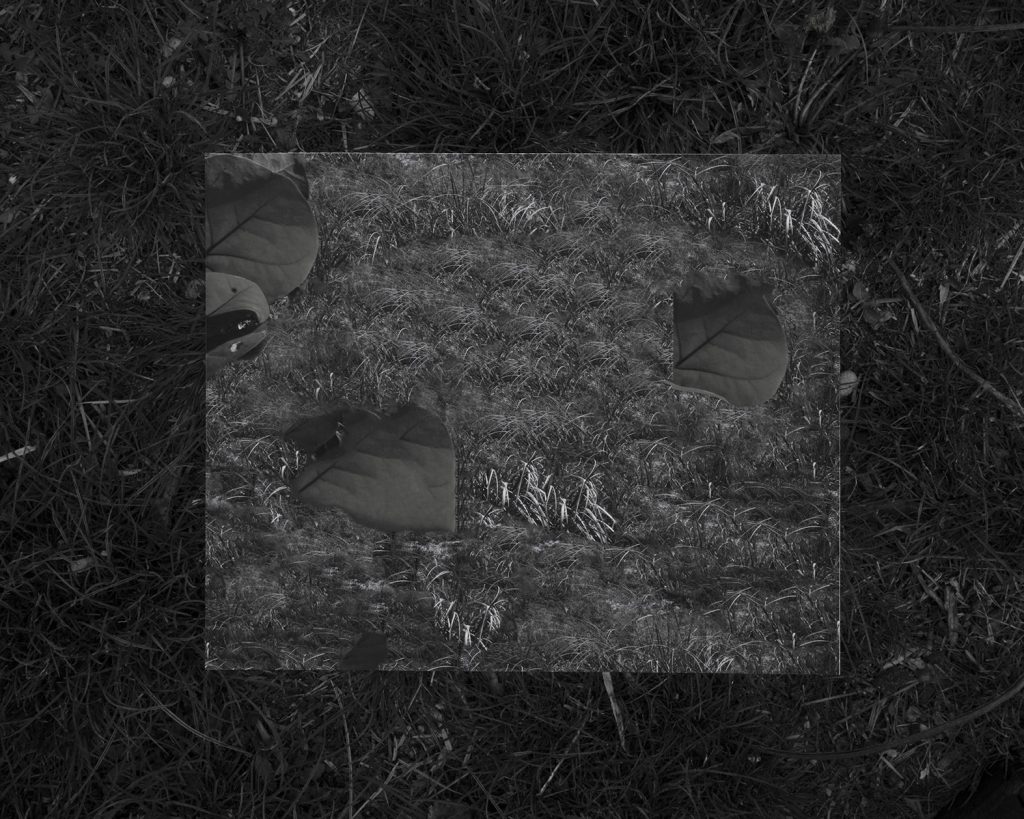 All of these objects and architectural details that are captured in this series are on private property, but they are still in the public eye. Take the white column, for example—a prominent element in Jones' exhibition. It is placed on the outside of the home for all to see. It is on either side of the front door, so that guests have to walk through in order to enter the home. They are always white, so as to appear like marble. These are not structural columns; they are purely decorative. Jones asks us, why are we drawn to these columns? Why does our 'taste' (and I used that term loosely) point us in their direction?
In a corner of the gallery, the artist has created an installation: a stacked pile of cheap, decorative columns. They are plastic and light—they are just for show. To drive home the false value these columns have, Jones has thrown them upon one another half hazardly. These columns are no symbols of glory, no symbols of wealth or cultural value. They are the scraps of white supremacy.
Columns are so often used to represent power, whether they are on the facades of banks, of government buildings, and, yes, on the Art Institute of Chicago. They are in essence, gates, signifying the superiority of the white authority: white, European wealth and culture. Jones targets this architectural device and interrogates our reasoning for seeing it as high art/architecture, revealing and then destroying the column in one fail swoop. Once put in the light, they are burned by it.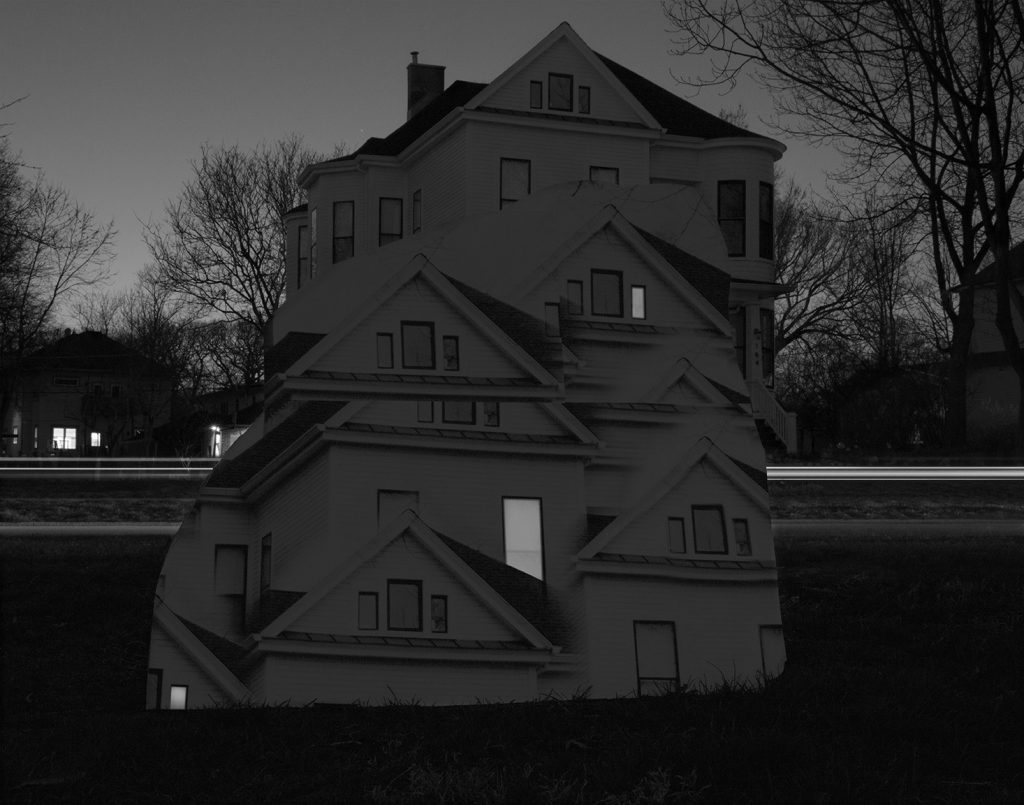 Looking at this pile of white plastic, I think to myself, where did the artist find them all? Upon visiting the gallery, Jones told me that she found them all on Facebook marketplace—all being sold by white women. This is no coincidence. Traditionally, women have been keepers of the home, the domestic space has been deemed to be their domain. Therefore, they traditionally have been the ones to dictate décor and decorate the home and property. These racist ideals and hints of white supremacy appear in the domestic sphere, too, reminding us that white women have benefitted from systemic racism. 
It is no secret that we place higher value on European art and culture—a racist ideal, no doubt. Yet, this hierarchy still stands in our culture. It comes as no surprise that the 45th president drafted an executive order titled "Making Federal Buildings Beautiful Again", which detailed a plan to model all federal buildings after "classical architecture of democratic Athens and republican Rome." It is clear what we are signaling by using details from this neoclassical style on banks, universities, and museums—we are saying whom we think belongs in those spaces, and whom we think does not.
Racism is insidious; it is forever posing as something else, hiding behind the idea of taste, the notion of class wealth, or the desire for power. One monument is taken down, yet a different kind of monument lurks in private, domestic spaces. We must be diligent in extinguishing its masks, because it may never finish removing all of its faces.
We forgot the moon while holding up the sun is on view at 062 Gallery from May 28 through July 23, 2021.
Featured image: A close up look at an installation by Kelly Kristin Jones. The installation is a pile of plastic, white, faux columns. Image courtesy of the artist.
---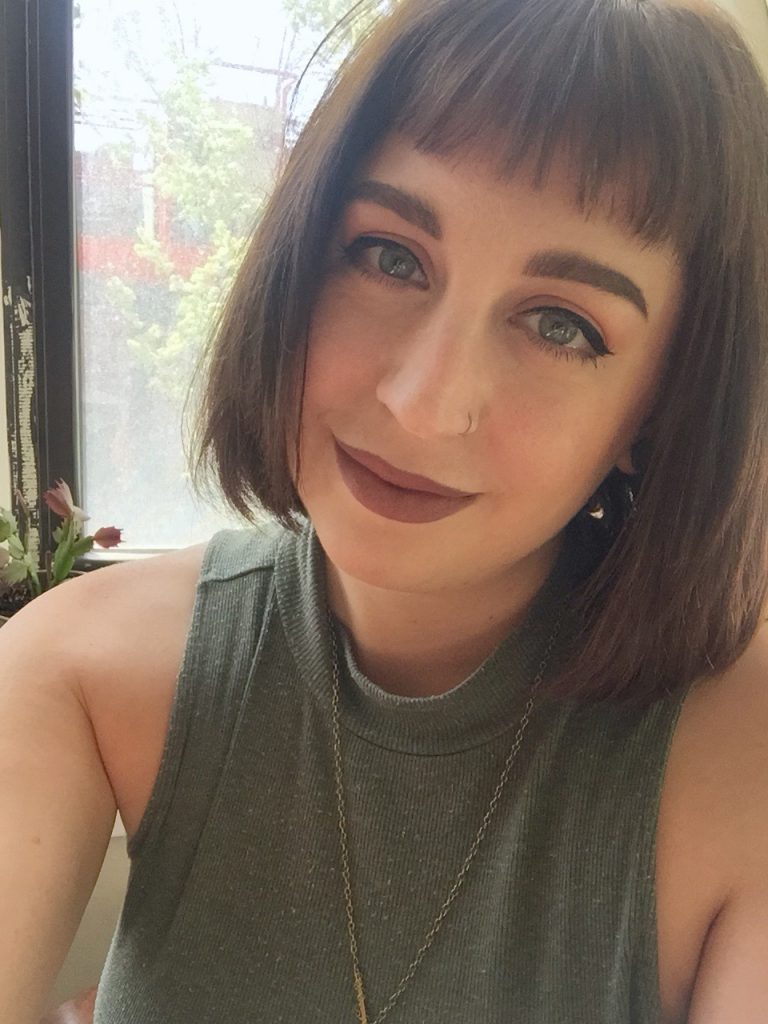 Christina Nafziger is an art critic, editor, and writer based in Chicago (occupied land of Ohklahomo, Potawatomi, Ojibwe, and Odawa people). Earning an M.A. in Contemporary Art Theory from Goldsmiths University of London, her research focuses on the effect photo collections and archiving have on memory and identity and the potential capacity these collections have in altering and editing future histories. Working with a collaborative approach to her editorial work, her writing investigates the work of artists with research-based practices and how they engage with archives.