Small Art, Big Energy: A review of Barely Fair
An exploration in parameters and scale: 95 sentences on 36 miniature art fair booths.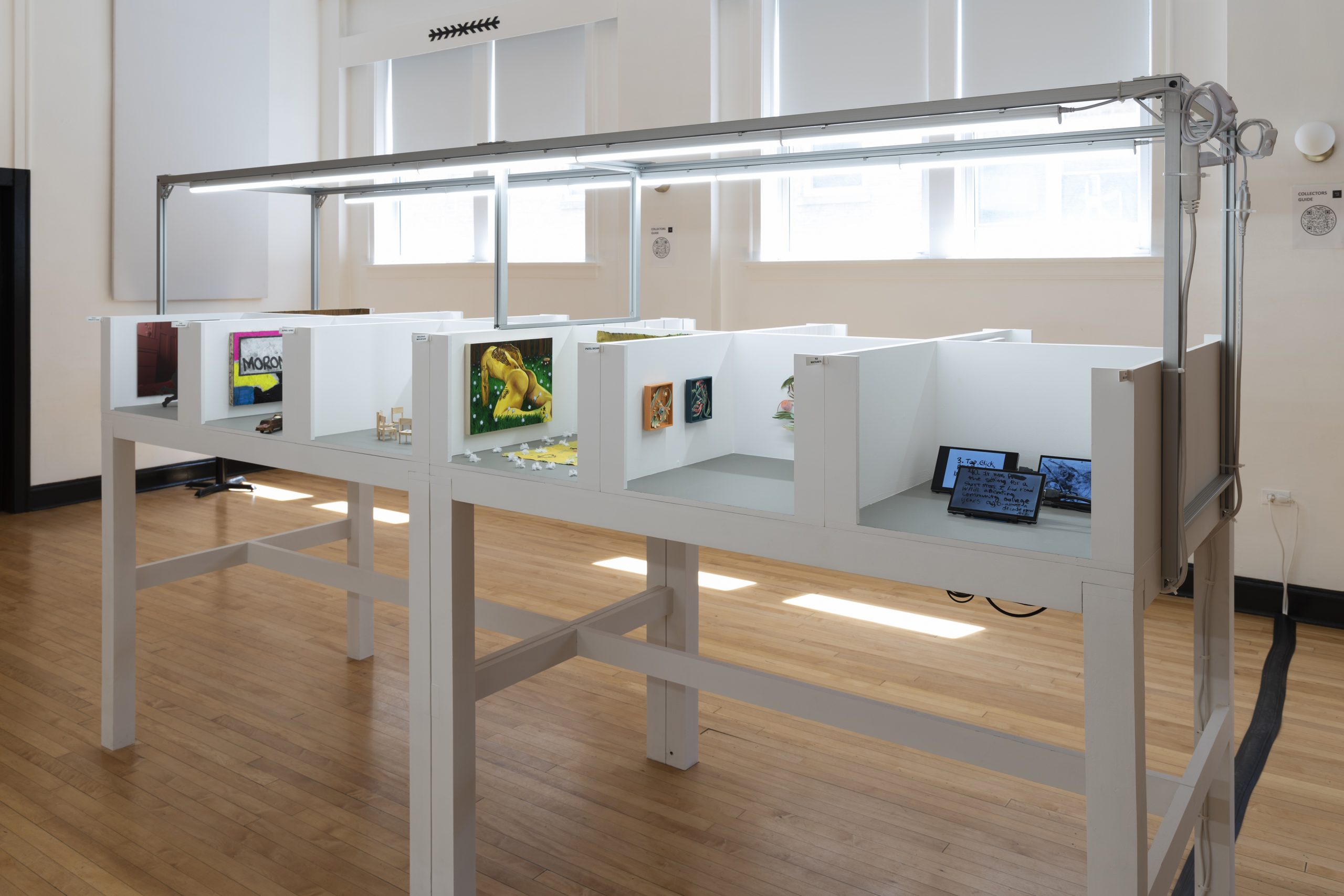 Barely Fair, presented by Julius Caesar, is quite literally and simply a miniature art fair. Overlapping with EXPO, 36 hyper-local and international art galleries and spaces presented works in "1:12 scale booths built to mimic the design of a standard fair."
Katie Sierzputowski, one of the organizers of the fair, explained that one of the main driving points behind the fair was to consider scale as a way to create access. Smaller scale ultimately means smaller booth fees and smaller budgets, which allows a wider range of spaces to participate without enormous financial commitments.
Sometimes parameters can open up new pathways, forcing your hand at a different method of creation. But how can scale be put into play within arts writing?
With this sentiment in mind, and in the spirit of Lori Waxman's 60 wrd/min art critic, I have attempted to 'review' each booth in the 2023 Barely Fair, writing with a self-imposed constraint of three sentences maximum.
Scale here equates to length, and as a long winded person, my hope is that this "short" experiment compels a different way of writing and thinking, one that can reveal more pointed and intuitive ways of feeling, looking, and digesting.
Barey Fair was on view at Color Club in Chicago from April 14-23, 2023.
---
4th WARD PROJECT SPACE
Chicago
Adrian Wong offers us three works in three colors: greens, oranges, and yellows. Resembling frozen veggies, I regret missing the moment this food comes to life in a performance by none other than a live turtle having a healthy snack.
56 HENRY
New York City
Sometimes less is more, and sometimes we don't need another penis. All that hangs in this booth is a soft pink penis by Al Freeman; soft because it appears to be made out of felt and because the bush is incredibly fluffy. I can't help but find this piece of soft sculpture somewhat endearing due to its fun texture and fun-sized scale.
ADDS DONNA
Chicago
Take a standard of art and shrink it to size, and what you get is not simply small-sized art, but art that looks truly miniature—like it belongs in a model house. I was drawn to Kate Casanova's organic sculptures for this reason. Complete with miniature cinder blocks that hold up one of the pieces, the artist's pieces were visceral, intestine-like, and powerfully compelling.
ANTHONY GALLERY
Chicago
Wistful graphite drawings of an ethereal figure peering through wilting flowers. Who is she? Empty eyes open, letting us see ourselves.
APRIL APRIL
New York City
A circle of small wooden chairs face each other amongst bare walls. The graphite drawings are not hung, but lay atop each chair, showing an object on each seat, magnifying the presence of absence. There is no one in the empty room but us.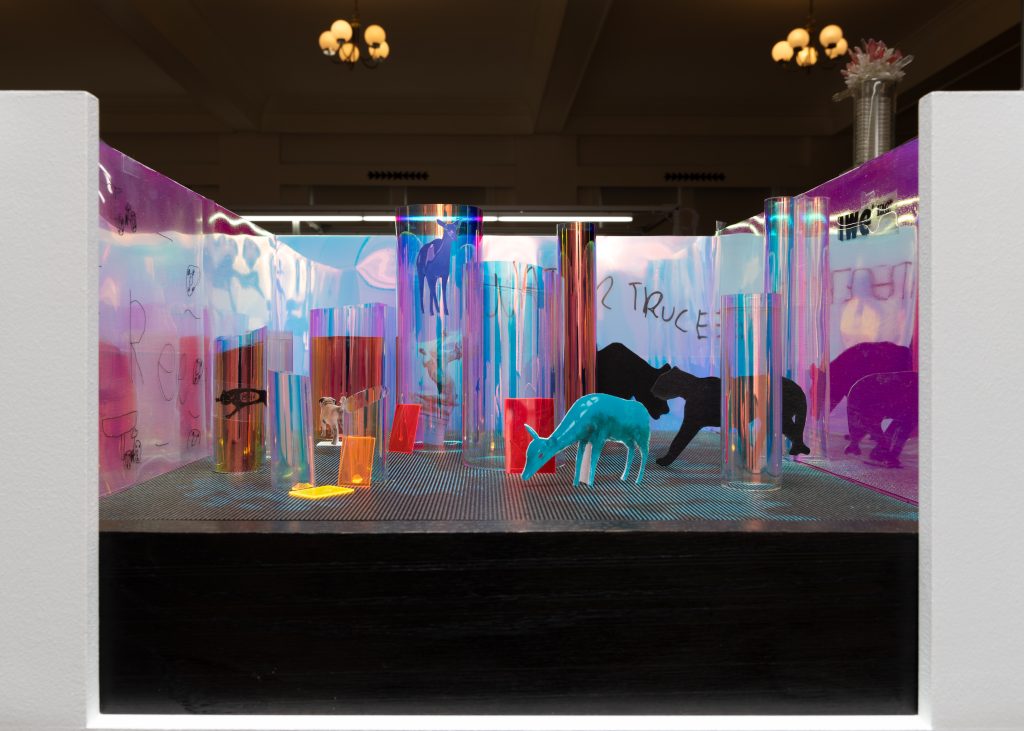 BASKETSHOP
Cincinnati
Truly a stand out in the fair, the work of Jamie Rabin and RD King literally lit up the booth through a system of lights that make up the booth's floor. Blues and magentas move across the booth and bounce off of the iridescent pillars and walls. The result: a mesmerizing pseudo-futuristic forest complete with grazing deer. 
COB GALLERY
London
Artist Victor Seaward beautifully used a minimalist approach to his advantage in this deceptively simple yet effective installation. A moldy piece of bread slumps against the wall with a fly sitting on top, while a sparse array of slender daisies are poetically arranged to the slight right. Life and death, growth and decay.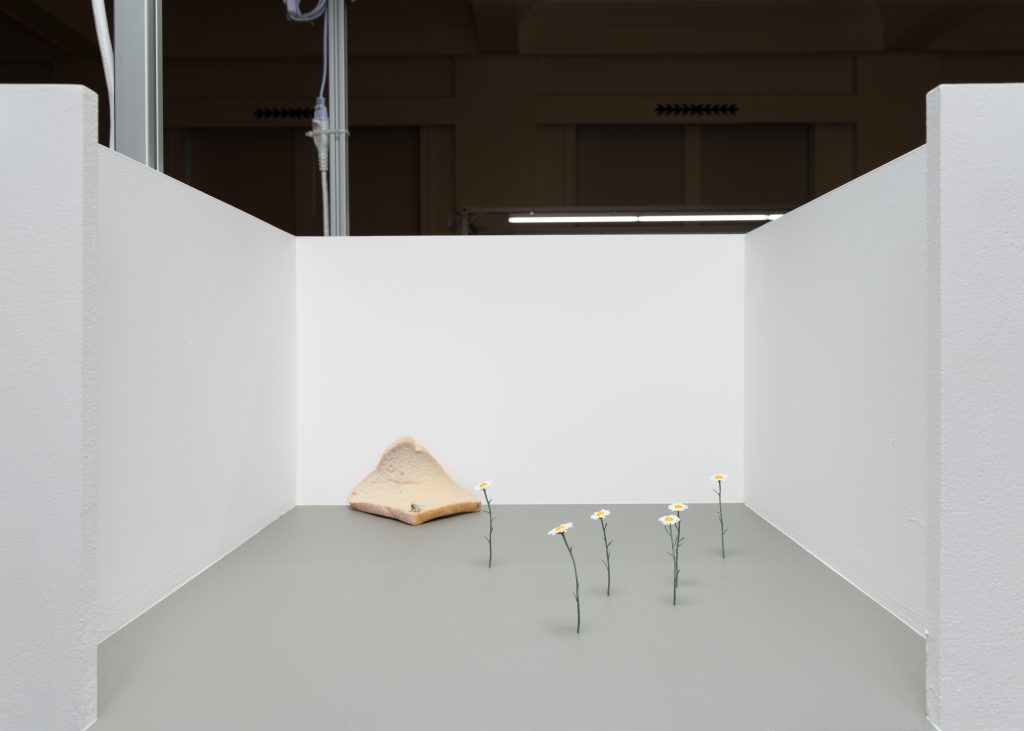 CORBETT vs DEMPSEY
Chicago
Presenting nine etchings and one bronze sculpture by Jimmy Wright, the scale of each piece in this black and white arrangement truly demonstrates the artist's skill as a printmaker. This booth is a perfect example of how scale—and therefore price–can perhaps offer folks access to purchase a piece by an artist they otherwise would not be able to afford (I still can't).
FLYWEIGHT
Brooklyn
The sheer craftsmanship on the walls of this booth is something to admire. Each wall contains various rounded cut outs, forming windows to peer in and see what appears to be 35 mm slides of photographs lit up from behind by Yael Eban—a clever and striking way to display these small images. And the sculptures of stacked burgers by Jeni Emery are just as impressive as they sit on metallic silver floorboards that cast reflective light across the space.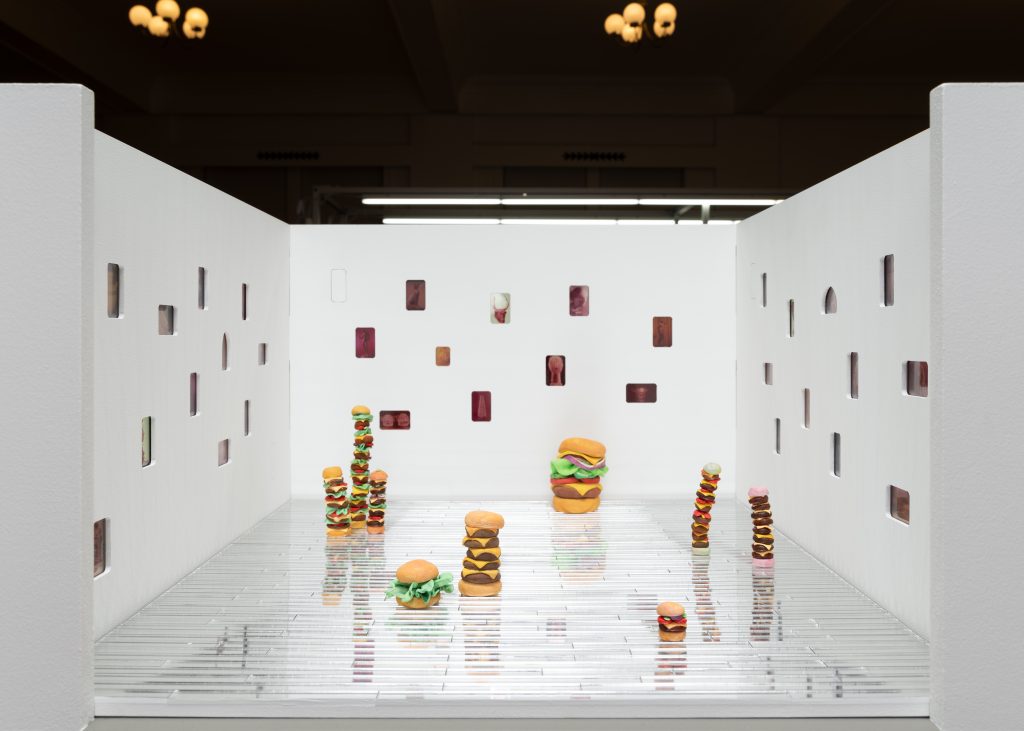 FOXY PRODUCTION
New York City
Erin Calla Watson gives us strong nightclub vibes with silhouettes of femmes that are doing their thing on the dance floor, while in the background, monochromatic and chrome-like red images of a bedroom cannot be deciphered as real (photographic) or digitally created. When there is joy, what does it matter what is real or constructed?
GOOD NAKED
New York City
A stunner of a group show that includes works on paper, wall sculptures, three-dimensional figures, paintings on canvas, and more. I'd gladly take home any one of these ultra-tiny masterpieces, but the star of the show stands in the middle of the booth: a neon-green human form that has been stretched and contorted so much that it is almost something else entirely. Alter the shape of the human body, its color, its facial features, and it may change what we see as human.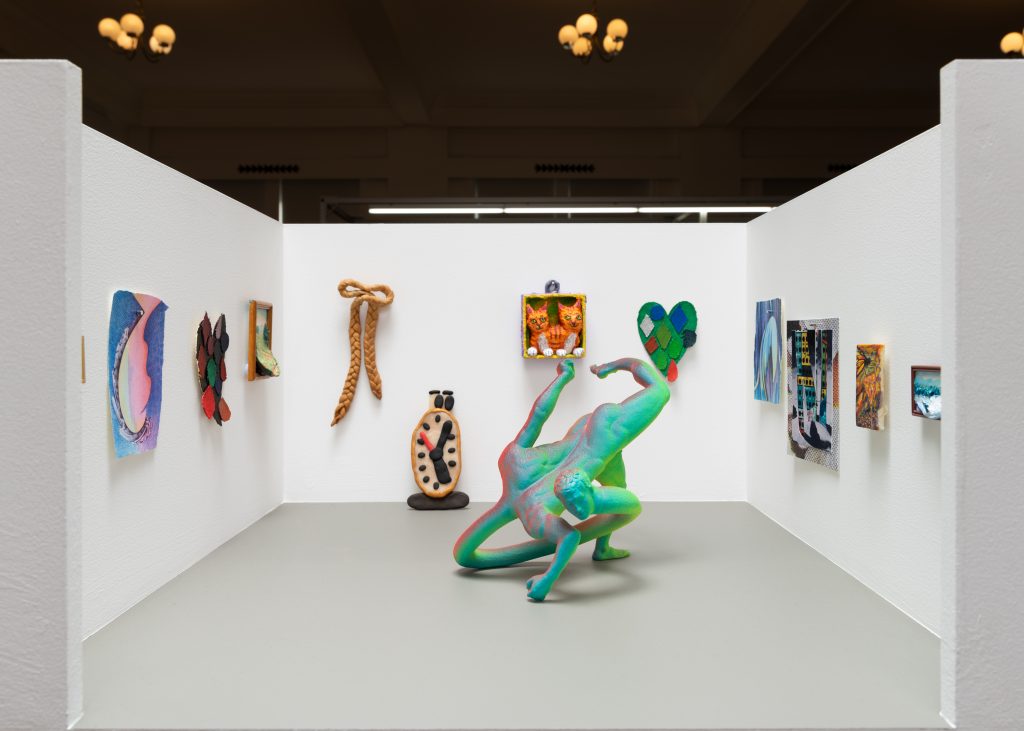 GOOD WEATHER
North Little Rock, Chicago
Jacob Goudreault's artworks are playful and vibrant, ranging from a gestural abstract painting to a green smiling wall sculpture. A little on the sparse side, I would have liked to see more works by the artist.
GROVE
London, Berlin
This group show of paintings and sculpture contains various everyday objects with a seductive twist. A coffee cup with a cigarette inside; a glass with a juicy red lipstick stain. Remnants of intimate moments, relics of interior life, breadcrumbs to human connection.
HARLESDEN HIGH STREET
London
Ugly wall-to-wall carpet and wood paneling—–welcome to the 90s! This booth has been transformed to embody a certain decade's aesthetics through the presence of familiar objects like a Windows desktop computer and tower. Paintings on the wall show pop-culture staples like Beavis (best friend of Butthead), making the display all the more irresistible.
HERE
Pittsburgh
Three unforgettable sculptural pieces by artist Matthew Zorn adorn the book: one hanging on the wall and two freestanding. Although created from earthenware and glaze, the pieces truly do not look of this world, with textures and colors that are both strange and exceptionally captivating. The artist says his work seeks to "define the relationships between disparate places—conscious and unconscious, delicious and grotesque, substance and shadow.
HG
Chicago
A group show with three different works that are dissimilar yet somehow naturally flow. A melancholic painting of a tree with red orbs, a concrete-like sculpture of a system of gears, and, what I was most drawn to, a cut out of a figure holding up a tower of colorful blocks.
KAI MATSUMIYA
New York City
Three screens show loops of seven animated films by artist Elliott Jamal Robbins. Using washes of black sumi ink, the artist renders a cartoon-esque figure in his film, collaging photographs and text. Robbins explains that the main character "retains a form that, at times, echoes a stereotype, or minstrel by way of early tropes in cartoon imagery, though he is neither."
LEFT FIELD
Los Osos
Three highly textural, nonrepresentational works by Allison Reimus bring to mind geometric patchwork of quilts and aerial views of the farmland as they reference routine, rhythm, and parameters.
LONESOME DOVE
New York City
A lot can happen when artists are forced to scale down. One of my favorite outcomes of this constraint resulted in the use of small found objects to construct tiny works that feel big, such as Patrick Mohundro's mini-sculptures. The artist fills the space with kaleidoscope-like glass bits, bread, a hammer, and more to create an explosion of playful color and strange forms.
MASSIMODECARLO
Milan, London, Hong Kong, Paris, Beijing, VSpace
Pop-art meets street art meets wall relief. Three works by Tony Lewis cover the walls of the space, each one sporting pops of neon, highly textured surfaces, and comic-like speech bubbles that say things like "LITTLE FAR.T"—a great use of humor and an even better use of layered materials.
MICKEY
Chicago
Although sparse, this display focuses on a single piece by Amy Stober. Deceivingly complex, the cast polyurethane and mixed media soft sculpture juts out from the wall at such an angle that the viewer is compelled to lean almost all the way into the small space. If the objective was to get us wanting to be as close to the work as possible, mission accomplished.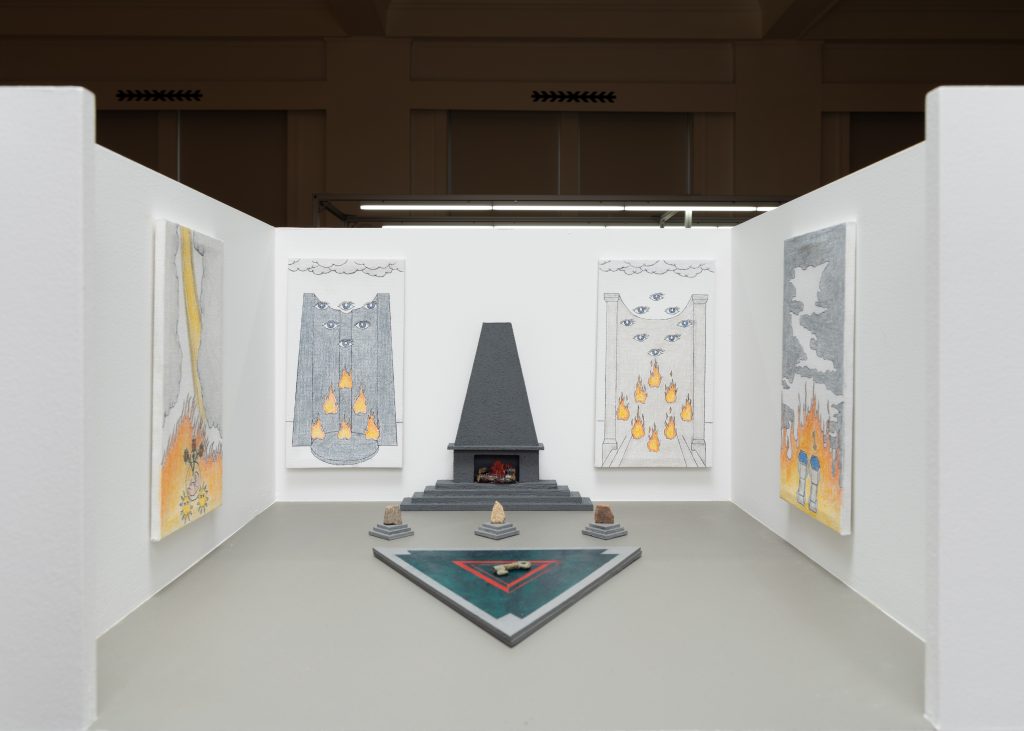 MURMURS
Los Angeles
Benjamin Assam Kellogg offers us a perfect combination of miniature artworks that are traditional in material and not-so-traditional in subject, with dollhouse-esque room fixtures such as a fireplace and step-like pedestals. Flames, eyes, and triangular figurations; with a completely symmetrical presentation, these unifying elements can be found mirrored throughout.
NOLAN JIMBO
(guest curator)
A soft and hard sculpture, like a rope moving through bones, stretches around this tiny gallery space. Created by artist Ed Oh, the center sculptural element lies on the floor like a reflection pool, referencing the grid-like monochromatic two-dimensional work that hangs above.
P.A.D.
New York City
This ultra tiny group show includes works by Blakey Bessire, Ryan Oskin, and Hannah Schutzengel. The majority of the two-dimensional works are no bigger than a key on a keyboard, with each textural square being hand-knit and woven paintings. The highlight—of course—is the (what would be) life-size blue dog.
PATEL BROWN
Toronto, Montreal
An incredible series of small works by Winnie Truong hang together in greens, blues, lavenders, and oranges. Creating each piece must be intricate, delicate, and patient work, as they are each made from precisely cut paper careful fitted inside shadow boxes. The work is both unique and beautiful, fantastic and whimsical flora that is not of this world.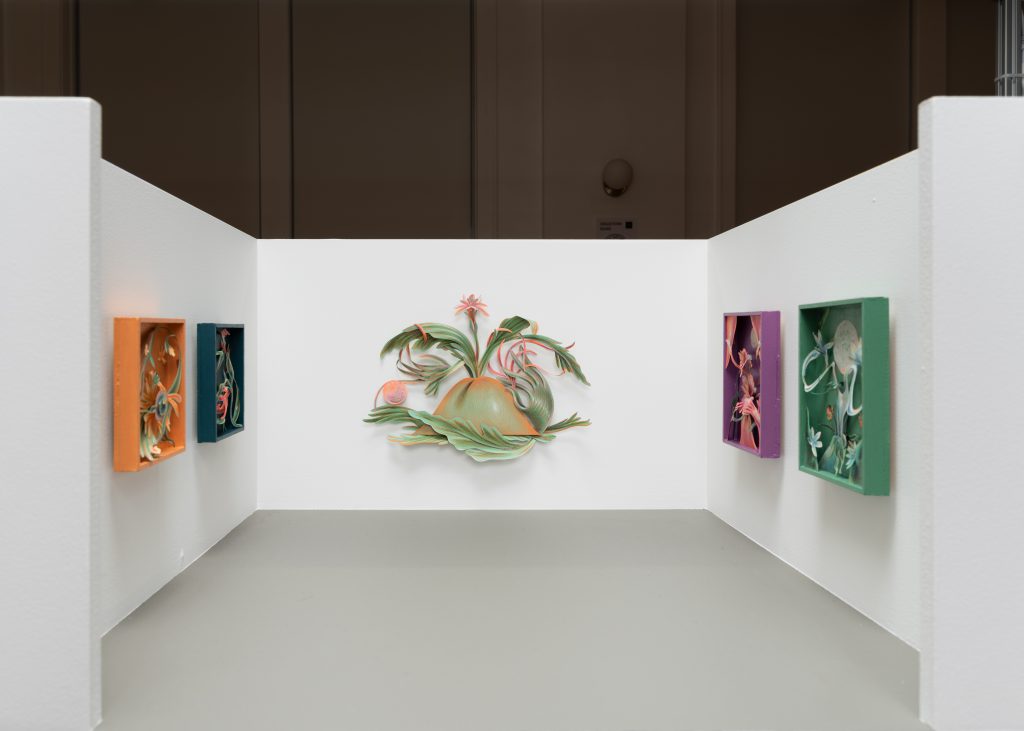 PICKLEMAN
Chicago
What can I say? It's the bean. (A miniature Cloud Gate by Anish Kapoor.)
PRAIRIE
Chicago
It pays to be bold! Monochromatic gold sculptures by Matthew Rutt sit on a fire-engine-red carpet. The color pairing is striking and seductive, bringing to mind themes of celebrity, excess, and glamor.
RIVALRY PROJECTS
Buffalo
An installation by Nando Alvarez-Perez engulfs the full space, transporting you from inside to outside as photos of a neighborhood place you out on the sidewalk in front of a row of houses and a building for sale. What the artist offers us is a shadowed vision of a de-industrialized city, or as the artists say, "an image of the end of a world."
SCHERBEN
Berlin
Graphite drawings (that somehow read as larger than life) render strange and crowded scenes with faces and bodies that morph and twist. Adjacent, a contrasting architectural drawing that hangs behind the furniture it nods to. What's left are paintings that appear to be of a subject that may have you looking immediately away…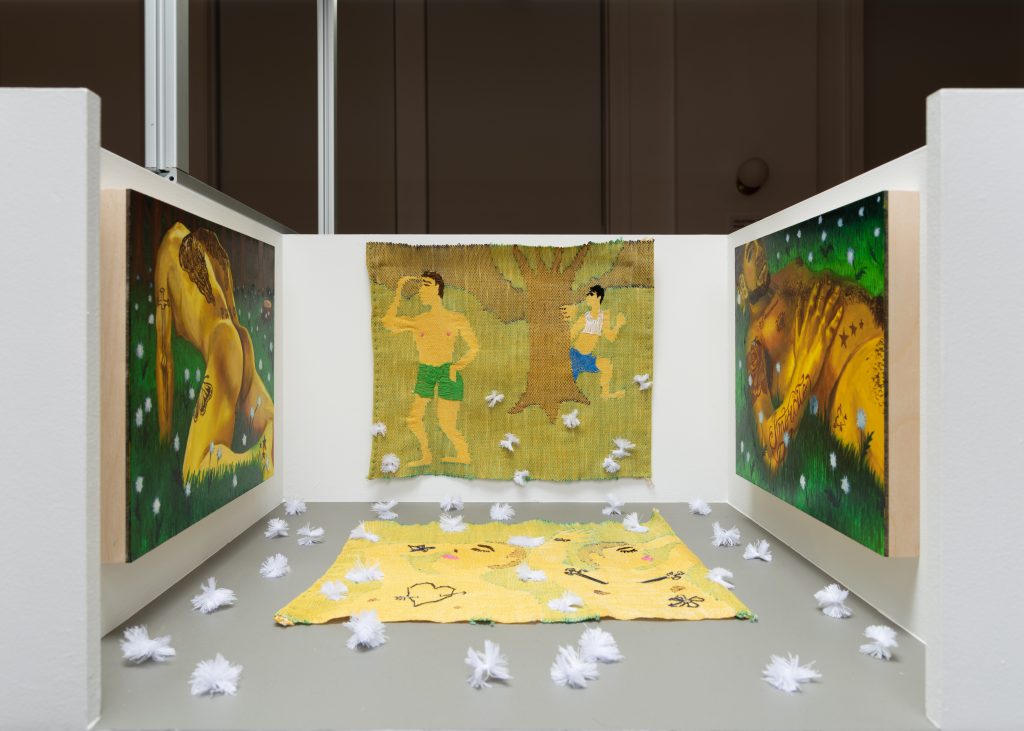 SELENAS MOUNTAIN
New York City
As some of the strongest works in the show, two paintings and two textile works by Juan Arango Palacios reveal tender and sensual masculine bodies. Almost entirely in shades of yellow and green, the figures almost seem to glow. On the floor sits a piece adorning tattoo-like forms, like the skin of the figures, with ethereal fluff scattered across the space like dandelion seeds.
SOCCER CLUB CLUB
Chicago
Artists Jonah Freeman and Justin Lowe created an unforgettable installation that literally and figuratively stuck out in this sea of (almost all) white-walled gallery spaces. Otherworldly forms bloom and crystalize in an all golden, all reflective space. Organic alien forms grow higher than the walls, which light up with a deep amber hues.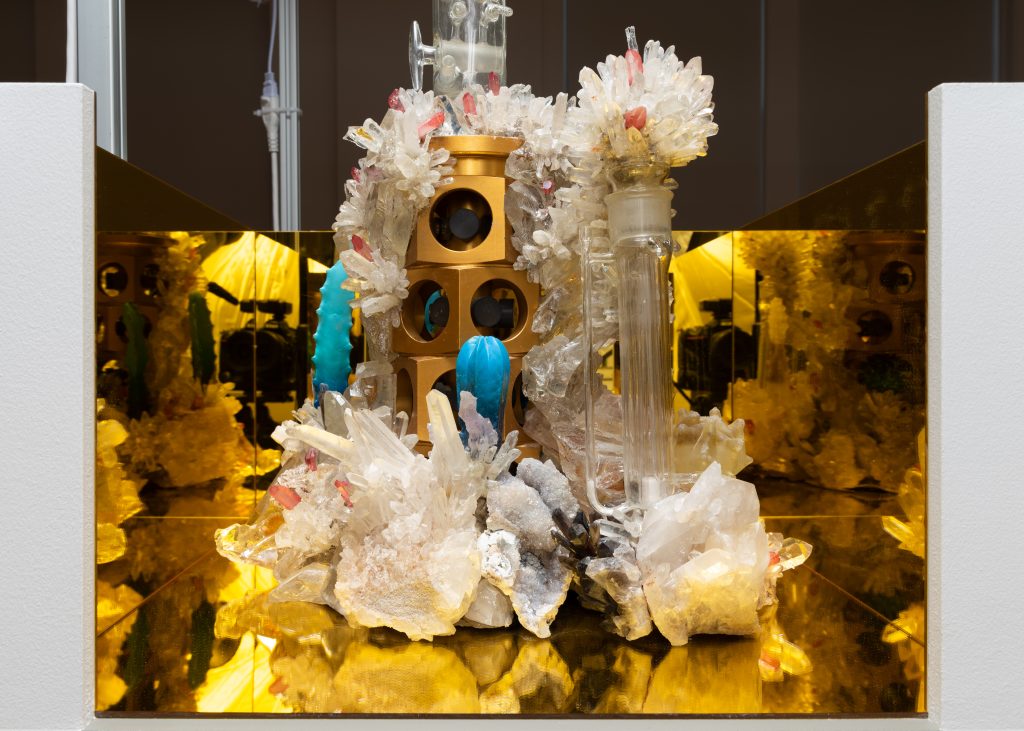 SPACES
Cleveland
What at first appears to be a black and white playful grid with curious plastic sensors pointing different ways quickly becomes a geometric cyber hell as the sensor begins sounding their alarm. Although I did not have the joy of hearing the sensors go off myself, I can still sense the chaotic, nonsensical nature of our hyper-surveillanced present.
TATJANA PIETERS
Ghent
Mae Alphonse Dessauvage's highly stylized figurative works reveal a simple moment between a girl and her ball. Together, the three pieces conjure melancholy and longing. Equally (if not more so) melancholic sculptures of fish by Charles Degeyter lay lifeless on the ground, with their insides on display for our viewing pleasure–insides that are real fish skeletons.
THE LATENT SPACE
Los Angeles
A simple concept can go a long way. Here, Sayre Gomez turns the pristine white gallery into a rusty, barren, despondent playground. This miniature scene serves to reference the artist's larger work, which portrays desolate urban spaces around Los Angeles, but with perhaps not so obvious elements of beauty and warmth.
THE SUBURBAN
Milwaukee
What are the odds that two spaces would show the same artist? Works by Tony Lewis, Josh Dihle, and Roland Miller are not quite connecting, but still compel you to observe closely the details that are worth slowing down for. Three toy-like, wooden vehicles combine wood and stone to create an interesting contrast that harkens back to a youthful time when one could be excited by small, ordinary things found on the ground.
TIF SIGFRIDS
Athens
A group of paintings by LA-based artist Joe Sola were supposedly on display—but no artwork could be seen. Was this intentional, was this a twist? If so, at the moment, this was lost on me.
*Addendum: Joe Sola did have artwork displayed in Tif Sigfrids' booth. The work was so tiny that the author missed it at the fair.
---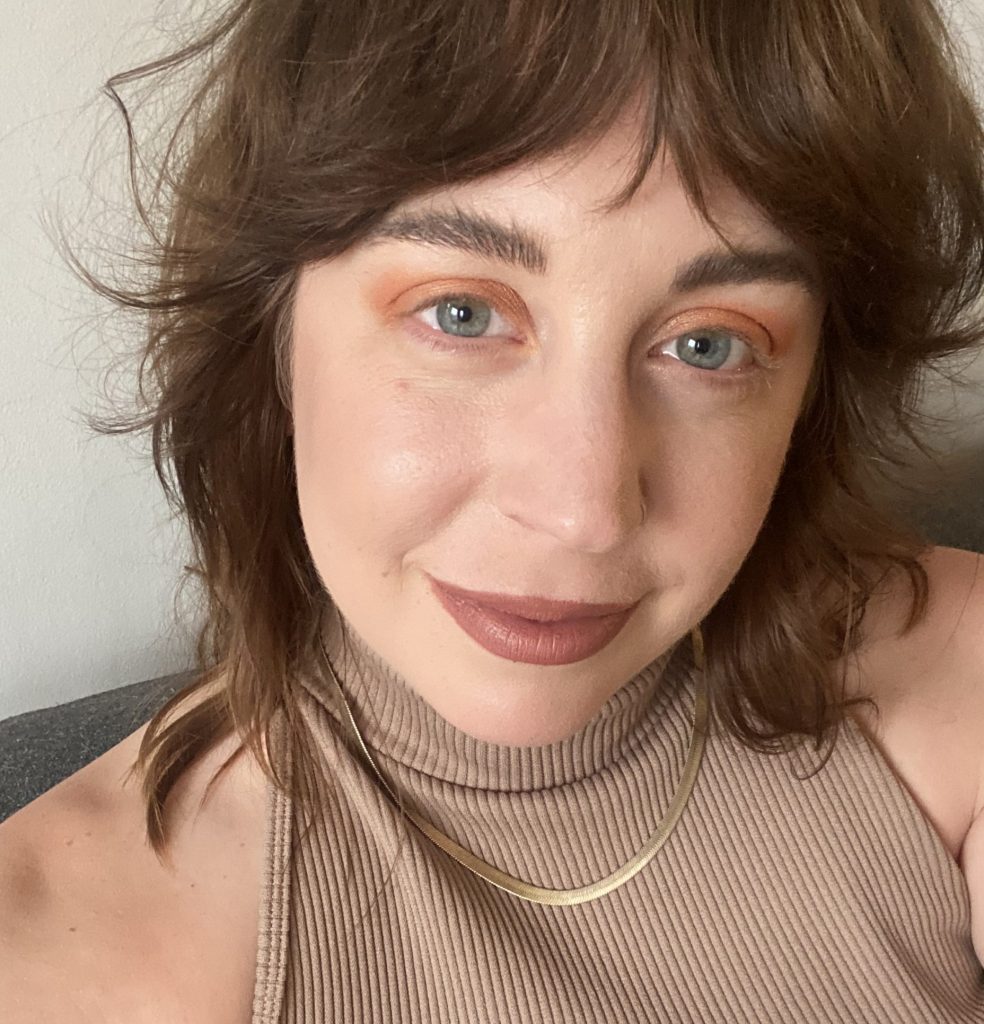 About the author: Christina Nafziger is an art critic, editor, and writer based in Chicago (occupied land of Ohklahomo, Potawatomi, Ojibwe, and Odawa people). Earning an M.A. in Contemporary Art Theory from Goldsmiths University of London, her research focuses on the effect photo collections and archiving have on memory and identity and the potential capacity these collections have in altering and editing future histories. Working with a collaborative approach to her editorial work, her writing investigates the work of artists with research-based practices and how they engage with archives.