Yae Jee Min's Gift of Wings
Yae Jee Min's abstract compositions offer viewers escape, refuge, and the potential to heal; above all, they transform.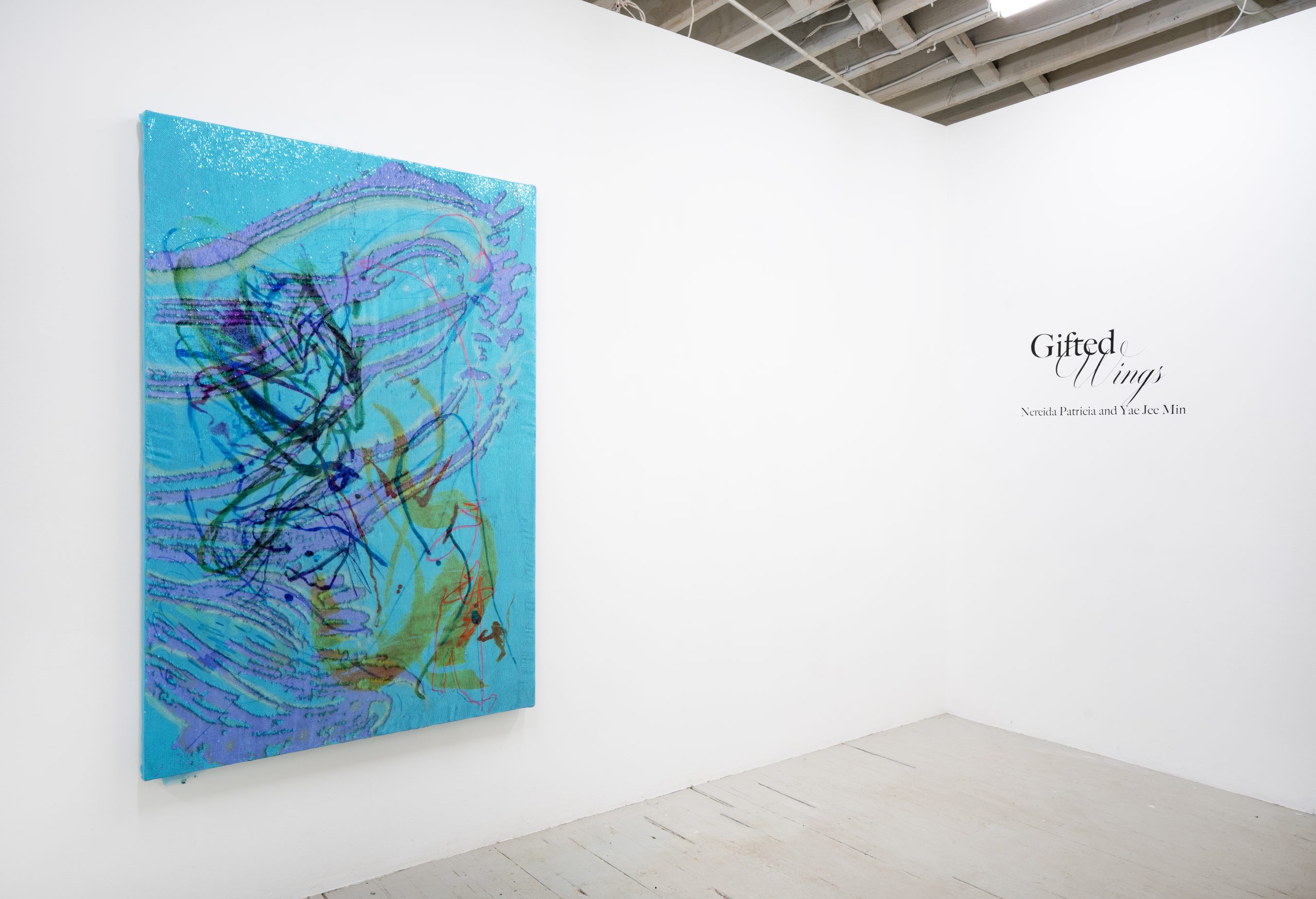 What are the gifts granted by wings? Wings take you to new heights, new territories and ways of being. They symbolize transformation, leveling up (if you are an angel), growing into a butterfly, becoming the being you were always meant to be. Wings give you power, protection, and the ability of flight: a pathway away, either out from a situation or into a holy destination. Yae Jee Min's work embodies all of the above, both/and, and much, much more in Gifted Wings at Jude Gallery.
Yae Jee Min's abstract and organic compositions shimmer with gestural marks, swirling with layers of sequins and fabric that range in opacities. When confronted with largely non-representational work, I admit that I sometimes have a hard time grasping onto anything concrete in their compositions. However, the opposite is true of Min's seductive canvases. The materials she uses alone are enough to stun me, staggered by the small, shiny details and innovative construction. In the past, Min has used slime, dirt, dust, fabrics, and soap as media in her practice. In Gifted Wings, she uses equally unique materials, such as sequins, nail polish, graphite, markers, thread, cloth, polyester, sticker outlines. The artist loves working with different materials, seeing it as an "exploration of color and texture."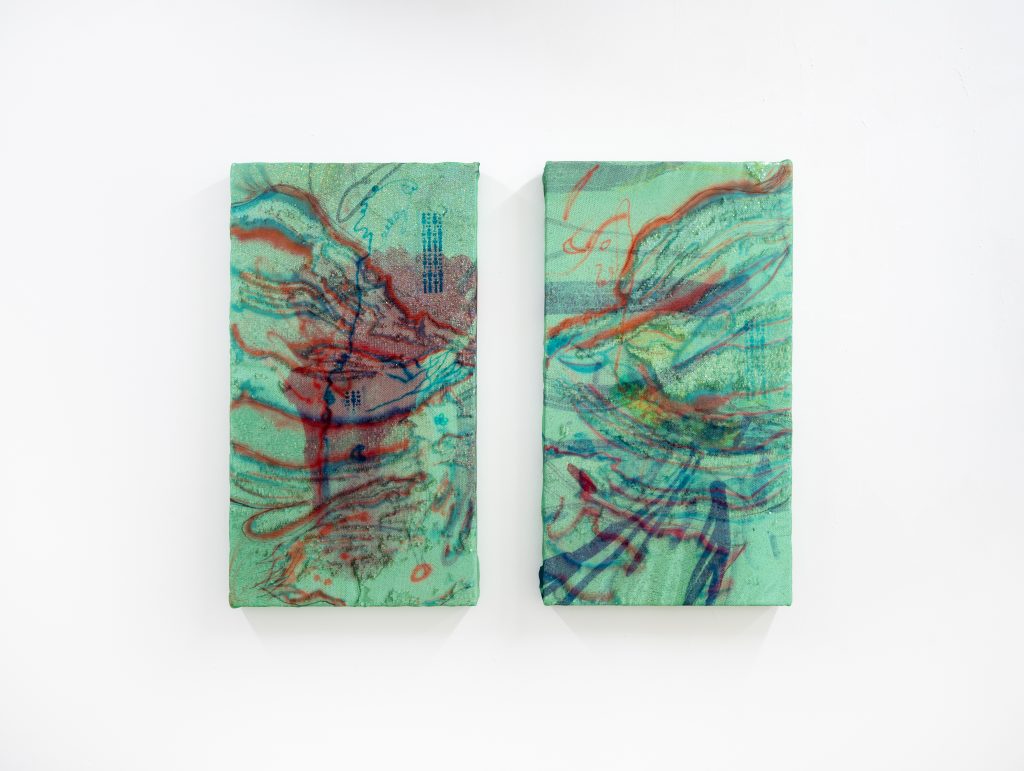 In front of Min's work, I am in a trance, absorbed; Min's compositions contain gestural marks that create vortex-like forms and engulf me in their gravitational pull. And as I am pulled, I am transferred—transformed. "Transformation is a must and natural part of osmosis," Min explains, "I believe transformation is ultimately finding selfhood. It is a way of discovery." Acting as a vortex, each of Min's works becomes an object that can open a door; like wings, they give you the power to transport yourself, allowing you to step inside and wade in the water of their calming chaos.
Her surfaces seemed to alter and mutate continuously as I looked—flames appeared one moment, while a pair of wings emerged the next. These details came forward, towards, and around me while, at the same time, drawing me in. But Min's work is about more than what the eye can see, more than what shapes I may recognize in her abstract works. They are a space for memory and nostalgia: a moment that visually brings you inward. For the artist, abstraction is like a diary. "It allows me to finally have a voice and confidence to support that voice," Min says.
"[Abstraction] allows me to traverse my whimsical fantasy [in order] to come to life. [It is a] mixture of dreamy storytelling and self mythology that falls within landscapes of my selfhood. I often abstract butterfly figures to show my inner world (psyche). To me, the butterfly is like the key in the map. It is a placeholder and guide into the fantastical."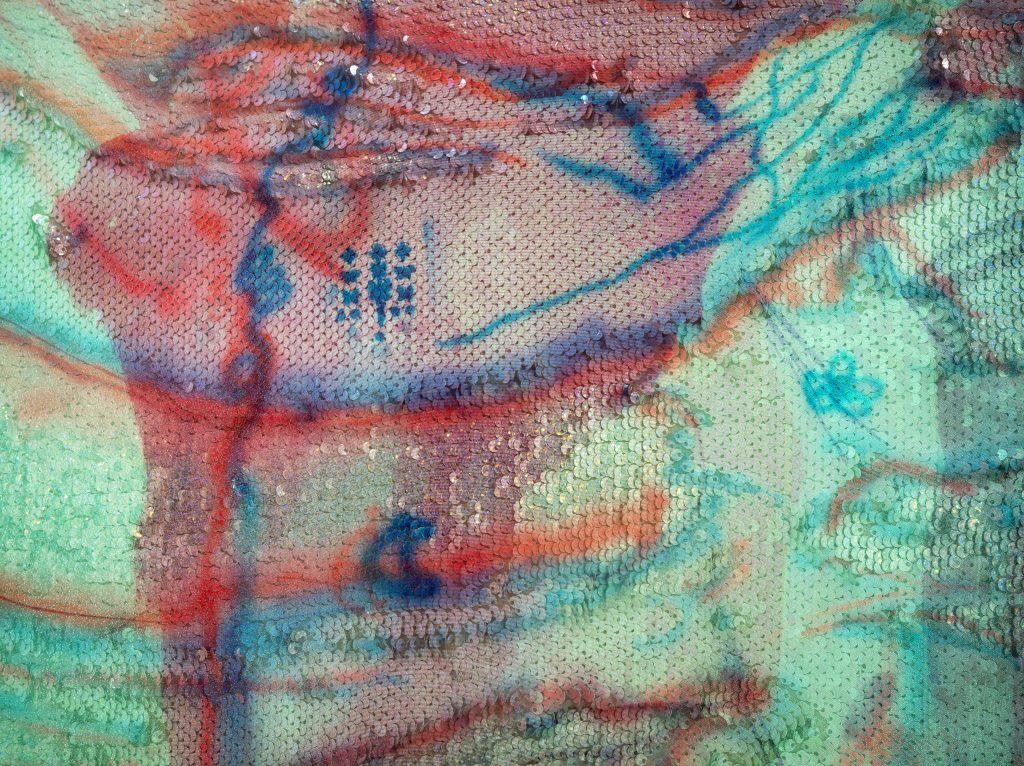 Throughout Min's work in the exhibition, wings can be seen and felt, used as a method of escape, an offering of refuge that can be used to heal and reflect. Her wings as a symbol have become synonymous with abstraction; they are both a means to transform and be transported. Through the use of playful, sparkling materials and by employing abstraction as a tool the artist transforms spaces and forms in an effort to open a door, to make way for us to find our inner selves.
Gifted Wings is on view at Jude Gallery in Chicago from January 20 through April 7, 2023 and features the work of Yae Jee Min and Nereida Patricia.
---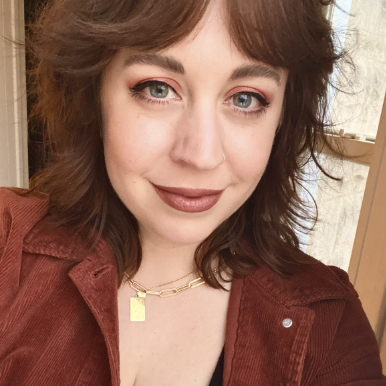 About the author: Christina Nafziger is an art critic, editor, and writer based in Chicago (occupied land of Ohklahomo, Potawatomi, Ojibwe, and Odawa people). Earning an M.A. in Contemporary Art Theory from Goldsmiths University of London, her research focuses on the effect photo collections and archiving have on memory and identity and the potential capacity these collections have in altering and editing future histories. Working with a collaborative approach to her editorial work, her writing investigates the work of artists with research-based practices and how they engage with archives.