Review: Em Kettner's Play the Fool, at Goldfinch
"Something is good not because it is achieved but because another kind of truth about the human situation, another experience of what it is to be human, in short, another…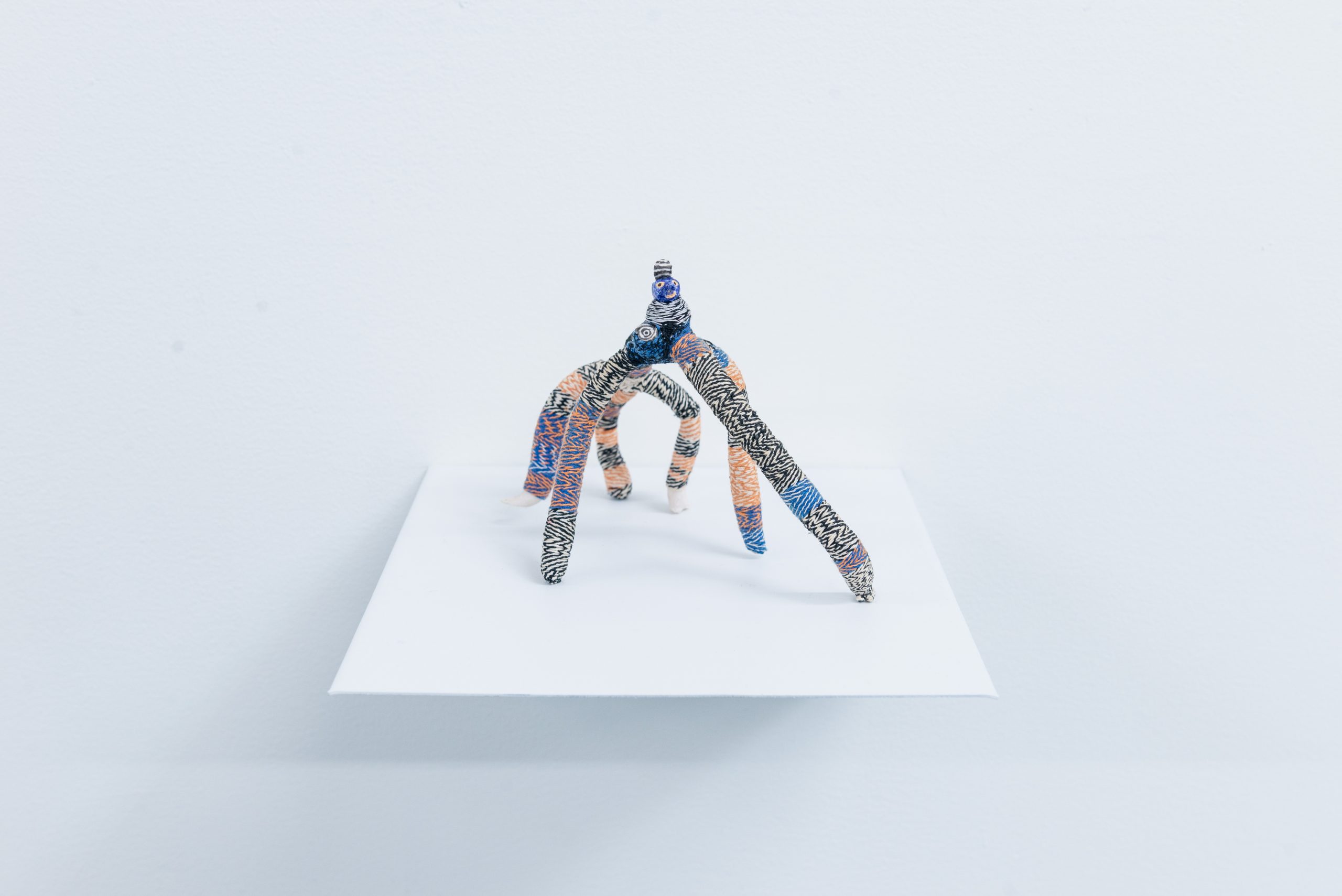 "Something is good not because it is achieved but because another kind of truth about the human situation, another experience of what it is to be human, in short, another valid sensibility, is being revealed." —Sustan Sontag, Notes on 'Camp'
If you don't look closely enough, you'll miss one of the 27 works on display at Goldfinch Gallery in Em Kettner's solo exhibition "Play the Fool." If you look too closely, you won't have enough time with each one. Overthink it and you'll miss something; rush through, and you'll miss something else. A performance of misdirection, "Play the Fool" eludes easy description, pointing to precisely what makes it sing.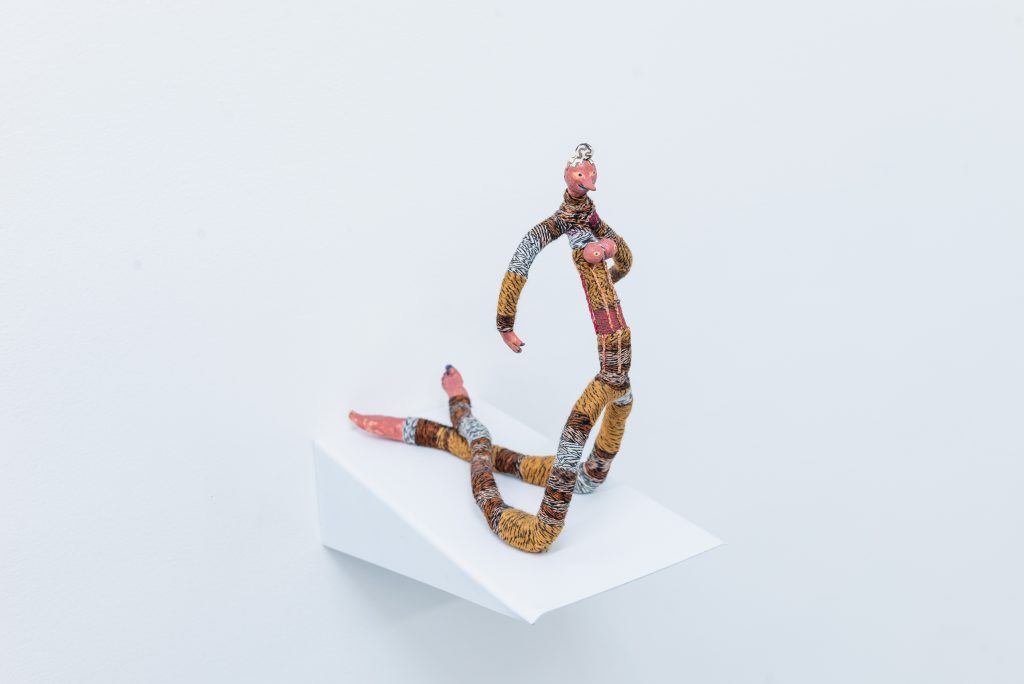 The porcelain figures could be cradled in the palms of your hands. They are the size of tchotchkes with the intricate detail of a talisman. To make out their facial expressions, you must narrow the distance between you to a few inches. Many of the faces gaze back at you or at their companions like they're about to spill the T (and you aren't quite sure you would be able to handle it). After you muffle a laugh at the circular little boobies that could very well be a second set of eyes on The Supplicant (I)—Wow, you wonder, it's been so long since you felt this giddy—you could swear another one just asked you, in a gentle lilt, to pay attention.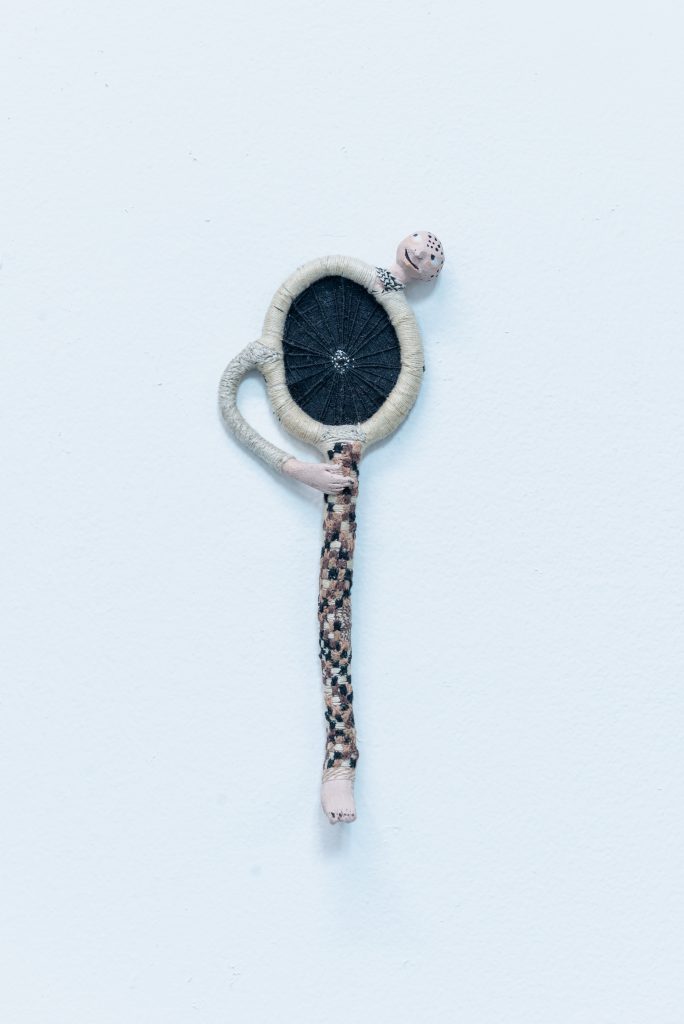 Subtly contextualizing the show, at the threshold of the larger gallery space there is The Mirror, a character in the shape of a hand mirror or magnifying glass who holds up their body to the viewer with a smile and sideways glance. As a character in art and literature, The Fool tends to operate as a foil, a mirror or a lens magnifying traits from lead characters or society. Even when they are fully fleshed characters, like Shakespeare's Falstaff, they exist in service to a higher echelon or power. The Fool can take the form of mystic, jester, beggar, vagabond. They typically exert influence where they would otherwise have little through their wit or anomalous traits, like their size. They are always outsiders, even when they are gods.
Sometimes The Fool is also physically or cognitively disabled; in some cases, the label of The Fool becomes a base cause for expulsion from a community. Both have been used to reflect or embody society's vices or ills, a lingering depiction. The Ship of Fools is perhaps the most prolific iteration of this idea, beginning with Plato's Republic and continuing in songs by The Doors, Robert Plant, Flyleaf. In Das Narrenschiff (The Ship of Fools), medieval German satirist Sebastian Brant used the metaphor and the voice of The Fool to critique corruption in the Catholic church (the ship was also visualized at the time by Dutch painter Hieronymus Bosch). As a political metaphor, it has been used as an argument for a wise, strong leader to guide the foolish public or mob. Philosopher Michel Foucault asserts in Madness and Civilization that the Ship of Fools was not merely metaphor but history, that Renaissance men really cast off "their mad denizens" to sea. From the smirk, The Mirror seems aware of all this backstory, but knows that in this world, like in any brilliant scheme, there is much more at play.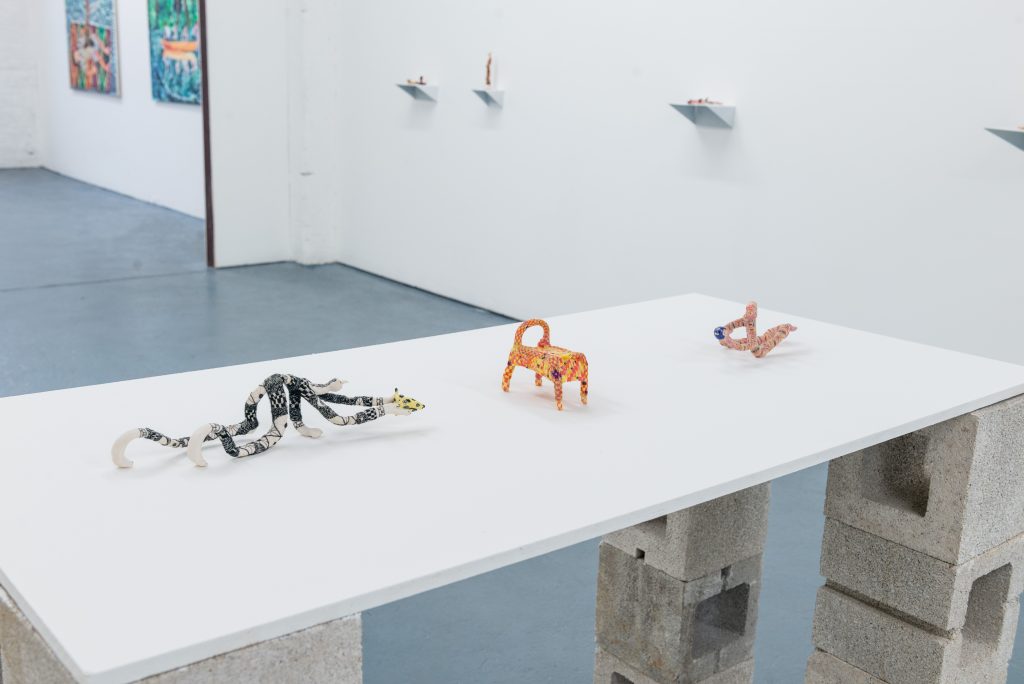 At once visual character sketches and scenes, Kettner's pieces recast archetypes of The Fool in title roles (The Pleasure Clowns, Harlequin and the Moon, The Sycophant). In her artist statement, Kettner, who has a rare form of muscular dystrophy, says her sculptures "re-imagine the disabled body." Some of the characters are polka-dotted in inked pox; others are bed-ridden. Some of the androgynous figures have one trunk-like leg/body; others longing, Loch Ness limbs. All are glamorous. Kettner "embellishes what is strange or broken so that the sculptures flaunt their sinewy limbs with panache, diverting attention toward their brightly woven costumes," she says in an interview with the show's curator, Elizabeth Lalley.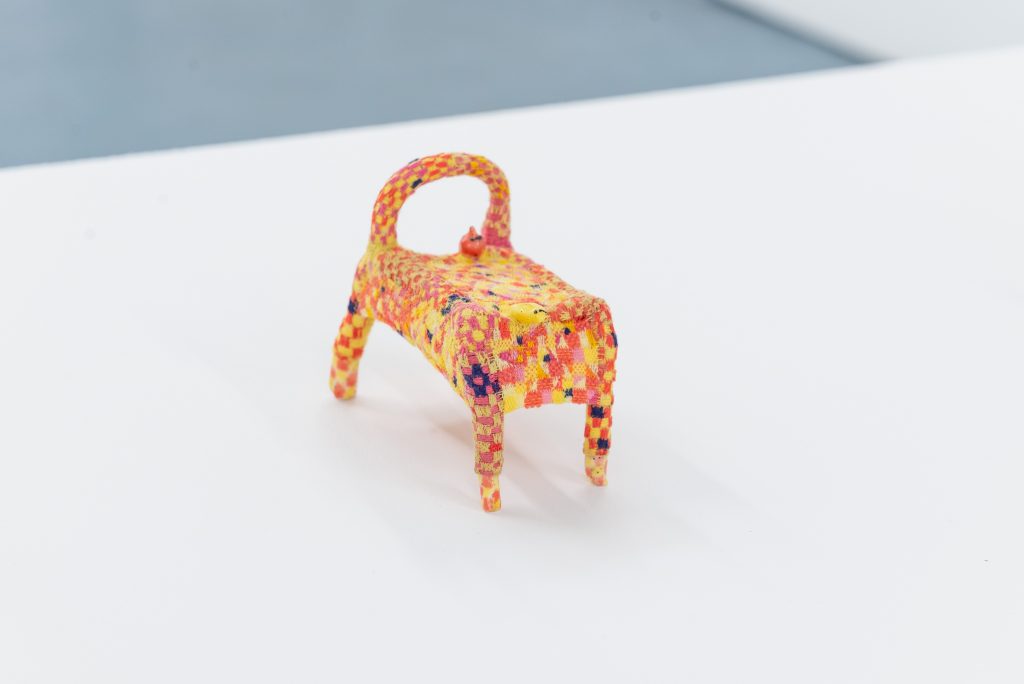 In The Invalid, the body melts into soft sheets, the limbs extend as legs of the bed frame, and a phallic form that could be a foot peeks out from the end of the bed. The character merges with the setting of the sickbed. In the flare of camp, Kettner embraces and exaggerates what might be considered a source of difficulty or self-consciousness with erotics, bright hues, and patterns of jester-diamond and whimsical swirls. In Notes on 'Camp,' Susan Sontag writes that, for queer people, camp taste is a "gesture of self-legitimization"; "Play the Fool" is a gesture for disabled bodies, for people who have been the butt of the joke or have found themselves written into someone else's story.
Left image: The Stargazer, 2020, by Em Kettner. Cotton and wool on glazed porcelain. A figure, whose body connects to one foot, with dilated eyes and a gaping mouth, looks to the sky. Right image: Harlequin Family, 2020, by Em Kettner. Glazed porcelain. Limbs with hands on both ends hold a smiling face to two smaller faces in a circuit. Photos by Ryan Edmund Thiel.
Kettner reimagines the character of The Fool, but more impressively she constructs a World of Fools, and in doing so, projects a new vision for society. There are no villains or heroes, nor kings or queens. In their place is an egalitarian community. The inhabitants of the World of Fools may have their grievances (reflected, it seems, in the dilated eyes and gaping mouth of The Stargazer), and they definitely have their secrets—but their world is evermore a comedy. The Ship of Fools is unheard of, or maybe it is the origin story: the mythic vessel that carried them to utopia. The story here is not one of self-reliance, but rather of dependence and care. The World of Fools, as Sontag said, "nourishes itself on the love" that has gone into it. In her artist statement, Kettner explains that each sculpture is structured as a "tiny tapestry loom" or "shaped core for a woven basket," some of which would fall apart otherwise. Each character enters this world in a state of dependence and remains in that state, as we do—but here, it is celebrated.
"Play the Fool" is on view online and at Goldfinch through December 5th.
Featured image: The Creep, 2019, by Em Kettner. Cotton woven around glazed porcelain. A six-legged spider-like figure stares ahead. Photo by Ryan Edmund Thiel.


---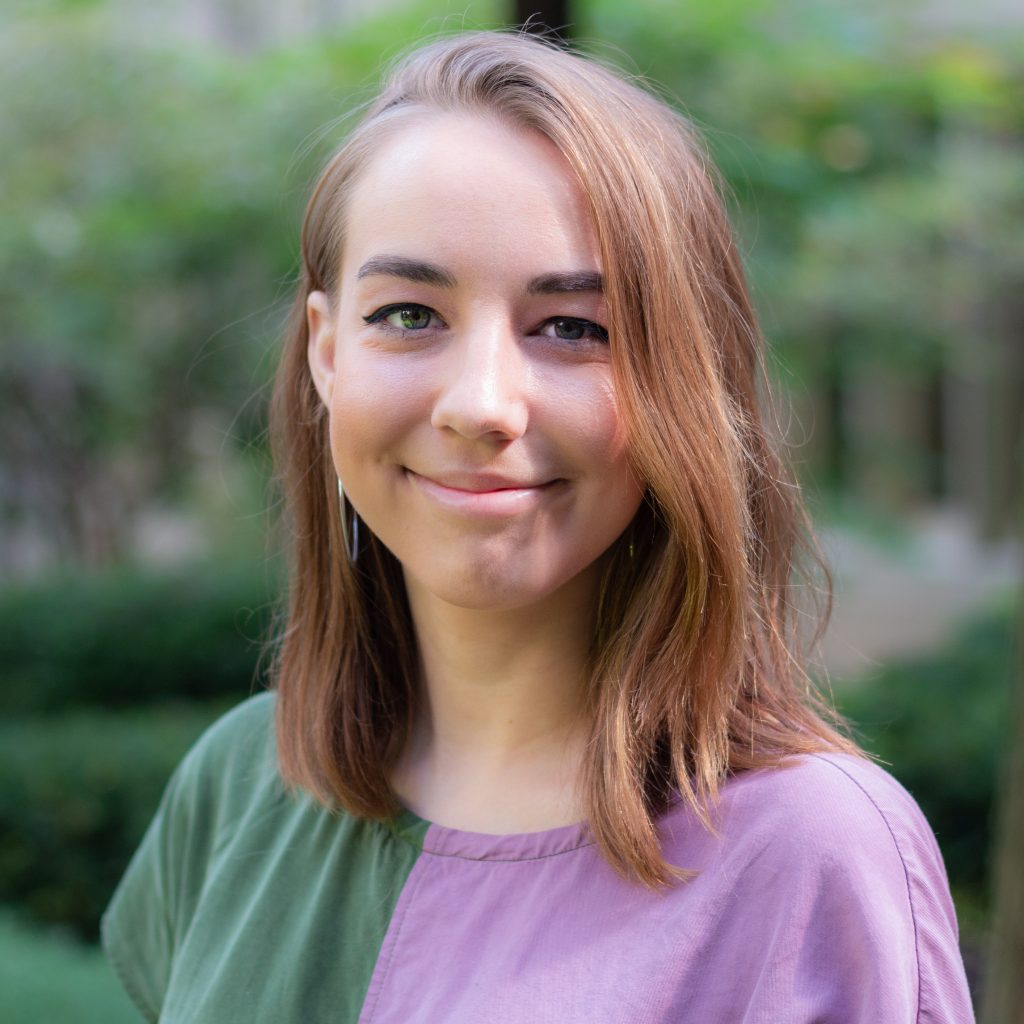 Amanda Dee is a multi-media storyteller and Midwest apparition. She is the former editor-in-chief of Dayton City Paper, Dayton's alt weekly. You can find more of her work here.