Collage as Worldbuilding: Hybridity in Solo(s): Krista Franklin
Looked at through a Queer Theory lens, Krista Franklin's collages communicate hybridity, worldbuilding, and a complex love for Chicago.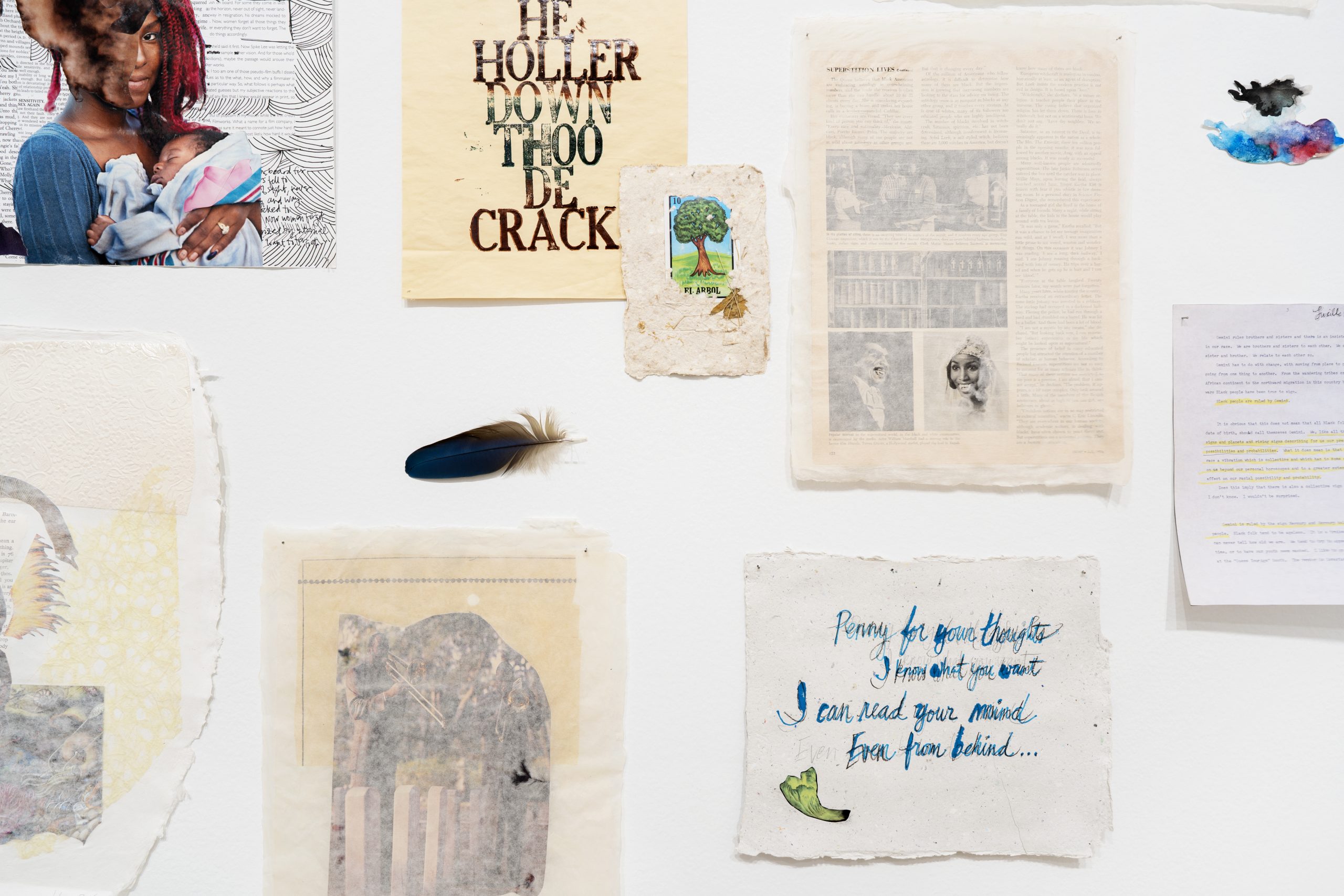 "Skin is a thin coat," Krista Franklin drops in her poem "Probe," describing "the fraying at the seams of things." In "Probe," "dangerous insides" and the "selves' erosions" cannot be compartmentalized or sanitized by clinical language and tools. "Probe" follows another poem about uterine fibroids and infertility in Franklin's book, Too Much Midnight, throughout which boundaries, like the body, are rendered as permeable or imagined.
Franklin is an artist who sees the seams of things. She creates work across poetry, paper, and sound; though the hinge of her practice is collage, a process of seaming; of locating and remapping previously established boundaries. Is it any wonder, then, that Franklin considers the process itself as an "act of resistance"? Or that I sense a queer energy vibrating in her exhibition space, where everything within seems to exist on at least two planes at once?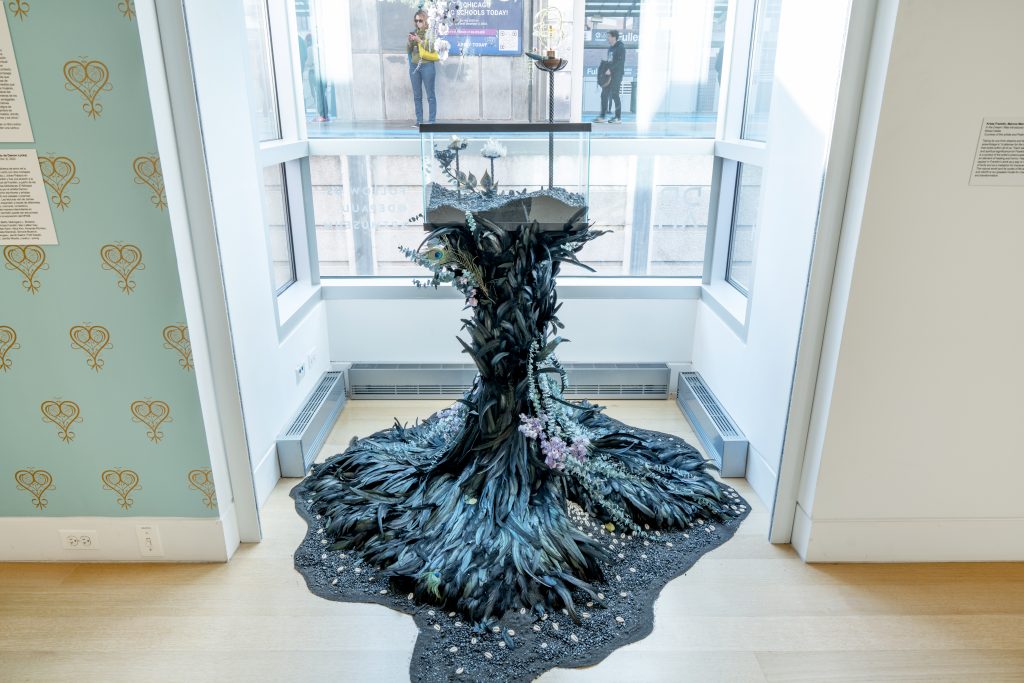 The artist's first solo exhibition, Solo(s): Krista Franklin at the DePaul Art Museum, is less like a compilation of singles than it is like a discography. Yes, per the title's suggestion, Solo(s) refers to how Franklin works within the collaborative tradition of hip-hop and through the lineage-tracing of poetry. One wall features her collages made for fellow artists' album and book covers, another wall her tarot deck homage to worldbuilder Octavia E. Butler. My experience of Solo(s) went beyond a sense of collaboration and cohesion. Entering the space, I was awash suddenly in the atmosphere of another world or universe.
There are many possible doorways into a new world. For Solo(s) and Franklin's universe of creation, more broadly, I could have started with a totem: the aquarium on a pedestal of black feathers, above which a hanging floral bouquet reaches for the tank's clusters of crystals as if toward a power source (these objects comprise the multimedia sculpture In the Dream I was Introduced to Myself). Or a holy text: an unbound collection of pages found and invented sprawling over the expanse of an entire wall – a picture of a comet, feathers, clippings from vintage Ebony magazines, a Sartre quote, photographs of indigenous Africans (…to take root among the stars). Some images are veiled in translucent handmade paper, exposing only the eyes or faces to discern all that surrounds them. I could have said I breathed in the soothing scent of eucalyptus from the sprigs scattered about the Library of Love installation; I could have told you the installation began as Franklin's love letter to Chicago in 2014, when the term "Chiraq" was proliferating around the world to reduce the city to its violence.
Now, you understand one of the organizing rules of this world: fluidity, Blackness, and tenderness are sacred, especially when under threat.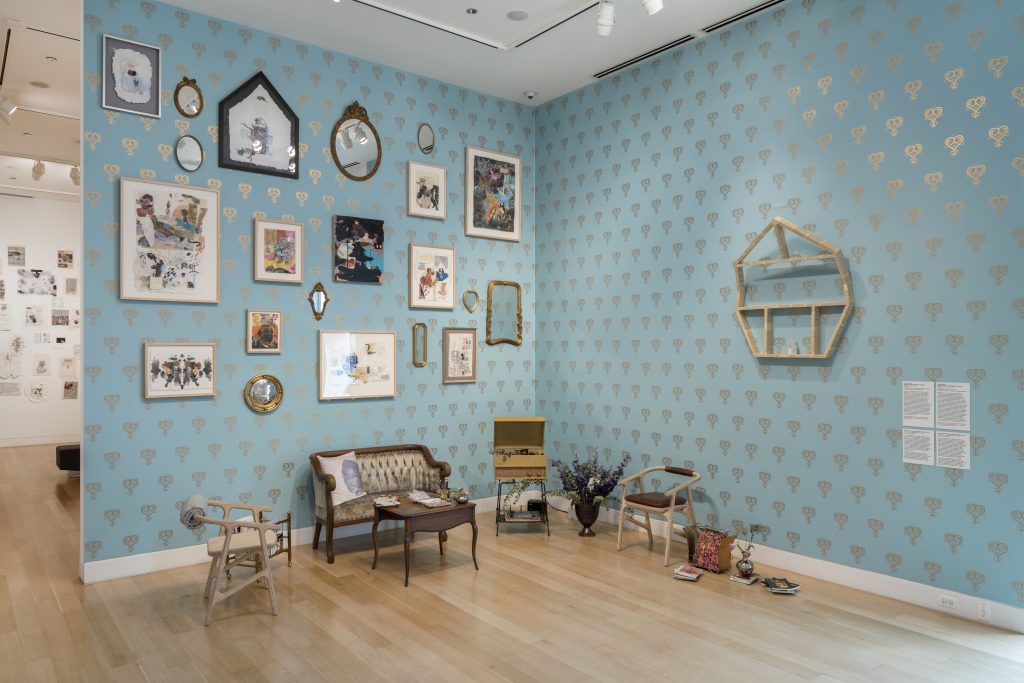 The multi-sensory experience of Solo(s) channels Franklin's influence by film, a medium that usually immerses viewers through the visual and the auditory. A speaker loops a mixtape of poetry about all kinds of love from behind a still turntable forever about to play Love, Togetherness & Devotion (part of the Library of Love installation). The immersive experience of the exhibition is also due to its scale. In the hallway-length mural, Lift Off, photographs of two young girls nearly reach ceiling height, above a painted cloud and UFO in the distance. Baby blue wallpaper patterned in gold hearts sets a scene over a section of the white cube. Entire walls, corners, rooms are transformed into collages composed of smaller collages. In the space, I witnessed for myself the idea Franklin introduced to Chicago singer/songwriter and poet Jamila Woods: "collage not as only a thing to be made but a way to make anything." In other words, how collage constructs worldviews.
Tension in the art of collage is caused by juxtaposition. If an image mimics too closely its accompanying text or if images or sounds repeat for too long, there is a risk we will become incapable of noticing anything at all. Film is also the medium of the Kuleshov Effect, by which we feel more deeply or gain greater meaning from different images in sequence versus a single image. Life is like this, especially in Chicago, a flash of violence followed by one of beauty. Living is figuring out how to respond to this tension. The response of Franklin's body of work is: write a love letter, conjure the divine, build a parallel world. Franklin's response is: resist.
An unsettling and/or empowering mode of juxtaposition is hybridity, depending on if you relate to, sympathize with, or fear the hybrid subject. A collage is hybrid, composed of materials and juxtaposing the mass-produced and the handmade. In Franklin's We Wear the Mask II on the exhibition's wall of cover art, hybridity manifests in true mythological form. A Black woman's bikini-clad body has lost a hand in exchange for an appendage of anemone. Her head is now sharp coral. A crustaceous tail has replaced her feet. In her remaining human hand, she wields what appears to be a beam of wood with a nail hammered to the top. Suspended alongside her weapon is a shoal of sixteen open eyes. The feminine human body is transformed into mermaid, the sensual lure who will return your gaze with a vengeance when necessary.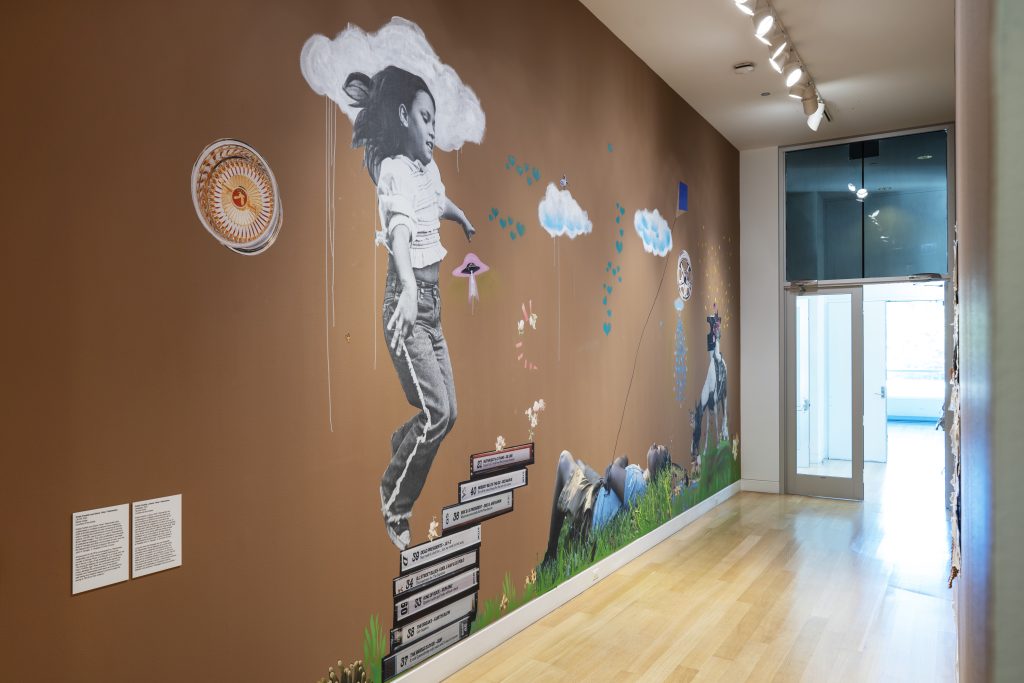 Maybe hybridity elicits anxiety when it makes us rethink our world and its rules as we have long imagined them. When our foundational language, and thus meaning, is challenged. I have to wonder then if attraction to the hybrid, which is so often conflated with the monstrous (the chimera in its infinite shapes), always comes from a feeling, to some degree, of alienation. Is this the bisexual dimension of myself reaching toward a familiar, multi-headed shadow? Of course, as has been said, Franklin's collage is situated in the alienation specific to the experience of being a Black woman in America. A person, though, is always hybrid. In Franklin's work, I sense, too, the effect of growing up in the rural or suburban Midwest, where open skies can give way to serious, radical dreaming. Or maybe this is the effect of having specifically lived in Dayton, Ohio, home to Wright Patterson Air Force Base, from which flying objects are not always identified or believed to be what they claim to be.
Although I like to say that art is necessary to life, the collage shows why that is. It shows the seams, the sites of coming together that hold the memory of being apart. It is a form that visually tracks a trajectory of survival; by this, I mean adaptation. In Franklin's collages, we see her rejection of images of Blackness, femininity, sexuality—life on earth—that have been presented to her as "normal" and how she refashions them to fit her worldview. As if to cast the most delicious side eye: Where once you said I did not fit, now, where do you?
---
Solo(s): Krista Franklin runs ​​​​​​​​​​​​​​​​​​​until February 19, 2023 at DePaul Art Museum.
---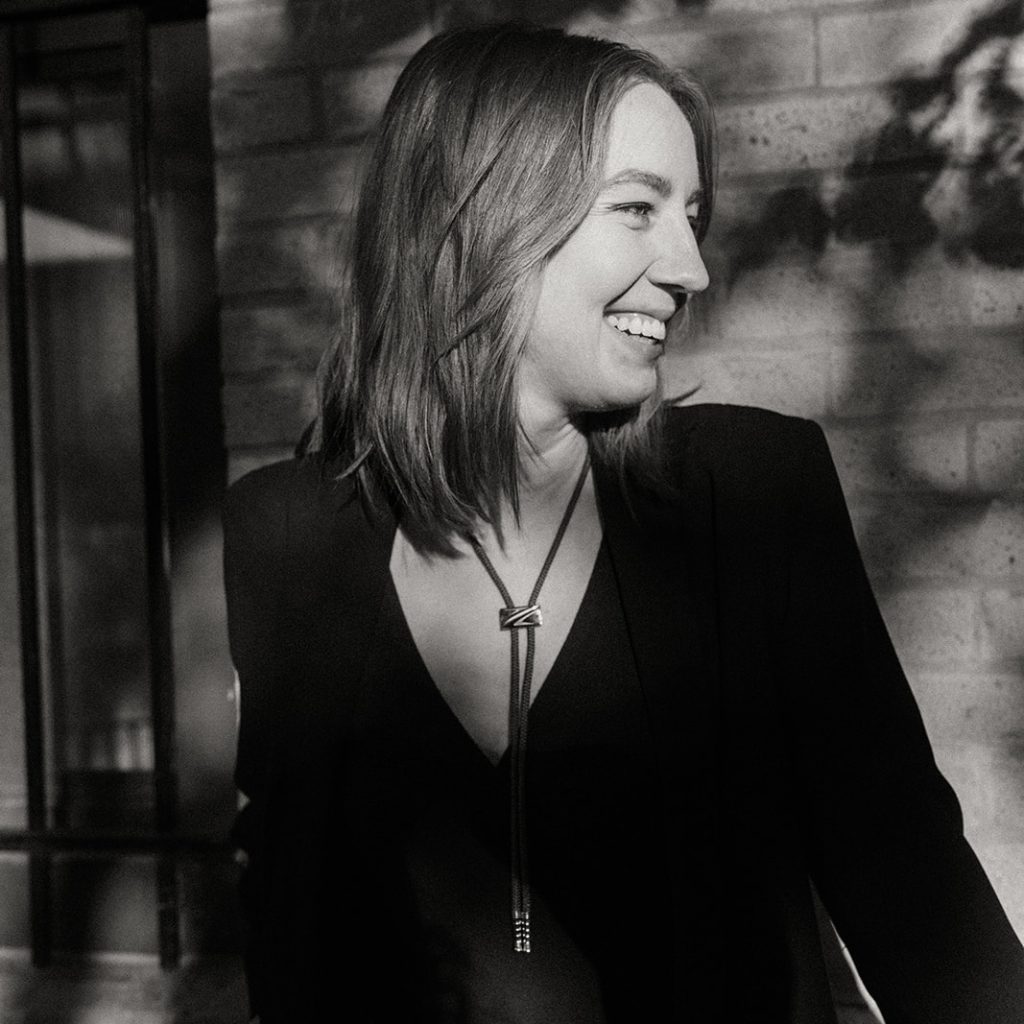 About the author: Amanda Dee is a multimedia storyteller and Midwest apparition. She is the former editor-in-chief of the alt weekly Dayton City Paper. Her work has been featured, among other publications, by Belt Publishing. Find her on Instagram: @spookyghostwriter. Photo credit: Momoko Fritz