Race Abstracted: Thelma Golden and New Global Black Aesthetics
On a warm Thursday evening, Thelma Golden sauntered across the carpeted stage of the Art Institute of Chicago's Rubloff Auditorium with an elegant stride. Golden, Director and Chief Curator of…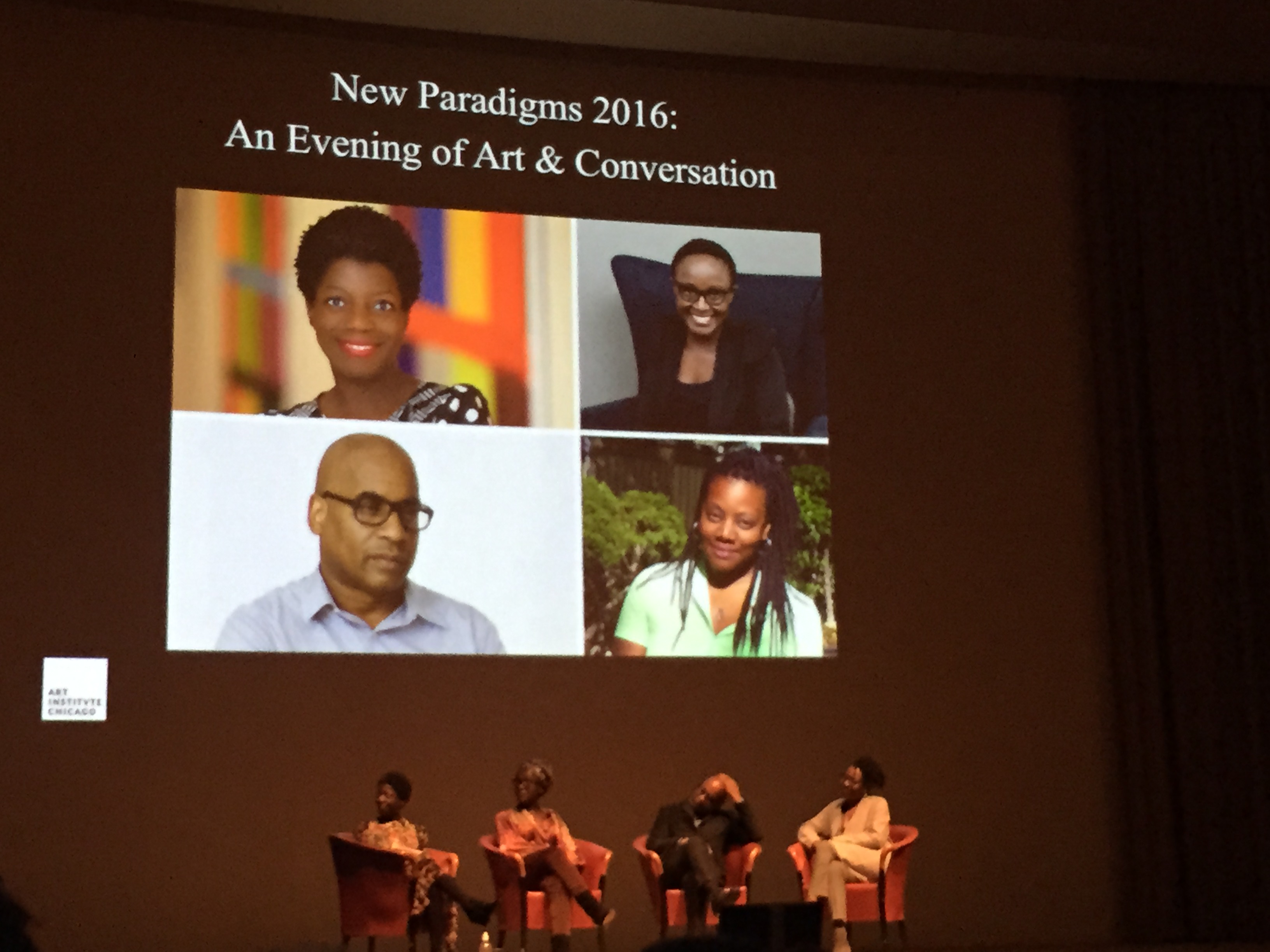 On a warm Thursday evening, Thelma Golden sauntered across the carpeted stage of the Art Institute of Chicago's Rubloff Auditorium with an elegant stride. Golden, Director and Chief Curator of the Studio Museum of Harlem, moderated the panel "New Paradigms 2016: An Evening of Art and Conversation." It showcased seminal artists of color in today's art world from diverse parts of the globe. Glenn Ligon, Lynette Yiadom Boakye, and Cauleen Smith collaboratively examined how their work reveals the intricacies of the individual and collective histories of the global Black diaspora.
Golden asked concise and complex questions that lead the artists to unpack the phenomena of a global Black presence in art making, moving beyond colonial labels such as "African American." Despite their different aesthetic approaches, all three artists shared the similarity of vouching for the silenced voices in the canon of art history. Their cultural perspectives in art making seamlessly united as they talked about navigating the identity politics of the modern world through their artistic process. This mutual goal shared between the artists revealed how racial identity can uniquely intersect in the most enlightening, yet perplexing ways.
Ligon, Boakye, and Smith's discussion of expressing racial identity in their oeuvres communicated the importance of ethnically diverse role models in art. Ligon stated early on that "at some point [he] realized that [he] wasn't going to be the Black de Kooning," unveiling the way many artists of color can subconsciously be socialized to idolize white artists and their esteemed position in the art historical canon.
Ligon went on to describe how the affinity he found with writer James Baldwin conversely offered him respite as he discovered his own cross-disciplinary approach to the creative act. Baldwin's essays taught him methods of "[placing] himself in the world," which Golden further defined as "Baldwin giving [Ligon] the moral and ethical tactics of how to be an artist," as a Black man. The exchange suggested that while Black and brown artists have the liberty to create freely, they still have to grapple with representing the oppressive realities inherent in the Black experience. Boakye's discussion of her approach to selecting color in rendering her figures complemented this discussion.
Golden divulged to the audience that all of Boayke's realistic portraits are remarkably painted from the imaginary without live models. Boayke then chimed in to say that her "politics of color [in painting] are tied in with the [social] politics of color," in terms of portraying racial identity. It became apparent that her enchanting portraiture could be interpreted as a deeper statement about the Black race through abstracted characteristics like medium and hue. Like Ligon, Boayke does not have to necessarily engage with literal representations of Blackness in history, from slavery to black face, to communicate the complexities of race. She can instead create representations of Black joy through delicate depictions of ballerinas and scenes of innocent girlhood, but render them with muted grey tones and shadows to evoke a somber mood.
Panelist Cauleen Smith's articulation of the history of prejudice similarly repositioned the Black identity away from simplified interpretations of traumatic history and memory. Smith went on to describe the legacy of colorism that existed in the development of the apparatus of a camera, and how it was willfully crafted to privilege the representation of white skin. In response to this intentional functional limitation, video artist Caulleen Smith described a yearning to "form an identity and image that [did not yet] exist in moving images." Smith therefore responded to a camera's inability to capture a range of complexions in brown skin through her art practice. She described using film and video to locate the full luminosity of Black skin in response to the camera's inherited racial bias.
Together, all three artists showed how artists of color can abstractly approach representing the Black identity, moving away from reductive readings that exist in opposition to whiteness. Their discussion surpassed the arbitrary labels of marginal, central, Black, and African American to instead firmly declare the tone and perspective of their own artistic voice through medium and content. This allowed the audience to ponder about more expansive themes of memory, the imaginary, and storytelling in relation to the Black identity, allowing it to transcend incomplete definitions.

Featured Image: From Left: Thelma Golden, Lynette Yiadom Boakye, Glenn Ligon, and Cauleen Smith at the Art Institute of Chicago, October 20, 2016. (Photo courtesy of Sabrina E. Greig.)
---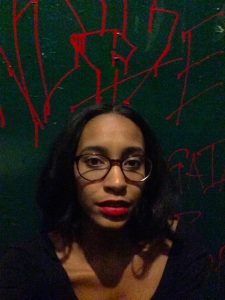 Sabrina Greig is an art critic in Chicago, originally hailing from New York City. She received her MA in Art History from the School of the Art Institute of Chicago with a focus on representations of the Black diaspora in pop culture, fine art, and gentrified urban spaces. Sabrina is a current curatorial fellow at ACRE projects located in Pilsen and has curated shows at the Haitian American Museum of Chicago as well as the School of the Art Institute of Chicago. Her literary work has been published in Fnewsmagazine and Bad at Sports.