Race Abstracted: Kara Walker's Interrogation of pain, parody, and pleasure
Walker's world of characters takes the viewer out of the realm of historical realism through the abstract and even into the Afrosurreal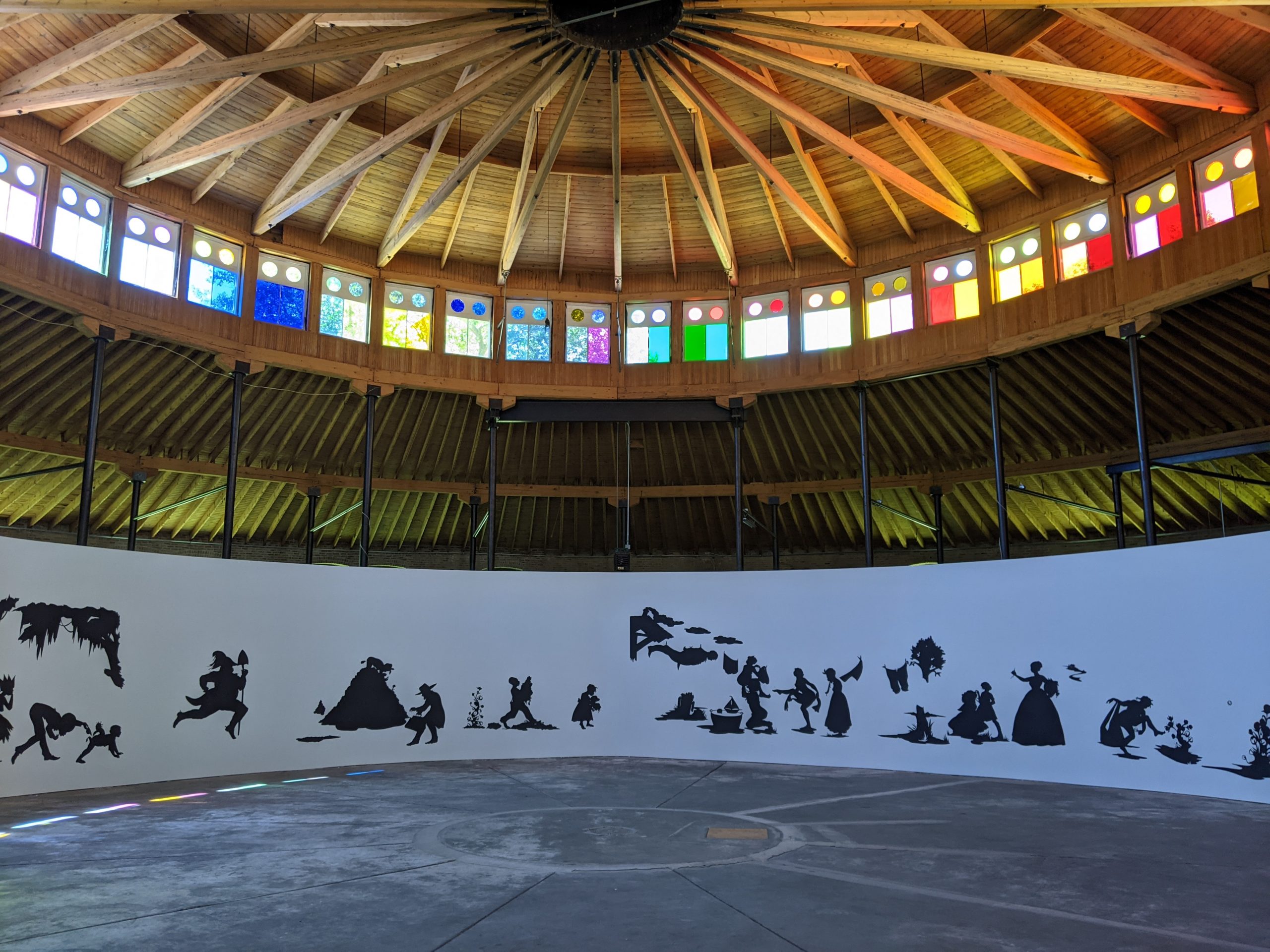 Featured image: Kara Walker: Presenting Negro Scenes Drawn Upon My Passage Through the South and Reconfigured for the Benefit of Enlightened Audiences Wherever Such May Be Found, By Myself, Missus K.E.B. Walker, Colored, Installation view: Black silhouettes of figures act out a series of scenes on the white walls of a circular room. Photo by Martin Giese/DuSable Museum of African American History.
"At the heart of the history of race and abstraction is an often-overlooked question: what are the tactics available to an artist when racialized figures do not read as universal?…This fraught relationship of the racialized figure in the context of abstraction explains the velocity with which artists such as [Romare] Bearden, and later David Hammons, came to and then out of abstraction, and why the world of the social entering artist's abstract practice is so collectively hard-won."

Sarah Lewis, Ph.D., "African American Abstraction," The Routledge Companion to African American Art, 2019.
Whimsical shadows depicting a tableaux of facial features, bodies, and costume lay flat against a singular curving wall in Kara Walker's latest installation at the DuSable Museum of African American History. The solo exhibition on view until October 16th is part of the multi-site exhibition Toward a Common Cause—an initiative organized by the University of Chicago's Smart Museum showcasing the work of 29 Macarthur Fellows across 18 Chicago locations. Each exhibit explores the central themes of access and inclusion, human rights, and social change in contemporary visual art.
Walker's signature frieze of life-size black cut-out silhouettes greet the viewer from afar with a subtle monochromatic presence. At a closer distance, the abstracted signifiers of billowing hooped skirts, weeping willow trees, and enlarged top hats quickly register as historical racial references to 19th century antebellum America.
The curatorial decision to place Kara Walker's piece inside of a two-century-old rotunda within a historical Southside institution commands a level of intimacy, focus, and respect. We are not invited to swiftly cut the corners of a maze-like gallery space as the original 1997 installation initially demanded at the University of Chicago's Renaissance Society. Nor are we invited to walk through a modern sky-lit hallway like in the Museum of Contemporary Art Chicago's 2012 exhibition Color Blind in order to witness Walker's installation next to well-known contemporary artists such as Kerry James Marshall, Howardena Pendell, and Glenn Ligon.
In this 2021 presentation of Presenting Negro Scenes Drawn Upon My Passage through the South and Reconfigured for the Benefit of Enlightened Audiences Wherever Such May Be Found, By Myself, Missus K.E.B. Walker, Colored, only an arcade of slender black columns line the outer edge of the installation, encasing the piece as if it were a sacred relic in a temple. Walker's installation thus asks us to take our time to circumvent the spacious interior in order to fully experience the intricacies of the narratives presented.
Collectively, Walker's images use hyper-realism in conjunction with elements of abstraction to signify racialized subject matter—line, form, and one opaque hue of black. Walker's approach to abstraction satirically modernizes a genre of 17th Victorian portraiture which was traditionally reserved for depicting aristocrats before the advent of photography. By using the color black and graphically depicting themes of history, race, and memory, Walker illuminates the way in which this tradition of portraiture not only overlapped with the history of slavery, but also omitted key narratives and stories that inform our present reality and future.
Hamza Walker, former Renaissance Society Director of Education and Associate Curator, grappled with Walker's approach in his 1997 catalogue essay. He writes:
From Baldwin's generation to Walker's, the issue as to how to come to terms with a painful past persists. How does one write oneself into a painful history without first inquiring into the human capacity for lust, disgust, and violence? As bizarre, beautiful, or violent as her imagery may be, Walker understands that a historical imagination is a prerequisite for genuine ownership of the past. And if the task of writing oneself into history is conducted at the level of Baldwin's paradox of what it means to be human, then this task must take into account pain, parody, pleasure, poetry, and ultimately the perverse.
As Hamza Walker illustrates, Kara Walker finds a way to give her subjects agency, ownership, and power in between the nightmarish scenes of violence and complicated desire.
In her procession of portraits, for example, viewers witness the portrayal of a young African American girl holding a dagger to the neck of presumably her master, as she pinches their pointed nose. Reflective of the style of Italian Baroque painter Artemisia Gentileschi, Walker momentarily depicts scenes of triumph and resistance from the perspective of the victim.
In the first scene introducing Walker's installation, another youth character in voluminous antebellum attire winds a key that sprouts out of the back of a crouching, doll-like African-American figure as if he were an antique clock. Gravity appears to pull him forward at the waist while he robotically holds a string instrument suggesting that he temporarily fell into a slumber mid-song. Walker's metaphorical imagery adds a twist of fantasy and humor to her portrayal of the mainstream caricatured African American banjo player perhaps in an attempt to subvert stereotypical representations of black masculinity.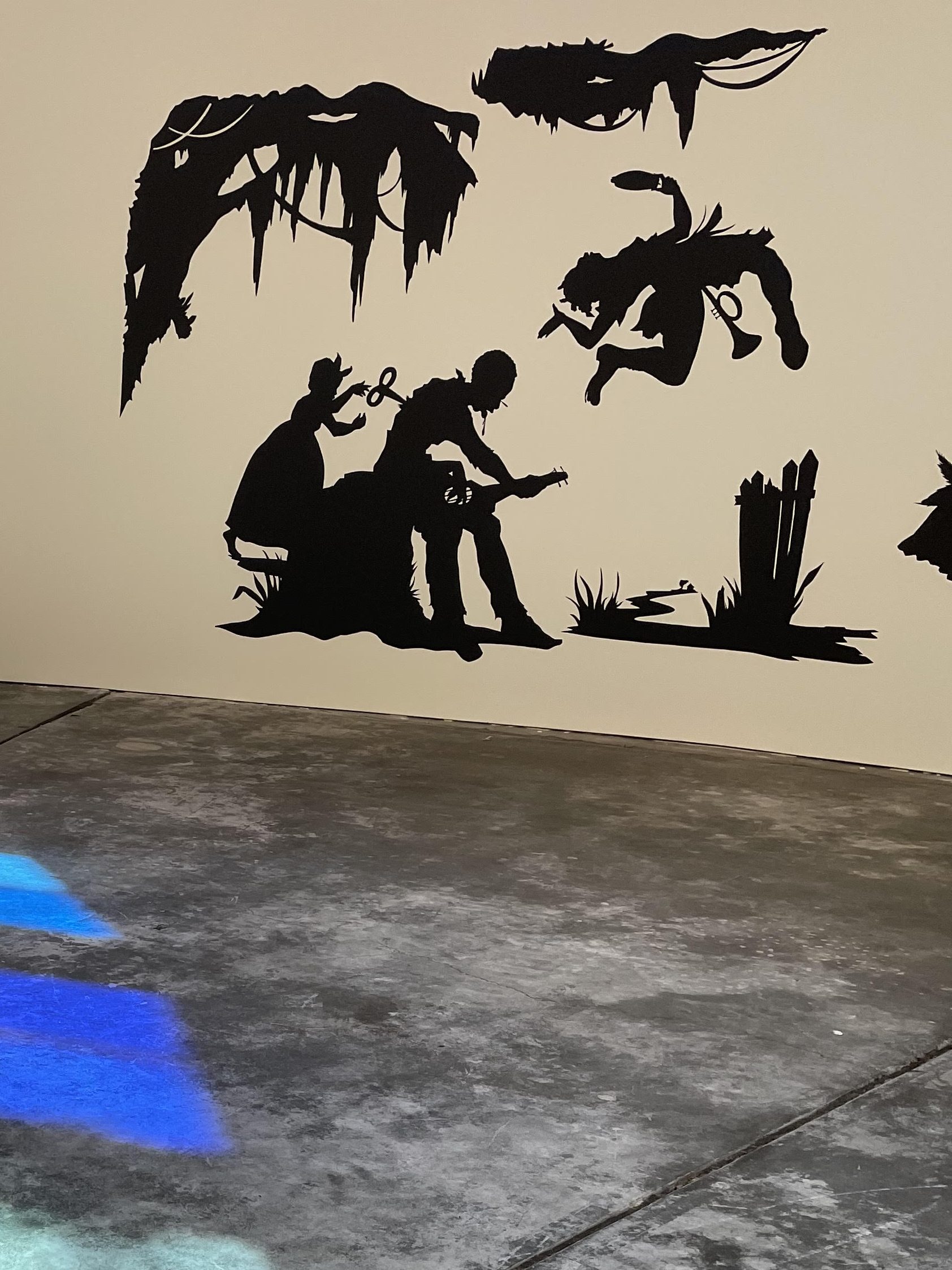 Walker's world of characters takes the viewer out of the realm of historical realism through the abstract and even into the Afrosurreal—a framework that "distorts reality for emotional impact." As the author of the Afrosurreal Manifesto D.Scott Miller states, "We revisit old ways with new eyes. We appropriate 19th century slave symbols like Kara Walker…[and we] re-introduce madness as visitations from the gods, and acknowledge the possibility of magic."
Haunting, yet seductive, Walker has made a career out of formally oscillating between the genres of realism, Afrosurrealism, and African American abstraction—a visual tactic that was seen as controversial among African American art makers, critics and historians at the time Walker's installation was first displayed in 1997. This was also the same year that Walker was the youngest person to receive the Macarthur "genius" award at the ripe age of 27.
Historian Sarah Lewis traces the contentious art historical debate between the use of African American abstraction and figurative representation in Black visual culture. She discusses the various approaches to depicting African American life from as early as the Harlem Renaissance through the 1960s. The debate focused on the "instrumentality of African American art for the purpose of racial uplift," or for the purpose of artistic experimentation with structure and material—two approaches that Walker's oeuvre engages with.
"…W.E.B Du Bois, Langston Hughes, and Alain Locke focused on the pointed, political quality of art to create civic narratives. Part of what created the urgency was…the stance by Du Bois who saw art as what he termed 'propaganda' that is to say, inevitably political. In the 1930s and 1940s, early works by Jacob Lawrence and William H. Johnson, for example, did engage with formalist leanings toward abstraction but never left representation and narrative far out of view, using the vehicle of the figure as the primary ground for experimentation."
And through her scholarship, Lewis evolves the century-long debate between African American abstraction and representation by asking the question, "What are the tactics available to an artist when racialized figures do not read as universal?" In Walker's case, this answer is up to the viewer. But she reminds us that reconstruction and historical revisions are indeed an option for future canons of contemporary art.
The selection of well-regarded Macarthur Fellow artists on view across Chicago as part of Toward a Common Cause, including artists such as Carrie Mae Weems, Kerry James Marshall, Dawoud Bey, Mark Bradford, Fred Wilson, and LaToya Ruby Frazier, all similarly tackle innovative approaches to black subjecthood through several aesthetics that include abstraction and hyper-realism. But Walker specifically encourages us to use the past to reimagine a future world that also contains visions of magic, power, and what cannot be seen with the naked eye.
---
D. Scott Miller, The Afrosurreal Manifesto, The San Francisco Bay Chronicle, 2009
"African American Abstraction," The Routledge Companion to African American Art, 2019
---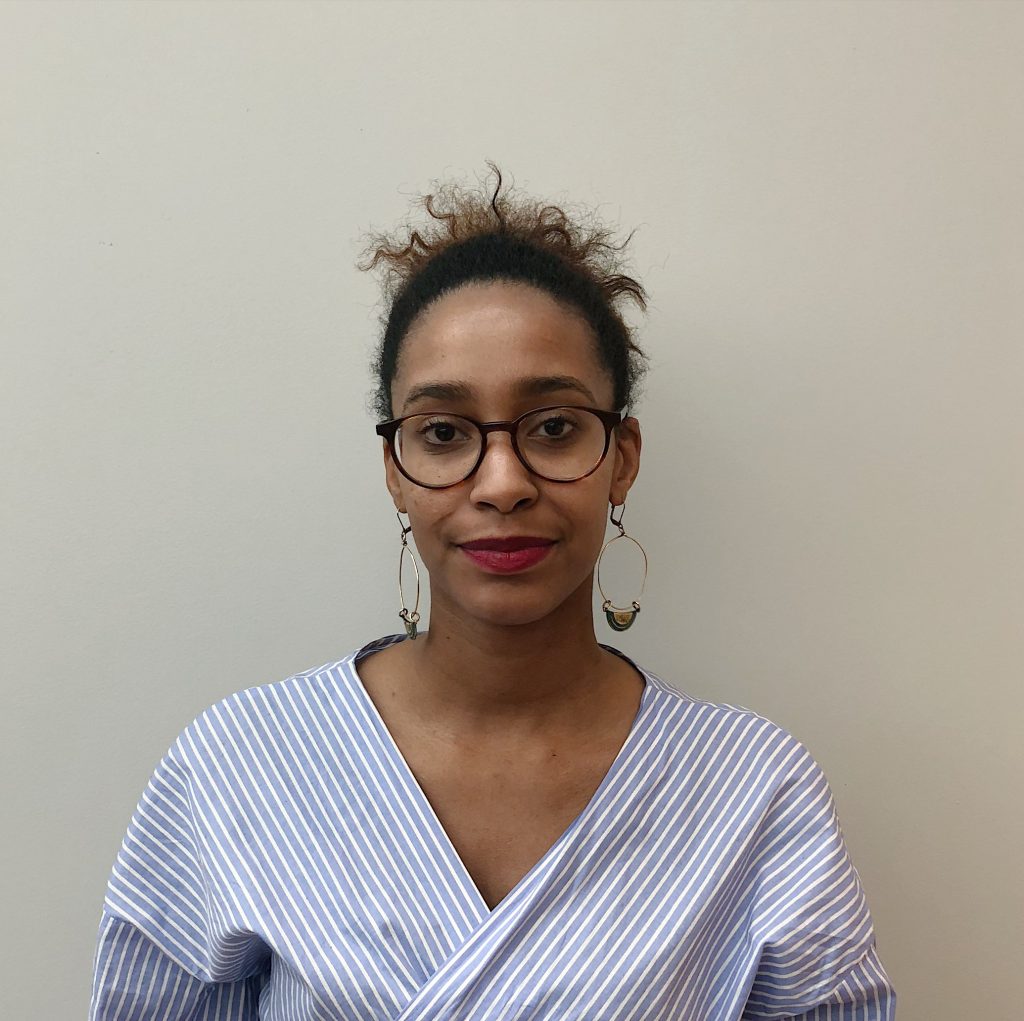 Sabrina Greig is a Haitian-American museum professional, writer, and arts administrator from New York City. She received her MA in Art History from the School of the Art Institute of Chicago with a focus on representations of the Black diaspora in popular culture, contemporary art, and architectural history. Her art criticism draws from her arts administrative practice, as she focuses on the intersection of social activism and Art History to showcase experiences unique to Diasporic communities, often through the lens of Afrofuturism. She has published work in Arts.Black, Contemporary And, Bad at Sports, and Sixty Inches From Center, and has been featured in the Chicago Tribune, Hyperallergic, the Observer, and the Smithsonian Magazine. She is currently based in Brooklyn, NY and works at the Brooklyn Museum.