Movement Matters: Karen Finley & Young Jean Lee in Conversation at Steppenwolf
Karen Finley, Young Jean Lee, and Lisa Lee talk race, class and gender consciousness, the NEA Four, and artists vs cultural worker at Steppenwolf's 1700 Theatre.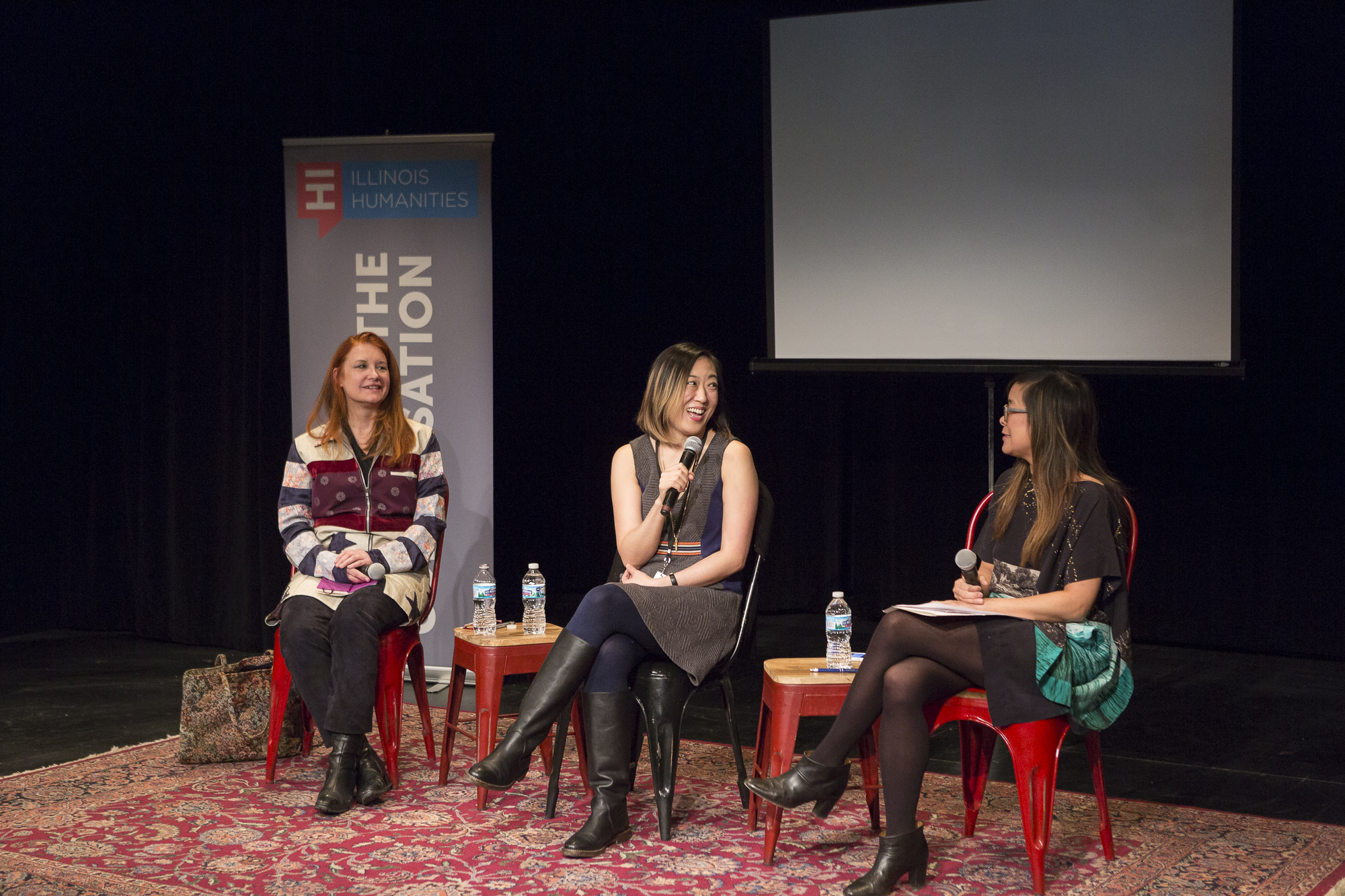 Movement Matters investigates work at the intersection of dance, performance, politics, policy and issues related to the body as the locus of these and related socio-cultural dialogues on race, gender, ability and more. For this installment, we recap and work through editorial reflections on the recent conversation between performance artist Karen Finley and playwright Young Jean Lee at Steppenwolf's 1700 theatre.
In the midst of a winter ushering in Chicago's first real snow drought in decades, people gather at the communal bar outside Steppenwolf's 1700 Theatre. It's easy to miss, tucked away almost imperceptibly behind a narrow doorway in the rear of the square floating island dominating the front of the space, and small enough, once entered, to make visitors feel intimate while still demarcated by hierarchies of space; that is, the audience essentially get none, crammed in shoulder to shoulder, four to a seated roundtop and flanked on three sides, while the speakers sit in the midst of copious floorspace before them. It's a sold-out crowd too, except for those twenty-six standby takers, whom all mercifully are admitted in the end (I was with my partner whom gracefully held firm out in the main room while we awaited the thankfully positive verdict). People squeeze by one another, laughing, chatting and wondering aloud when the three chairs arranged before them would be populated. Then they are.
Performance artist Karen Finley and playwright Young Jean Lee take their seats alongside moderator and cultural activist Lisa Lee, the latter seemingly officiating so many events in recent years onlookers could be forgiven thinking she was angling for the next open cultural commissioner spot. The conversation opens amiably with jokes about rejecting gender terms, and then Lee asks where their racial and gender "consciousness comes from." Finley answers first:
I'm aware of the privileges I've had–that being a censored artist or being able to go to the Supreme Court, a place [where] I was recognized as a white artist [and] as an artist who grew up in Evanston, I had this space where I expected to be listened to. And I was in great shock when that was happening to me. There are so many artists, so many people who have not had the moment to be even censored because they've never been recognized at all. So that is something that I wish that I'd had more understanding of when I was younger.
Then, when asked why she has opted for a return to performing material from that era, including Written In Sand, derived from her reflections on AIDS at the time, Finley's response is predictable, and moving:
Well, it's deja vu all over again. The Muslim ban, the wall–25 years ago there were bans, visa bans for people who had HIV. There were [people] asking Congress and the Senate for people who had HIV to be incarcerated… That's one of the reasons why I'm doing it. I miss my friends, too. So, I'm doing it for myself too. I want to share what I've been able to do in other cities. When I start talking about it, I go into a PTSD moment.
Similarly, Young Jean Lee then inverts the response, relating her own lack of the experience of that privilege:
I am, by nature, not a political person. I think that if I had been born a straight white male, I probably would just be completely clueless and enjoying my privilege to the maximum and exerting my will to power. So, I'm very fortunate in a way that [during] the first 18 years of my life I experienced a very extreme form of racist marginalization. I grew up in this white town that was very racist, a small town in eastern Washington State called Poland and, growing up, nobody ever wanted to date me.
Nobody wanted to be my friend. I never went to a dance. I was sort of forced by that experience to become hyperaware, constantly, of my racial identity. I think this is a thing that happens to women of color. You spend all this time being marginalized because of your race and seeing white women enjoying all these benefits that you don't get to participate in. It makes you identify more strongly with [your] ethnicity than with [your] gender. That's been sort of a slow process. The pain I experienced being marginalized [because I'm] Asian was so much more painful than anything I experienced over being a woman because of my particular circumstances. That situation has forced me into an awareness of injustice and marginalization.
Given all this discussion about racism and class, what emerged as perhaps most striking about the talk was a tendency for both artists to almost inherently resist acceding to the specific political exigencies of their work. Time and again, they seemed to want to push back against the perception of their work as statement-making or admitting it has ideological content, often times doing so in a direct rebuke to moderator's solicitous efforts to tease out the political threads in the work.
It seemed especially pronounced, for instance, given the stature of Finley as one of the NEA Four, whose work famously came under attack by Jesse Helms in an early salvo of the culture wars in the U.S., and that led to her aforementioned Supreme Court hearings. And furthermore, of the four, Finley was the one who spearheaded that fight on behalf of them all against the "decency clause" provision that was added into the grantmaking process all the way to Supreme Court, an effort that culminated in the 1998 case National Endowment for the Arts v. Finley, 524 U.S. 569. It was a challenge that was ultimately vacated in a majority argument that seems today to avoid the substance of the clause, particularly the structural anti-gay background of the changes to definitions of obscenity that resulted in its application.
Regardless, Finley's trial was a moment of socio-cultural signification. The barium in the bloodstream of an American political system suddenly lit up in the CT scan as rotted-out with bigotry and shot through with phobias targeting not just homosexuals, but women, black and brown people, and those living with and struggling in poverty. In other words, it was the wormy business-as-usual pushing aside promises of equality that our country had forgotten.
Maybe teasing out those threads in the experience was too risky of a countenance to the PTSD, as Finley described it. But regardless of whether they were willing to embrace the larger political and ideological implications of their work, it was clear that the stakes of their art-making was personal, and that those stakes were firmly fixed in concerns of social conscience. There's a funny moment when Jean Lee, recalling a moment in an elevator she'd had prior to the discussion, reflects on how women in American culture are "raised to hate themselves. I think everyone is raised to hate themselves to some extent, but women in-particular. I feel like there are forms of self-hatred that are particular to women and that I see in my friends, in myself and women around me. When I think about you, I don't think about that. I think of someone who has defied that in every way. [But] I wanted to ask you if you ever had that relationship with self-hatred or [if it's] something you just avoided?" Finley replies:
I always knew that number, 1700 Halsted Street, would be the place to address this. Actually, I think that I've addressed that a lot in my work and I feel that in this particular performance I'm dealing with that subject right now. Maybe I'd not use that word—self-hatred—but [rather] that you aren't to be occupying space [and you'll be] apologizing that [you're] even going to be seen. Hillary [Clinton] at the debate with [then-candidate Donald Trump] hovering over her….you're looking and you're seeing her body language and navigating that. She knew that move before. She'd been there before and knew what was coming next. So I don't think about that idea of self-hatred, but I think about where you have to, you know, [say] "excuse me for living." At least in my 20+ years of analysis the self-hatred hasn't come up.
It's funny. Jean Lee clarifies that she thinks of it as a pressure on women to "stay young [and] maintain yourself in certain ways." Then the conversation turns to how they both manage to work creatively under these types of pressurized cultural structures. "Transforming pain into compassion," Finley says to describe the process. And so, is that then the entirety of it? Or, as the moderator describes it, is the role of the "cultural worker" to bring about the revolution? "I think of myself as an artist first," Finley answers. "And I hope that through my artwork I can promote social change. I get kind of nervous with the 'cultural worker' term, it can be a generational kind of situation. Maybe it's just too close to the '50's and the trouble those terms brought. But I like to think of myself navigating in the world in terms of artistic citizenship. And, growing up here in Chicago, the artist is historical recorder. And that's what I like to think about, going back to ancient times, or the caves of Lascaux or great Negro Spirituals—or even graffiti up in the towers of London."
They seem to say that hewing to these lines can be divisive and alienate potential audiences from getting drawn in. So, it's a useful strategy to then allow the individual audience member to find their own political reflection in the work rather than foist it on them in any crassly overt manner, something on which both artists seem to agree. Shortly after this segueway in the conversation, Jean Lee goes on to admit that Finely's work was an early influence on her own decision to move toward becoming a playwright, and that this history was behind her question about self-hatred. "I just don't think you can hate yourself and do what you did," she explains. "If Karen Finley can do that, then I can write my first play." And, of course, she did. Self-hatred be damned.
Featured Image: Left to Right: Karen Finley, Young Jean Lee, and Lisa Lee at Steppenwolf's 1700 Theatre. (Photo by Jonathan Mathias.)
Please feel free to send questions, comments or tips to Michael Workman at michael.workman1@gmail.com. Each month, as part of the Movement Matters series, a live conversation on subjects raised in the columns takes place with interviewees and experts in the field. Please join the Movement Matters Facebook page for updates, archives of Facebook Live broadcasts of these discourses, and to join in on future conversations.
---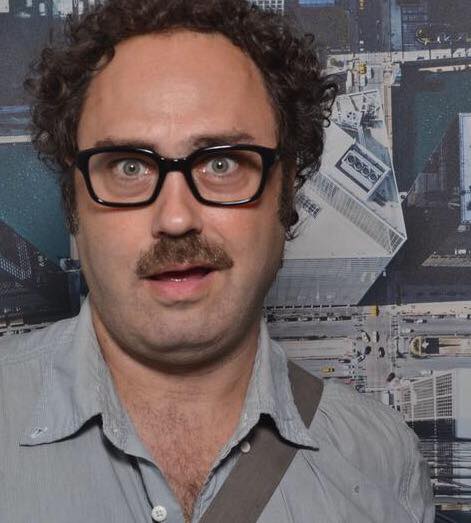 Michael Workman is an artist, writer, dance, performance art and sociocultural critic, theorist, dramaturge, choreographer, reporter, poet, novelist and curator of numerous art, literary and theatrical productions over the years. In addition to his work at The Guardian US, Newcity, Sixty and elsewhere, Workman has also served as a reporter for WBEZ Chicago Public Radio, and as Chicago correspondent for Italian art magazine Flash Art. He is also Director of Bridge, a Chicago-based 501c(3) publishing and programming organization. You can follow his daily antics on Facebook.