Movement Matters: Andy Karol
One of Chicago's well-known performance and poetry artists discusses her work, coming out gay post a het-marriage, genderqueerity, and the joys of motherhood.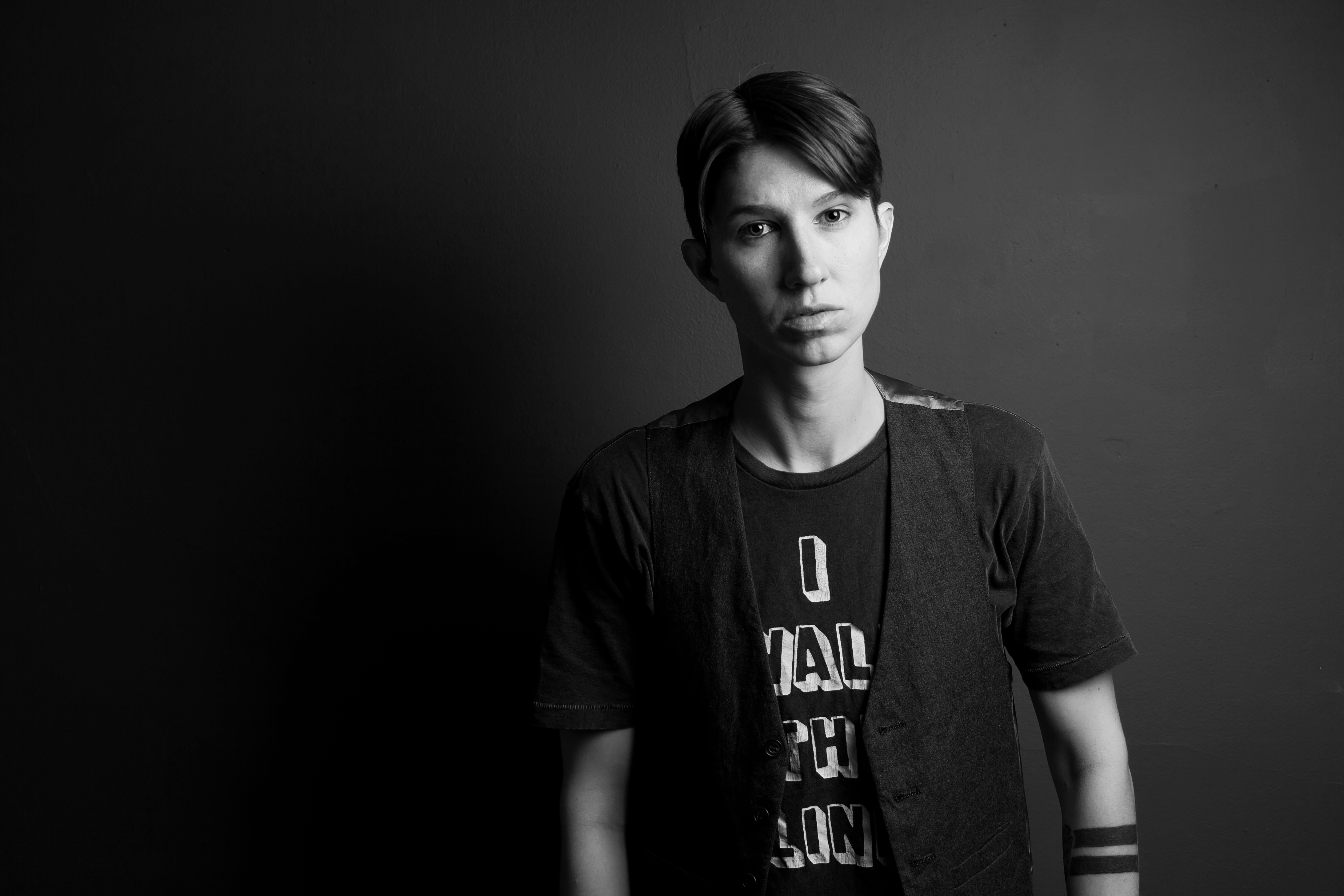 Movement Matters investigates work at the intersection of dance, performance, politics, policy and issues related to the body as the locus of these and related socio-cultural dialogues on race, gender, ability and more. For this installment, we sit down with Andy Karol, well-known in performance and poetry circles throughout the city, to discuss her work, coming out gay post het-marriage, genderqueerity and the joys of motherhood.
Michael Workman: Are you originally from Chicago? If not, where from and tell me a little bit about how you got here and what your interests were growing up.
Andy Karol: I've been in Chicago for a little over 13 years but grew up in Indiana. I've always known I'd come to Chicago though. I was always that dreamer child who saw the "big city" as the place where their wishes would come true. When I was in college, I had a good friend who'd whisk me away to Chicago for shows, therapeutic drives blaring music while staring at the skyline, and basically small adventures equating to escapism. I was barely graduated when I moved here for love and to pursue my dreams, back then of acting and PR.
When I was a kid I was always busy with something. I loved dance, especially ballet, music (played violin and a bit of piano), playing basketball and soccer, performing in plays, forcing my younger sisters and neighborhood friends into plays and recitals I'd direct, and starting too many clubs just so I could hand out awards and boss people around (no, really, I even had a "science club" and handed out a plaque I'd bought at a garage sale for the best built model rocket!) My mom was my Girl Scout leader for many years, and I was also in 4-H for ten years. I didn't live on a farm, but I had a ton of small animals growing up. I raised rabbits (and showed them at the county fair), built model rockets and airplanes, and wrote a lot of really bad poetry that had a distinct flair of generic Shakespeare. Oh, and I can't not include that I also had a paper route from the age of seven or so to around thirteen. I mean, I still dream about running my route and think of my customers from time to time. It was my life every day after school and every weekend morning. I think it made me have quite the entrepreneurial spirit and learn that hard work means getting your hands inky and facing the weather, no matter how stormy it is. How's that for a metaphor?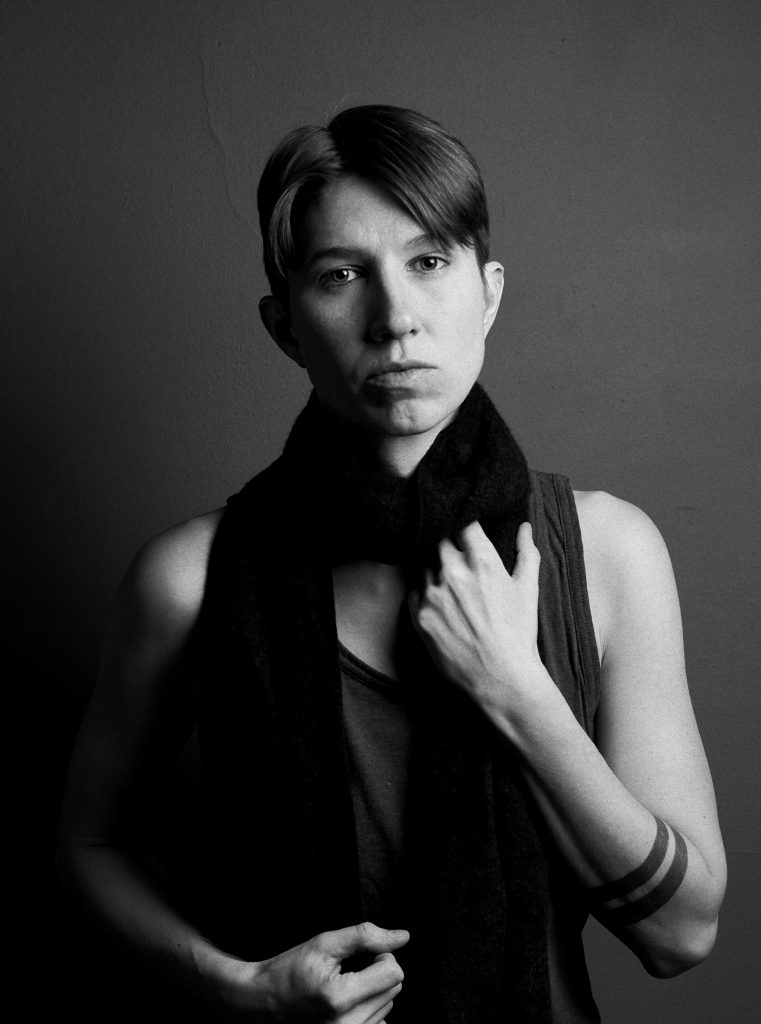 MW: How did you first get involved in performance poetry?
AK: Well, about six years ago, I was dating someone who was really into performance poetry. I didn't  know much about it at the time. They shared some books and videos with me, and I was like, "Okay, this is good stuff." They also mentioned how "we" need to check out the poetry slam at the Green Mill some day. Then, they brought me to a show where Andrea Gibson was performing at Northwestern, and I just felt so damn much. I mean, I was overwhelmed with feelings. And I saw how everyone else was so effected in that audience. While walking to the car I kept joking around and talking in non-stop metaphors and trying to be all lyrical, but there was a very serious part of me that knew I needed to write. And thank God I was driving because I was probably so annoying that I'd have been left there in that parking lot alone with my eureka moment had I not been the one with the keys.
So, anyway, that was a pretty passionate relationship (read: we broke up and got back together way too much!), and after I was dumped pretty hard this one time, I took my broken pieces to the Green Mill to see what this slam poetry thing was all about. That was in September of 2012, but I remember exactly where I was sitting. That night, there was a joke onstage going between the MC's because supposedly, one of them, J.W. Basilo, hadn't written a love poem ever to his then-girlfriend. So, he and Marc Smith, the founder of slam poetry, came up with a contest and said they'd award three bucks to whoever could write the best love poem during the break, and then the winning poem, voted by the audience, would be said to the girlfriend over the phone during the show. Well, I wrote my poem on a cocktail napkin, included a bunch of kinky carnival metaphors, and won by audience vote. I was shaking so badly on that stage, but it felt so damn good being there. I still have that napkin somewhere in a box, by the way. 

Anyway, that was how I first got into this world of performance poetry. Since then, I've done so much with it and have had the opportunity to meet so many amazing people and travel. There have also been so many small-world, full-circle moments. Last year, I picked up some free bookcases (go figure!) from someone on Craigslist. We got to talking, and it turns out he played back-up guitar for Buddy Wakefield, whose work and performance (I've seen him now three times) I can't get enough of! A few years ago, about a year after deciding I wanted to start focusing on writing, I was asked by Andrea Gibson to do a poem at their show down in Indy. (It was one of those timing and luck moments where preparation meets opportunity.) I was terrified but of course said "yes." And they said such good things after the show, and we all sang to Fast Car by Tracy Chapman on the way back to Chicago, and I wanted to have those types of moments forever after that. And I've been lucky to have them so far. I joined an ensemble called Cometry that travels nationwide to schools to perform, and I've had so many musical, high-flying moments in cars and planes since with talented people who just make my heart want to burst! All I can think is, More, please!!
MW: You've been on and competed with both the Mental Graffiti and Lethal Poetry teams. Do you like working in groups more or as an individual performer?
AK: I don't want to sound like a politician here and not really give a direct answer, but it may come out that way. I think there's so much to be gained from individual and team work. I think the trick is knowing how you work best and what you stand to gain from others and what you have to offer in return. I know I can't write well surrounded by people. I write out loud and like to have control over my surroundings. But I also know my work is better when I get opinions on edits, so that's where teams and friends come in. I think I focus better alone, but group work opens me up to better brainstorming. I've learned more about my performance tics that I needed someone else to tell me about. I've also sometimes needed that team member to give me a hug and tell me that nobody noticed me having a panic attack on stage. I also love feeling useful to others. I know I can help others with the flow of their work, and I am a huge cheerleader of people wanting to do more with performance.
MW: One of the first things I saw you in was Poonie's Cabaret. How did that come about?
AK: Earlier I mentioned how I've been lucky to have a lot of opportunities and small-world moments. I knew the producer, Joe Varisco, for a few years before he asked me to perform at Poonie's. I'd performed at Salonathon, which he also produces, a few times before, so he was familiar with my work. I love queer-based audiences and find them to be the warmest and most gracious of audiences ever, so when asked if I wanted to do that show I jumped at it.
MW: Your work heavily involves addressing aspects and experiences of your genderqueer identity. How did you realize that and when? It's correct that you were married before? How much was that involved in realizing your identity now?
AK: When I think of answering these questions, all I picture is a huge hurricane in my head! Back in and around 2011, so much in my life was changing. Gender was always fascinating to me, but I didn't use the word queer or even genderqueer to label myself until around then. I started having conversations around gender with others more and more and doing research. When I knew my marriage was over, I started going out to clubs and spaces in the LGBTQ scene but never felt like I fit in anywhere very well. I'd go to Boystown, and I'd get hit on by the men. I didn't see myself as a lesbian and never liked the word anyway. But there was a part of me that maybe felt I was more like them than the cisgender lesbians I'd meet. I started dressing more in clothing I've always loved with cleaner lines and more masculine style. I still love gowns though. I mean, I love suits, but I think I miss the feeling of looking dazzling and glamorous.
Sometimes I wonder if I'd be more feminine if I were still married, especially because I was married to a man. I'm sure I would be because those societal expectations are really, really damn tough to break through, and I find being single has allowed me to have so much more fun and be more open to my fluidity. I think I've always been highly influenced by my environment, maybe too much. Maybe I'll get it right in my next lifetime.
MW: How exactly do you identify? How has that changed or not over time?
AK: I know some people are against labels, but I find they're a good book subtitle. So, don't use them to fully judge, but they may give you a teeny tiny peek of what's inside. I say I'm genderqueer and gay or queer. I don't normally use trans for myself, but I don't correct people when used for me because I know I fit under its umbrella.
I think I have changed a great deal over the past handful of years. When I reject something or go for a big change, I tend to overdo it. Then I somewhat stabilize and find my comfortable center. It's like trying to swerve to miss an oncoming car but then you over-correct. You may run over a few mail boxes or curbs and make a mess of your car before getting back on track. 

I'm finally in a pretty comfortable place where I don't feel shame with things I used to feel shame with. When I first came out, I felt even having a kid and having been married somehow made me less worthy of dating. I think I subconsciously thought it made me less queer. But now I'm like, "Hey, this is not only my past but a huge part of who I am now, and it's fucking spectacular!" I think I've got a pretty fascinating story. So, I guess I'm pretty secure in my identity now. Finally.
MW: Can you discuss a little bit how you think about poetry? How has that evolved over time?
AK: Poetry is like a childhood friend to me. We've grown up together. When I was a kid, I'd take my paper route money to the local library and go through their used book sale that went on monthly. I'd grab poetry books, many of which were collections from the local university. These were gold to me! I loved how these poets wove words together, and even at a young age, they made my stomach flip. And all that feeling for just 50 cents!! When I got into high school and then college, I became a fan of Shakespeare. I don't even think I cared about the plots, just the ways he spun words together.
But even more important to me than poetry is music. If poetry is the blood, music is the heart pumping it through my body. Performance poetry feels close to making music than just writing for the page. When I'm writing for performance in mind I'm also thinking about the musicality of the words and phrases. I tend to be very rhythmic in my writing and want it to flow, much like a song.
MW: You have an 8-year old son. How has it been being a parent through all of this? What lessons would you like him to learn from you about finding and being yourself?
AK: It has been an adventure. My son, Noah, is amazing. All parents think that about their own kids, right? I think of him every step of the way. That's something that makes me different than other poets without kids. For instance, I had a great show last night and came home feeling ecstatic and just grateful, you know? But then I thought about Noah and how I haven't seen him in two days because of co-parenting and rehearsals and me needing time to work on things like memorization, and I felt this deep sadness and missed him immensely. And these two days will extend to four days due to holidays and more rehearsals I have. 

I love what I do, but there is sacrifice involved. It's tough because I also know that if I don't let this creative self out and be my best, hardworking self, then I'm also not as good of a parent as I could be to him. I've had weeks away from him at a time because of tours or slam commitments, but I know I'm showing him that life doesn't stop when you're an adult. I know I'm showing Noah that following dreams is the only way to live. Noah, like most kids, is pretty observant and sees how his mom is not like most, or any, other moms he knows. I think he's still proud of me though. Once I had him at an open mic, and he was helping run the bake sale. I think he was six at the time. When I went onstage to perform, he wrote on his iPad that the bake sale was closed. He wanted no sales during my performance! 

I know I'm lucky to have him in my life. I hope one day he can look back and know I did my best. I hope he's never afraid to be himself, to feel emotions, and to live the best life he can, even in a world that tries to tell you who you are before you can show them everything you're not. I hope every day he's thinking, "You ain't seen nothing yet!"
Find more information at andykarol.com.

Please feel free to send questions, comments or tips to Michael Workman at michael.workman1@gmail.com. As part of the Movement Matters series, a monthly online conversation on subjects discussed in the column will take place starting with The Integral Necessity of Dance Criticism on Dec. 15, 6:30-9:30pm at High Concept Laboratories (2233 S. Throop St., Chicago). Please join the Movement Matters Facebook page for updates, and to join in on future online conversations.
---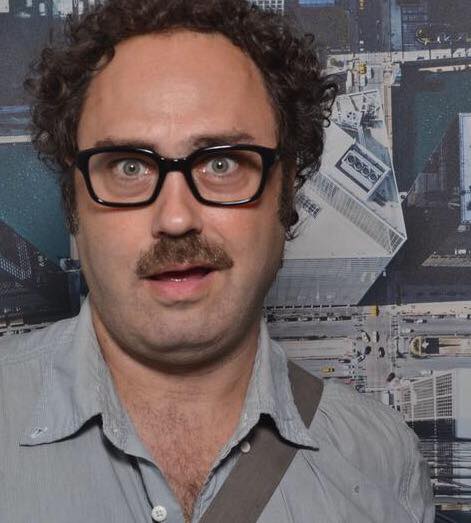 Michael Workman is an artist, writer, dance, performance art and sociocultural critic, theorist, dramaturge, choreographer, reporter, poet, novelist and curator of numerous art, literary and theatrical productions over the years. In addition to his work at The Guardian US, Newcity, Sixty and elsewhere, Workman has also served as a reporter for WBEZ Chicago Public Radio, and as Chicago correspondent for Italian art magazine Flash Art. He is also Director of Bridge, a Chicago-based 501 c (3) publishing and programming organization. You can follow his daily antics on Facebook.