Matt Bodett's "Twelve: a series of performative koans"
A review of the recent performance at the Poetry Foundation.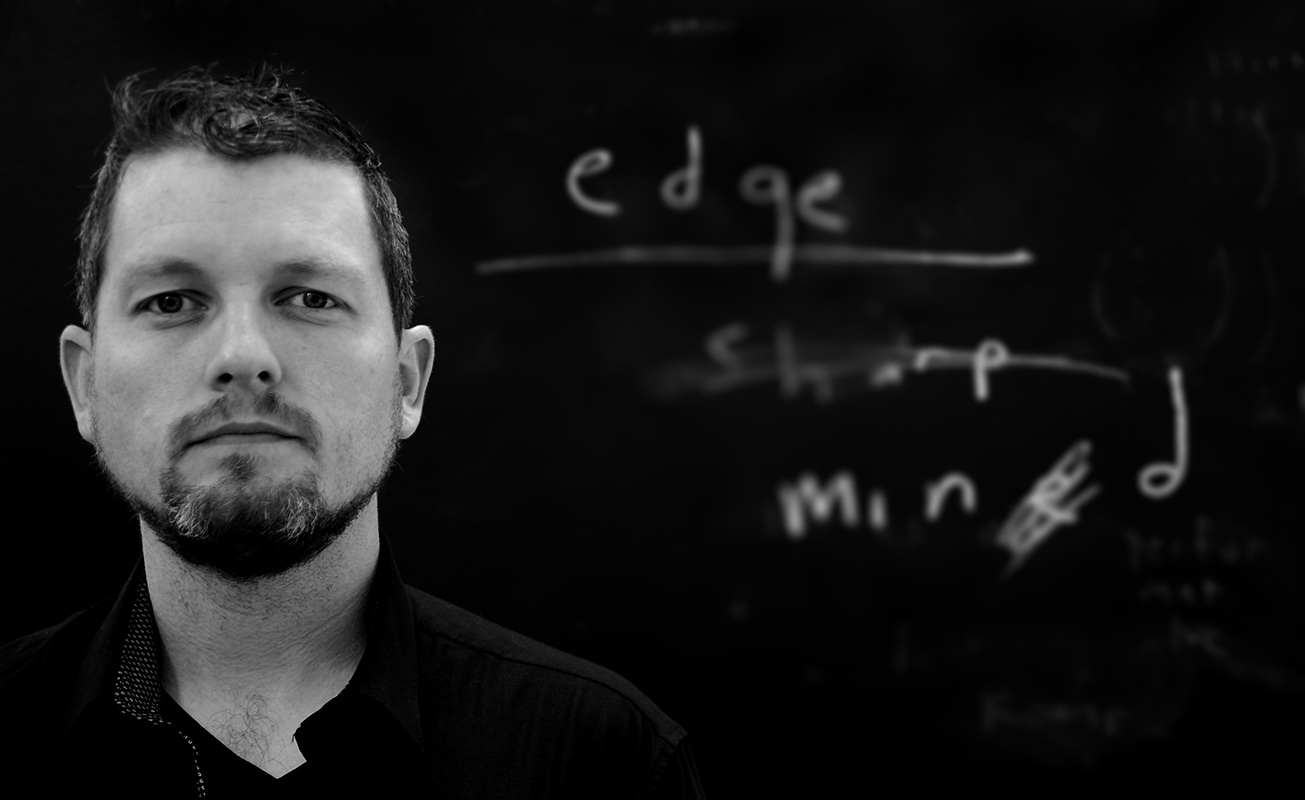 Ghuahh! The performance begins with an unexpectedly-sharp gasp, followed by stuttering vocals not dissimilar to speech blips that happen when you fast-forward an old VHS, or what one can imagine a person drowning sounds like. This tense scene―where the artist exerts himself, yet remaining indiscernible―is echoed several times over during Seen, the third installment of Matt Bodett's Twelve: a series of performative koans. While individual, each performance in the series is "commanding a new dialogue and offering a new way to experience notions of identity, suffering, healing, language, and stigma." Diagnosed with schizophrenia 13 years ago, Bodett has been expressing mental illness, and his personal experiences with it, through his artwork ever since.
Presented at the Poetry Foundation on Tuesday, September 26, Seen gives the audience a glimpse into two symptoms of schizophrenia and their effects―auditory hallucinations and aphasia (the inability to speak or disorganized speech). Sounds and words overlap and repeat, a blur of disjointed meaning. These layers of information come in the form of the artist speaking live from a microphone, audio recordings playing through speakers, and a projected video piece. By combining these elements, Bodett creates a powerful performance that simultaneously overwhelms and builds empathy in the audience.
The video component is documentation of Bodett's mark-making―the artist writes words on a chalkboard, erasing, underlining, repeating―a peek into the artist's process of sketching out ideas. This also shows his unique way of understanding language and how that has changed since his diagnosis. Placed in the middle of the performance, as a reprieve of sorts, Bodett recites Walt Whitman's One Hour to Madness and Joy. This text sets the stage for the notion that madness―whatever that really means―can be a beautiful and freeing place to be in. It also opens the door for the perspective that we're all a little bit mad.
Integrated within one of the final sets of gasp-like vocal sounds, Bodett asks the audience "if I said this on the train, would you have found meaning in it?" This challenges the way many people react to manifestation of mental illness they encounter in public spaces and compares that to the perceived safeness of a performance space. By questioning why we frame these two encounters so differently, Bodett is confronting our assumptions, while also fostering a sense of understanding.  
One of the most interesting parts of this performance was the American Sign Language interpreter that the Poetry Foundation provided. She stood next to the artist and signed the repeating, fragmented vocals in such a way that her gestures really became a dance―and Bodett, the choreographer. In speaking about his process during the short Q&A, Bodett shared that the very first step in his art practice is fully trusting himself, even when his mind may not understand the marks his body is making―"I have an MFA and I'm scribbling, but I have to take that seriously." When asked about the vocalizations in Seen, Bodett explained that his scribbles and mark-marking eventually develop into a framework on which the performance is built, but there is some improvisation and "it's very instinctual."
Koans four through twelve will take place in various locations in Chicago throughout October. The next performance is Sunday, October 1 and will consist of a meditative walk on the route of Chicago's former "Crazy Train," which transported patients to the Dunning Asylum. Visit mattbodett.com for details on upcoming performances.
Twelve: a series of performative koans is a residency project supported by 3Arts and Bodies of Work at UIC.
Featured Image: A gray-scale photograph of artist, Matt Bodett is shown from the shoulders up, on the left half of the image. The right half contains the words edge, sharp, and mined in a handwritten font, white on a black background; the words are partially erased and/or scribbled out. Image courtesy of Matt Bodett.
---
Courtney Graham is a Chicago-based arts administrator, writer, and event planner. As a masters candidate in Arts Administration and Policy at the School of the Art Institute of Chicago, she focuses on accessibility for people with disabilities in cultural spaces. This interest is reflected in Courtney's writing, which often explores issues of access as well as artists with disabilities and their work. Additionally, Courtney serves as the Manager of Events and Evening Associates at the Art Institute of Chicago, where she plans and executes over 200 events a year for the museum's 100K+ members. When she is not dashing from the museum to school and back, Courtney can be found embroidering, grossly over-planning for her next trip, or watching Michigan football.