Marginality, Publicity, Movement, and Spectacle: Juxtaposing Circus and Graffiti Aesthetics
A project combining two marginal genres, graffiti and circus, in NYC and Chicago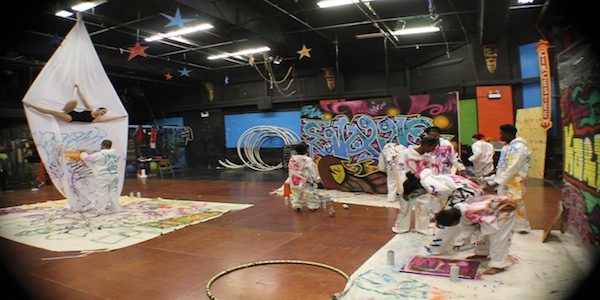 Urban Acrobatics was a project funded by Northwestern University's Center for Interdisciplinary Research in the Arts, and organized by myself, a Northwestern PhD in Communication Studies Caitlin Bruce, and New York City based circus artist and educator, Polly Solomon. The premise was, while surprising, straightforward: to explore historic and aesthetic affinities between contemporary circus and graffiti in New York City and Chicago through panel discussions, workshops, and performances in each sites, all events being free and open to the public. By staging the event in two major North American cities, we were able to gain insight on challenges, possibilities, and commonalities between circus and graffiti scenes across the U.S.
In 1973 Twyla Tharpe played with this relationship between graffiti and, and as, dance, in her work Deuce Coup, which involved notable young graffiti artists painting a rolling white wall behind the Joffrey Ballet ensemble.  I recounted this history to Polly and asked: "What if we combine graffiti and circus to see what can be shared? They both have histories of movement on trains, and in their creation, create wonder, are intensely public, but also have fraught relations to the public." After getting seed funding from Northwestern, we were off to a running start.
Shared Marginalities: Arts Funding and Circus and Graffiti in the U.S.
Both circus and graffiti are marginalized in public discourses. Graffiti has been labeled by government entities and art critics as "not art" at best, and vandalism, at worst. Joe Austin, Ian Bourdland, Jeff Ferrell, Susan Stewart, Nancy Macdonald, and many others point to the way that illegal graffiti works within an idiom that is incongruous with art world categories. Exchange value, autonomy, and singularity do not line up with illegal graffiti standards for publicity (on public spaces that cannot be sold or reduced to a quantity), communication practices embedded in ongoing social exchange, and proliferation and reproducibility. Of course, since the 1980s writers have found ways to adapt their styles, and pieces, for gallery scenes, some of which I have followed in Chicago and can be found here. However, at the level of large-scale city funding and major sponsors, commissions are irregular at best. Circus bears a different history but has some similar difficulties in working within a sellable, and hence, sponsor-attracting frame. Performance based, circus acts are singular but leave no trace, performances are spectacular but often challenge traditional narrative frames, and importantly, perhaps residual anxiety about circus' different outsider, and freak-show histories, it is challenged for not being a real art form . United States circus practitioners have been pushing for greater recognition, drawing attention to the severe disparity between institutional and public support for circus in the U.S. and in cities in Europe. Urban Acrobatics New York and Chicago enabled discussion and the creation of paces and opportunities to consider a more durable trajectory of recognition for both art forms.
Urban Acrobatics New York: Juxtaposing Styles and Soliciting Community Involvement
On September 4, 2013 the project began with an inaugural panel discussion, titled, "Interrogating Shared Histories: Publicity, Movement, and Spectacle in NYC Circus and Graffiti." It was held at the NoMAA (Northern Manhattan Art Alliance) Gallery in Washington Heights. Ralph "Tatu Xmen" Perez recounted how when doing graffiti, particularly illegal work, one is taking one's life in their hands. The XMEN crew, founded by TATU, who has been painting since 1979, is for him an island of misfit toys, a "Circus", that is a medley of ages and ethnicities. He further highlighted that graffiti has existed since the dawn of time and is tied a basic human need for expression. Autumn, a circus artist, later added that acrobats too risk their lives every day for the love and the beauty of their craft.
David Carlyon explained that graffiti and circus share the paradox of the public and the private: both are public products but the doers behind the works are often "there…and then gone!" The phenomenon of there and then gone, he went on to explain, also perhaps underwrites some of the fear of both the circus and graffiti, because, as itinerant art forms, they seem strange, and historically, what is strange is often seen as dangerous. Graffiti as visual noise, and circus as excessive and even mad movement, challenge the strictures of bourgeois respectability. Finally, Carlos Dominguez Martinez/FEEGZ, a graffiti writers from Washington Heights, reminded us that even within subcultural histories there are layers of exclusion and forgetting. Playing a video of Phase 2, he pointed out that Washington Heights, which was the home of old school writers like Julio 204 and Taki 183, often gets written out of histories of graffiti when Brooklyn and the Bronx become the focus.
After the panel discussion we held two workshops, which took place at Word Up Bookstore and community center, at 165th Street and Amsterdam. We started with a tagging workshop, led by Erotica67 Fly ID and Clark Fly ID, two long time graffiti artists from the Bronx. Laying out some brown butcher paper on the floor E directed the group to sit alongside the paper "like at a table."
Exhorting the kids to tag up the butcher paper and represent NYC, their neighborhood, or street, Clark, meanwhile, drew a more elaborate throw up with outline, shadow, highlights, and a brick background. A youth to my right, Carla, helped lead her younger cousins in working on their pieces, she drawing a multicolored pink and orange piece with a frenetic and layered sun.
An hour later, Polly took over by directing a shape-making workshop. "Graffiti," she reminded us, "is a visual performance of breakdancing, and when you see a funny letter sticking out like this" <sticking out her foot> "its like a dancer actually sticking out their foot in a freeze. So we are going to do some shape making with our bodies." Each person picked a pose, and we had to name each pose, and repeat them, some the "boat of shame," or "cute!" or "the explorer" or "arrrgh" or "home run."
Of course, after every act, one must also conclude it with a flourish, called "The Present." The present can be thought of the circus equivalent of a graffiti style, the signature flourish one adds at the end of a particularly thrilling act.
The day before the New York performance I interviewed Polly Solomon, Chriselle Tidrick, and Leslie Robin. All three are circus artists. Chriselle does aerial acrobatics, dance, and walks on stilts, and uses modern dance techniques in her circus work, that "carries through some idea or concept to the audience." For her circus is "about techniques…rather than it being in a tent…or some location." Instead, it is about taking skills to wherever they can take place. Learning about graffiti for her was more about learning about a subculture, and "figuring out how much overlap there is between circus artists and graffiti artists." The "idea of being outsiders," she elaborated, is shared, and that "both things are considered low art," a phenomenon she has "confronted often in the dance world…where people say that [circus] is a gimmick…or not real art…and I think graffiti artists thing something similar from the established art world."Leslie works on Lyra, participated in all of the workshops this week, and has a unique perspective on the process. She noted that she was struck by the similarities in the intense color of graffiti and circus, and that both are art forms that "society does not want to acknowledge as art forms."
Before the final performance, Carol Ward, Interim Executive Director of the Morris Jumel Mansion offered a few words of introduction about the Mansion, our site, and her desire to change it from something that could be static, to a dynamic space for community engagement. We played a compilation of selections from the panel discussions and interviews that we did over the past week, echoing comments about risk and public denigration of circus andgraffiti as art. Suddenly, Chriselle emerged all in black on four three foot tall stilts, her hands moving — bird-like, or even like the vapor of paint from a spray can—was she lilted from side to side, engaging with the audience, and then dancing with Polly.
Then the other circus artists emerged, and made dramatic shapes with their bodies, warming the audience up. Meanwhile, E67, Clark, and Feegz painted, the Fly ID crew slowly creating a sky scene with full bubble letters and wings, and Feegz's piece a more abstract play with colors, can control, and post-office stickers, a detailed collage.
Forty minutes later the silks themselves, the canvas panels, the drop cloth, and the artists' bodies were works of art. As one can see, throughout the first half of the project, discussions about proper and improper movement; creation and self-actualization; and exclusion and belonging emerged as shared themes between the two genres. Because of space, time, and monetary limitations, the artists did not have much time to work together or rehearse, and as a result the performance offered a presentation of graffiti and circus happening at the same time, and sometimes in close proximity to one another, but did not fully develop what it might mean to do graffiti through circus, and vice versa. In April, 2014, in Chicago, we sought to push this conversation further.
Urban Acrobatics Chicago: Stylistic Exchange, and Physical Collaboration
In Chicago we sought to continue the aesthetic and historical conversation, involving new artists and engaging with different spaces. We began the week at the Evanston Art Center. EAC Director of Education W. Keith Brown opened the session by discussing a deep desire on the part of the Evanston Art Center to make it a space for a range of art forms that are accessible to a broad public, not just more traditional art forms. The Urban Acrobatics panel, then, functioned as a bridge to continue the conversation about art forms that may occupy marginal positions even though their effects are intensely public: circus and graffiti.
Gabriel FLASH Carrasquillo, who is an engineer, artist, photographer, and educator, shared some of his vast archives of Chicago-based graffiti and street art that go back to the 1970s. Flash started writing in 1983, after the moving "Style Wars" came out, and was influenced by Chicago youth who had returned from New York after picking up graffiti styles. After retiring in 1987 he returned to the scene in 2003. Flash's retirement coincided with the disappearance of a "whole generation of writers." Although when graffiti started in Chicago it was met with confusion or indifference, "CTA workers would say 'Good night writers,'" Flash had joked, by the 1990s it was an all out graffiti war. Even today such disproportionate treatment in response to graffiti continues. Flash explained that different city departments: CTA, Streets and Sanitation, and the Parks Department, have their own graffiti buffing budget. What if such funds were turned towards finding legal venues for youth? In cities like Chicago, Flash argued, many non initiates are blinded by a culture that is imparted by strict anti graffiti laws, preventing artists (and art lovers) from benefiting from a market that is vibrant across many cities outside Chicago. The past mayoral administration(s) continued this culture of demonization, even buffing permission walls, or "blowing up paint cans," a "no write" policy that fomented an antagonistic relationship between city officials and writers that is captured in the film "I Write on Stuff." Flash contrasted Chicago's anti graffiti culture with that of Paris, where, he suggested "permission pieces stay up for a hundred years. "Such a climate is changing, Flash added, hopefully, with the new mayoral administration. Flash's discussion of Chicago graffiti, which is met by the general public by a mix of misunderstanding, intrigue, interest, and fear, mirrors some of the misperceptions surrounding the circus scene. Contextualizing the Circus Now movement, Polly Solomon explained that in the U.S. federal arts funding agencies, including the NEH specifically ban circus projects from consideration under the rubric that they are "not art."
Roy Gomez-Cruz artfully discussed some of the spatial and social dynamics of learning about circus art in Chicago, performance scenes that are inflected by changing industrial landscapes, and bodies that engage, resist, and transform prevailing gender binaries. However, learning how to do circus acts involves putting the body on display in ways that are uncomfortable, involve judgment, and "risk and failure." Although circus training involves risk and vulnerability, Roy concluded, perhaps such training may "allow us to meet others." Along this theme, Polly noted that in both graffiti and circus culture there is an intense reliance on one's crew or troupe or team. Such reliance comes out of necessity, one needs a spotter, or a lookout, or a partner for a complex pose or act, but also for a sense of community and identity. In many communities of practice the practitioners have a sort of volitional family.
Polly concluded by emphasizing that creativity is about inspiration, which is quite literally taking breath. "One of the ways that we can inspire [lies] in how we treat the next generation coming up, and teach them and let them teach us." This generational obligation, or ethic of care, resonated with Flash's "Project Logan" walls, as well as the potential Roy sees in circus enabling practitioners to teach and learn body-to-body encounters that may be generous and transformative. In Chicago, a city of industrial blocks, sharp class and racial division and inequalities, and sprawling neighborhoods, both circus and graffiti practice offers ways of being in common that rest on respect, risk, vulnerability, and inspiration that may shape more equitable, and more oxygenated urban spaces.
Workshops were held two days later at Alternatives, Inc., a youth organization in Uptown. Werm One led a tagging workshop to around thirty youth, and Polly followed with a circus workshop. Using similar exercises, youth were taught the fundamentals of lettering, outlining, and filling in with colors. Polly again worked on different body shapes, as well as allowing the youth to experiment with a variety of human pyramids.
The culminating performance, at Alternatives, Inc., combined live graffiti, acrobatics, painting, clowning, and rapping, offering the audience a snapshot of what it would mean to inflect circus with a graffiti aesthetic, and put graffiti surfaces into spectacular motion. Opening with sound clips from the panel discussion, the room was filled with the voices of circus artists, scholars, and graffiti artists and historians discussing the demonization of the above genres, as well as the potential inspirational power of these public art forms for the masses.
After hearing speech about graffiti and circus the audience was presented with another kind of visual noise: the persistent hiss of paint cans as Werm, Melon, Jae, and Kard began working on their walls. The word "evolve" took shape in turqouise against the black background of the temporary wall, evoking decades of conversations among graffiti communities about the inevitability, but also positive need for evolution. Evolution from, and towards what?
The show performed the various paths that evolution may take. First, the audience was presented with the development of a burner (an elaborate piece that involves characters in addition to complex enlarged lettering). Then, the burner became the background to moving bodies. Then, one of the six youth from Circ Esteem involved in the show took the stage, juggling three paint cans. I knew from rehearsal and planning that this youth was anxious about being alone on the stage, and about the scrutiny of the audience. Such anxieties echoed Roy Gomez-Cruz's earlier explanation that circus involves putting the body on the line, making it visible and thus susceptible to the scrutiny of one's peers for successful (or unsucessful) deployment of visual and physical syntaxes of circus art. His performance, which was not a virtuoso display of mastery, offered something different but equally important: an exhibition of the discomfort and hiccups involved in engaging with a new medium, and also, a different mode of physical comportment and relationship to his environment. Juggling the cans made the act of juggling, his particular niche in the circus world, strange.
The young juggler was joined by his five peers. They proceeded to make four different pyramid structures, different formations of surfaces for Werm and Melon to paint on. Sometimes with their backs to the audience, sometimes facing forward, the writers tagged the circus artists with simple strokes: a star on the chest of the boy, and hearts across the torsos of the girls. They too where learning a new medium, that of interacting with moving, circus bodies.
Writers like Werm and Melon who learned to write in an illegal context possess amazing speed. They can write their names in a few seconds. However, adding in moving, wriggling, balancing bodies demands yet more dexterity and swiftness. The wall is no longer a given.
This experimentation with surface and implement continued further with Polly and Melon's duet where, while she was suspended off the ground by her fabric, he pushed her around as a make shift ink can, painting where he moved her body. "I realized as he was moving my body what he was trying [to get me] to write," Polly noted, but also acknowledged that it was "difficult to use the can…to have a steady flow of ink." Can control emerged as a difficult terrain for the young circus artists, with cans misfiring or getting on hair, but then, becoming an exhilarating tool for marking up the space. Bodies were also placed in poses in front of the walls to provide surfaces that could "walk away," playing with the ephemerality of graffiti and the risk it always can leave (and reappear, ad infinitum).
Werm One then took the stage, doing four songs: Paint the Pain Away, 10 Graff Commandments, Wrong Side of the Tracks (Remix), and a new song. Urging the crowd to "Put your paint cans up!" he rapped about the pain and struggle he has faced, his search for redemption, and some of the stereotypes he is subjected to as an artist. "I'm not a vandal, I'm an artist!" he exclaimed at one point, eliciting cheers from the crowd. Evolution, in his work, figures as a personal journey but also a complementary relationship between the spoken and the written (painted) word.
While Werm rapped, Melon continued to paint, and the young circus artists formed a line behind him, mimicking his movements. When he moved to a different section of the wall, they moved, when he raised his right arm and drew a curved line, they did as well. This infinity mirror of bodies helped throw into relief the centrality of movement in the making of graffiti as well as its resulting aesthetic.
The young circus artists then introduced movement into their painting, one hula hooping and painting, while the other held the canvas out for them. The resulting images were spectacular, astronomical arrays of paint splatters and partially completed names. The kids experienced (and performed) the joy of writing with aerosol paint for the first time, first cautiously writing their names of each others' paint suits, and then more ecstatically tagging the drop cloth, canvases, and each other.
During the next sequence, Polly, Melon, and Werm, performed a group piece where Polly, on the silk fabric, assumed a series of poses that manipulated the fabric in different directions, creating an ever-changing canvass for Melon and Werm to paint on, the textural equivalent of an etch-a-sketch board. Melon noted afterwards: "It was kind of frustrating, because I would write something, and then it would disappear." At the same time, he described the experience as "amazing, beautiful to watch [Polly] perform on the silks, and to try to be part of it." As the sequence progressed it became more collaborative, Melon passed paint cans up and down to Polly as she painted the fabric above her, also a difficult process for someone who has little experience with regulating pressure of the can to create a steady line of color. Natalie painted the youth's faces, and Polly's body in preparation for the sequence.
The show concluded with the youth performing a movement sequence that they had developed in workshop on Thursday. Starting with an airplane pose, followed by a squat, then a calm standing pose, then a kneeling pose, and then a lunge, followed by yet more sequences, their faces and costumes were covered in paint, making them moving, living graffiti pieces. The show, which began with blank surfaces and quiet painting, concluded with the accumulation of color, movement, and a shared vocabulary for creation between circus and graffiti artists. It was, and is, an evolution between two marginal genres that we hope to continue.