"Leaf by Leaf" at the Chicago Artist Coalition
How does our environment affect our cultural memory and identity? What relationship does geography have with power and how does it affect diasporic communities? HATCH Project exhibition "Leaf by Leaf"…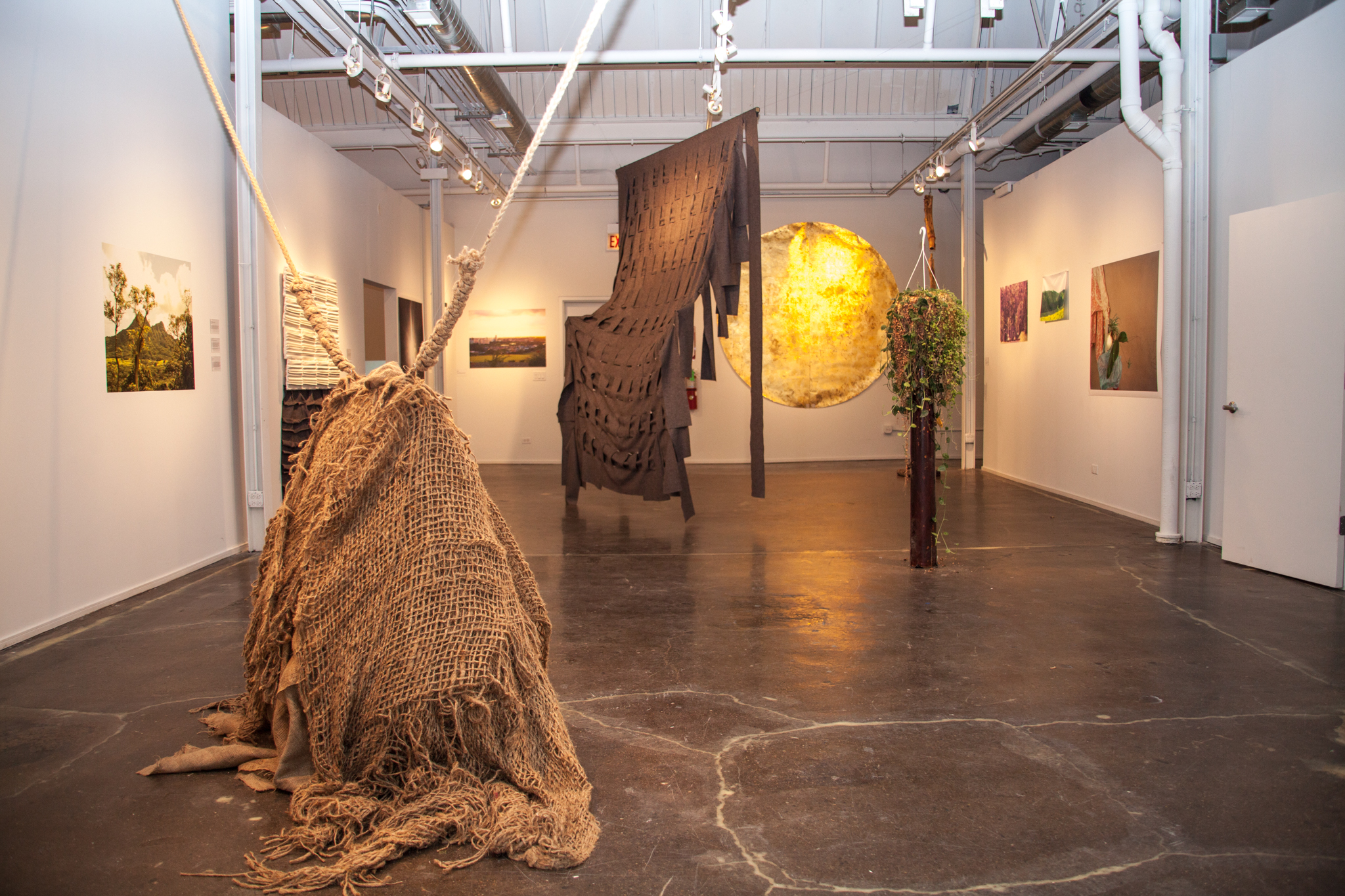 How does our environment affect our cultural memory and identity? What relationship does geography have with power and how does it affect diasporic communities? HATCH Project exhibition "Leaf by Leaf" at the Chicago Artist Coalition investigates these urgent questions that are embedded within the plants, the land, and the organic elements that surround us. Featured artists include India Martin, Whit Forrester, and Yasmin Spiro, who all create works that unveil a beautiful yet complicated ecology that is cultural, political, and spiritual. My experience with the exhibition grew from a sense of awe within the breathtaking photographs of India Martin's birthplace of Hawaii, to the spiritual and sublime within Whit Forrester's plant-turned-holy icons, landing at a textural encounter of materials found in the earth that comprise the sculptural work of Yasmin Spiro.
To investigate these themes deeper in the artists' work, I asked each of the artists three questions about one specific piece that was featured in "Leaf by Leaf." Sabrina Greig, curator of the exhibition and HATCH project curator-in-residence, introduces us to a unifying theme in the exhibition as well as her own personal connection to diaspora and its communities.
---
Sabrina Greig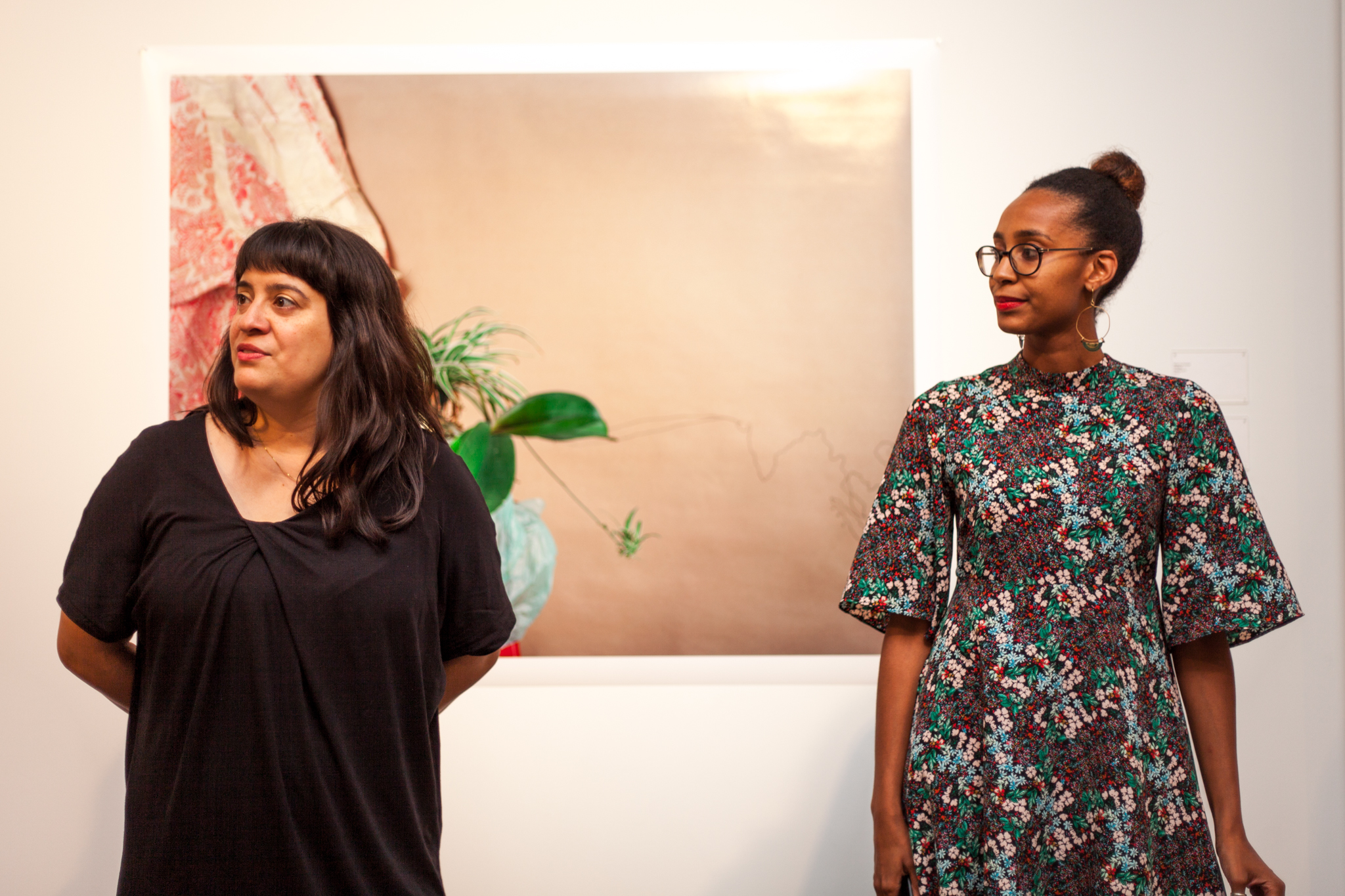 Christina Nafziger: As geography, topography, and natural objects are a heavy theme in "Leaf by Leaf," can you tell us about geography's connection to power? If power is connected to the natural landscape in which we live, what effect does this have on our memory of place, of our home?
Sabrina Greig: Much of my research during graduate school at the School of the Art Institute was on the history of urban design in Chicago and how the legacy of segregation has affected communities of color in the present-day. With this context in mind, "Leaf by Leaf" engages with a similar perspective of the way power dynamics and social hierarchies can be physically embedded within land, but I found that the work of Whit, India, and Yasmin approached this concept from a more globalized lens. Much of the work on view, especially Whit Forrester's "Fig.12 Musa acuminata ' Zebrina ' Chicago, IL 2016" in particular, represents the affects of colonial practices on natural ecosystems, and how the history of that power structure had lasting affects on natural landscapes.
In terms of memory of place and home, I found that the artists in "Leaf by Leaf" have a compelling way of showing their relationship to land through materiality and identity. Yasmin Spiro's Light Breaks Where No Sun Shines uses architectural materials, like plaster and cement, to communicate femininity. Pleated tiles are positioned on the wall as a series of folded surfaces, or cascading pleats. She demonstrates how pleats have many aesthetic implications in relation to clothing, gender, and architecture. India Martin's landscape photography most closely relates to memories of place and home. As an artist who is part of the Hawaiian and Black diaspora, Martin's work invites viewers to engage with the postcolonial geography of Honolulu, Hawaii without stereotyping the culture through a white gaze.
Christina Nafziger: As all of the artists included in the exhibition create work that is tied to diasporic communities, what is your relationship to this topic and how does it influence your practice as a curator?
Sabrina Greig: Great question! I ethnically identify as Haitian-American and much of my family lineage roots back to the Caribbean. That being said, many of my artistic and professional endeavors in the arts have been grounded in my interest in cultural and racial equity in an effort to transcend the disempowering narratives that frequently surround people of color. Last year, I had the terrific opportunity to travel to Port-au-Prince, Haiti, as a curator and teaching artist as part of a biennial, and this experience allowed me to see myself as someone part of a larger diaspora that can move beyond national lines. In terms of curating, I use exhibition spaces as a platform to create relationships between artwork that increases the visibility of cultural histories that the art historical canon traditionally marginalizes.
---
India Martin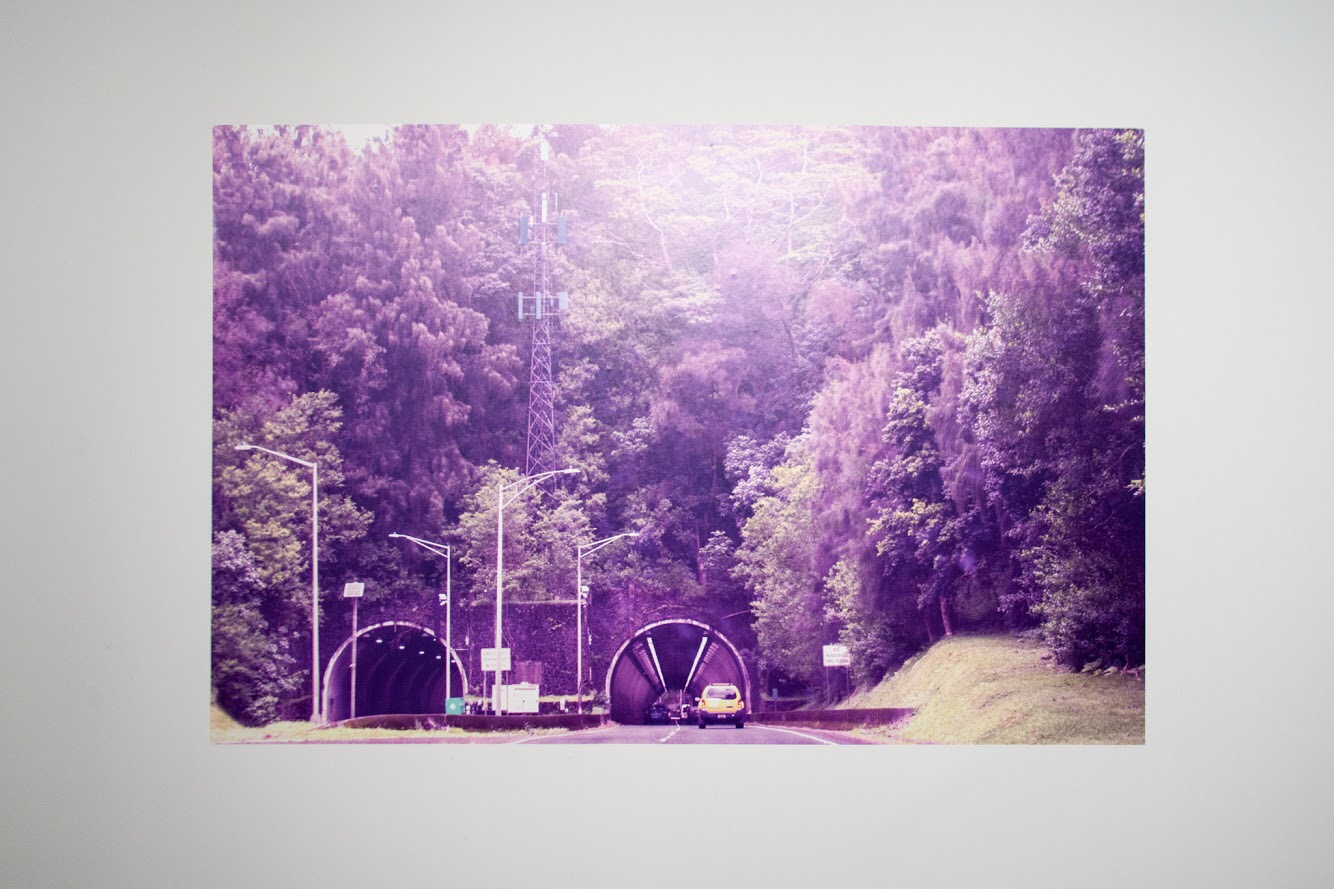 Christina Nafziger: Where was the photograph "Higher Power" taken? Does this specific place have a personal significance for you?
India Martin: I took this photo from the passenger seat of car while driving through the mountains in Oahu. I was born on this island so visiting is very calming and nostalgic for me. Visiting this area of the island during this trip put many things into perspective for me. It was a very energetic for me. The views were almost therapeutic.
Christina Nafziger: It is almost as if the viewer is at a crossroads within this photograph, as the scene includes a thick, lush forest, but also tunnels and roads that lead somewhere unknown to us. Can you elaborate on the dichotomy between these two elements of the photograph? Are they competing with each other or coexisting?
India Martin: The elements are coexisting. The lush landscape evokes imagination. I purposely installed this piece so that the eyes meet the tunnel straight on. I wanted the viewer to feel surrounded by the haze of the forest while their eyes lead them somewhere else. The layers in this photo present the viewer with options to many experiences.
Christina Nafziger: The purple hue in the photograph creates a surreal atmosphere, altering the space like a hazy memory. How would you like this ethereal element to alter the landscape and the viewers' perception of it?
India Martin: The hue is meant to create a kind of dream-world experience. I want viewers to get lost and create their own narratives and visual experience.
---
Whit Forrester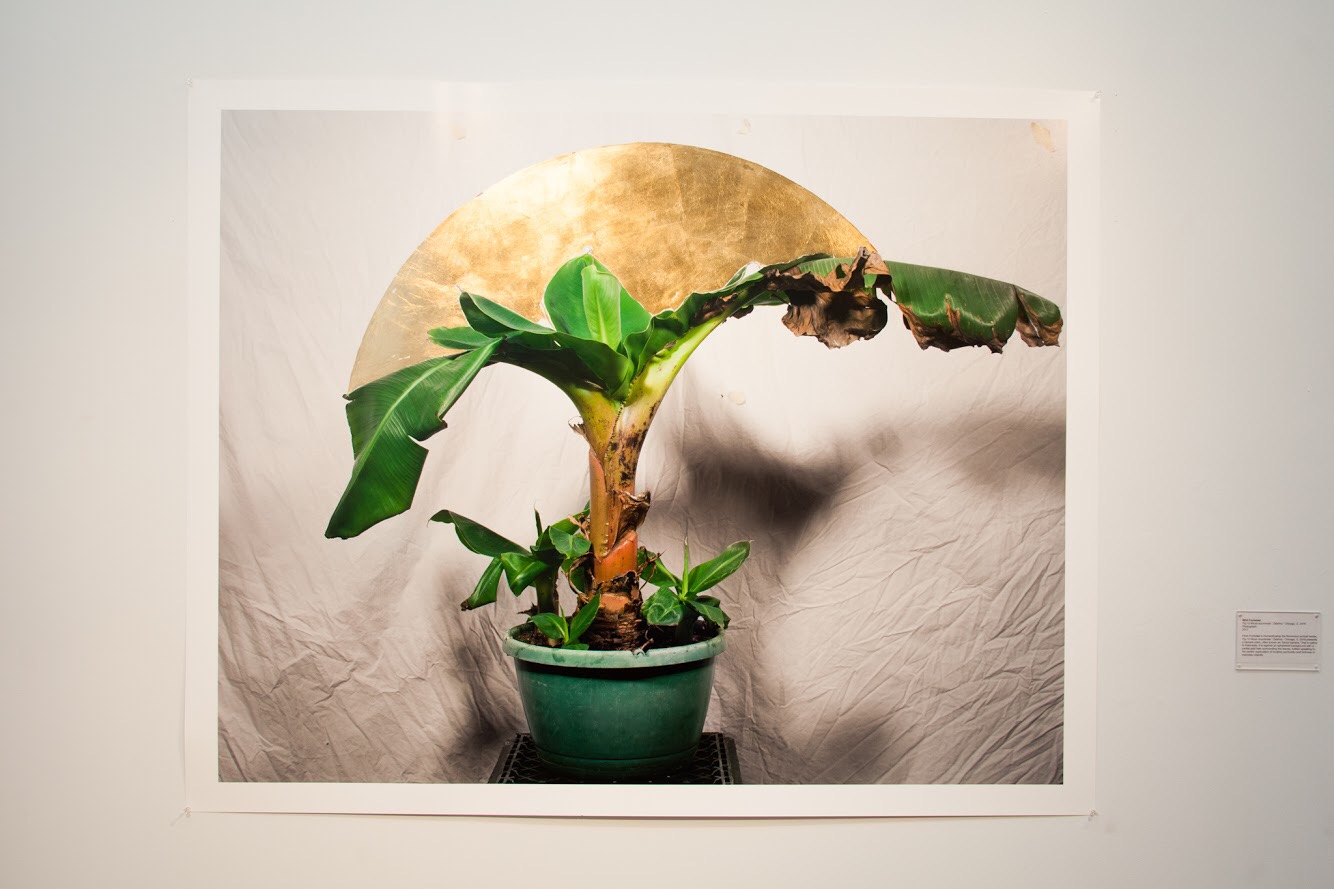 Christina Nafziger: "Fig. 12 Musa acuminato 'Zebrina' Chicago, IL 2016" is part of your series, "Domesticating the Numinous," where you create portraits of plants and everyday objects sitting in front of gold leaf, elevating the objects into divine status. Can you talk a bit about this series and its connection to postcolonial topographies and power?
Whit Forrester: I see houseplants as a vestige of the colonial process, most of them coming from the tropics. They are essentially from the sublime — the place where the transcendentalists and romantic painters would imagine the Divine inhabiting. The process of colonialism fundamentally dehumanizes the Other, severs connections to land, and then justifies violent takeovers of resources and land through genocides, war, economic war, and on and on. Through all of this though I see this tendency towards isolation and compartmentalization. I wanted to suggest that it was possible to heal our relationships to land and that houseplants were an access point to this connection, and that this process is inherently anticolonial and spiritual.
Christina Nafziger: Humans tend to consider themselves as having power and superiority over nature. By giving this banana plant a golden halo, a symbol of holiness, are you portraying a shift in power, or perhaps allowing each plant to escape this dichotomy of power through spiritual properties? Do you have a personal connection to this type of plant?
Whit Forrester: You know … they do. It's confusing and scary and incredible and everything. I started to see the materialist paradigm as a functional component of all this mess, the thing which suggests that nothing besides matter exists or can be proven. Yet, human experience through the ages suggests otherwise. And it isn't that, like, people have slowly gotten smarter over the last 2k years. I became interested in the possibility of houseplants as access points to the Divine. Traditionally, we use gold to represent Divine light because light is the physical manifestation of the Divine. The substance of it. Well, plants are a three-dimensional print of the substance of Divine. And I'm reading about studies of physics and finding that nobody even knows what light is, that the more it is studied the more it appears to point to the inconsistencies within how we think of the world. Suggesting an incredibly more intertwined world than previously permitted within Western scientific models.
I started to imagine that houseplants could be access points then, not just to the Divine but somehow also to this process of addressing the heinousness of the colonial mess that looks more like some kind of evil ritual or rite that still seeks to brainwash, manipulate and control. Aesthetics are causal. If houseplants — a commonly disposable and overlooked assumption in the human environment — become representations of the Divine and access points to it, then every space in which they are a part changes, too. Elevates, I suppose. It would also suggest that entire ecosystems are essentially networks of light talking back and forth to one another. I want to play with the aesthetic way in which houseplants are represented in the popular imaginary and to suggest that our relationship to the natural world and to each other can shift through how we relate to the living things in our built environments.
Christina Nafziger: In your artist statement, you consider "Queering as a spiritual practice which is ultimately connected to ideas of decolonization." Can you discuss Queering as a spiritual practice in relation to your process creating this piece?
Whit Forrester: For me, Queering as a process means living inside of the conundrums and paradoxes and constantly drawing a question mark in red ink around power and the ways where it's been wielded in the past that reverb in the present. Kind of, I guess, in hopes of altering its course in the future. I see Queering as ultimately an act of healing. It's calling everything to the table whether it wants to come or not, and starting with where it lives in yourself.
---
Yasmin Spiro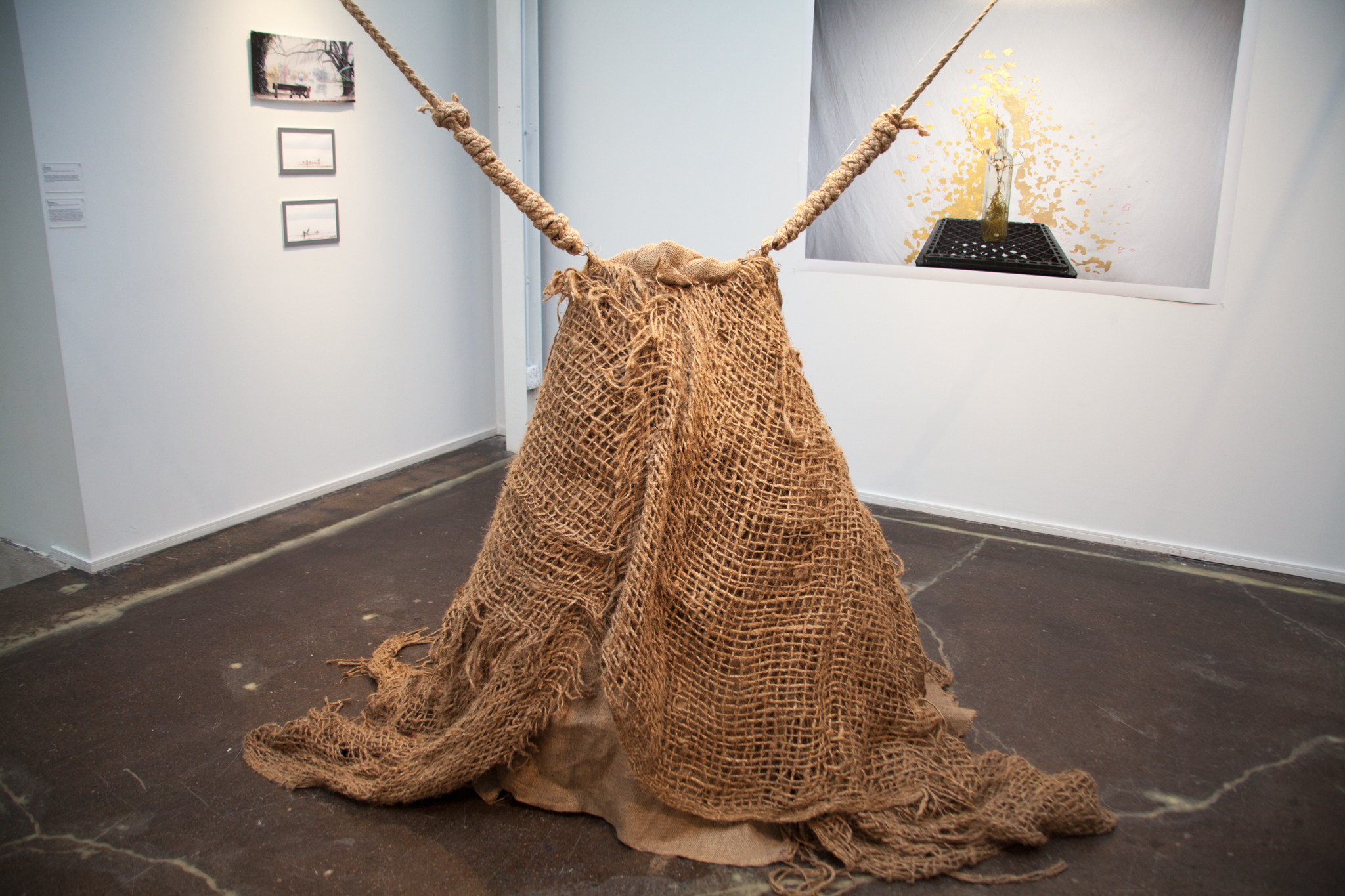 Christina Nafziger: Can you tell us about the history and meaning of the title "Dawta"? What is your personal experience with this word? What does it mean for you?
Yasmin Spiro: "Dawta" is a Jamaican patois word for daughter' and a common way of referring to an unknown woman (usually young) in the street or in various public spaces. Patois can be very literal as it describes people and things as they are — color, shape, size, etc. As a young woman, you are often called out to in the streets in Jamaica, and the work is thinking through the complexities of the female identity in Jamaican culture, the contrast between social strata (uptown, downtown), and the expectations of the female presence in various social and/or cultural settings. In Jamaica, one tends to flip between speaking patois and the proper 'Queens English' depending on the setting. A lot of 'code switching' happens as you learn to navigate identity — particularly as a woman.
Christina Nafziger: Seeing this item of clothing, this skirt, without a body in it alludes to a possibility of different bodies inhabiting the space, but also strongly references the bodies that are invisible and unseen. Can you tell us about this absence of the body in relation to the neo-colonial white gaze?
Yasmin Spiro: The absence of the body most certainly considers the invisible and unseen, but it also thinks about the power of the female presence, and the role of women in Jamaican culture (a complex and messy one that is both misogynistic and also matriarchal). The lack of the body can also provide conversely a different kind of presence. I think a lot about the hybrid nature of the very mixed Jamaican culture (slavery, colonialism, indentured servitude and the influx of Chinese, Indian and Middle Eastern cultures) and how complex the absorption and integration of culture is and it's shifting nature. Considering, what we hold on to and what we discard and how the culture can maintain the influence of colonialism but subvert the meaning and cultural function, allowing for empowerment. The neo-colonial gaze (whether white or not) is also complex, and Jamaican culture both perpetuates stereotypes and battles against them. My own sense of Jamaican-ness rubs up against the hyper-simplified projections of the culture but also know that it's often what we present to the world through tourism and the knotty issues of socio-economics keeps much of that entrenched. The making of these works (and the performances that sometimes happen in the pieces themselves) is a form of practice — an investigation and unpacking of identity and my own position within that.
Christina Nafziger: You often use organic, natural materials in your work. How do these materials relate to geographical histories, material memory, and identity?
Yasmin Spiro: The physical and psychological landscape of Jamaica where I was born and grew up greatly informs the material in the work. I spent my childhood between Kingston and a small farm on the North coast of Jamaica — a connection to land and its history is significant in the work. The burlap in the sculpture references many things: agriculture (and as it relates to the land history of plantations in Jamaica), nature, and disintegration. The relationship with the materials is often based on material memory, but the meanings shift in the making of the work. I'm interested in the quality of an object or material that is perceived by touching and the sensation of something felt.
Yasmin Spiro: The felt material in Safety Wall and Light Breaks Where no Sun Shines is also considering the physical feeling of the material and its transformation from soft and dense to a more architectural structure, and shifting its use from wrapping and/or containment to a "soft" barrier or building a structure for protection. The cast tiles in plaster and Hydrocal reference rough cut limestone walls seen across Jamaican landscape — rustic barriers, dividing property lines and encircling built structures. As well, it is part of an investigation of architecture in the middle east (where my father, an architect, was from) — looking at the Iranian temple of Tugrul with large pleated walls (feminine gestures to an extent), and the wailing wall where messages are buried within.
The sculptures are made with simple, natural specifically chosen materials — modified through casting, braiding, molding and layering — examining a balance between material and form, abstraction and content. There is a meditative quality to these actions that is an important part of the process. Through the hanging of the work and the relationship between wall ceiling, floor and space, the work addresses issues of suspended animation. (Note: I studied Ikebana (Japanese flower arranging) with a Jamaican florist for about four years as a teen, and the elements of nature, balance, line, symmetry and asymmetry, greatly influence the works.)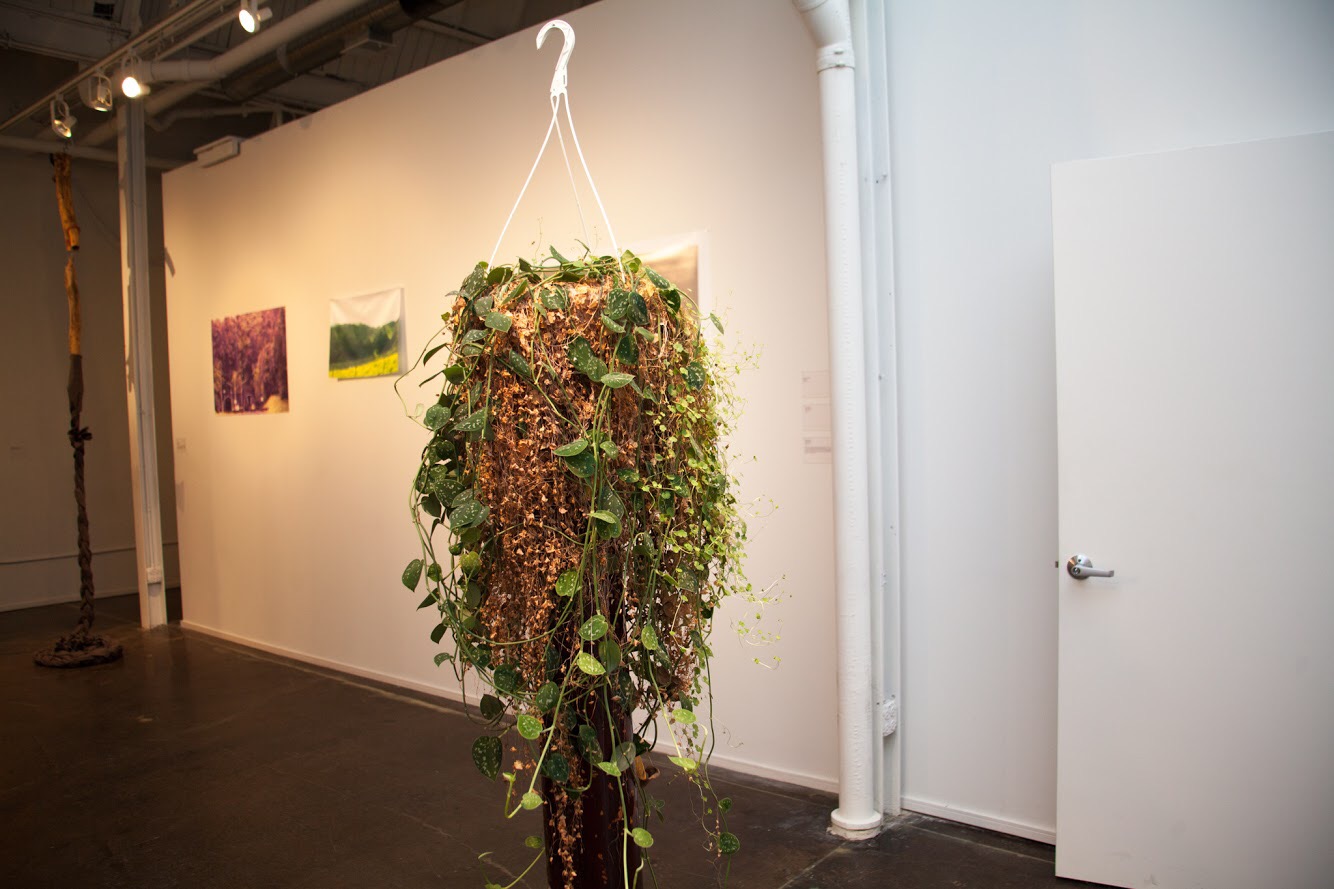 ---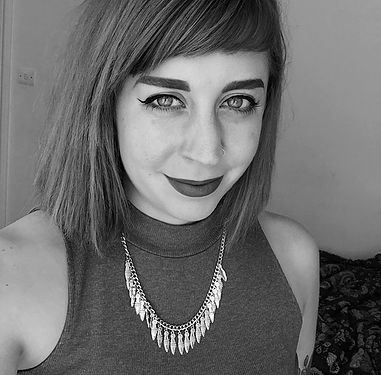 Christina Nafziger is a freelance arts writer with a background working in curation, arts administration, and community outreach. Earning her M.A. in Contemporary Art Theory from Goldsmiths University of London, her area of research focuses on performativity within the image, virtual identity, and cyborg theory.