Just Scratching the Surface: Lisa Goesling
Lisa Goesling, another artist in the Chicago Artist Coalition residency program, has managed to literally create new meaning pertaining to how art fits into her life and career. Her seemingly…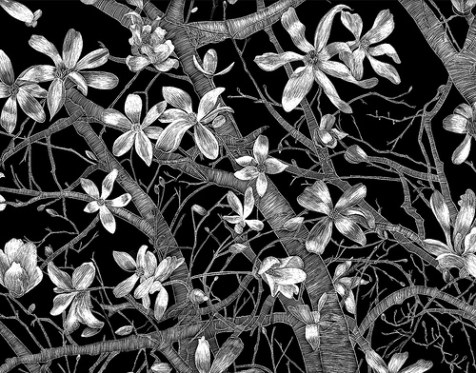 Lisa Goesling, another artist in the Chicago Artist Coalition residency program, has managed to literally create new meaning pertaining to how art fits into her life and career. Her seemingly microscopic scratchboards illustrate a variety of flowers and plant life that contrast equally the negative and positive black and white space. She illustrates such fragile and delicate images with such an abrasive technique.
We had a short conversation and Lisa mentioned to me how the residency opportunity has given her the opportunity to really explore her artistic talent in a new direction. After listening to what Lisa had to say I now realize that it truly is amazing how art affects individuals differently.


"I am an artist here and I am one of the lucky people to get to walk up to the Merchandise Mart every day and walk to the art space and be able to create. I feel unbelievably grateful to have this opportunity it came on the heals of my having cancer. That is how I started with the medium I use, which is scratchboard. They were portable and I could bring them to treatment. It would take my mind off of things and I fell in love with the way the light hits the line work I create and the way the composition is against black and white.
In addition to doing these, I also create design on fabric. I feel the more things I have my fingers in with my art the more fun it is for me. I have a publisher that wants to publish my art (my entire collection); a card company that creates cards off of my work now and my artwork is in several interior design studios now. It has just been an unbelievable turn of events. I used to be an art director, graphic designer, public relations director but all I really ever wanted to do was my own art anyways."
We will see more from Lisa in the future. Keep posted as her work continues at the residency for another six months. I will be heading back to capture a full audio interview with Lisa in the next couple of weeks.