Intimate Justice: Sarah Bastress
"Intimate Justice" looks at the intersection of art and sex and how these actions intertwine to serve as a form of resistance, activism, and dialogue in the Chicago community. For…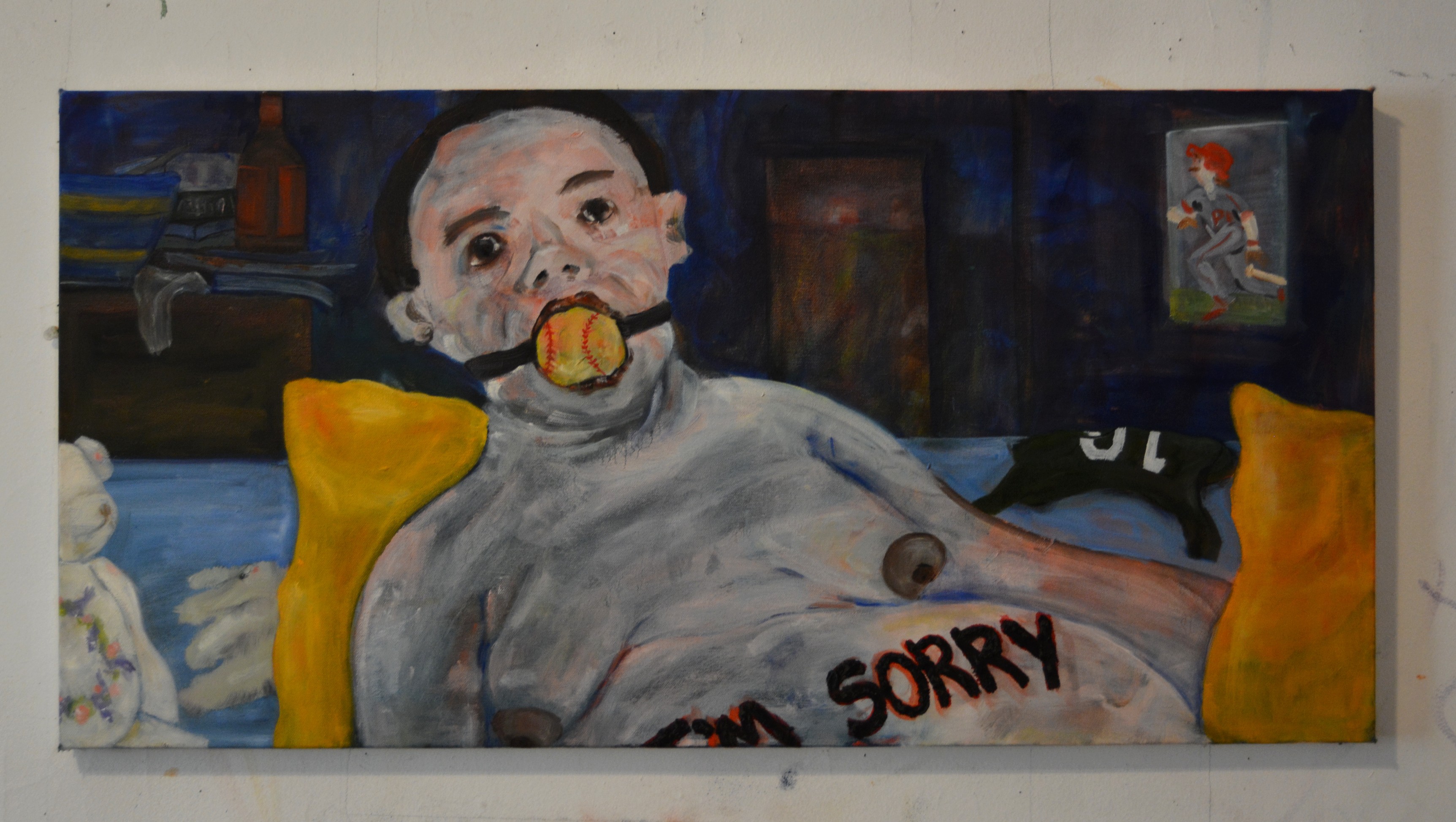 "Intimate Justice" looks at the intersection of art and sex and how these actions intertwine to serve as a form of resistance, activism, and dialogue in the Chicago community. For this installment, we talked with Rogers Park resident, Sarah Bastress, who hails from West Virginia and paints the queer body.
S. Nicole Lane: How did you end up in Chicago? How did being raised in West Virginia impact your work? (I'm from North Carolina! Southern queers unite!)
Sarah Bastress: I came to Chicago to do my post-bacc at the School of the Art Institute of Chicago, and then went on to do my MFA there, too. I ended up really enjoying my neighborhood and staying.
I appreciate you asking about West Virginia. It has impacted my work a great deal. I don't have an answer for you that isn't incredibly long-winded. Since Trump won, the question is much more complicated. It is one of the most beautiful places in the world, and I miss mountains–the ones that have yet to be blown up to make energy for this country–every day. Like it does in many other places in the world, the United States extracts resources from West Virginian communities for absurdly minuscule compensation, then leaves behind a polluted environment and jobless towns, and eventually blames and mocks the population for the system of poverty the U.S. created. The West Virginia I grew up in was by no means politically great, but was actually a blue state and a union state. It has [since] changed dramatically. It can be painful to discuss because there are some people I love dearly whose views have changed so much. I feel they truly don't care about this administration risking all of our lives. But also, much more importantly, there are so many more people I love in West Virginia who are fighting the good fight, not only against 45, but also by making their communities better. They aren't seen in discussion of rural places at all, and are worth me fighting for.
I think a lot of us kids from Appalachia, or the South, or any place rural, often identify more with the places we are from once we travel away and have something to compare our experiences to. We also are confronted with the ways other places stereotype us, and come to see all the beautiful ways our homes don't match up with those twisted caricatures. For West Virginia, this idea of understanding our home as a place we are away from and miss is almost part of our state's identity; "Take Me Home, Country Roads" [by John Denver], our fucking anthem, (my mom would maybe want me to mention there are other official state songs) is literally a song about missing the state, rather than living in it. I cry at least half the time I hear it, and so do most West Virginians I know, whether they live there anymore or not.
I attended two very wealthy institutions after high school: Smith College in Massachusetts, which was basically Hogwarts to me, and SAIC here in Chicago, and the different reality I had experienced as a child versus my peers' experiences was very striking, as well as the wild often classist things people assumed were appropriate to say to me. It really changed how I viewed myself and where I came from. To be clear, I had a fairly privileged middle-class upbringing and don't want to claim otherwise, but these institutions have little room for understanding places that have been systematically impoverished, which many people who have attended them can attest to, whether they are from my hometown or New York City.
I started out my academic painting career making very angry, biting, and ambiguous Appalachian paintings that mock the viewer for their ideas about stereotypes. I wasn't offering a lot of kindness to the characters I was painting, either. And those West Virginia paintings were where I learned the responsibility that comes from being a figurative and representational painter. I would go into critiques and people would feel completely in on the joke, and they would be comfortable laughing at the people in my paintings. It was truly awful. When people look at work that they think is about a certain "community" and decide that they "get it" with one look, you don't need to absorb that feedback. [This experience] made it hard to trust criticism (something I still desperately need because I'm a brat), but luckily I have met a lot of beautiful artists and thinkers to hold me accountable. My work about West Virginia also helped me create forever bonds and connections with other artists like Miri Phelps, Orkideh Torabi, and Bryant Worley, who had also been making work about place and received similar surface level comments, and I will be forever grateful for that.
I believe strongly that my mixed emotions about my home are important to have in my paintings, but that was often used as an excuse for viewers to use no introspection and to [use my work to] confirm their idea that they could say hillbilly as if it wasn't a slur. It has changed my thinking entirely about what it means to paint a body. I now work very hard to make figures undismissable, and let the viewer know if there is a joke, it is ultimately on them. I also learned what many artists have to learn that just because an audience doesn't know about your subject matter, doesn't make it not valid. You can make moves that people in the art world just won't get, but those moves are still worth it.
SNL: How long have you been painting? Can you discuss your visual arts background?
SB: I am not sure when I started painting, but my grandmother is a very creative person and taught me a lot of things as a child, one of them being painting, and it feels like it has always been around for me. She lives near the Carnegie Museum in Pittsburgh and would take me there to roam around. She even wrote a poem about us going there once. I also had a lot of alone time growing up, and turned to draw for entertainment often. I was really lucky in high school [to have] three art teachers with totally different personalities that were all great, and who let me hang out in their classrooms.
With all of that bountiful luck though, I still didn't realize until after college that being an artist could be my life. It didn't seem to be a useful profession. In college, I majored in Government and worked on farms during my summer breaks. I thought I would be an activist or a farmer while painting as a hobby. But I realized I wasn't really good at anything but painting, so eventually, I started working on a portfolio. I applied to the post-bacc program at SAIC because I knew I was too shy to ever make artist friends on my own and also knew I was totally ignorant about the contemporary art world.
SNL: Much of your work displays figures in vulnerable positions, sometimes awkward or unflattering. There are sex toys, references to fetishes, and kinks. Can you expand on this and how you incorporate sexuality in your work?
SB: Part of the sexuality in my work comes from just an instinctual interest in figurative and narrative painting. Sex is one of the most common forms of interaction between people, so I think it was a little bit of a natural gravitation. I have always enjoyed my images being confrontational, even before really consciously trying. And sex and vulnerability, whether they should be or not, tend to be the images that irk people, but that a viewer also has trouble ignoring. I love a central composition, and a figure squished right in the viewer's face. I don't love shock value for shock value's sake, but being explicit (and by explicit I can just mean being clear in detail and description) is a way to take up and claim space. And I have that tick a lot of painters and artists have, where I just like making images I haven't seen before. I had never seen Appalachian bodies in paintings and, until recently, I had never seen the queer bodies I wanted to [see] either.
Then, there is the part of the paintings that are a reflection of my own questioning and insecurity. Like many figurative painters, I started out making a lot of self-portraits, and that personal investigation never really left me. I have always put myself into the work, but after 45 was elected, it became much more important to make the stakes in my paintings higher. One way I resolved that is to make sure I am in [my paintings] and I am risking something. We don't really have time to fuck around. I thought about what I and my paintings have to offer and decided it was vulnerability. I don't want to skirt around the intimacy or sincerity in the work. In general, if I am a little embarrassed about a painting's content, I think it is working. Sometimes that [means] just being clear rather than being tongue in cheek about what I have affection for. I just painted a portrait of my Dad's favorite baseball player with a daffodil, and I tried to make him pretty so he and my Dad have a space to feel beautiful. Sometimes it [means] trying to articulate something I struggle with, like acknowledging desire or being rejected. I also just made a drawing about crying after masturbating because I went through a break-up and apparently my hormones and heart still aren't really letting me get over it. I'm not necessarily nice to the viewer, so I want my investment to be an offering or a deal. In my own life, I don't share a lot of myself. Sex and sexuality are not necessarily easy for me to navigate, and the fact that I just mentioned masturbating makes me want to throw up, so I hope my honesty, even in this interview, makes a playing field where the people and creatures I paint can be seen with more patience. I try to make scenarios that many people experience but don't often see depicted, and I hope that openness can be an entrance into the work where someone can see themselves.
SB: I don't want to be a shitty god putting trauma on these characters. I want to give them and myself a pathway to work through things–even if the resolution is just compositional. I love Bob Thompson and his figures you can put a story on. Even though his images are about sex and gender and race and power and narrative and art history, they are also about what happens when red is next to green. Also, they are just fucking silly. And all those facets bleed into each other in a way I shoot for in my own paintings. Obviously, he was a total genius, and I have different concerns about detail and location and content, but I, too, want my paintings to be proposals.
What happens when this red pushes against this green, and what does it mean if that red is a person that has more weight than the other? How is that weight distributed? How would they resolve this very basic part of being human together, and how does that resolve a painting? Sex is a good tool for creating dynamics and a back and forth in a painting. Elements of kink come in mostly because they are common ways for bodies to relate to each other. If someone is standing above someone, there are certain scenarios of why that would be, and the painting grows from there. Toys are good ways to bring in other objects to attach some metaphors, too. I paint mostly queer bodies, and toys are just around a lot of us, so it would be weird if they didn't pop up occasionally. Also, toys are fun.
SNL: But of course, not all of your work is sexual. It's playful and grotesque. How do you work between the two?
SB: Playful and grotesque are such lovely descriptors! For me, they do seem to be inseparable. Humor is often how I navigate complicated emotions in my own life, and like everything else, that bleeds into the paintings. It is a big part of my work, and maybe the most legible, visual thing I do. Often the paintings start with a pun or dirty joke and I try to reinforce that with the added imagery and composition. Many of my favorite painters make me laugh and I probably just steal from them. Alice Neel, Marsden Hartley, [Pierre] Bonnard, and Kara Walker are all really funny, but they will also rip your heart out. Those awesome Saint John the Baptist paintings by Giovanni di Paolo the Art Institute has are funny as hell and they are about a beheading. You can't tell me that that blood bouncing down the stairs wasn't a visual pun mimicking all those people walking around and that di Paolo didn't have a good laugh about it. It is still emotionally resonant and also highlights how ludicrous violence can be. Sometimes I worry the humor makes my paintings and drawings easier to dismiss, but most queer kids grow up knowing humor is the number one most effective defense mechanism, so hopefully that works as a window into the painting rather than a quick read.
Obviously, I am a Patsy Cline stan, and I think one of the reasons she was so good at being sad is because she was also so damn funny. In "So Wrong," she actually laughs–you hear her chuckle–about how wrong she was to leave her lover. It's hilariously ridiculous! And that chuckle ends up sonically reinforcing her beautiful vibrato when she belts "so wrong for so long," and it truly is heartbreaking.
SNL: I usually ask artists for this column how they are coping with our current administration's control over the body. But since we are living in a unique time and under a pandemic, I'm wondering how this crisis is impacting artists. How are you coping and continuing to create?
SB: For everyone I know, artist or not, this pandemic has put an icky film over all our thoughts and activities. On the one hand, I do feel incredibly lucky I have my studio practice. Art is a key trauma response, and I have something to focus on and put energy into. I do feel that deep existential uselessness, that what I am making doesn't matter, but I am happy for routine and purpose anyways. Elizabeth Bishop's "One Art" is maybe the greatest poem about loss ever written, and a reason the "art of losing isn't hard to master" is because she yells at herself to "write it!," write that loss isn't a disaster, and I have been holding onto that. "One Art" is a villanelle, a poem with so many seemingly arbitrary restraints and repetitions that ultimately elucidate the point of the poem almost as much as the words do. It represents so much of the power art [has when] creating the world we want to see, rather than the world we are in. Also, writing that poem was rumored to have helped Bishop rekindle her relationship with Alice Methfessel, so that's sort of an extra nice anchor.
On the other hand, which I intimated in a wacky-panicky email to you, [this time] has been difficult and it does feel fairly silly to be writing this and talking about my work rather than screaming about how this administration is murdering people. I don't know an artist who isn't financially terrified. It seems like the entire job market is going to shift to something even more nebulous and nefarious. I have lost whole days thinking about my family or incarcerated people or the election in November, or on the more self-absorbed front, just how dangerous it is to be this alone and lonely for months on end (which can get you right back to thinking about people incarcerated). It sounds like that is the norm for many of my friends. The coping part has just been letting myself feel very sad and scared and to not be productive, and also forcing myself to talk to people I love and trying to be there for myself and for them. It is hard to be just sitting inside while people are fighting for their lives. Some days I can channel the slowdown and timelessness we are experiencing, and some days I can't. I'm hoping that letting myself just be however I feel at this moment will give me some energy to make decent work and help fight all this injustice being highlighted when the opportunity arises. Though, I do have a sense of doom in the pit of my stomach, and it feels important not to downplay that.
SNL: Future plans after the virus is over? Future plans…in general?
SB: Who knows?! Like a lot of artists, I had some things coming up I was really excited about that are now up in the air. Hopefully, Andy Moore and I will exhibit with boundary for the Hyde Park Art Center's Artists Run Chicago 2.0., and hopefully I will be in a booth for RUSCHMAN at the Future Fair, which as of now has been rescheduled for the fall. Both these events involve showing next to artists I really admire and working with curators that have made the Chicago art world seem to be a place of kindness and possibility, so fingers crossed that their ideas and visions will get to be seen.
In my general future, if/when it becomes safe, I am getting a drink at my neighborhood bar and then going dancing. After that, I am going to be working fucking hard to get this administration out of office and get good people like Marie Newman into office.
Featured Image: I'm Sorry, oil on canvas, 18″x 36″, 2020 by Sarah Bastress. This painting shows a figure reclining with the words "IM SORRY" painted on their stomach. In their mouth is a ball gag that looks like a baseball. On the left side of the figure is a teddy bear and on the right is a jersey and yellow pillow. The background is dark with piles of objects on a dresser and a baseball poster hanging on the wall. Photo courtesy of the artist.


---
S. Nicole Lane is a visual artist and writer based on the South Side. Her work can be found on Playboy, Rewire, MedTruth, O.School and other corners of the internet, where she discusses sexual health, wellness, and the arts. She is also an editorial associate for the Chicago Reader. Follow her on Twitter. Photo by Jordan Levitt.