Intimate Justice: Ricardo Partida
"Intimate Justice" looks at the intersection of art and sex and how these actions intertwine to serve as a form of resistance, activism, and dialogue in the Chicago community. For…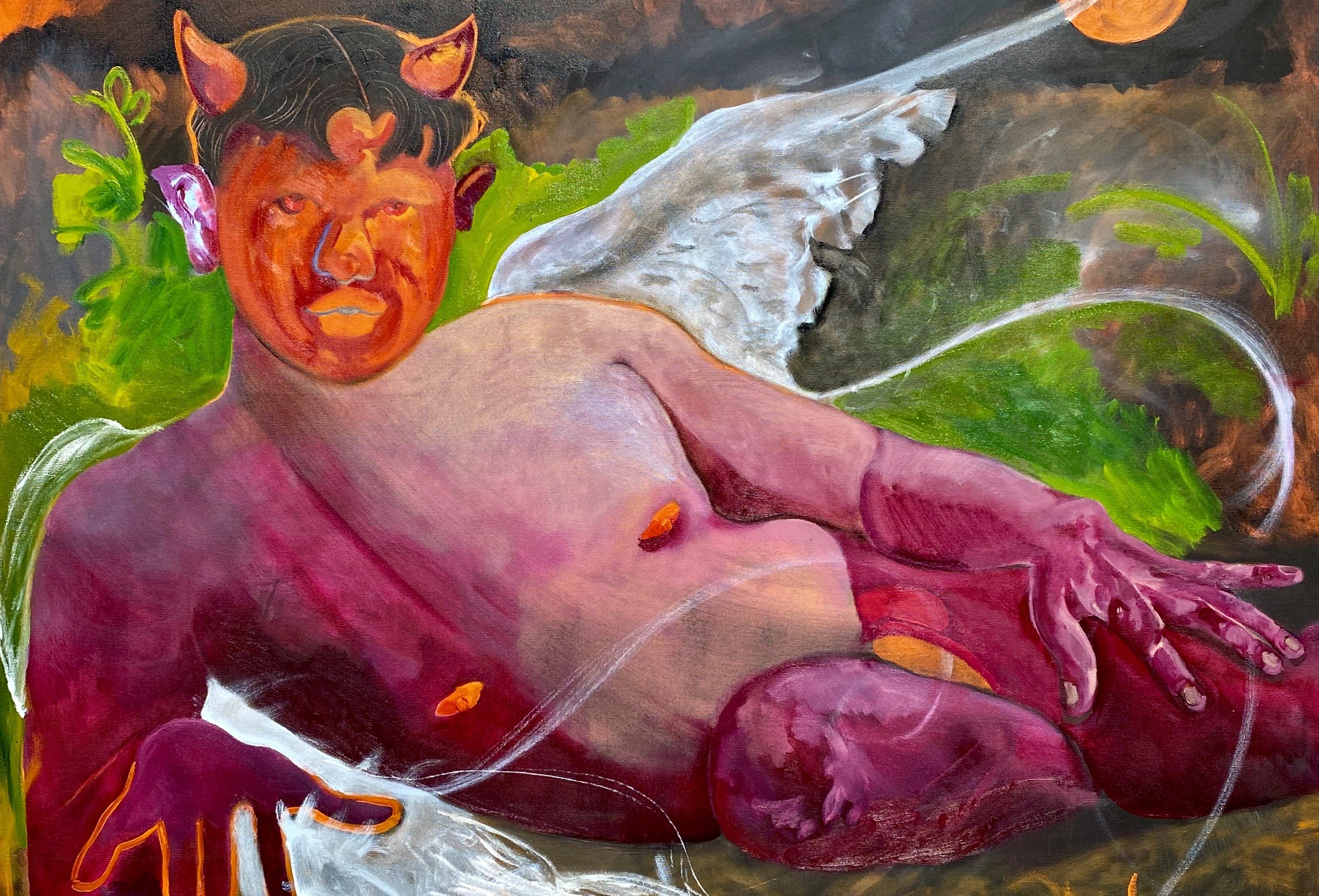 "Intimate Justice" looks at the intersection of art and sex and how these actions intertwine to serve as a form of resistance, activism, and dialogue in the Chicago community. For this installment, we talked to the painter and recent SAIC graduate Ricardo Partida about greek mythology and power dynamics. I first stumbled upon Partida's work through Instagram, following them through a digital world and was re-introduced while viewing the SAIC MFA Graduate Thesis Show. The figures in Partida's paintings stare deeply at the viewer, inviting them into a naughty, dark, and sexy world.
S. Nicole Lane: Where are you from? What led you to Chicago and how has the community here impacted your work?
Ricardo Partida: I was raised in the valley; a small, cursed town 15 minutes north of the south Texas-Mexican border. I came to Chicago for grad school at The School of The Art Institute of Chicago and recently completed my MFA in Painting and Drawing.
Being in Chicago has been a wild ride. Much like a relationship, we have had our ups and downs, but I can honestly say I've fallen in love with the city. One of the reasons I chose to come here was the diverse environment that champions individuality in both the academic setting as well as the queer nightlife. I am very lucky to have found my community and peers that allow me to be myself.

SNL: You work with figura serpentinata (a style of painting where figures are typically in a spiral pose), a method of making a figure seem more dynamic. Can you expand on this style and why you choose to paint this way?
RP: I first came across the term "figura serpentina" in a book titled Ingre's Eroticized Bodies by my queen Carol Ockman. In the text, she explains how the serpent-like quality of line used by Ingres shifted the representation of the heroic male in art to the homoerotic sensualized male nude that we see in the late eighteenth century. By using the same quality of line as he typically would on a Venus and [by] messing with proportions, Ingres managed to create an "other" within the gendered language used to depict bodies at the time. This visual language impacted Western ideas of seduction and desire. In other words, figura serpentina demonstrates that both modernism and neoclassicism sanctioned an ideal of desire that conjoined the horny and feminine with the deformed and bestial.
SNL: Some of your works reference Greek mythology, like Eros, the Greek God of Love. Can you discuss the inclusion of greek mythology, sensuality, and power dynamics in your paintings?
RP: I didn't really know much about Greek Mythology prior to making work in an academic setting, However, I did grow up in a Catholic household so I've been familiar with altarpieces for as long as I can remember.
I reference Eros and Cupid as a stand-in symbol of desire in my work. I like to think of the paintings as surrogacies of seduction—much like playing Simsor roleplaying. I like to build tension with anticipation, so I often like to show a nipple or something as subtle as the drip of sweat sliding down a limb. Just Bossy Bottom Energy.
As of lately, I've been obsessed with the concept of the F*g Fatale or "Gay-Fatale," the idea of an effeminate man bringing the world to its knees. I guess it all goes back to my desire to create work that includes unconventional depictions of gender and gender performance as part of its value system.
SNL: Most of the subjects are looking directly at the viewer in your pieces. Can you discuss this choice and how the viewer plays a role in the seduction and power play?
RP: As a gay man navigating heteronormative spaces, the gaze informs me of danger as well as moments of desire. In my work, the gaze plays an important role [in] creating a push and pull of menace and allure between the viewer and the subject. Often placed in neoclassical contrapposto, the figures stare back at the viewer with ravaging eyes, much like a tiger ready to pounce. I like building that static in the air. I think it might be the anticipation I'm so into, like the Texas wind tipping an eighteen wheeler or a horse jump fail.
SNL: What was the experience finishing school in the midst of a pandemic? Has this affected your work and if so, how?
RP: Finishing school during the pandemic was a curse and a blessing. It was sad to have to leave our graduate studios early and basically begin our careers. Being away from school felt safer than staying, all my term papers were cut in half, and critiques were done via Zoom. It was honestly so demonic, like a bad dream, but [I'm] also high key happy I'm done.
Partida's solo exhibition, "Final Fantasy" opened September 12 and will run until October 11 at Julius Caesar Chicago.
Featured Image: Willing and Ready for The Taking by Ricardo Partida is a painting with a figure lounging in the nude on their side. The figure's face is a red-orange color and their body is fushia. There are white wings behind the figure and horns on their head. Directly behind the figure is a bright green with a dark grey and red sky. An orange moon is in the right-hand corner. Photo: Ricardo Partida.

---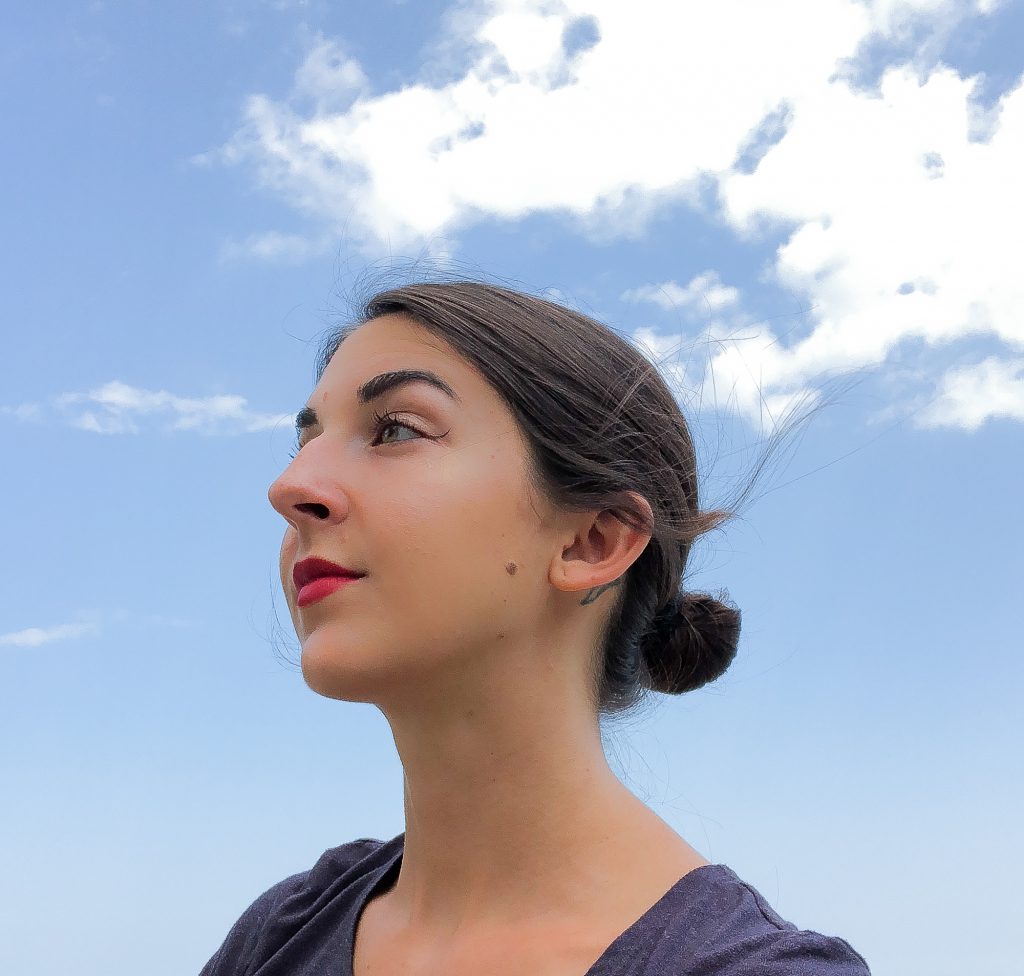 S. Nicole Lane is a visual artist and writer based on the south side. Her work can be found on Playboy, Rewire, MedTruth, O.School and other corners of the internet, where she discusses sexual health, wellness, and the arts. She is also an editorial associate for the Chicago Reader. Follow her on Twitter. Photo by Jordan Levitt.