Intimate Justice: Leah Ball
"Intimate Justice" looks at the intersection of art and sex and how these actions intertwine to serve as a form of resistance, activism, and dialogue in the Chicago community. For…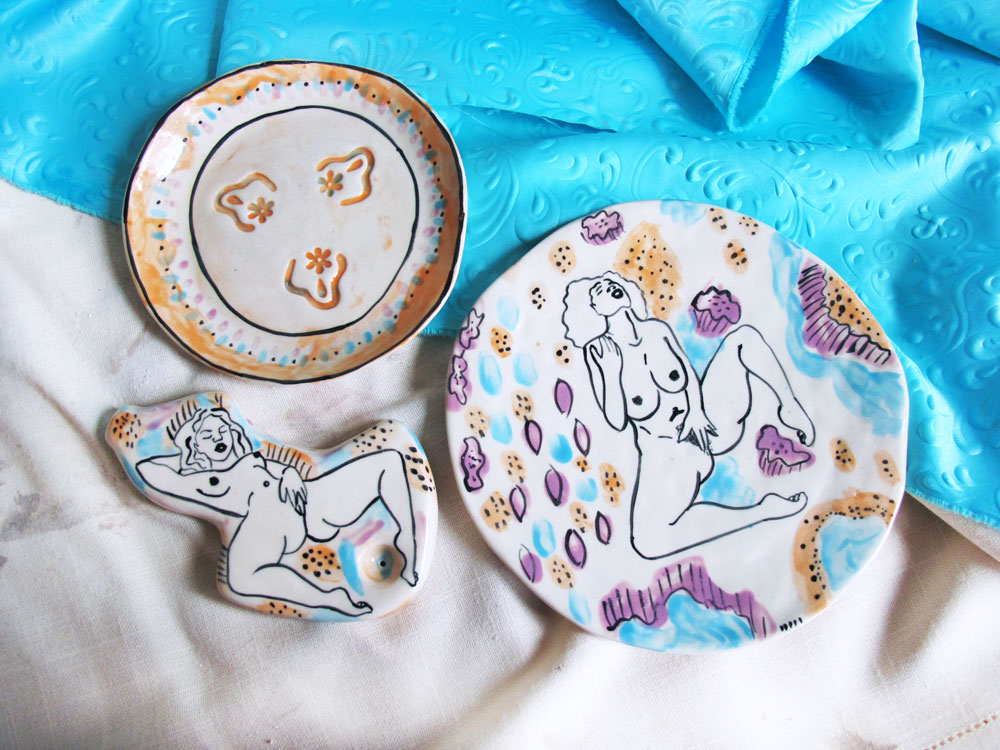 "Intimate Justice" looks at the intersection of art and sex and how these actions intertwine to serve as a form of resistance, activism, and dialogue in the Chicago community. For this installment, we talked to Leah Ball about erotica for the self, the role of the artist, and the documentation of pleasure in her Humboldt Park studio. 
This interview has been edited for length and clarity.
S. Nicole Lane: Can you discuss the basic groundwork for combining ceramics with sexual, sensual images and text?
Leah Ball: At a young age I was super impressed that my dad could draw a realistic looking human from memory. I have no idea why, but as a kid I thought that was magic—so I practiced and practiced to do the same. I think the reality is that I have been trying to reclaim my body since as far back as I can remember. I have been sexualized my whole life. These moments are some of my most vivid memories, so I always revisit themes of reclamation in my work. I think that's a big part of how I got into art and jewelry design—my interest in adornment started with making fine metal and precious stone pasties. Ceramics and I are a happy accident—I just listened to and followed mediums that excited me. Marbled porcelain is such a cool and unpredictable process that is easy to get lost in—it's great art therapy. I kind of had an ah-ha moment when I started drawing people pleasuring themselves in order to create the porn I wanted to see and incorporating it into ceramics. All those years I was studying the figure; this is what I have been training for. I could create a body of work that I had unique skills for, that was also healing and pleasurable for me, and contribute to a larger conversation that I wanted to be having about building a future that I believed in. It is a constant and evolving journey, but it feels authentic in a really honest way.
I started drawing people pleasuring themselves because I was inspired by other artists claiming their bodies for themselves, like Fannie Sosa's Twerkshops and Dark Matter's poetry collective claiming their femme self unapologetically. I started masturbating late in life and it had a pretty direct impact on my agency, on coming-out, on healing, and on my whole life's trajectory. I am so thankful for that. So I painted mostly self-portrait inspired depictions of pleasure as a thank you, as another part of that conversation, as erotica for myself.
SNL: Can you talk a little bit about the Chicago arts community and how it has influenced or inspired you?
LB: I have been lucky enough to be inspired by quite a few artist communities in Chicago. When I moved here, I met other jewelry designers because that I was doing that as well. Eight years ago, my first friend was Meghan Lorenz of Cities and Dust and we are still good friends. Growing up with other makers means we skill-share and support each other, which is so helpful because making a living as a maker is really challenging.
For a few years I worked with my ex, Scottie McNiece, on his record label International Anthem, and was immersed in the Chicago jazz scene. I'm sure my brain was rewired listening to all of that incredible music. The dedication of many of these artists showed me how rewarding the struggle could be. It was also a male-dominated, cis-het world, which comes with all sorts of exhausting challenges as well.
I transitioned into ceramics when I was sick of metal (literally and emotionally) and my work started to revisit some themes of femme sexuality. I then found the Salonathon Community and Slo 'Mo family and finally started to grapple with what it meant to be queer and what community could look like. My work started feeling so much more authentic. I started to see the world I believed in and it saw me, too. I did a lot (and continue) to do a lot of work on myself because it's a constantly growing and evolving community that I personally feel requires me to show up. It holds me accountable and has been the community that nourishes me and inspires me to continue my work. At Salonathan, I opened up to a full room discussing essays on race, masturbating on a plane, and my relationship with virginity as a survivor and being queer. I also read some very graphic erotic poetry while my friend Chris Walker improvised along on the sax. That woke me the fuck up.
SNL: And you also do a lot of community organizing, is that correct?
LB: I have always grappled with what my role as an artist is. I want people to talk about things they don't usually get to talk about in ways that stretch our minds to see things differently, especially around femme sexuality, intersectionality, and pleasure. It's also important to me that my art is a reflection of my community, so it has to be accessible and engaging. So involving people and community organizing is just a part of my practice as an artist.
Feminist as Fuck was a project intended to show the diverse feminisms in the Chicago community. Shop Sensual was a market and series of programming to celebrate the sensual and kinky in ourselves and in our local makers community, to fortify ourselves through pleasure as a self and community for the work ahead. [Photographer, Chelsea Ross, was the co-founder of both FAF and Shop Sensual and Kristen Kaza is a co-founder of Shop Sensual.]
SNL: That's how I found your work!
LB: Cool. Right now I'm doing mostly workshops and stretching what that looks like. These workshops are art classes/meet-ups/information-sharing/pleasure-positive spaces that I learn more and more from every day. It started as economically motivated—to pay my studio rent—but it has grown to mean so much more to me.
I have been thinking a lot about artifacts. These porcelain, erotic plates will most likely outlive us. Considering that so much of our dialogue happens digitally, and so many of our material goods are created for short-term use, what is the power of material permanence? How can self-documentation in stoneware be used as a tool of the revolution? Can they tell my story? Or yours? Suppose we are together in these workshops creating lasting documentation of our erotic pleasure and of our pleasure rituals to focus on our moments of bliss. Hundreds of plates—perhaps in hundreds of years, when the Chicago area is excavated in the future, they will write our history informed by these queer, mythical, graphic, sexy, sensual, diverse, floral, holistic, magical, imaginative, and tender images and maybe by focusing on these plates and the pleasure they document, the future can understand and see themselves through human pleasure and abundance rather then through scarcity and repression. I want to make sure the artifacts left behind tell as full and rich of a portrayal of the Chicago community as it can—diverse in age, race, class, gender, ability, sexuality, kink, inspiration, etc.
SNL: Pleasure is clearly an important theme throughout your work. Do you want to talk about that?
LB: I found this quote by India Ame'ye, a black, queer, feminist writer. Everything she writes just feels so rich and is dripping with joy and strength. The quote was, "A sensually activated woman is a wealthy natural resource for her community. Pleasure is power." Well, that quote activated me. It articulated a feeling that I had been working through my whole life, that perhaps my pleasure was my super power, and was being stigmatized for reasons that I wanted to expose to myself and others. There are unique ways all of us are depleted and shutdown, and seeing the fuller picture of what this means for everyone is key in seeing the future we are capable of. That's a key part of intersectional feminism for me. I'm not encouraging we focus only on the bad, but recognizing how and why we are each uniquely oppressed can lead us to our root. That aspect of ourselves being shut down is intentional, and the target is our unique power. Along the way I am discovering what that means for me and my community, and it does feel like the Achilles heel of the brutal system we currently live under.
Audre Lorde and her essays on the "Uses of the Erotic" also helped sharpen my sword. I see my privilege now as something I can weaponize to fight for a just future. I now know that feeling in deep pleasure, and being activated sensually in all authenticity, makes me powerfully creative, resourceful, resilient, fearless and abundant. When I tap into my body in that way, my best work always comes through. I can work through difficult interpersonal dynamics more clearly, design challenges get solved, my own prejudice and limitations become more obvious, the scarcity-based programming become more foreign and easier to work through, and I see paths more clearly. If reclaiming my body is powerful, then using my senses as a resource is even more uniquely so.
SNL: Do you see your work as an act of resistance? Even if it's some sort of personal resistance, which we've kind of touched on. Or perhaps it is a means of coping?
LB: My current body of work is really focused on pleasure rituals. I can't imagine getting through the day-to-day of my life without intentional escapes into pleasure. My family and I have had a really rough few years. All of the ills of capitalism have plagued people very close to me—cancer, disease, addiction, poverty. Last year I broke my arm, forcing me to stop. And in this excruciating, forced stagnation, I actually expanded into pleasure rituals. It was in these escapes last summer that I began to write erotic poetry. I considered them love letters to myself from within the light to remind me to keep going. I tapped into poetry through bath times, masturbation, and queer sex, but there are many other ways I tap into this "ritual" as well. I definitely focus on art that makes me do and experience things that explore pleasure. There is a misconception that pleasure-seeking is all fluff or superficial. On the contrary, I have had to dig deep to find real pleasure. That is no easy task, but so incredibly worth it. I think about people who only enter into sexual experiences by holding power over someone and never through any vulnerability, or life experiences as a tourist/colonizer without any real stake, and I want to shake them and tell them how much they are missing out on! We are so full of potential it's overwhelming to me. I also believe that in our deep pleasure lies a roadmap of what the human condition can be without racism, classism, gender, and extreme wealth and poverty.
LB: There's also this feeling that art is extra—that it is something only people who have money really have access to, or something only "artists" can make. I reject all of those notions. For one, I think that as artists, in order to be accountable to our communities, we need our communities to value the work that we do. We have to really communicate, get feedback, and create work that is valuable not just to the moneyed class. Second, I reject the idea that certain people are born "creative or artistic." It's a skill some of us are drawn to and practice, like any other valuable skill. Our value isn't only in the aesthetics or marketability of what we make, but in the way we explore and engage complex issues and hone our skills in service to the issues we explore. It's a process. People that come in to my class may have little practice or are just beginning their process, but that doesn't mean that they are any less valuable when exploring the issues through our given medium or within their own context. Using their body to create this work forms a deep connection—hopefully to the world humans are capable of.
I also think that just having a ceramic studio allows me to get a lot of value out of the work that I do, because it makes my life fuller and richer by working with more people. Talking about my thoughts with others is not only healing for me, but it is also potentially healing for other people. I think that showing that this is an important thing to have in the world is also an act of resistance when you have the government that we have, cutting funding for education and for the national endowment.
SNL: Yeah, that's why I think I was really drawn to your work. I obviously saw that you're making all of this work, but you're also involved, and I kept seeing your name pop up. It's nice. I'm excited to see what you do in the future and where your work goes.
LB: Yeah, I'm excited to start a series of sliding-scale, co-hosted erotic-plate workshops to dive into more specific pleasure related topics that engage different communities. My goal is to have a large show of all of the student's work!
I'm also really into sci-fi and hope to eventually get this erotic-poetry-comic book manifesto written and potentially coded into a video game. I'm planning to go back to school in the fall for computer programming to be a part of the digital world-making. 
FEATURED IMAGE: Three ceramics pieces lie on cloth that is blue and off-white. A piece to the right is a large plate with a woman pleasuring herself painted on top—colors like blue, purple, and yellow make up this collection. A smaller plate on the top left of the photograph is mostly yellow with abstract shapes. A figure pleasuring herself is made into a pipe in the third ceramic piece. Image courtesy of the artist.
---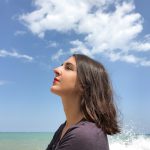 S. Nicole Lane is a visual artist and writer based in the South Side. Her work can be found on Playboy, Broadly, Rewire, Healthline, and other corners of the internet, where she discusses sexual health, wellness, and the arts. Follow her on Twitter.
Photo by Jordan Levitt.