Intimate Justice: Andrew Bearnot
"Intimate Justice" looks at the intersection of art and sex and how these actions intertwine to serve as a form of resistance, activism, and dialogue in the Chicago community. For…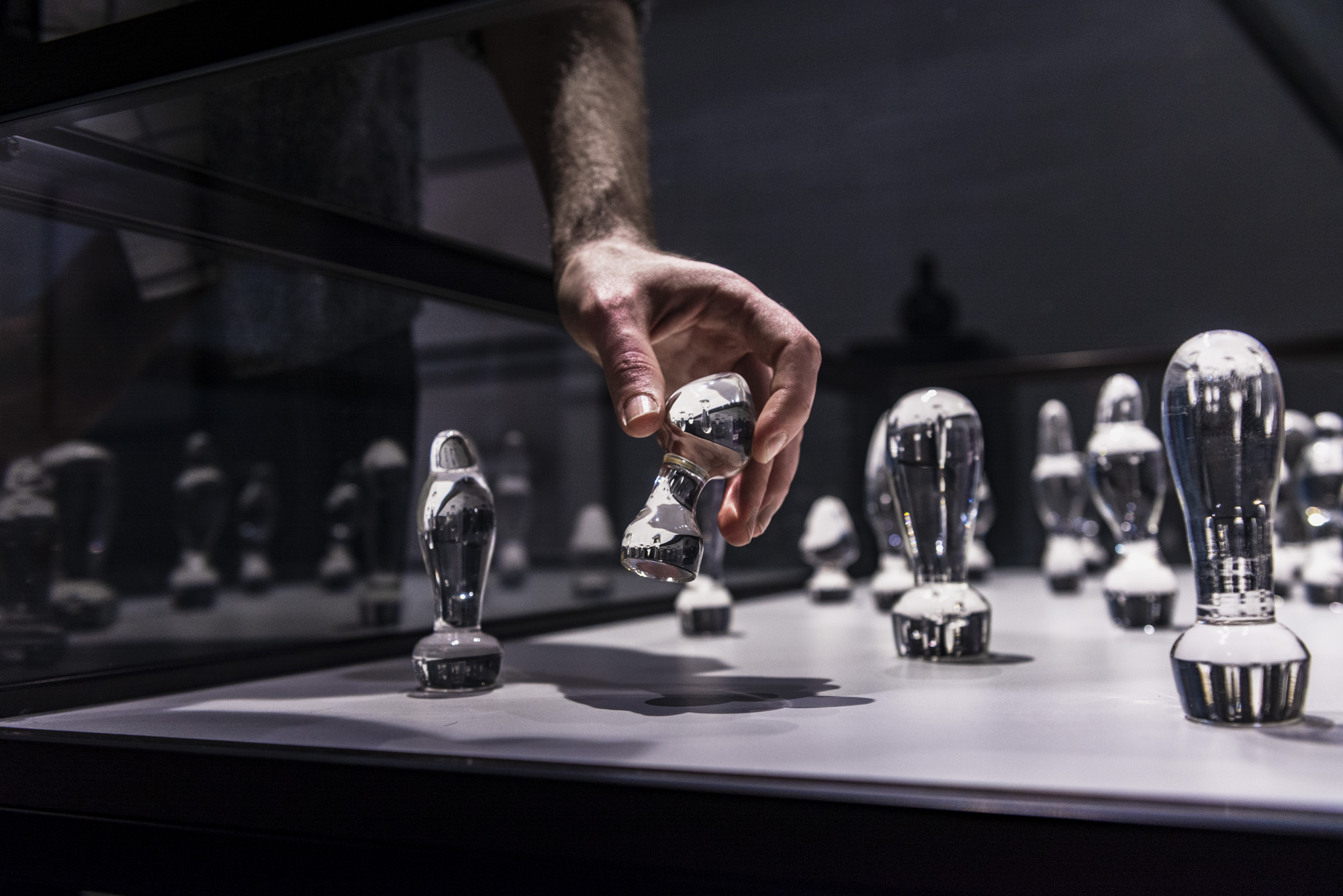 "Intimate Justice" looks at the intersection of art and sex and how these actions intertwine to serve as a form of resistance, activism, and dialogue in the Chicago community. For this installment, I looked at Andrew Bearnot's exhibition at the Leather Archives + Museum, "FRUITING BODIES" and had a Q+A interview in his Hyde Park apartment.
There is no denying how special the Leather Archives + Museum is to the Chicago queer community. With vests, sex toys, photographs, and original artwork on display, queer history (though mostly male-orientated) is exhibited through kinks and specific sub-groups. Signifiers like patches, buttons, pins, and labels illustrate the profound LGBTQ community across the country.
Small rooms, narrow hallways, and personal items make up the intimate space in Rogers Park. Andrew Bearnot's exhibition FRUITING BODIES shares this same intimacy, as you must walk down a narrow staircase into a gallery that, although small, exhibits a wide range of objects.
The exhibition includes works of glass and paper by Bearnot as well as objects chosen from the collections of Robert Gaylord, Jim Kane, and Chuck Renslow,  while working within the museum's archives. The artist's works in the exhibition include phallic objects made from glass, which he calls, "Stoppers," various framed pieces of hair on paper, or "Hair drawings," enlarged eyelashes made from glass, and other archival pieces. A beautiful moment in the exhibition is seeing Chuck Renslow's vessel of hair, which is assumed to have been used for ritual from 1972 to 2009. The thirty balls of hair (pubic or beard hair) fill up a fishbowl jar in an enclosed case. The exhibition's attention to hair is woven throughout the archival works and Bearnot's own craftsmanship. Robert Gaylor's personal ad from 1974 sought "obedient slaves" who were told to shave the pubic hair of their right testicle and mail it to him. The result is a large collection of correspondence between Gaylord and his submissives, and of course, the pubic hair. This queer archive of the obedience, dedication, and relationships that these men shared is now on display in the form of small collections of hair curated inside of a glass cabinet. Surrounding these artifacts is Bearnots own understanding of archiving, fragility, and identity.
S. Nicole Lane: Can you talk about how your degree in materials engineering plays a role in your art-making practice?
Andrew Bearnot: Materials science is basically applied physical chemistry. We talk about a triad of material processing, structure, and properties. This theoretical way of thinking is complementary to my more empirical understanding as a craftsperson. I'm always thinking with my hands, while engaging this scientific apparatus to think through the technical intricacies and embedded poetics of the material world.
SNL: And then you started working with glass…
AB: I've always worked in a variety of media, but I consider glass to be my mother material. It's in many ways the most intensive material I've encountered in my life. It has an important connection to the history of science and the way we see and measure the world. But it also has this rich history of application in design, ornamentation, and architecture. Glass contains oppositions of being simultaneously fragile and strong, and also being there but not there. I continue to work in a variety of materials and living in Chicago has meant not having a lot of access to glass. But often the formal and conceptual ideas that I'm exploring somehow reference glass. I'm excited to be presenting several glass works in this show!
SNL: So talking about your exhibition, I'm curious about the title FRUITING BODIES and where that came from?
AB: I first encountered the term while doing unrelated research about slime molds. I was interested in the way mycelial networks can be huge—the size of cities, or countries—and totally nonhierarchical. Meanwhile, the reproducing organ of the fungus, called the "fruiting body" (aka the mushroom), is highly differentiated and creates the tiny spores that come out. I knew this show was gonna be about hair but I didn't want to use hair in the title. So I was invoking that idea of a body distributed in space and time—and then, of course, referencing the gay slang of a "fruit."
SNL: So you started doing research in the museum's archives but didn't know you would have a show yet…
AB: I visited the archives for the first time when I arrived in Chicago and was looking at resources. I took a tour at the LA&M with my friend Anna Showers-Cruser that was really inspiring for both of us. We learned about a collection of cum rags [at the museum], which is where my research began. I am super into the idea of this alternative textile tradition, and the materiality of the body itself being archived—rather than an image of a body or a story about a body. I also like that these traces are invisible or hard to read but potentially contain highly personal, forensic information.
I started working with the archivist  Mel [Leverich], looking for instances of other stains besides semen in the archive like shit, piss, and blood. One of the towels we looked at was pulled by Aay [Preston-Myint] for the last exhibition. It belonged to a fisting group and definitely had shit stains. But of course, all of this "stain research" was highly speculative since we were not working with a proper forensic lab.
AB: At some point I asked about hair and Mel shared that fantastic fishbowl full of hair that is in the show. It belonged to Chuck Renslow and was used in his personal, magic rituals. This led us to Sam Steward and his infamous Stud File, which contains notes on each of his thousands of sexual encounters as well as an entry on his "hair pillow" with pubes from a couple dozen partners. Finally, I spent the most time with the erotic correspondence collection of Robert Gaylor, which contains hairs from the right testicle of his would-be sex slaves. Those letters just came to the archive a few years ago, so I am among the first to start working with them. I hope someone else will continue – there is a ton of great stuff in there!
SNL: Have you ever worked with archives before?
AB: My practice is extremely research oriented and I draw inspiration from many fields of knowledge production. Sometimes this takes the form of material research and other times it is more historical, anthropological, metaphysical, or scientific research. As I mentioned, I'm especially interested in the way traces of the body function in the archive. It's that strange tension you often feel when looking through archives: a sense of shifting distance where you're at once very close to this person and also super removed.
SNL: Does all of your work look at the theme of sexuality or is this the first time you are kind of dealing with a kinky topic?
AB: My work doesn't centralize sexuality per say, so it was nice to have a platform to talk more directly about this aspect of my practice. I've been thinking about hair and its relationship to intimacy and sexuality for a while. My MFA thesis show at University of Chicago in Spring 2017 included a giant copper sculpture that was modeled on my partner Joshua Kent's beard hairs—a single hair blown up to the size of a room.
What I'm interested in more generally is a more mystical experience of looking at something small or subtle extremely close and having that act of close looking open up into a universe of complexity. I refer to this as "calibration theory" and I'm interested in the intersection between these ideas and the queer trope of locating ourselves on a gradient of gender and sexuality.
SNL: Any exciting news—any exhibitions, any projects, that you want people to know?
AB: We're having a discussion [with] me, James Murray, and Daniel Rosen [at the Leather Archives & Museum] and then the show closes a couple days later. Then Joshua [Kent] and I have a show at Roots & Culture titled "ᗡOUBLEHEADED." And then next fall, James [Murray] and I have a show at Aspect/Ratio Gallery.
"FRUITING BODIES" is on view until May 12th.
Featured Image: A hand is reaching into a glass display box filled with glass shaped pieces that are phallic in shape and stand alone individually. One hand is slightly lifting a "Stopper." Photo by Ryan Edmund Thiel.

---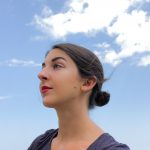 S. Nicole Lane is a visual artist and writer based in the South Side. Her work can be found on Playboy, Broadly, Rewire, i-D and other corners of the internet, where she discusses sexual health, wellness, and the arts. She is also an editorial associate for the Chicago Reader. Follow her on Twitter.
Photo by Jordan Levitt.