Intimate Justice: An Interview with Emma Alamo
From the series "Intimate Justice" which looks at the intersection of art and sex and how these actions intertwine to serve as a form of resistance, activism, and dialogue in the Chicago community.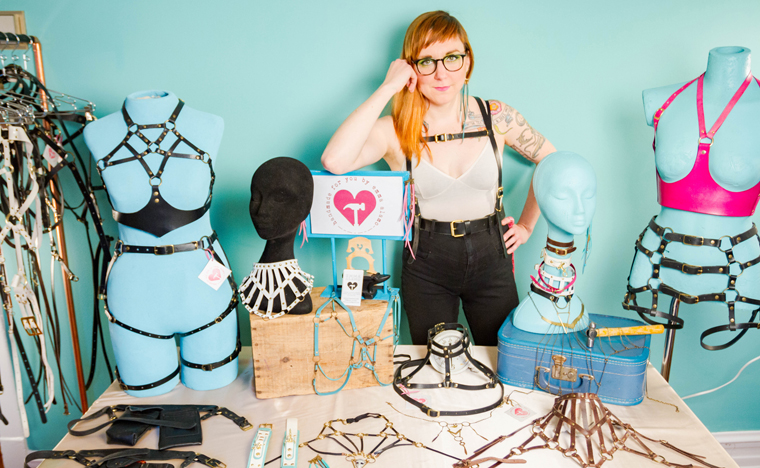 "Intimate Justice" looks at the intersection of art and sex and how these actions intertwine to serve as a form of resistance, activism, and dialogue in the Chicago community. For this installment, we met with Emma Alamo in her Andersonville home studio where we discussed her leather harnesses and beginnings as an artist.
S. Nicole Lane: Is your general background in art?
Emma Alamo: I grew up in North Florida, in Tallahassee. Florida is a great state to leave. I went to college at MICA in Baltimore. I have a degree in Interdisciplinary Sculpture. I changed majors a hundred times while I was there, and left school a few times. I sort of took the scenic route. For most of my twenties, I was a set designer and theater carpenter. I got really into wood working and welding at MICA. Then I got really sick a few years ago. My whole upper respiratory system basically gave up on me. So, I had to stop being in wood shops all of the time. I feel like that's how I got really into sewing and textile based work. I've been making these utility belts for seven years. These are the first things I made out of leather. I started making these when I was twenty two. I would use upcycled leather. Women's clothing is designed to not be functional at all. The first one I made, I made it out of an apron, a dress, and a purse that I had taken apart. I used classically feminine things to make something that was actually comfortable.
When I started my shop, I didn't think I was going to be making harnesses. I made a lot of jewelry and then these belts. I made a few harnesses, posted pictures of them online, and it was pretty clear that harnesses were what I needed to be selling.
SNL: The harnesses came from your personal interest?
EA: Kind of! I have some heavy bondage harnesses and some more dainty ones. I started out making jewelry harnesses — fashion harnesses. It evolved from there into actual bondage harnesses. But first, it was making stuff that I would want.
SNL: So you're self-taught?
EA: Yeah, I watched a lot of YouTube videos. You start small.
SNL: And bondage wear is important to your personal identity.
EA: Yeah! I'm very kinky and very open about sex. Sex positive is definitely a part of my identity.
SNL: You've participated in sex positive pop up shops, like Shop Sensual. Do you feel like the Chicago community is supportive?
EA: I don't see a lot of other people in Chicago making bondage wear. I know a few like Sky and Gnat. The three of us make very different sexy stuff which is great. People get so excited about bondage stuff. I think that a lot of my bondage wear is really accessible in part because I have that spectrum of fashion that is suggestive of bondage and then actual durable bondage. Some of my pieces can be both. It doesn't have as much of a dungeon aesthetic.
SNL: It's interesting to see how people are wearing bondage wear. It's seen as this thing that's supposed to be worn in the bedroom. But here we are wearing it to the club, or the bar, or on the street.
EA: Because it's hot.
SNL: Exactly. It's eradicating this stigma that you can wear this piece for yourself because you feel sexy in it and it can turn into this sexual thing in a public place. Or it doesn't have to. It can also be you wearing it because you want to. That's becoming more and more accepting. It's something that I'm thinking about — the mix of fashion and bondage wear.
EA: Yeah, there's something specific about leather that makes you feel very powerful when you wear it. A lot of my customers say that they feel like a superhero when wearing my items. The connotations that we have with leather, the smell of it, there is something that makes you feel strong when you wear it. It's funny because even something like a bondage harness, something that's meant for restraint, can make you feel powerful.
SNL: How are your customers wearing your work?
EA: I feel like it's kind of all over the place. When I table, I definitely get people who have no experience with bondage. The last time I tabled, this one person was buying it just to wear as a garment. I also poke at those people a lot. I hope that they realize that they are secretly into bondage. Definitely some people buy them for just bondage purposes.
SNL: Do you custom make these items?
EA: I do prefer when people send me their measurements. I use my sizing chart on my Etsy and when I table. It's easier to size with harnesses because all of the buckles allow for more wiggle room compared to something that's made out of spandex. It is extremely important to me to have a full range of sizes and have a lot of plus size options.
SNL: Do you primarily work with leather? Are you interested in experimenting with other materials in the future?
EA: Right now I just work with leather. I want to make some things with vinyl. I have a few things that are made out of just chains. But I don't have any functional harnesses that are just made out of chain.
I also have some friends who are vegan and don't want to purchase leather items. Also, leather strap-ons are kind of tough. Leather isn't the easiest thing to clean. I do want to work with some synthetic materials.
SNL: Do social media and tabling help break the stigma surrounding bondage wear? Maybe you're in a community where there isn't even a stigma but I'm just curious what your thoughts are on that.
EA: Yeah, I was going to say, there is my bubble where everyone is open about everything. Well, first of all, my shop has been open for less than a year. The first harness that I made was less than a year ago so it's all sort of happening really fast. The handful of times that I have tabled, I see couples coming up to my table and giggling. It's sort of like they are asking their partner, "Would you be into this?" I do end up talking to people a lot about their sex lives which is really fun.
A huge part of my business right now is people who find me through plus size hashtags. There is a big shortage of people who make any sexy apparel, let alone bondage items, for plus size bodies. It's ridiculous.
SNL: How are artists, or creative people, resisting in terms of the political climate. How can you keep making work when you feel like certain rights are at jeopardy, but more under the sexual scope? How do you view your work as a way to resist?
EA: It's really, really important to me to have a variety of bodies. Even places that do make plus size stuff only show it on thin models. They don't get a size twelve model. It's really important to me to show bigger bodies being sexy. I had an eating disorder growing up. I remember having my stash of thinspiration, where I would tear pages out of magazines. Places that do make plus size clothes, not only do they show it on thinner models, they make it a lot more modest. That perpetrates the idea that no one wants to see that. I try to have models that are over size twenty and look amazing in my stuff. That's fulfilling to me. The first time I tabled at Shop Sensual all of the bigger women — and when I say "bigger," I mean most women in America are plus sized — would glance at my table and say, "You don't have anything plus sized, do you?" The next time I tabled, I had framed pictures up of my harness and for Pitchfork I got a big banner that has two different women with two different shapes wearing harnesses.
Of course you can be sexy when you're over a size sixteen. I feel like there is something inherently radical about making sexually charged garments for women to buy for themselves and not for men to buy for women. It makes you delve into your own kinks and empower yourself through that.
SNL: Right. Can you talk to me about your writing and performances?
EA: Most of my writing is also very sexual. I mostly do personal narratives. My writing is extremely vulnerable. I'm brutally honest. I write a lot about rape culture. I write about my own experiences with sexual assault. I write a lot of funny things about one night stands and about funny people that I meet on the internet. Because it's so vulnerable, it's very relatable.
I started writing long emails to my friends in Baltimore about the OkCupid dates that I was going on. And then they started asking for more. I realized I was really great at writing really funny things about disastrous experiences. Someone recommended that I check out Salonathon. That was the first time I spoke into a microphone. That was a year after I moved here. I read something that I had written at Salonathon and it went so well. Now I'm a regular and perform there once a month. I'm going to be hosting it on my 30th birthday. Sometimes it's not just me standing there or telling a story. I turn them into ten or fifteen minute plays. I dabble with burlesque a little bit.
SNL: What are you plans in the long run — five, ten years from now?
EA: I would like to turn my business into a viable business that has employees and have this be a forever job. I would love to lend a few pieces to Beyoncé and Rihanna for their music videos. That sounds great. I really like the idea of having employees that I can give benefits to. My goal is to turn this into a company that is steadily chugging along, to continue writing — I really want to write a novel.
Featured image: Emma Alamo with her work. Photo credit: James Jamieson.
Sixty relies on your support and generosity. Please help keep us going by making a contribution today. 
---
S. Nicole Lane is a visual artist, writer, and editor based in the South Side. Her work can be found on The Establishment, HelloFlo, Newcity, Bustle, and other corners of the internet, where she discusses sexual health, wellness, and the arts. Follow her on Twitter.