In the Realm of Senses and the Pleasure of Eating with Music
Before Jeff Yang takes the stage, someone behind me says to a friend, "What you're about to experience is like nothing else … it's remarkable." I don't really know what I'm…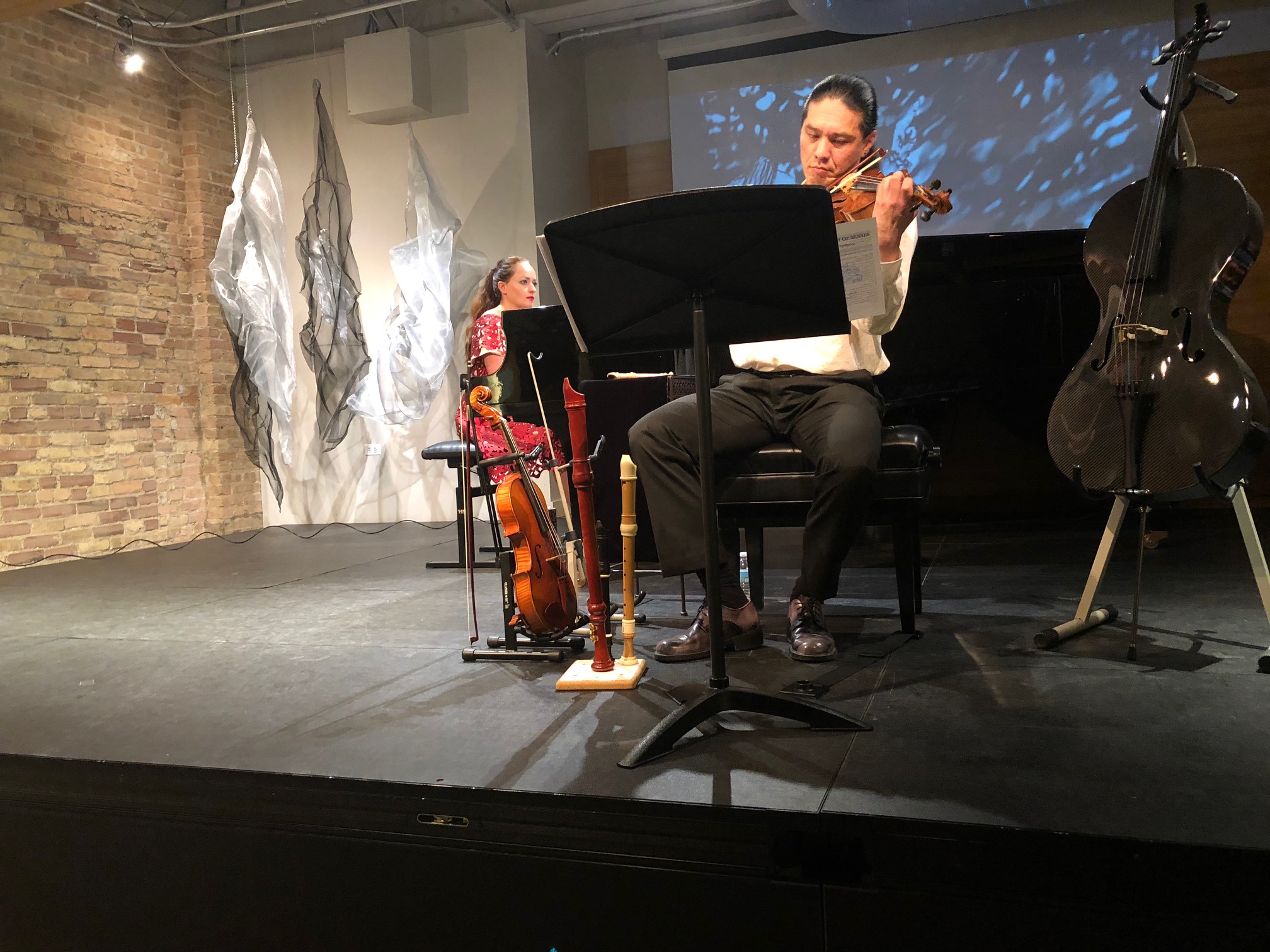 Before Jeff Yang takes the stage, someone behind me says to a friend, "What you're about to experience is like nothing else … it's remarkable." I don't really know what I'm about to expect. I came to the event alone, my partner had to work, and I have an irrational fear of interactive events. I'm going into the night without many expectations. I received an email about a week or so in advance inviting me to In The Realm of Senses: Pictures at an Exhibition Fundraiser, and of course, I read the pamphlet — food, drinks, sense, scent, taste, music, sound — but I wasn't sure how it would be exhibited, how the audience would be involved, and how I would react. All of the senses are familiar as simple words but existing together, and depending on one another, was something I had not experienced. I was nervous.
Behind Yang hangs the work of Maja Bosen, an installation artist, whose pieces hang delicately from the ceiling on the back and left hand side of the stage. Yang explains the beginnings of In The Realm of Senses to the audience before inviting painter Melanie Brown and composer Ryan Ingebritsen on to the stage. Ingebritsen has placed a contact mic on to Brown's canvas where she begins to live paint. With each brush stroke, the sound and echo is amplified. Ingebritsen then manipulates the sound of Brown's movements, he watches her movements and responds. The painting is made in real time, featuring browns and dark blues, deep reds — Brown begins to paint with her finger. Eventually, Jeff Yang steps in. Improvising, Yang plays the violin, quiet at first as he steps into the choreography of Brown's painterly motions.
Video: Melanie Brown, Dec 9th Amplified Canvas, 2017.  This video depicts the artist painting with a contact mic. Video courtesy of Melanie Brown.
Yang, who is Chinese and lived in Taiwan for eight years, moved to the US and became a citizen at 16. He studied music and industrial engineering and is a former member of the band Mannheim Steamroller.  Yang is a current member of the Chicago Philharmonic and Access Contemporary Music and has appeared on the PBS Soundstage. Moreover, he has his own violin shop, Chicago Strings.
In between performances, we were delivered food. Yes, eatable, digestible, food. And drinks. Cocktails from Arun's Thai, beer by Maplewood and Temperance breweries were served in a common area outside of the theatre. During the performance, there was a silent auction where works by Melanie Brown, John Gaudette, Pia Cruzalegui, Maya Bosen, Galina Shevchenko, recordings by Eighth Blackbird, and scents by Christophe Laudamiel were available for bids.
For "Pictures at an Exhibition," a performance by Yang and pianist Yana Reznik, lithographs by John Gaudette were projected onto a screen behind the performers. During this performance, the audience bit into a pork dumpling, spring S0-men (created by Arun's Thai), and slurped rice noodles with a fresh garden salad. The noises and crunches (especially during the Puri Pop created by Mango Pickle) added to the atmosphere where Yang played the violin, cello, and baroque recorders. Throughout the performance, food was served to us. By this time, I had moved to the front row seat to get a better few. I wanted to be fully immersed. Biting into a "klepon" (an Indonesian rice ball with coconut shavings created by Rickshaw Republic) was probably my most pleasing experience as there was a surprise in the center, and the piece of sweetness was beautiful look at.
"Some chefs were very exact in what they decided to create. Sometimes without regard to the specific movements, but others wanted to make something for a specific movement," says Yang. "Others wanted to just pair what they have made already without any thought of the music, then I had to take their ideas and see what will fit with the music. Each chef required a different way to realize the final pairing that made sense, some made new things on their own, some I pushed them to make something different, others just made something they thought fit the music itself."
Yang had to instruct the audience a bit, as we weren't sure when to eat and when not to. But this is natural when you have a crowd full of hungry participants who haven't been exposed to such an event before. There were laughs when certain foods made certain noises and when Yang instructed us to wait before eating — sitting like children waiting for the "go ahead" in the musical composition.
Yang tells me that the "food and music pairing started with the chefs listening to the orchestral version of the Mussorgky's 'Pictures At An Exhibition' and getting feedback on what movements of the piece they were drawn to and what kind of feeling they had towards what they wanted to cook."
During "Baba Yaga," an upbeat piece, the audience was given a dark chocolate truffle with Kashmiri chili and Saigon cinnamon (created by Chocolat Uzma). Need I say more? I was sold on Yang's project, as Yang and Reznik charmastically and emotionally closed the evening with "The Great Gate of Kiev." A standing ovation followed as we wandered out into the common area once again, picking up leftovers and culminating over the interactive experience.
Yang is still looking for a space to hold the event. He's searching for a space that is between 4,000-6,000 square feet so that patrons are able to experience certain senses in isolated areas.
To the patron behind me foreshadowing the event to their friend, you're right, this was nothing like I had ever experienced. I even struggle with explaining it in words for this piece. I wanted it to be larger, I wanted it to reach more people, I had wanted to bite into the food one more time. Yang's project reaches, quite literally, all of the senses and although it's still a work in progress, its thrilling presentation is lasting.
In the Realm of Senses: Pictures at an Exhibition Fundraiser took place June 16th at PianoForte in the South Loop. 

Featured Image: Photo by S. Nicole Lane. Two people are on a stage, one is playing the piano, and another is playing a stringed instrument. To the left of the stage is a brick wall and hanging artwork. Behind them is a visual projection. 
---
S. Nicole Lane is a visual artist and writer based in the South Side. Her work can be found on Playboy, Broadly, Rewire, Healthline, and other corners of the internet, where she discusses sexual health, wellness, and the arts. Follow her on Twitter.
Photo by Devon Lowman.