History For Sale: Ebony Images on the Market
An open letter and petition for the leaders of the historic Johnson Publishing Company.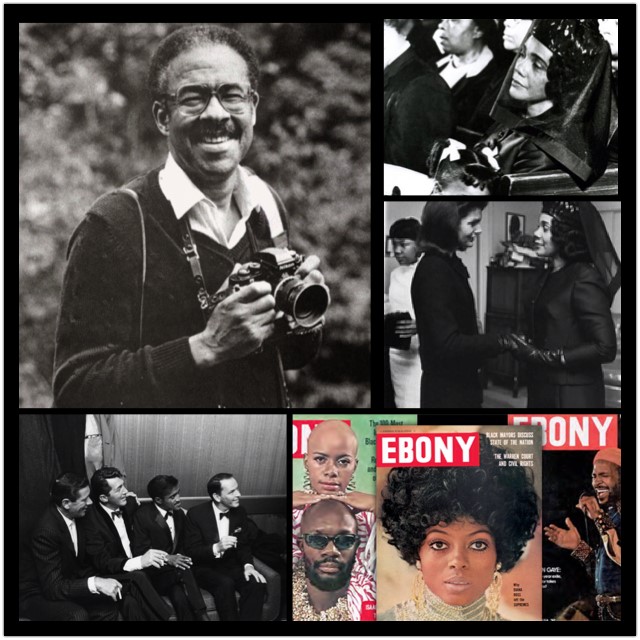 Since 1945, Johnson Publishing Company has been one of America's premier sources of poignant and positive black imagery through the stunning photographic collections of Ebony and Jet magazines. But in January of this year, the company announced its plans to put the archive on the market, with an asking price of $40 million. Recent years have seen a decline in both magazines' sales thanks to an increasingly digital readership, and lacking any substantial economic backing, the company must face the harsh reality of sustaining future growth.
The news moved me to tears.
Two tragedies arise from this sale, both representing a profound loss to the American public. First, when auctioned, a tremendous wealth of photographic genius would be lost to some unknown private owner. Secondly, the asking price for this unprecedented body of artistic history is a stark reminder of how black imagery is undervalued. I was inspired to start an online petition on Causes to brainstorm and uncover alternate solutions to this drastic measure. My letter was a personal outlet for my infatuation and frustration caused by the historic auctioning of a classic goldmine of African American photography.
I wrote:
Dear Johnson Publishing Company,

I am writing this letter and petition to inquire and hopefully put an end to your potential sale of the entire Ebony archives from the 1940s to present day. Ebony has been a household commodity and education tool since I could remember for myself, friends, colleagues, and associates. Not only has the magazine been a great source of relative information for me growing up, more importantly Ebony and Jet have been one of the most critical guides to black imagery, providing reflections on the leading and most influential black innovators, movers, and shakers of our time.

Of course I was furious to find out that Ebony's whole archives from 1945 would be on sale to the highest bidder of a mere $40 million. That, as I read, would be some 5 million intimate and pivotal images of the African American experience. Although this might sound like substantial start up money to sustain your organization at Johnson's headquarters, I would provide a simple retort: You are sitting on a black photographic goldmine, without a doubt. Your archive is way more precious than $40 million. It's actually priceless. For this reason I would like to offer some innovative solutions to your financial hardships.

I along with some other artist friends of mine have came up with Three Big Solutions. Choose one or implement all three!

1.  Begin a library and lease/borrowing system of your photography to art museums, history museums, schools and galleries around Chicago (and the world). This could be a great partnership that Johnson's Publishing could build with the larger art and education community in Chicago and elsewhere in the world.

2.  Begin a Kickstarter to build your own Black photography museum, possible a partnership with the DuSable Museum of African American Art.  Your collection has the artistic excellence to become the high standard to which the medium of photography is critically engaged with the personal experiences of African Americans and the art world. This could be the next big thing since the Studio Museum in Harlem. America can use another great black art museum! Why not have an Ebony or Johnsons Museum of African American Photography?

3.   Begin a crowdfunding campaign to invest back into Johnson's. The campaign will allow your company to provide innovative educational perks and incentives that will increase awareness of the photographic history of Ebony and Jet.

If you are already in talks with other arts institutions to make a larger vision for your collective come into fruition; wonderful, if not, please begin. You archival collection is rare and golden. Ms. Desiree Rogers, Johnsons Publishing chief executive was quoted, "Nothing exists like it. It's almost like an African American Getty." Ms. Rogers is absolutely right. This is a prominent African American Photography Museum in the making, in Chicago.

This archive cannot be replicated, thus it cannot be lost in a privatized world of the highest bidder for private gaze. The people will support your endeavor of educating the masses. I will support you in anything that I can do, because it is our history, American history, it is my story, and a true reflection of black excellence. I just hope and pray that this letter isn't too late for my child, and the future of all children, especially the next Gordon Parks and Moneta Sleet Jr. of the 21st century.

Warmly,

Wisdom Baty
My letter was more of a symbolic gesture to bring awareness to Johnsons Publishing Company's financial hardships, because I do understand the stress level of gaining financial sustainability, especially for the arts. But let me be perfectly clear: Ebony's archive is priceless. I honestly believe that this rare collection of black experiences is a photographic museum in the making. These artist images serve as some of the most honest and thought provoking forms of education, storytelling, and culture building.
I wouldn't dare put a monetary price on the original archive at Johnson's Publishing Company. Yet I am haunted by the thought of having this archive end up in a privatized collection for a mere $40 million. The auctioning off of these rare images is one thing; the asking price is another aspect that I simply cannot wrap my thoughts around.
Here is why; I recently read that one painting by the Spanish artist Pablo Picasso at auction sold for a whopping $179 million.  And then there is Paul Gauguin, a French painter who became famous for his paintings about voyeurism and women of color. One of his paintings broke the art record for a record $259 million. Both paintings reference women of color by a voyeuristic white male gaze.
The fact that a white man's voyeuristic paint brush about women of color, on canvas, can be sold at astronomical rates is another article in itself. However I will compare these two extremes for the purpose of artistic merit. The fact that Johnson's Publishing Company will auction off thousands of images for $40 million compared to one painting auctioned for $259 million painting, a slim fraction should raise eyebrows.
Many of my readers and art friends might understand why I am torn and offended. How can one painting by a white male artist about women of color sale for nearly $300 million while Ebony's entire photographic archive of countless influential black people spanning more than five decades be on sale for a measly $40 million? This is absurd. For the art world I ask what does this really mean? How does this notion speak about value when it comes to art, artist and monetary worth in the art world? Who gets to decide the worth of an object, and who will advocate for economic and cultural justice? It is our collective duty to begin a genuine conversation about cultural value in the art world.
---
Wisdom Baty is a Chicago based artist and educator whose work confronts ideas of representation and innovative reflective art curriculum for youth of color. She creates paintings, murals and drawings that reclaim visual space and cultural value that speak on power and the lack thereof for marginalized people. Wisdom's residencies include Yale Summer School of Art Norfolk Ct. fellow 2007, MCA Teacher Institute 2011 and 2012, 2014. She earned her BFA in Studio Arts from the University of Illinois at Chicago 2003. In the fall Wisdom will begin her graduate studies at SAIC for Arts Administration and Policy
Header image: Ebony photographer Moneta Sleet Jr. and some of his most iconic images.