Diamond in the Back: Excavating Chicago's Black Cultural and Material Heritage with The Blackivists
Introducing a two-year community archiving collaboration between Sixty and The Blackivists, a collective of trained Black archivists who prioritize Black cultural heritage preservation and memory work–a project supported by the Andrew W. Mellon Foundation.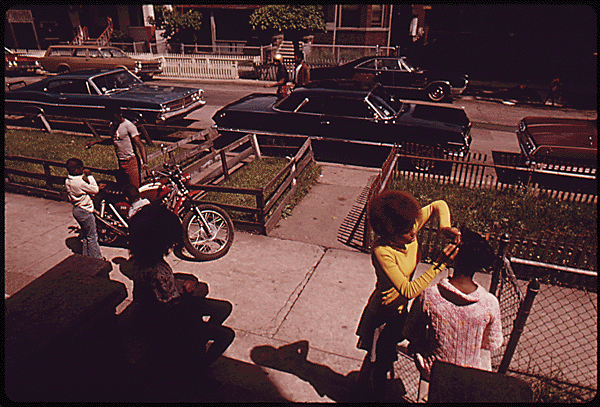 Inspired by the lyrical refrain found in the 1974 R&B classic "Be Thankful for What You Got," a song written and originally performed by William DeVaughn, Diamond in the Back: Excavating Chicago's Black Cultural and Material Heritage is a community archiving collaboration between Sixty Inches From Center and The Blackivists.
DeVaughn's lyrics reference the signature style of the diamond-shaped rear window of Cadillac's Coupe DeVille convertible model. Through his song and these lyrics, DeVaughn empowers Black people to remember and recognize the dignity of their existence, a dignity not determined by material possessions or social status. The phrase also offers a critique of capitalism's role in inflating the average person's desire to dream big and work hard to obtain material possessions that signal a level of success to the world.
During the Civil Rights Movement, Black soul singers, producers, actresses, actors, and other artists and entertainers created messages of empowerment that were shared through the arts. In particular, DeVaughn invested his own money into producing "Be Thankful for What You Got" while working as a draftsman. As the title and lyrical refrain in the song implies, Diamond in the Back: Excavating Chicago's Black Cultural and Material Heritage is a project that seeks to excavate and amplify, not extract, unknown gems of cultural and material heritage of the Black community.
Traditionally, the narratives, experiences, and culture of marginalized people have been underrepresented and often misrepresented in mainstream archives and museums. Having deep, longstanding relationships within the community, Sixty and The Blackivists know first-hand that materials, objects, and stories of historic and intrinsic value exist and are kept by individuals, families, and organizations. The long-term preservation–both physical and digital–and care of community-based collections is of critical importance to filling gaps in the historical record and building awareness of under-documented people, places, and events.
Excavation
With support from The Andrew W. Mellon Foundation, Diamond in the Back will use a non-extractive, post-custodial approach to provide resources to a cohort of local residents and groups that have a demonstrated interest in or are currently archiving, documenting, and preserving aspects of the Black experience in the Chicagoland area. As Chicago's Black communities continue their enduring practice of sustaining histories and traditions, this project will work alongside them to amplify and increase the capacity of their preservation and memory work. Selected participants will receive funding along with hands-on archival guidance from The Blackivists to assist in the stewardship and preservation of their collections.
In addition to working closely with the cohort, Diamond in the Back will include public education events, best practices for collections care, and the nurturing of a wider peer network of community collections and collectors who share a love of Black Chicago culture and heritage.
Relationships
This is not the first time Sixty and The Blackivists have collaborated on a project together. In 2020 we worked together to publish The Blackivists' Five Tips for Organizers, Protestors, and Anyone Documenting Movements and The Blackivists' Five Tips for Donating Your Materials, two compilations of advice and tools for anyone working to document the movements and uprisings or for those considering donating materials to and sharing personal testimonies with repositories.
Having worked as collaborators editorially, we look forward to evolving our relationship through Diamond in the Back and our shared commitment to archiving, preserving, and promoting the artwork and cultural practices of Black communities. By supporting The Blackivists' efforts to help individuals and organizations inventory, document, and preserve all aspects of humanity, we aim to empower people to use the past to imagine or create through direct action more radical, liberatory, and inclusive futures for us all.
__
Featured Image: Black neighbors spending time outside on a sunny day on Chicago's West Side in 1974. On the left, two children stand together, one holding a bike. In the shadow of the home that falls outside of the frame, another child sits on the porch. To the right, two young people stand, one with their hands in the hair of the other, braiding. Cars line the street in front of them. Photo from John H. White's series DOCUMERICA: The Environmental Protection Agency's Program to Photographically Document Subjects of Environmental Concern, 1972 – 1977. Source: The National Archives and Records Administration.